Boulder Amplifiers announces the new, and very distinctive, 866 integrated (as the company prefers to call it, eschewing the word 'amplifier' in its nomenclature) which will be available in analogue and digital versions.
Claimed to be the most "in-depth" product ever developed by the company, the new 866 is the result of many manufacturing and production efficiency improvements in order to make it a more affordable Boulder Amplifiers entry point. However, Boulder Amplifiers claims little, if any, compromises have been made in terms of the 866's circuit design and overall engineering while the new amplifier sports a much more comprehensive set of features.
Boulder Amplifiers told SoundStage! Australia, "Manufacturing time and costs were reduced but circuit and audio quality most certainly was not. Owning a Boulder is and should always be special… The 866 benefits from our engineering team's familiarity with the original 865 but also the guideline that the new 866 should have all aspects of its development and build reduced as much as possible without lowering performance in any way relative to the 865."
In fact, it's stated that the 866 offers, aside from the far more functional user interface and overall features count, notable performance improvements. So, the 866 features a comprehensive high quality touchscreen display on its fascia while a further control option will be available via a dedicated free App (iOS and Android compatible). A novel feature we can't recall seeing before: the 866 can be user-loaded with images of the equipment connected to its inputs… very cool.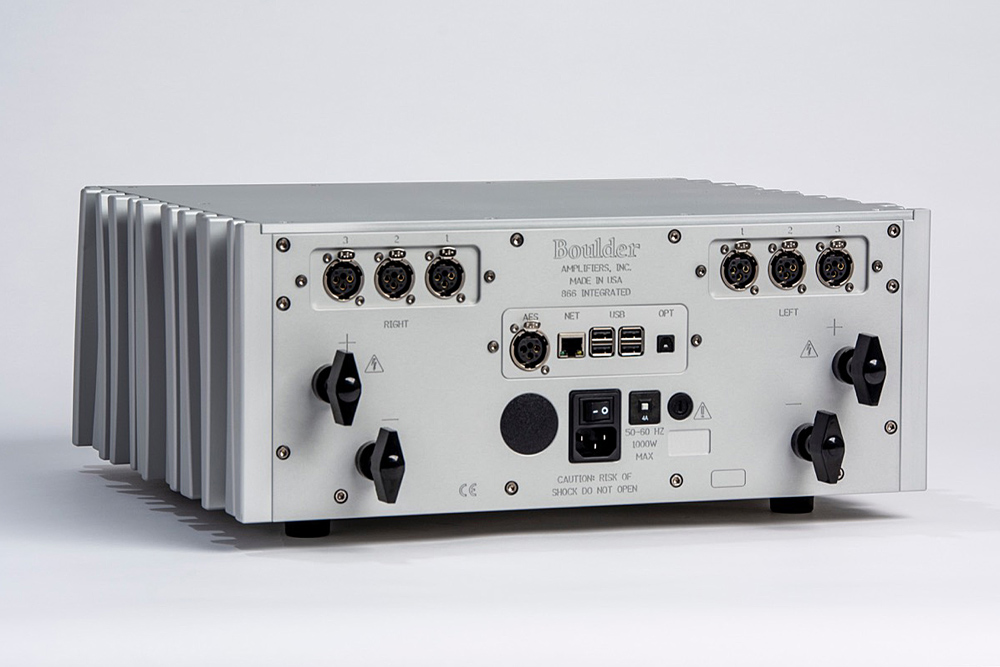 The 'all-analog' version will offer 200 watts continuous into 8 ohms and sports three XLR balanced inputs. A bespoke analogue volume control is designed with a precision stepped attenuator and further features include an Ethernet port for software/firmware updates, the aforementioned touchscreen display and dedicated App and full IP control. The very distinctive custom heatsinks not only keep the 866 running at a reasonably cool operating temperature but their "mathematical formula" design also deals with potentially deleterious resonance and ringing.
The 'analog+digital' version of the 866 will add a Toslink optical, 'AES3' and USB inputs, is UPnP server software capable, Apple AirPlay 2 wireless digital streaming, Bluetooth streaming, an RJ-45 Ethernet port for network streaming and for online media subscription music services (Spotify, TuneIn, etc.) and the 866 'analog+digital' is Roon end point capable. The 'analog' version of the 866 can be upgraded to 'analog+digital' at a later convenient time by your Boulder Amplifiers dealer.
The Boulder Amplifiers 866 integrated will retail for AU$19,990 for the analog version and AU$23,500 for the analog+digital version.
Australian Distributor: Absolute Hi End
+61 488 777 999
www.absolutehiend.com