The high-end audio community has been shaken by the sad news of the passing of David Wilson.
Like many in the industry, I too have my own treasured David Wilson anecdote. Some years ago, I was privileged to receive an invitation to visit the Wilson Audio Specialties' Provo facility in Utah. Post that most impressive factory tour, Wilson Audio Specialties' Trent Workman and John Giolas drove me to a local restaurant where we were to meet David Wilson himself. Here I was, an audio journalist from Down Under, going to meet one of my most revered high-end personalities… I was to break bread with David Wilson! I don't recall the details of that lunch other than being somewhat tongue-tied until well into the luncheon where, in typical David Wilson fashion, his disarming charm and sincerely receptive manner invited you to engage. To my surprise, he had read some of my reviews and, what's more, enjoyed them. He was aware that I had progressed along the 'Wilson' line from WATT/Puppy 5.1 to 6 to the 8 I owned at the time of my visit.
Then, as we exited the restaurant, another warm embrace from David, "Why don't you guys go ahead, I want Edgar to come along with me." Man, that was a ride… we landed (at least I did, seeing I was flying high on adrenalin) at the Wilson's lovely home where I, for the rest of that afternoon, wallowed in the sheer pleasure and grandeur of the famous 'plush-pink' listening room. David's generosity, openness and warmth connected us during that soiree. We listened to all kinds of music, some personally recorded by David and all hand-picked by him. Classical, jazz and even electronica. And what a thrill and pleasure to have him listening alongside me. We chatted all things audio and he shared open insights into his philosophies, his beloved jazz music and his many other interests. I particularly enjoyed and benefitted from David's imparting of recordings production details, microphone techniques and models, instrument placement, and the artists' and producers' notes.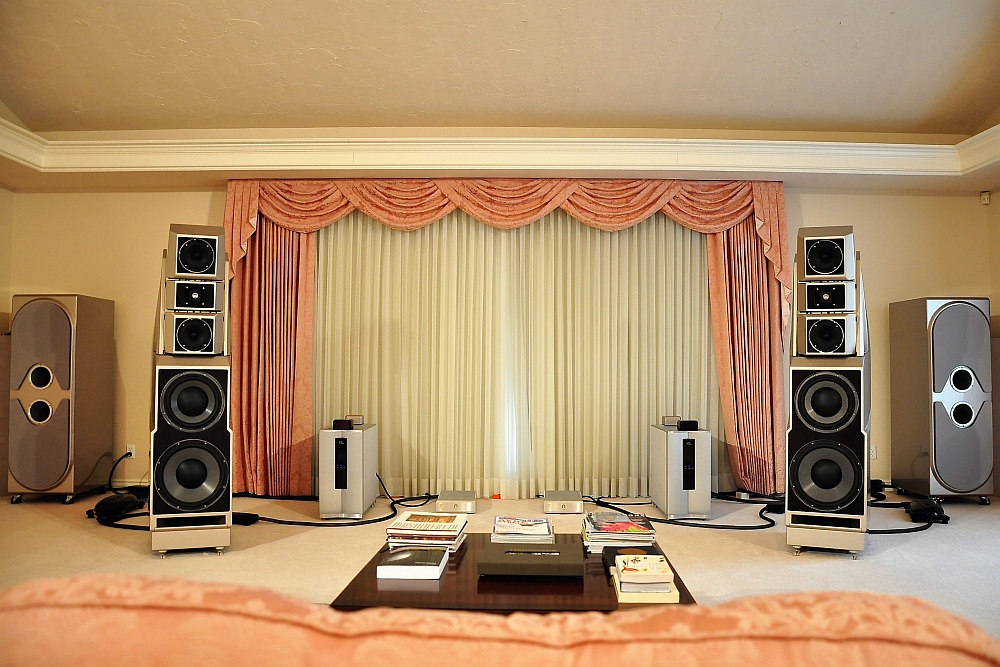 At the end of our listening session, much to my surprise, David asked if I was free to come back the following morning for a second music session, something that Trent Workman later told me rarely occurs. We had made a connection. And that led to trust… and entrustment. I subsequently had the pleasure of reviewing the Sasha, Sasha Series 2, Alexia and most recently Alexia Series 2.
It could be argued that David Wilson was solely responsible for the onset of high-end loudspeaker design. Wilson designed the landmark WAMM speaker for in-home monitoring of his own exceptional recordings where he demanded the utmost accuracy and realistic scale. Subsequently, after being dissatisfied with a number of small speakers when field-monitoring, he designed the legendary Wilson Audio Tiny Tot (WATT). That led to an unprecedented opening of the high-end audio landscape and subsequently changed it forever. The WATT itself inspired similar offerings from competing manufacturers while Wilson Audio Specialties continued to develop new generations of products featuring engineering solutions with a focus on advanced materials technologies and the importance of the time domain's relation to accurate spatial reproduction.
David Wilson's passion for music and its truthful representation – in addition to the WATT and subsequent WATT/Puppy speakers' universal acclaim and commercial success – led to an expansion of Wilson Audio Specialties' product lines to include, over the years, classics such as the Grand SLAMM and further generations of WATT/Puppy featuring engineering efforts to extend its lower registers. In the last few years, a potential new icon launched in the Sasha series which replaced the venerable WATT/Puppy. The recently released WAMM is a personal opus oeuvre representing David Wilson's all-out effort to create the very best loudspeaker system possible.
David Wilson was a gifted loudspeaker designer with an unwavering passion for developing extraordinary transducers. But most of all he was a gracious, exemplary man with a humanity and a kindness of soul that left an impression on the people lucky enough to have met him. He was the consummate music lover, a talented recording engineer capable of capturing music performances exquisitely. That will remain forever treasured. As will his indelible legacy, now to be honoured by the talented Daryl Wilson, the Wilson family and the company team.
You've certainly left your mark on this puppy David…
… Edgar Kramer
Editor-in-Chief
This email address is being protected from spambots. You need JavaScript enabled to view it.