Yes, there's something in the air… It's the scent of warming circuitry and oscillating cones. Audio shows are back in business and punters are pumped for a ravenous gorge. After 'the pan-bug', for this writer it all started again at Mecca-Munich 2022. Actually, the rebirthed audio show phenomenon is spawning around the globe, even down to very small localised events peppering the calendar. Here in Australia, we're off the starting block with the return of our own event. Ergo, the reanimation of the StereoNET show which launched in Melbourne for 2022 (energetic talks are already underway for Sydney in 2023). The venue was once again the Pullman/Mercure hotel complex. Entering the hotel lobby saw a monolithic Krix horn-loaded commercial cinema speaker of gargantuan scale. Promising… So were the three-day show's Friday morning crowds which slowly, but steadily, snaked a line past Check-Point-Charlie at the two-hotel borderline.
This time around, I covered just about every room with a photo, a greet-and-chat and a quick listen. Some rooms may have gotten more than one visit for a variety of reasons – including sonic performance. There was more than one attempt at entering a couple of rooms which I was, in the end, unable to cover given the current prevalence of microorganisms coupled with the show's significant mask-avoiding trend.
Admirably, the show runners and hotel administrators pumped the HVAC system hard but some rooms were unavoidably a little stuffy. My own and loved ones' safety first. I'll make up for that in 2023.
This report will be mainly a gallery of the wares, people and, sometimes, there will be mention of sonic abilities. DO NOT take these as gospel. Show audio quality is as hit-and-miss as it gets in terms of accurate and fair evaluation. The day of the visit, the music being played at the time and, of course, the limitations of the rooms' acoustics make observations purely anecdotal and by no means judgemental. Here, I'll be presenting concise synopses where images speak louder than text. Here we go…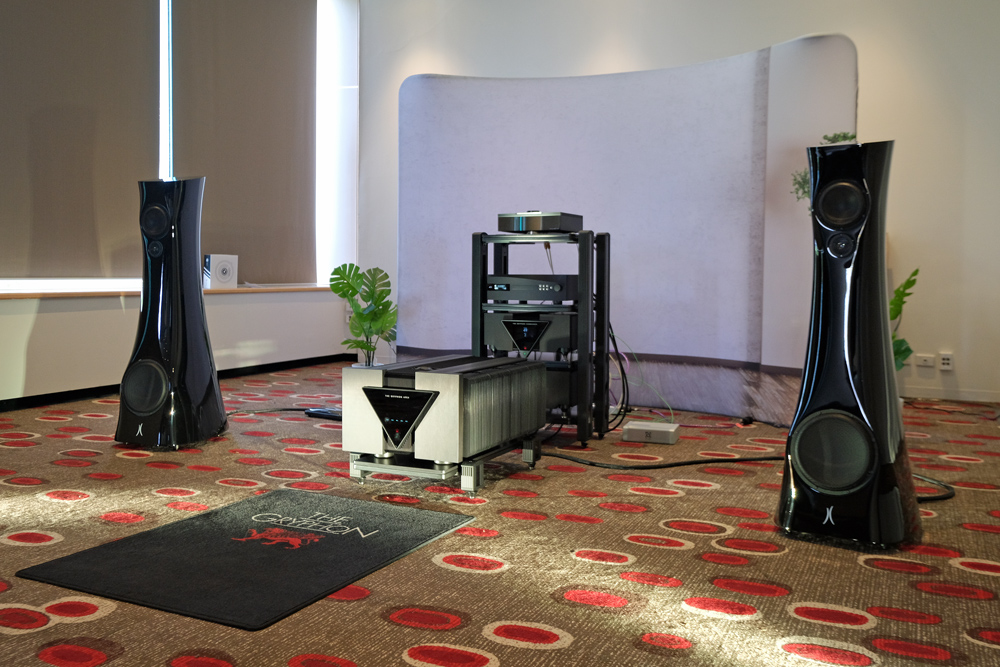 Advance Audio Australia's exhibit (the first up the stairs) took equal share of the über high-end prize. On-show was, from source to speakers, Linn Klimax DSM (review here) coupled with dCS, Gryphon Audio Commander and Apex monsters and Estelon's brilliant X Diamond MkII (see review here) all tied with Transparent Cable and Nordost interfaces. Here, I heard big speakers which totally disappeared while producing excellent image focus and scary dynamics. Many of the qualities I discovered and so enjoyed in my review were in evidence once again… except for that next-level amplification. I revisited this room several times.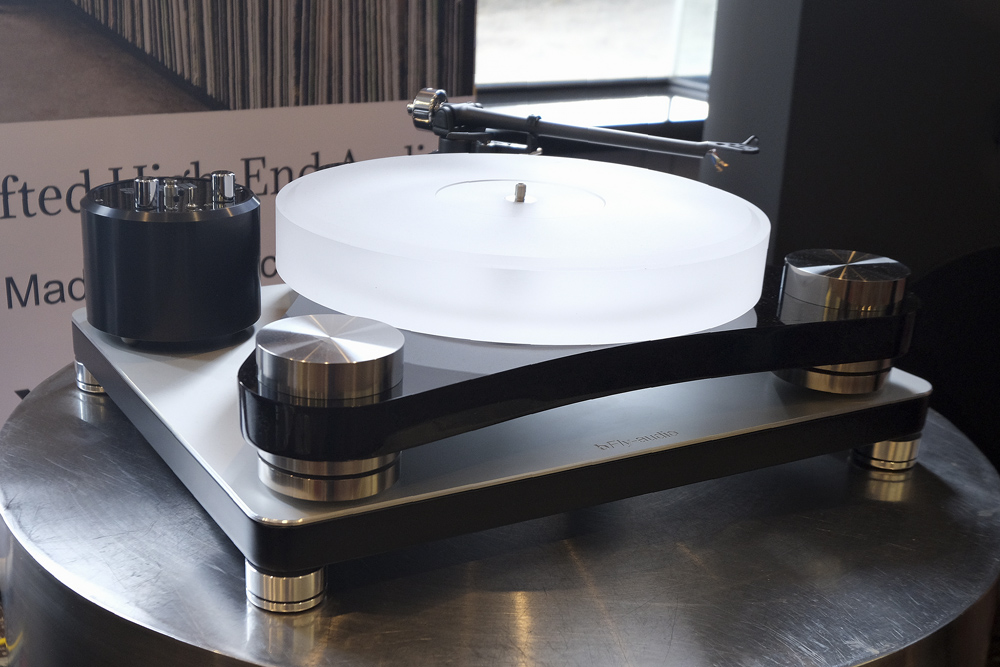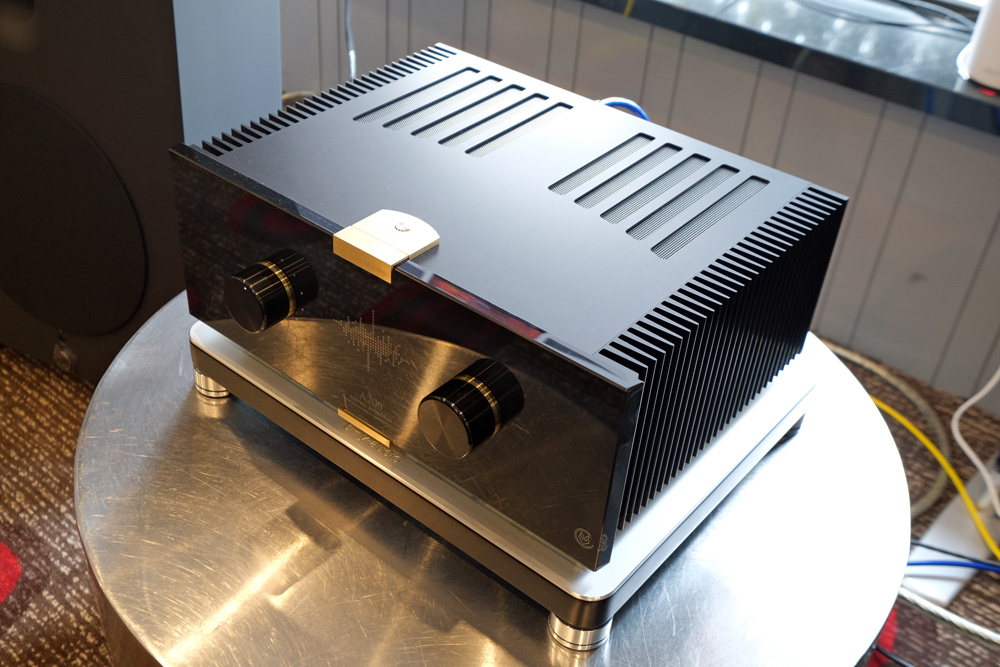 Importer Maxmedia is bringing a new turntable brand by way of the striking German-made bFly Audio turntable. With a price-point below AU$10K this product provides ample evidence of precise build quality and apparent value. Also new is Circle Labs' A200 integrated amplifier. Maxmedia is also the distributor for Innuos and Avant Garde among many other brands.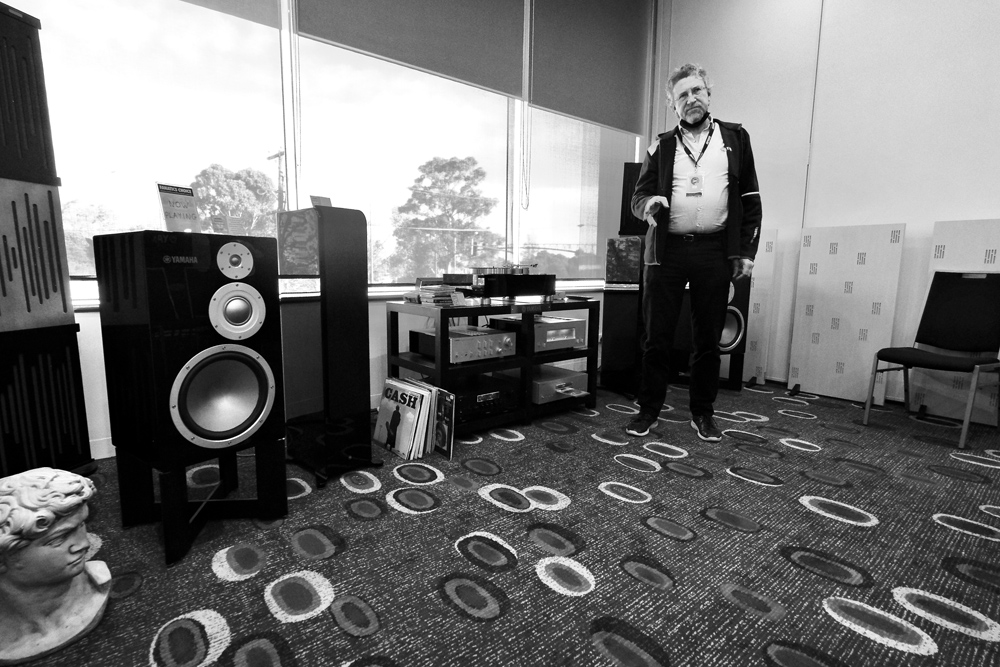 Rab Turner from Carlton AV demoed the new Yamaha NS-2000A (flanking the superb NS-5000s), which made their Australian debut, in an all-Yamaha system. Turner presents the music and the gear in a detailed way which shows both his passion and deep knowledge. A comprehensive range of vinyl served well to illustrate the significant prowess of the GT-5000 turntable too. Detail and nuance galore, excellent attack and deep, powerful bass were the trademarks here.
Beyerdynamic once again showed a wide range of its headphone offerings and the 'Space' Bluetooth speaker products in its traditional easy-to-locate space which is now an area synonymous with quality personal audio.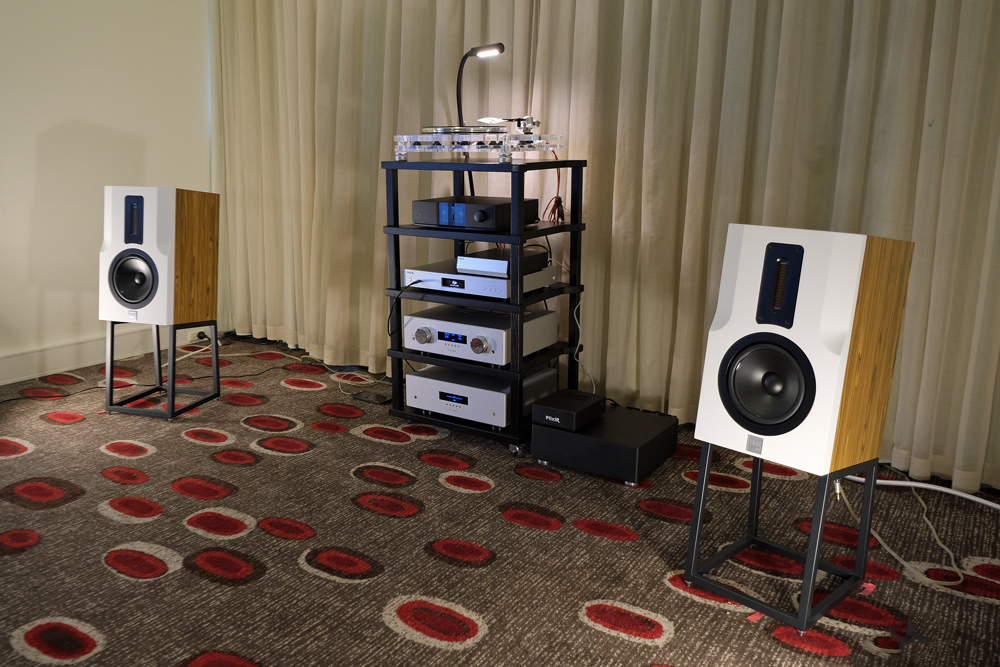 Hi-Fi Collective's wares at the time of my visit were sounding oh-so-refined and engaging. The excellent Fink Team KIM speakers (later rotated to Fyne Audio speakers) fed via AVM amplification supported by Vertere, Melco and Plixir sources were creating music in harmonious unison. Sweet, yet insightful playback.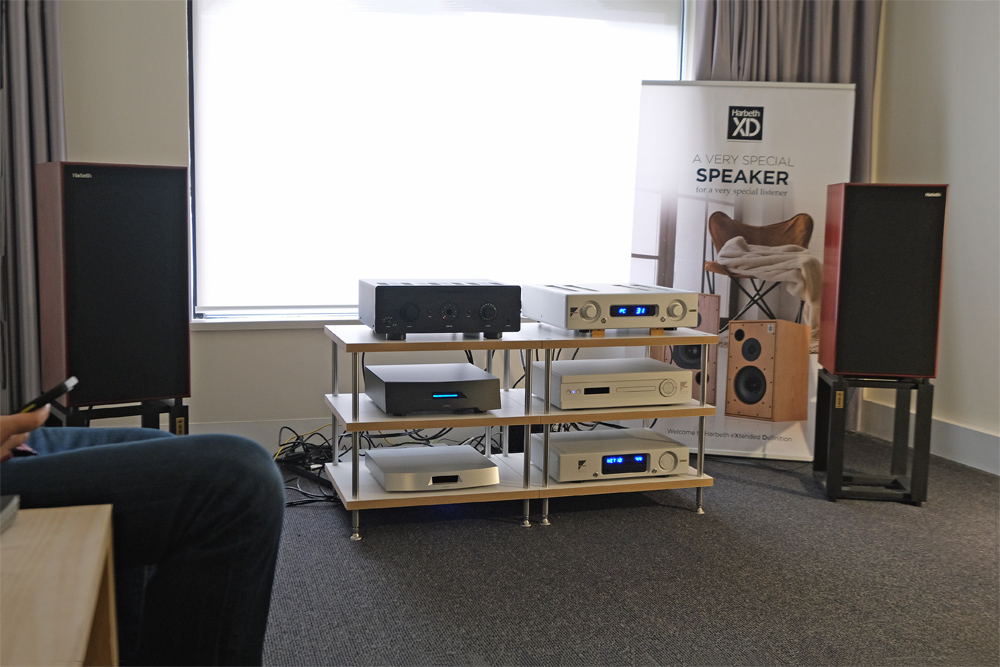 Audio Magic lived up to its moniker by teaming Lumin source with Ayre Acoustics electronics and the wonderful Harbeth XD loudspeakers. In my experience, the Harbeth products have always produced mesmerising mid frequencies with superbly natural vocals. That was the case here too, with the supporting electronics matching synergistically even in difficult show conditions.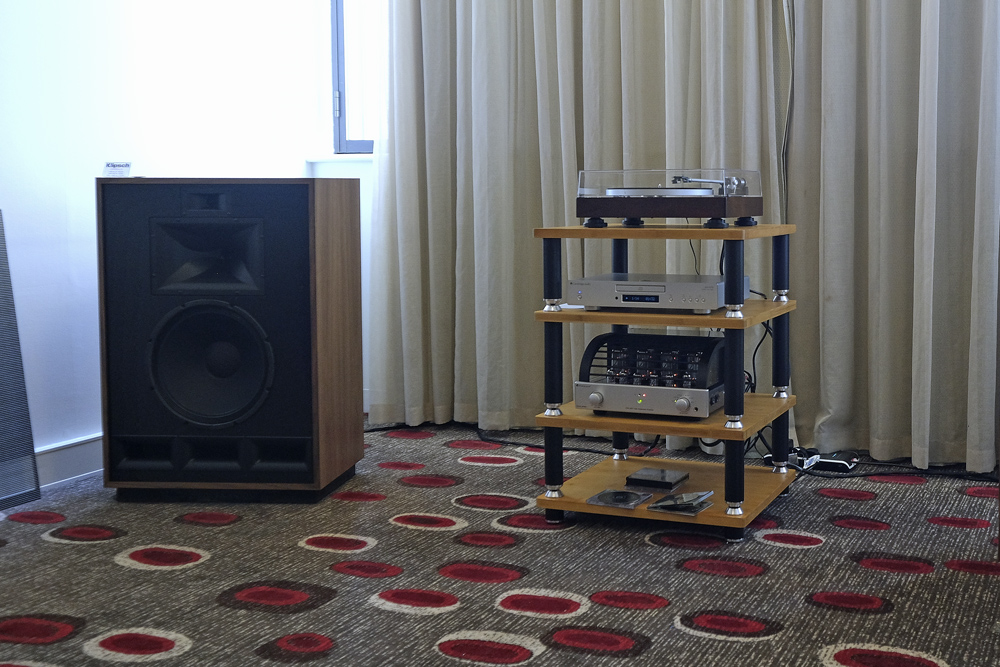 In Klipsch Australia's room where space was at a premium, a cheeky sneak inside allowed me a rather speedy snap and a short listen to Klipsch Cornwall speakers driven by Prima Luna and Cambridge Audio electronics. Trademark horn-loaded qualities of excellent detail and sharp transient attack made for an engrossing presentation.
In HeyNow Hi-Fi's room, Magenta Audio debuted the brand new PS Audio FR30 loudspeakers warmly driven by Moonriver Audio's highly regarded integrated amplifier. Aqua's Formula and LinQ provided the digital playback while cabling was from the distinctive Cables for Music stable. While bass-heavy tracks could overload the room (these are large speakers in a small acoustic environment, after all), tracks with less low-end energy provided a very detailed sound with snappy dynamic expression through the top-mids and lower-highs making snare, cymbals, etc. sound very realistic. Given a larger space, this system could be killer.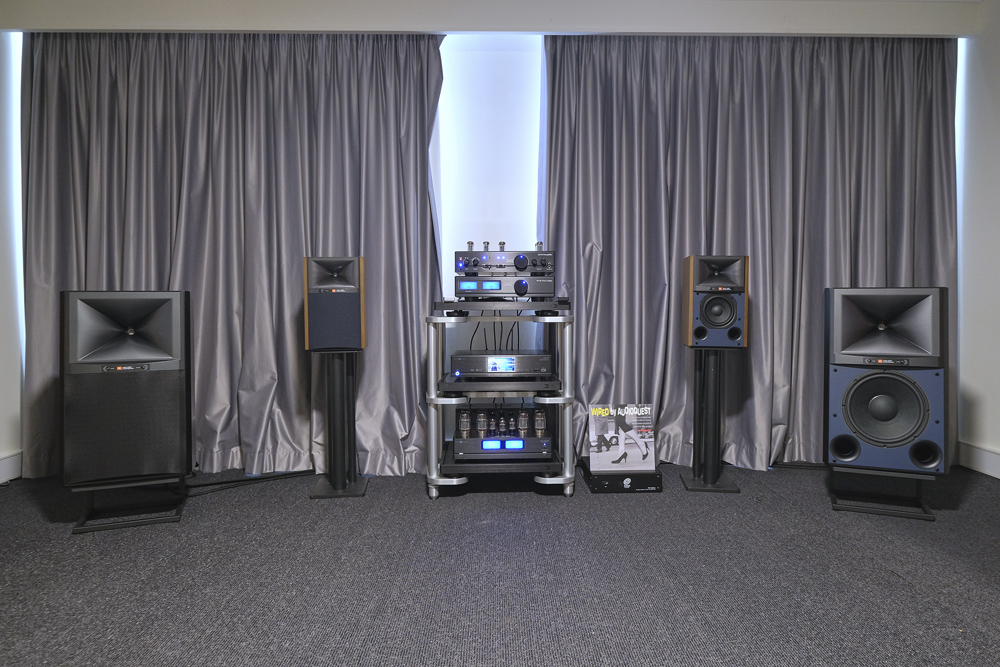 A breath of fresh air. The Convoy International room with JBL and Cary Audio was a hard-rockin' haven away from the light female jazz and "Keith Don't Go" ubiquity. Ramstein played with slamming power and my Sasquatch go-to track for cool Rock American-bar-style had me in uncontrolled toe-tapping action. I reviewed the JBL 4349 Studio Monitor (link here) and I know they can also perform beautifully with more subtle material. The Mark Levinson electronics and Revel speakers in an adjoining room were no slouches either. Great all-rounders.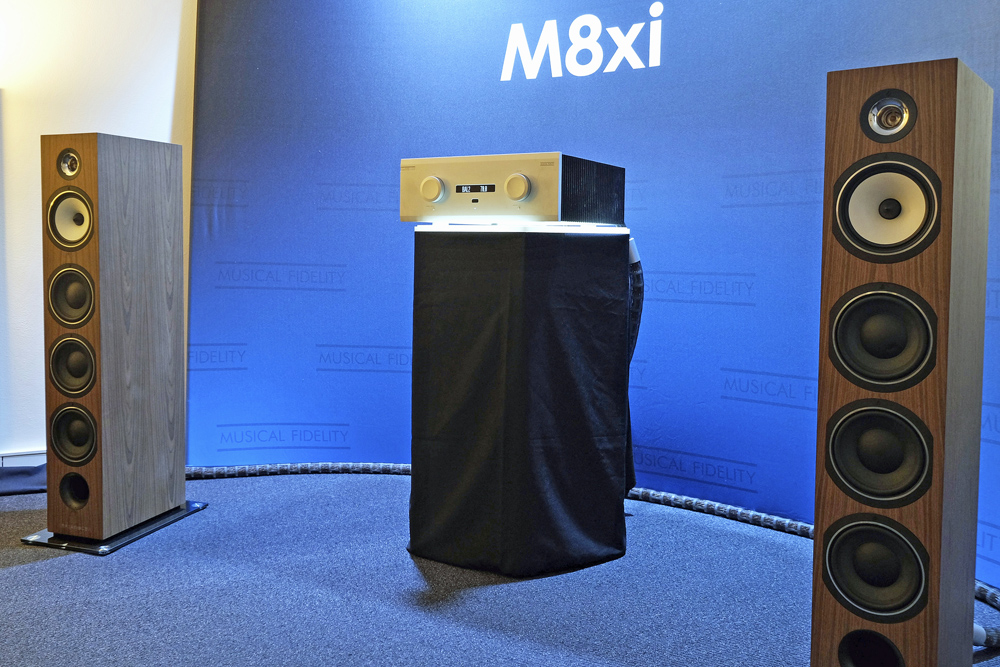 Audio Marketing showed the relatively new Musical Fidelity M8xi integrated amplifier with Triangle loudspeakers. The company also brings in the unique Holbo Airbearing Turntable System MkII (review here) while inakustik cables rounded out the gear list. The magic the Holbo is capable of translated across with a sound which was richly textured and rhythmically strong.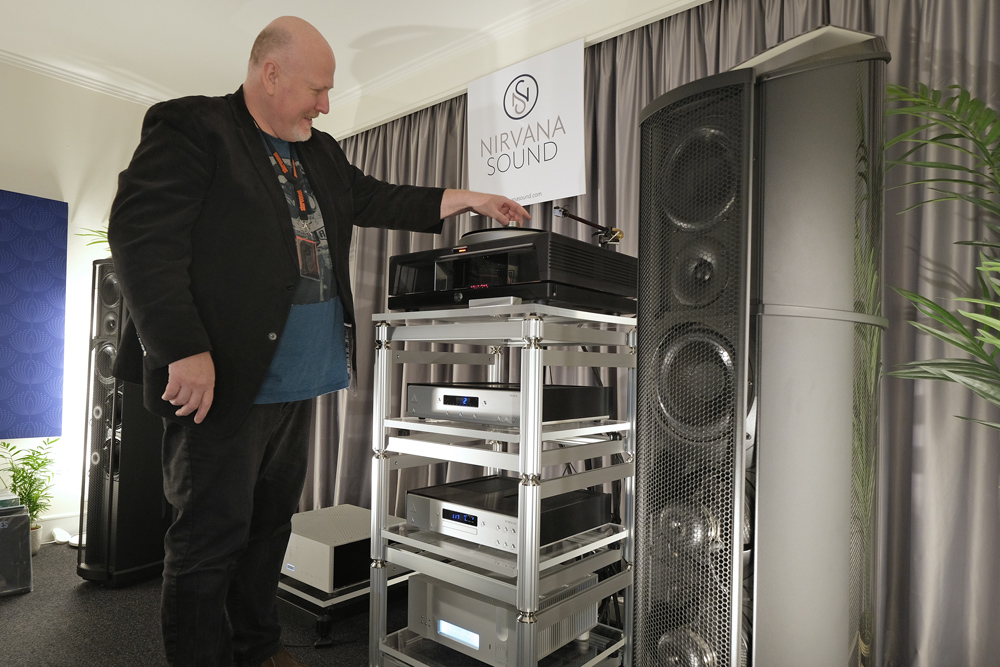 In equal place for the über high-end prize was the Nirvana Sound exhibit where the inimitable Mark Döhmann was DJ-spinning his Döhmann Audio Helix One MkII turntable. The system also consisted of exotica from Taiko Audio, Aesthetix and Ypsilon providing signal to Wilson Benesch Resolution speakers all tied with Stage III Concepts cabling. The impressive AG Lifter racks were also on display as a relatively new addition to Nirvana Sound's product portfolio. As always, the music selection was varied and entertaining, with the sound showing notable refinement, a spacious soundfield and excellent tonality. I returned there several times.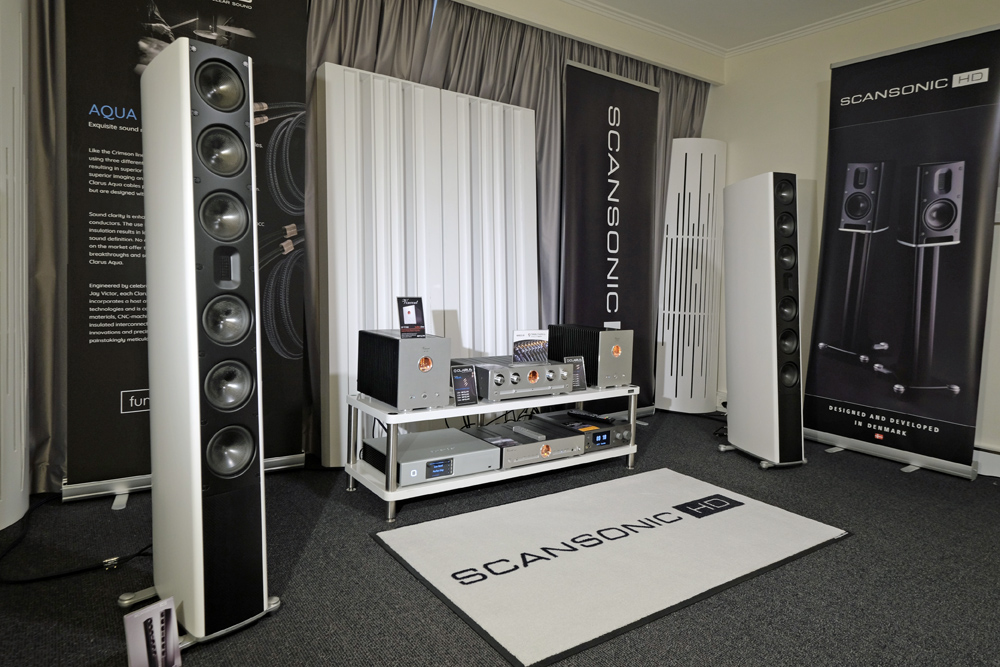 Fundamental Audio brings the acclaimed Vincent Audio electronics and the company mated the full-featured DAC-7 with a classy-looking preamplifier/monoblocks combo using Tributaries cabling. Loudspeakers were the elegant and fine-sounding Scansonic MB6 B from Denmark. High frequency purity and naturalness were the order of the day here.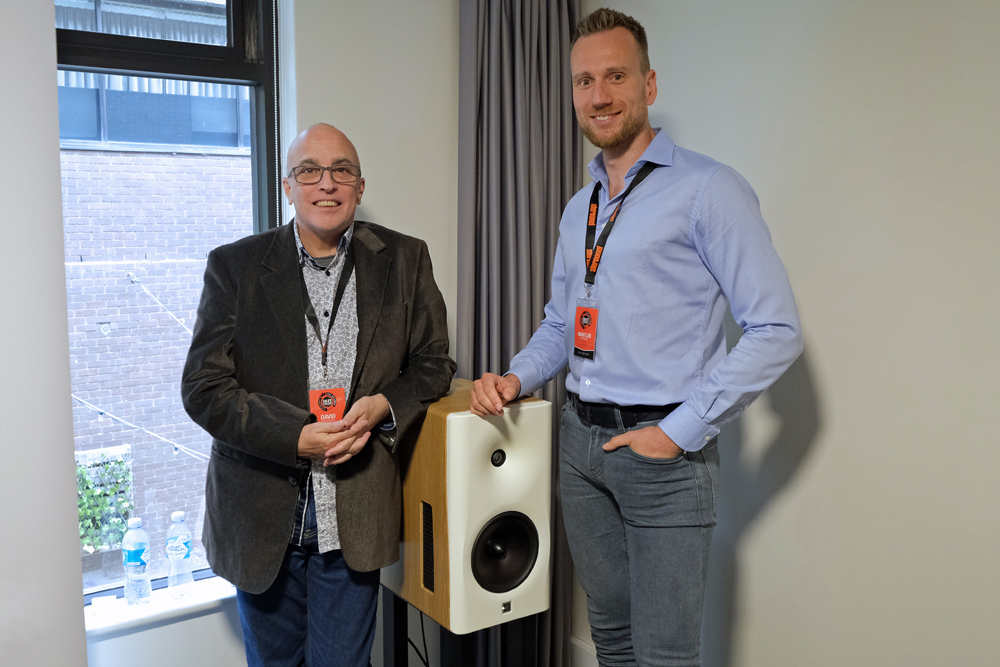 Pictured here are David Corazza from importer Sound and Music with Dutch & Dutch's Chief Designer Martijn Mensink. On show was D&D's 8c active and DSP'ed-to-the-max loudspeaker system which sounded gigantic, powerful and extremely well-controlled. Despite my near-field seating spot, I found the 8c's soundstage and imaging powers quite remarkable. Sound and Music also exhibited Benchmark Audio electronics and Amphion loudspeakers in successive spin-your-seat-around sessions.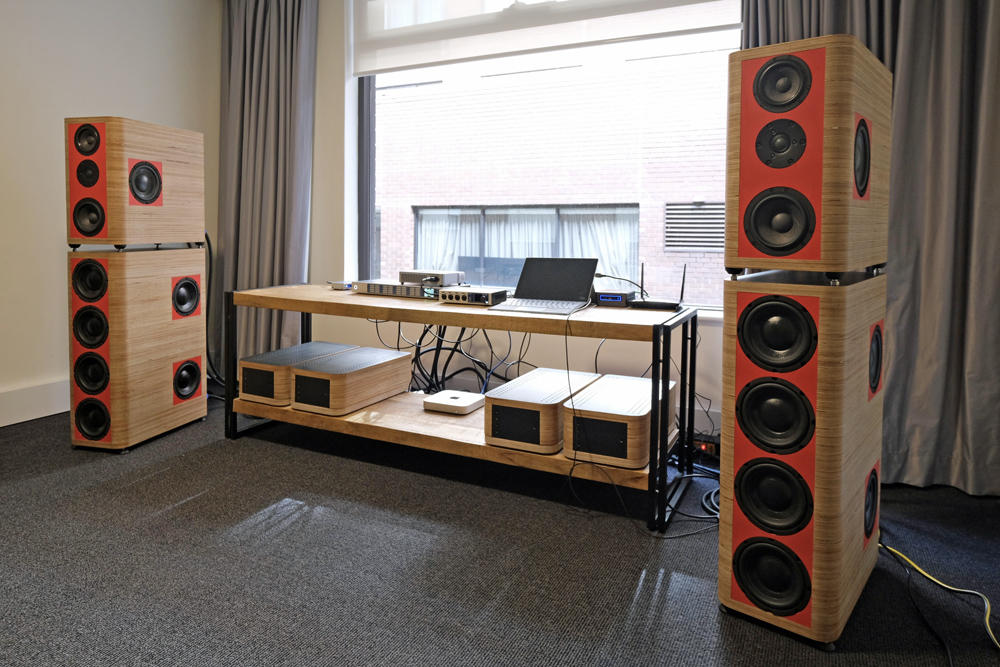 New Australian company 3SB Audio (3 Sad Bastards, which shows Aussie humorous scallywag-ness) showed its new fully-active modular audio system consisting of 'Keystone' 5-way/7-driver compact speaker, matching 'Bedrock' subwoofer with eight drivers and the 'Ochto' 8-channel amplifiers housed in matching ply enclosures. This is a promising concept which, in my opinion, needed further fine-tuning in terms of sonic qualities. While said to be sad and bastardly, the company's three-man brains trust is highly-evolved so I'm confident of performance improvements in the imminent future.
Part 2 coming very soon…
… Edgar Kramer
This email address is being protected from spambots. You need JavaScript enabled to view it.