F. Scott Fitzgerald once wrote, "… Nothing changes. Everything looks the same, feels the same, even smells the same. You realize what's changed is you." Barring the welcome navigation freedoms of the trade days – due to reduced press and industry representation from Asia – the consumer days' throngs were a strong post-pandemic renaissance statement – High End Munich is back, unchanged like it never went away.
But of course, we've changed. At least I have. Having the KN95's elastic band surgically removed discouraged me from re-positioning it at the show, heightening the paranoia of intaking air-flowing particles rich in… you know what. Regardless, I'm back in Australia now, a little under the weather (yay! two negative RATs) but firing to bring my usual '10 Favourites of Show' feature.
As mentioned above, the inaugural extension of the "trade visitor" time from one to two full days was an extremely welcome revision to the show's structure. In fact, and I'll probably be shot down for writing this, extending the show to start on the Wednesday may be an idea for the Munich High End organisers to consider. Keep two trade visitor days and offer three days to consumers who, as it now stands, may be struggling to conduct appropriately satisfying listening sessions at all the exhibits. Just saying.
As it was, the show in 2022 was called a success by the High End Society Service GmbH, with Managing Director Stefan Dreischärf stating, "The HIGH END is back, and we are overjoyed that it was such a resounding success. The feedback from our exhibitors, not to mention the trade public, the visitors and the press, was overwhelming."
Ditto for the overwhelmingness (I know, it's not a word but hey, this is my column) of the statistics presented by the organisers. The numbers are quite staggering, even for a show that based on my experience – and those of other attendees I spoke to – seemed slightly smaller (but not by that much). I'm told distributors from around 40 countries had representation via 450 exhibiting companies showing over 800 brands. A head count statistic reported nearly 20,000 visitors through the four days. All that in a massive 28,000 square metres. And trust me, my Doc Martins' imprints are across each and every square metre… Thank God for those famous cushioned soles.
So, on to my favourite rooms. As always, my picks are performance-related (after all, that's what this is about) but kudos may be offered to exhibits which also display other qualities I value. That may be non-show-staple musical fare, the aesthetics of the exhibiting room and, for extra points, an exceptionally warm visitor welcome (and not just to members of the press). There may be other aspects which separate rooms from the herd.
And this is important. I stated this at High End Munich 2019 (yes, it's been three years) and it holds for all my "Favourite" show articles:
I don't normally judge sound quality at shows. Not on a comparative level to the potential I know is available outside of show environments. That would be foolhardy. I only gauge my enjoyment, or outstanding performance aspects, based on the moment… there, at the show. On that day. Not as a judgement call on universal potential. And not in any way disregarding or discounting the valiant efforts from all the exhibitors at the show.
Of course, for a super-extensive coverage of the show, hit www.soundstageglobal.com where you'll find both objective and subjective impressions of a huge (but unfortunately not all – that's almost impossible) selection of exhibits. That's covered via the 'Product Coverage' and 'Sights and Sounds' columns by Founder Doug Schneider, Jeff Fritz, new UK-based writer Jonathan Grose and yours truly. Once again, a strong team presence from the SoundStage! Network.
Oh, also bear in mind this is in no particular order. This isn't a best-to-least-best feature. I write these as I came upon them through the corridors of the MOC. Hieroglyphic interpretations from scrawls taken straight out of my trusty hard cover notebook. Sacred words… not.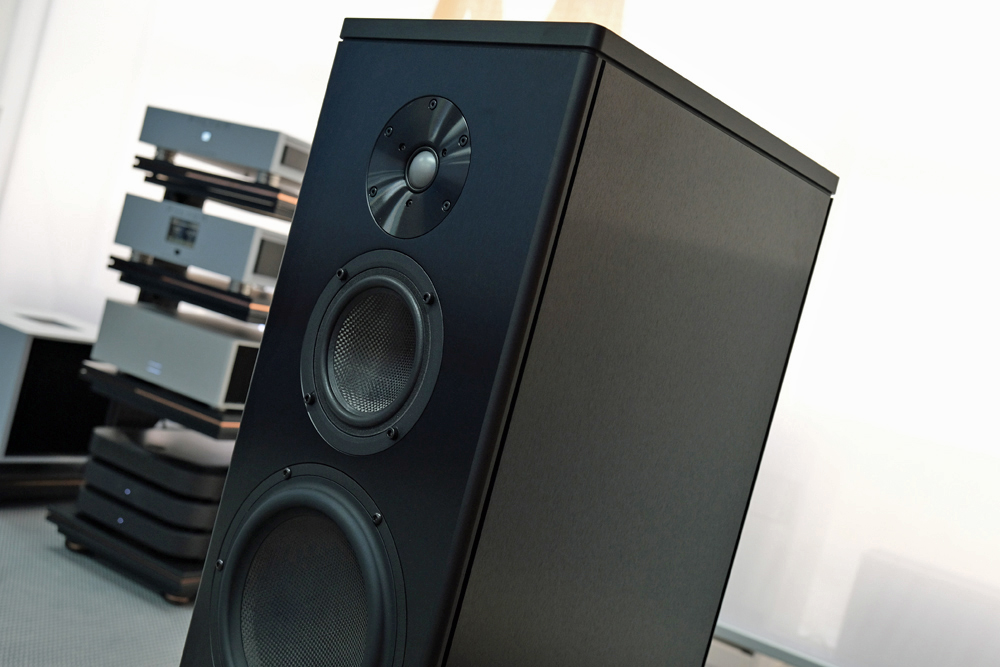 While Magico saw its speakers being used for demonstration in a number of other companies' rooms, it was in its own exhibit where Magico's wares were most effective. Supported by MSB Technology and Taiko digital sources and a full Pilium amplification suite all hooked-up via Vyda Laboratories cables, the Magico A5 (see my review here) pounded with an enclosure-defying bass register. That was on an electronica track Alon Wolf played for me on a one-on-one demo. Outstanding too was the finer detail, resolution and sheer musicality of a delicate piano piece. A vocal track showed that presence quality which is often smeared, or even plain unachievable, via less-capable transducers. Of course, everything plays a role and I'm told there are significant synergies between Plinium and Magico but, nevertheless, I know the A5s well and they are star players in a game far above their price point indication.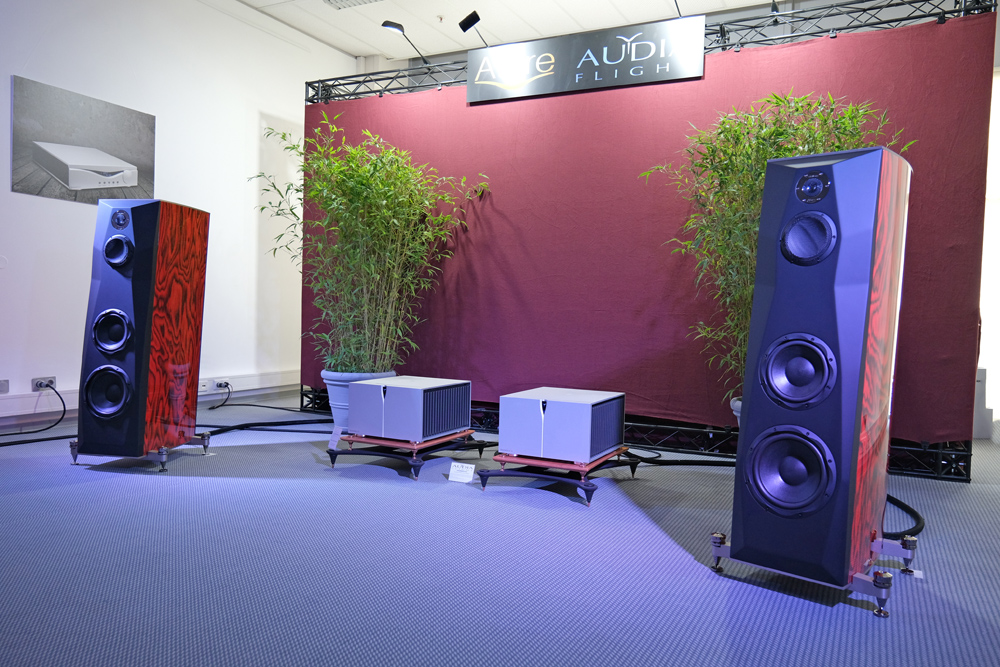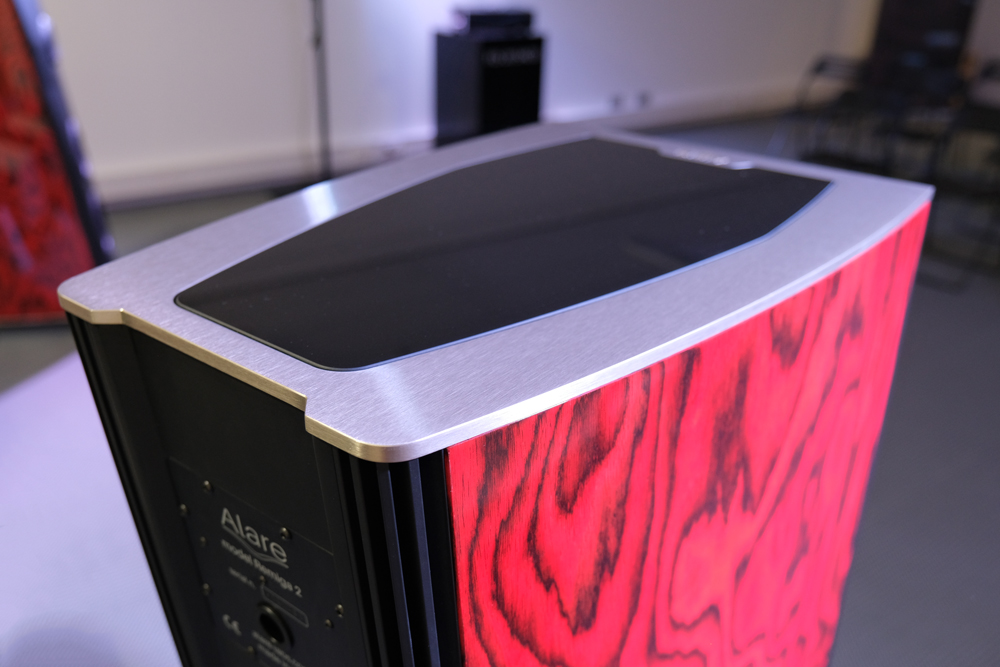 I've had the great pleasure of reviewing Audia Flight's phenomenal Strumento preamplifier and stereo power amplifier driving my own loudspeakers. Now, the company has launched with Alare, a sub-brand specialising in speaker designs. Alare's first offering is the exceptionally beautiful Remiga 2. Yet, this is not a case of beauty over substance. Yes, the design, materials quality and finish are world class but the sound lives up to the expectation. It's a perfectly balanced sound which combines full-bodied warmth with superb tonal accuracy and fine, sweet detail. Also of note, given the level of skilled engineering that it takes to produce Remiga 2, is the literally stunning transient attack on a drum piece, a trademark that is difficult to integrate without some sacrifice in sweetness and musicality. We're looking forward to reviewing this very, very promising loudspeaker from a company I hold in high esteem.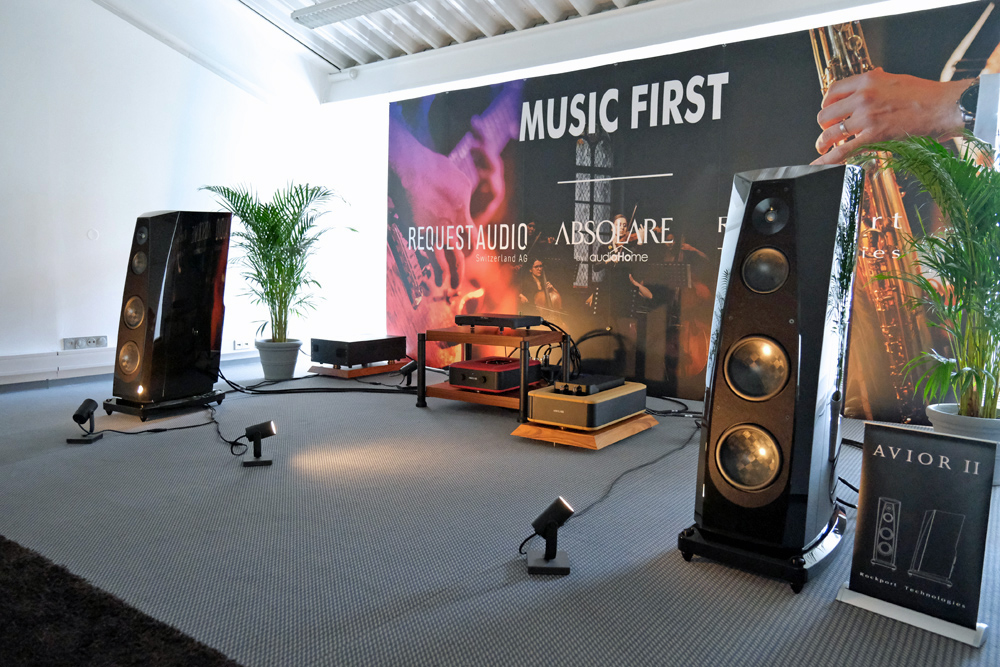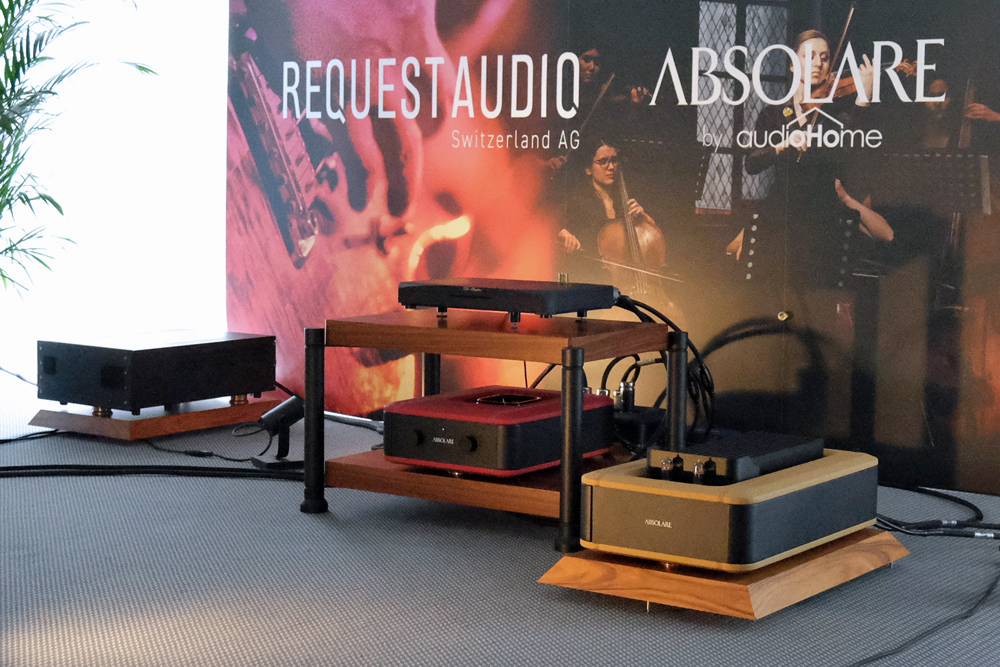 I often see brands who form a collaboration not just based on logistics (one being the distributor for the other or who have some kind of association) but also due to their products possessing a positive mutual interaction. This is the case with Absolare's electronics and, in this case, Rockport Technologies' Avior II loudspeakers. Tunes were provided by ReQuest Audio's The Raptor. A big band's horn section projected with impressive dynamics and oodles of that 'raspiness' trumpets can often produce via top-notch revealing systems. Equally, lesser systems struggle with the required separation and resolution these big jazz orchestras demand. No issues here. The combo of electronics and Avior IIs was adept at delineating the various complexities while maintaining precise tonal qualities. There was something just right about this system.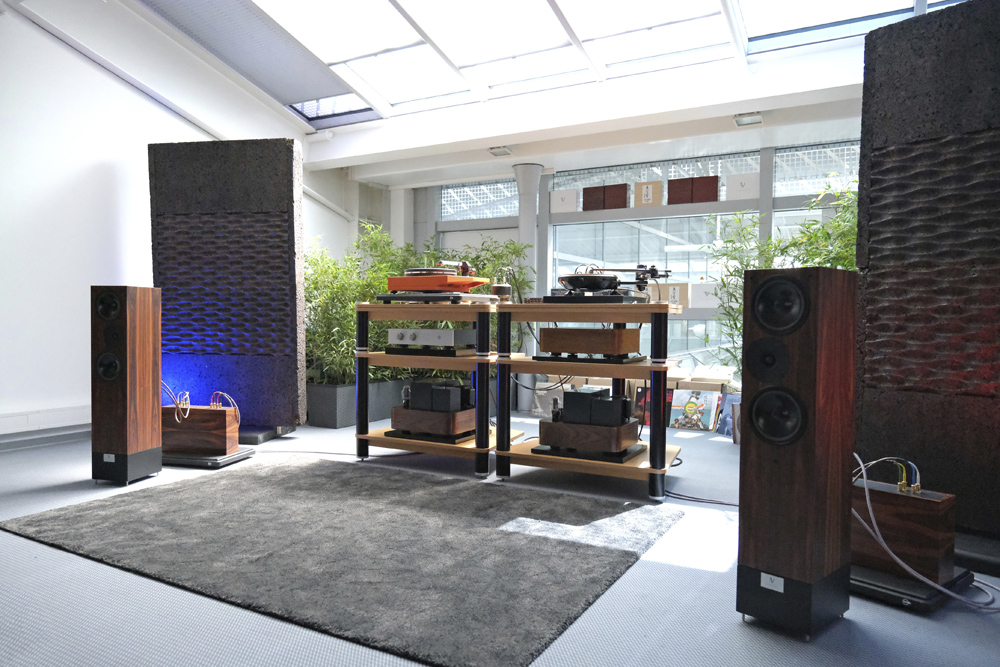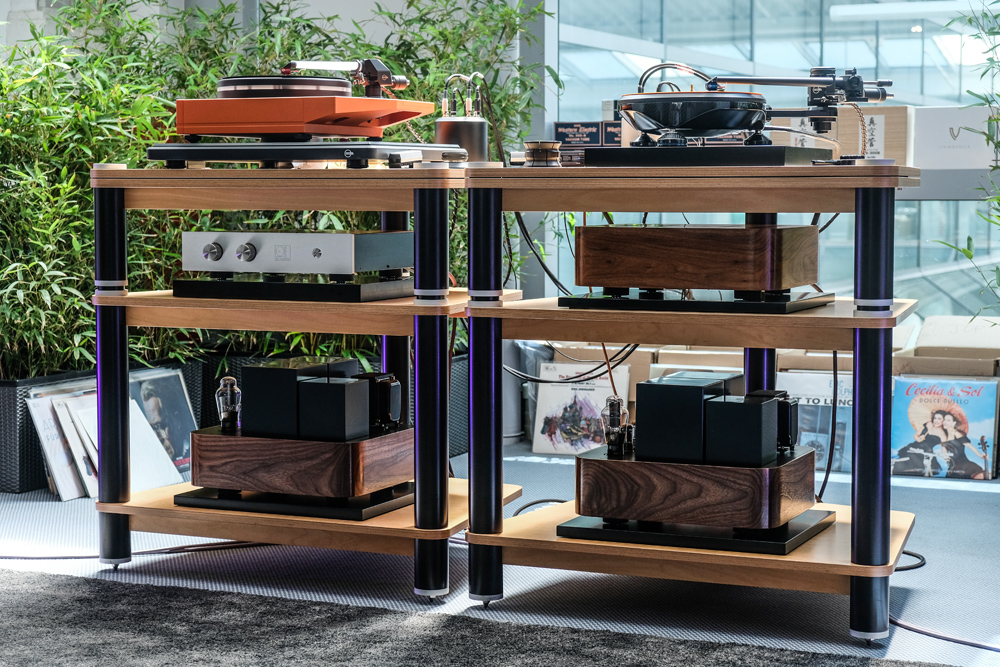 This image by Jonathan Grose
Possibly taking my crown as the most favourite among favourites was the room with Living Voice loudspeakers supported by SJS electronics and Kuzma and Grand Prix Audio analogue sources. The OBX-RW4 speakers were simply deliciously beautiful in their presentation of tone and harmonic content (the Santos real wood veneer used on both the speakers and the outboard crossover enclosures helped in the looks department too). It was a departure from the monster horn systems Living Voice normally exhibits but in no way was it a step backwards. The sound here belied the size of the small floorstanders by the way the soundfield projected in an enveloping hugeness. Also huge was the sheer level of textures and fine detail balanced with an inherent sweetness which both engaged and mesmerised. A real stand out room.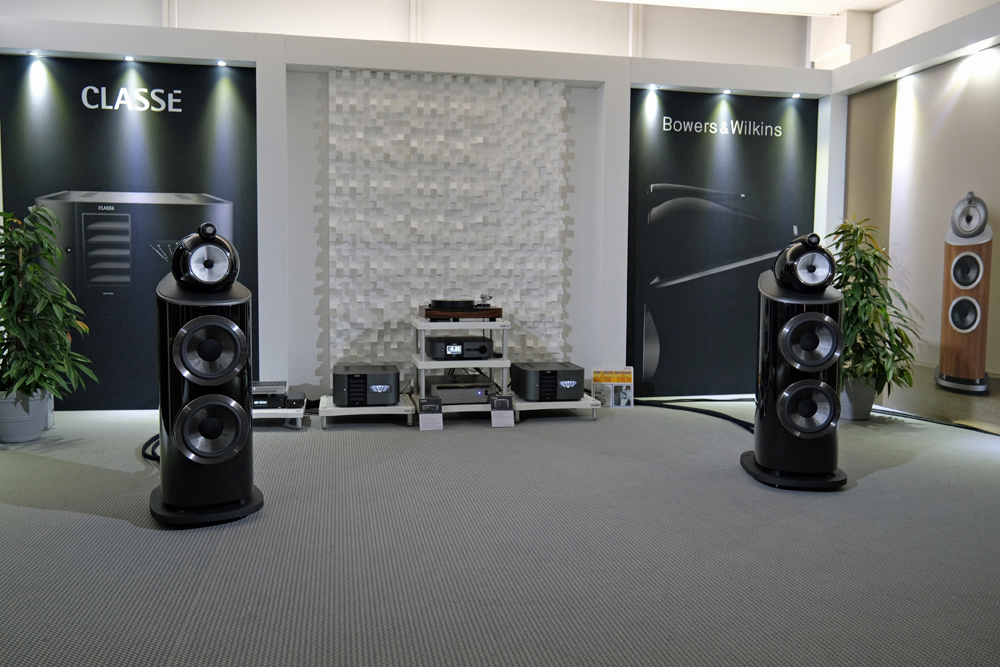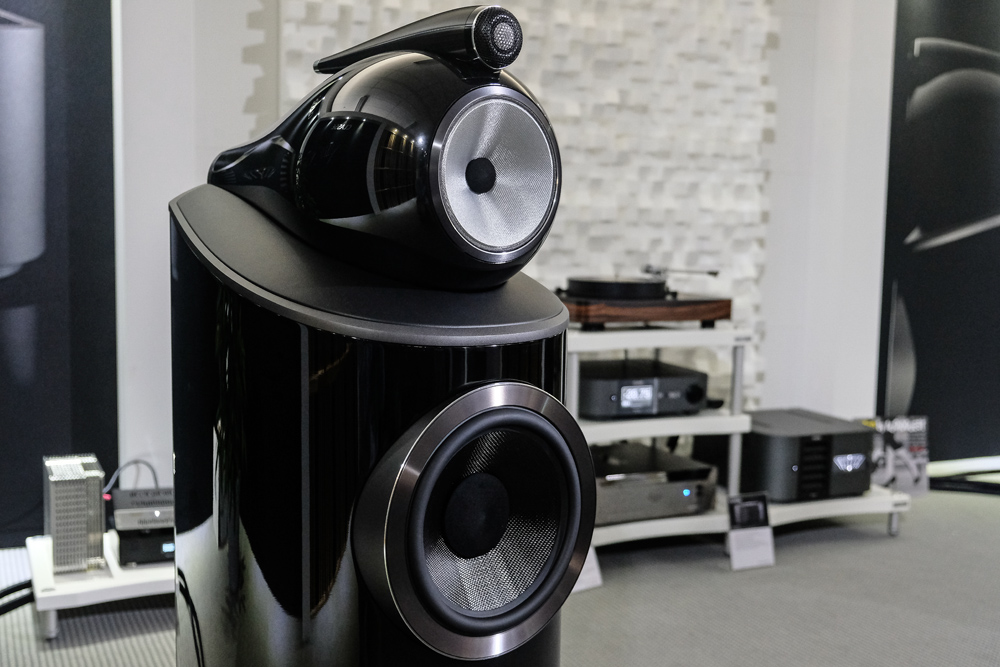 This image by Jonathan Grose
Having reviewed the extraordinary Bowers & Wilkins 801 D4 flagship (review here), I'm familiar with its enormous capabilities. Mated with Classé Audio DELTA monos, DELTA Pre and Dr Feickert Analogue's Blackbird turntable, enormous is the immediate word I'd use for what the speakers sounded like here, in a way that surpassed the limitations of my room when it comes to low-end power. Man, the bass slammed. It really hit the chest with authority and depth. And the presenters knew this, therefore playing appropriate tracks highlighting that quality. The kick drum in a live track by Fink from his Sort of Revolution (Live at La Cigale, Paris) just floored me. Needless to say, it wasn't just the bass. It was a precisely-separated, awesomely spacious and super-detailed sound also making for one of the most dynamic presentations of the show.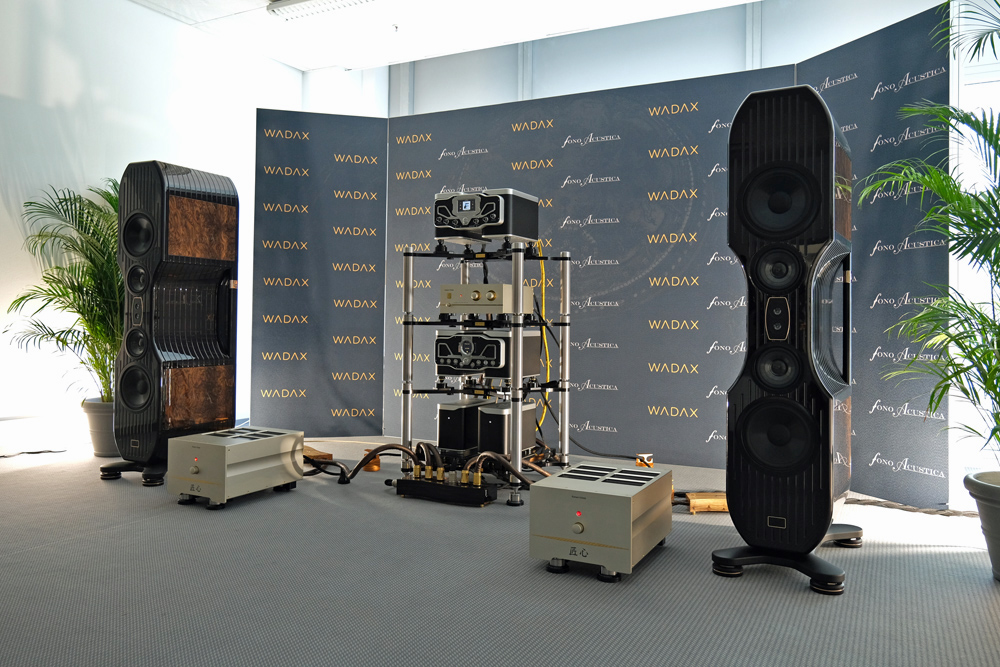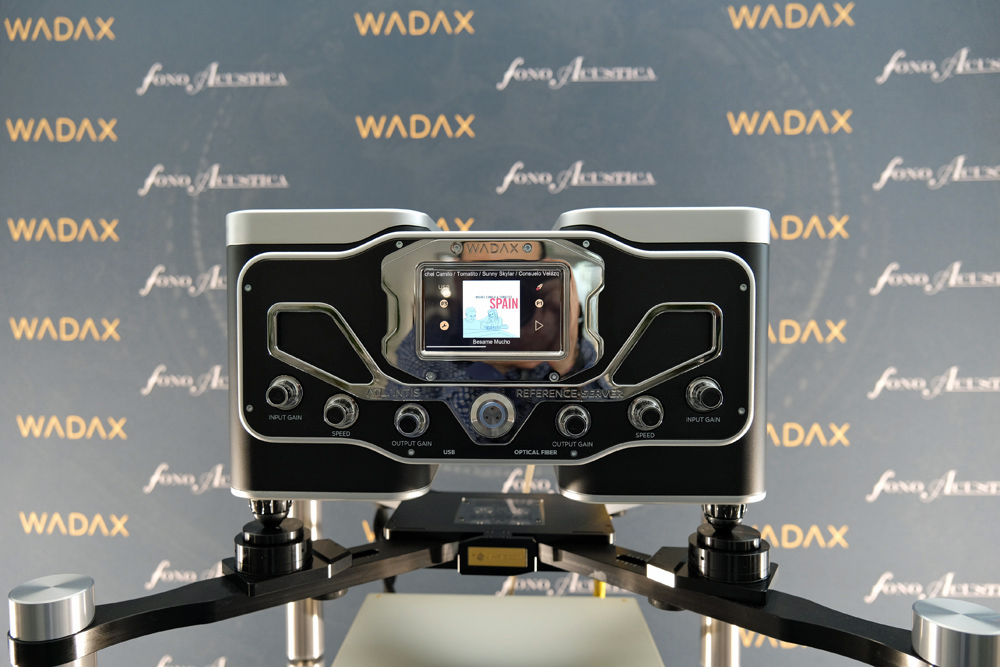 In a room with OTT gear which not only impressed visually, the setup of Robert Koda, Wadax, Fono Acustica and Kharma also mesmerised aurally. This was a grand illusion of live sound in a scale representative of the system's stature. A piano piece sounded superbly natural with lightning-fast transients on the leading edge of notes. Both these qualities were evident too in a beautiful solo guitar track. The high resolution capabilities of the system (not in a digital resolution sense but in the overall reproduction) allowed the illusion of real instruments to permeate the room. When an expressive contrast was called for, there was no holding this system back.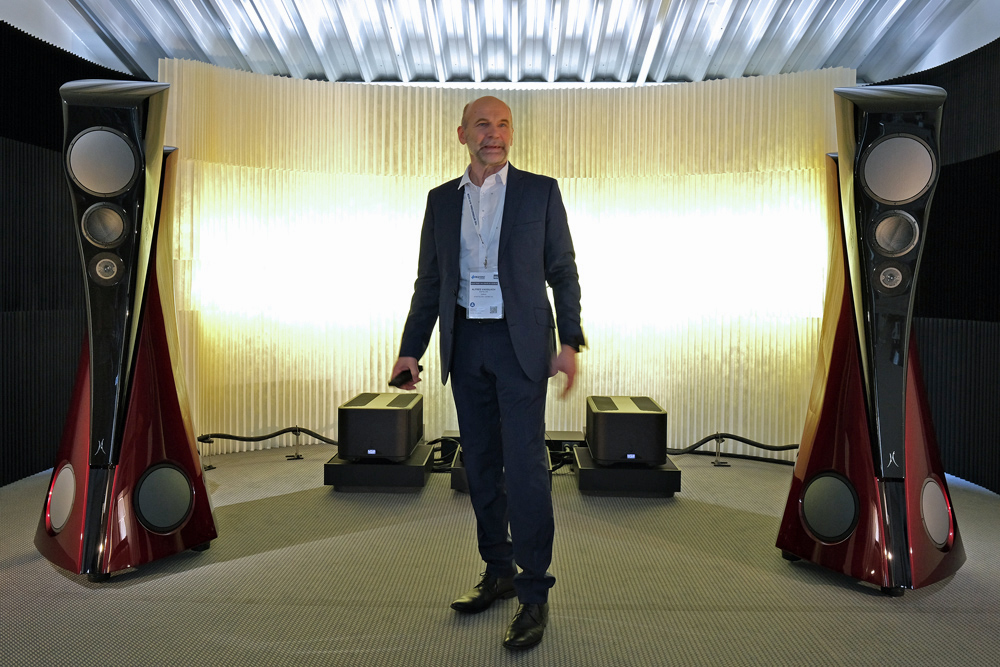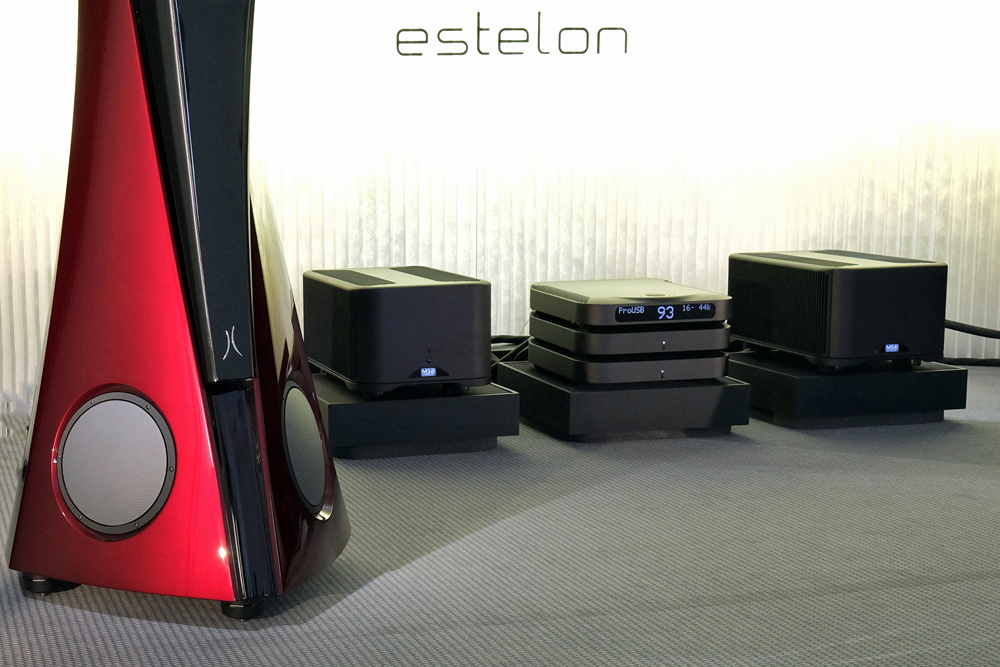 The Estelon room is always one of HEM's highlights. Alfred Vassilkov presented the remarkable new Extreme MK II and provided a run-down of the new drivers, the refined enclosure and redesigned crossover technology. Very cool is the remote controlled motorised tweeter/mid/mid-bass module adjustment which is quick, almost silent and allows perfect alignment to the listening position. Vassilkov conducted the demonstration and his music selection truly highlighted the considerable strengths of this speaker system as powered by MSB Technology source and monoblock amplifiers. This was a super-refined sound capable of excellent delivery of tonal textures. Amazingly, from my seating position front-and-centre, these massive speakers totally disappeared allowing a satisfying immersion into the music. Of course, this also translated to excellent staging capabilities with a soundfield which was immensely wide, tall and deep. Bass was powerful yet it did not overload the room… all was in balance. As I stated above, a highlight.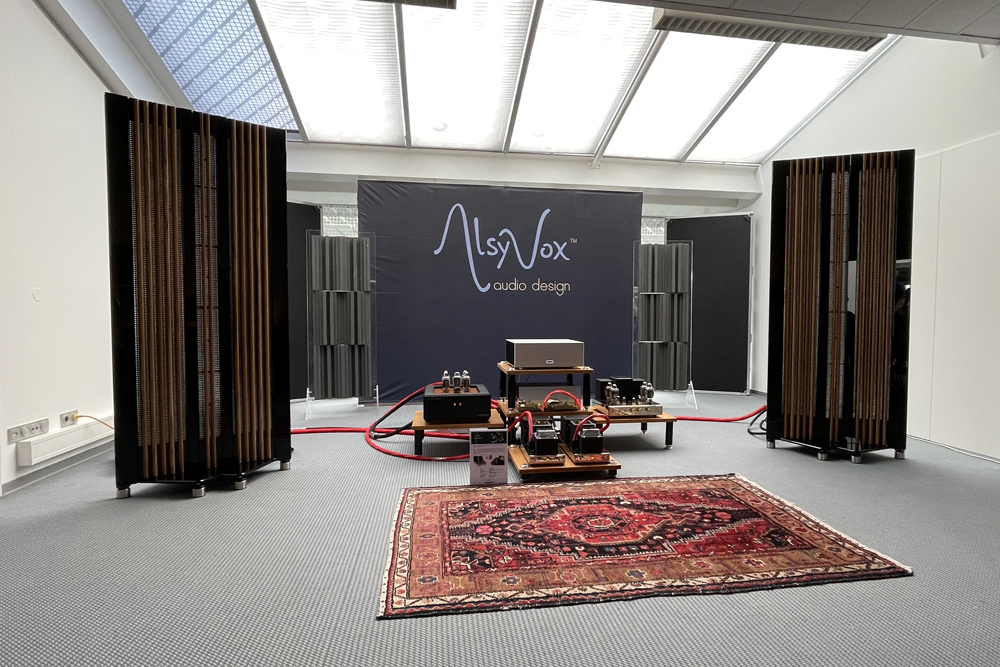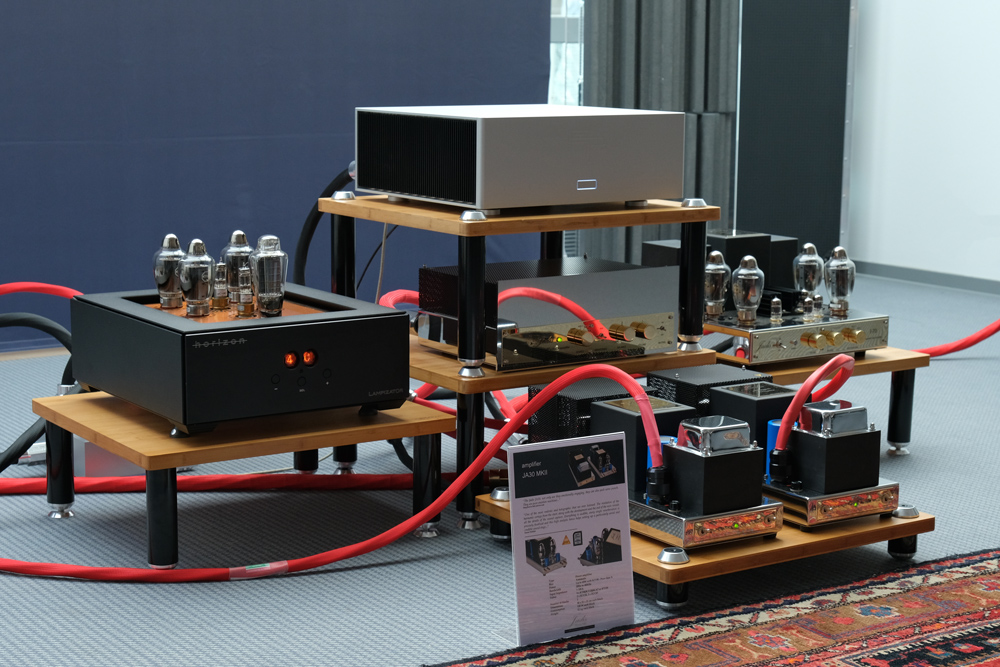 My show notes for the Jadis, Alsyvox and Taiko room read "open, open, open". Indeed. The sound here projected so naturally and vividly into the room that I was captivated. An acoustic track also presented what was, in my HEM 2022's experience, the deepest, widest and tallest soundstage. Said soundfield was populated with vivid images in tight focus. The low registers were expertly balanced and, at least while I was there through several tracks, sounded well-matched and integrated to the room. Vocals were sweet, never aggressive and projected with realistic presence. For such large panels, the sense of a performance rather than merely speakers was quite a palpable phenomenon. This is the best I've heard the Alsyvox speakers sound.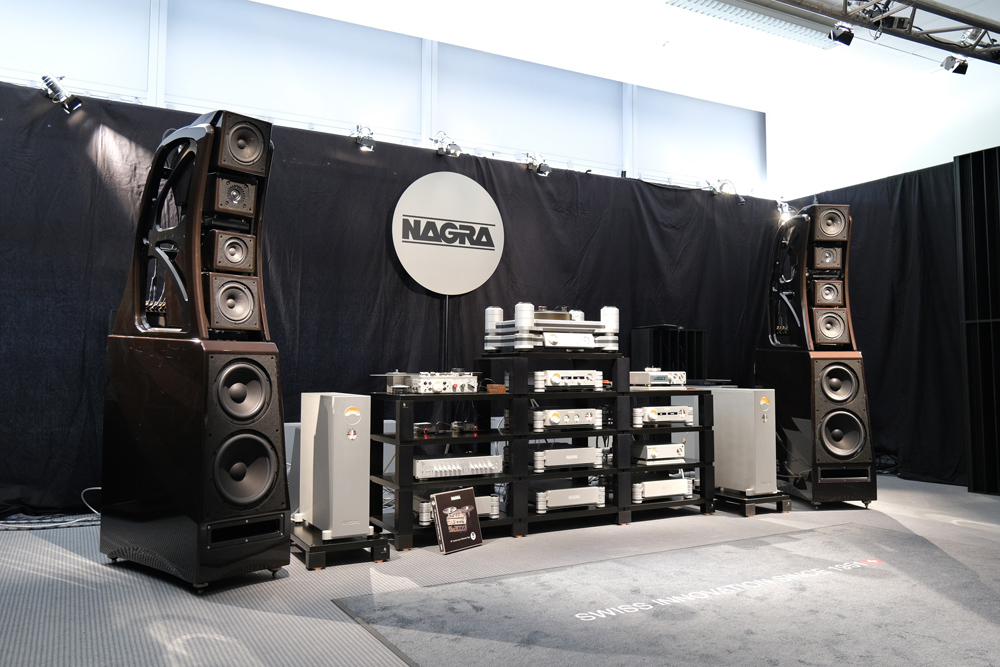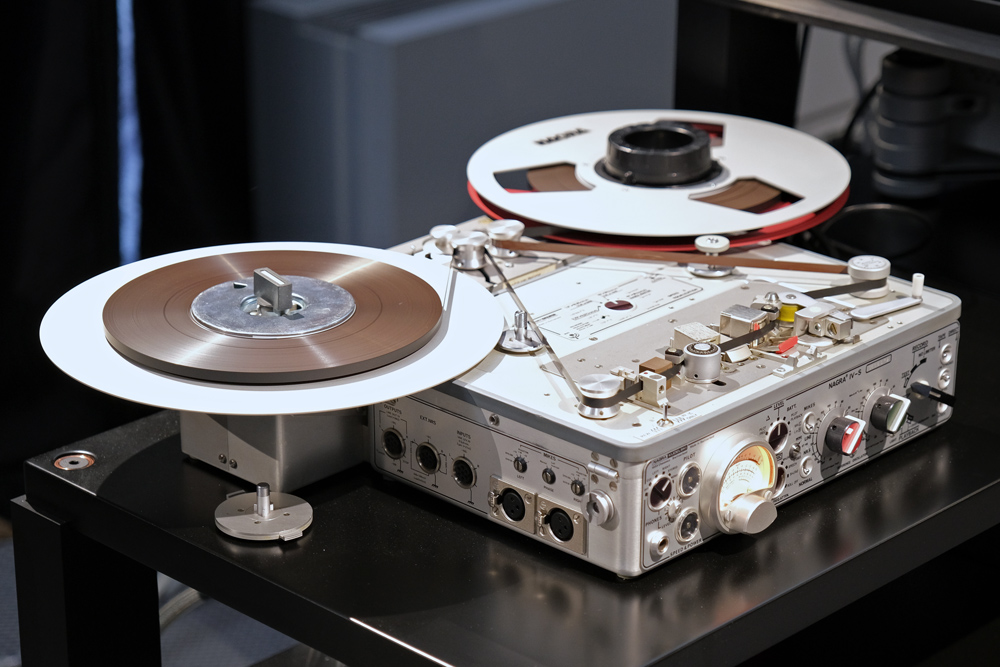 I tried to get into the Nagra room a couple of times and eventually had to return just about first thing in the morning to be able to both take images and listen in a meaningful way. I would say this was one, if not the most popular room at HEM. Nagra had a full suite of electronics (including the stunning Reference Anniversary turntable and gorgeous IV-S tape recorder/player) tied with Crystal Cable and powering the majestic Wilson Audio XVX. My, was this a big sound. Mostly playing vinyl while I was there, the dynamic range on offer was staggering while every nuance and subtlety in the music was presented in both a natural and scalpel-precise way. Such a refined full-range sound here. I was also struck by the projection and presence of vocals which were always rendered with true precision in terms of tonality and image size. Another standout room.
Noteworthy Addendum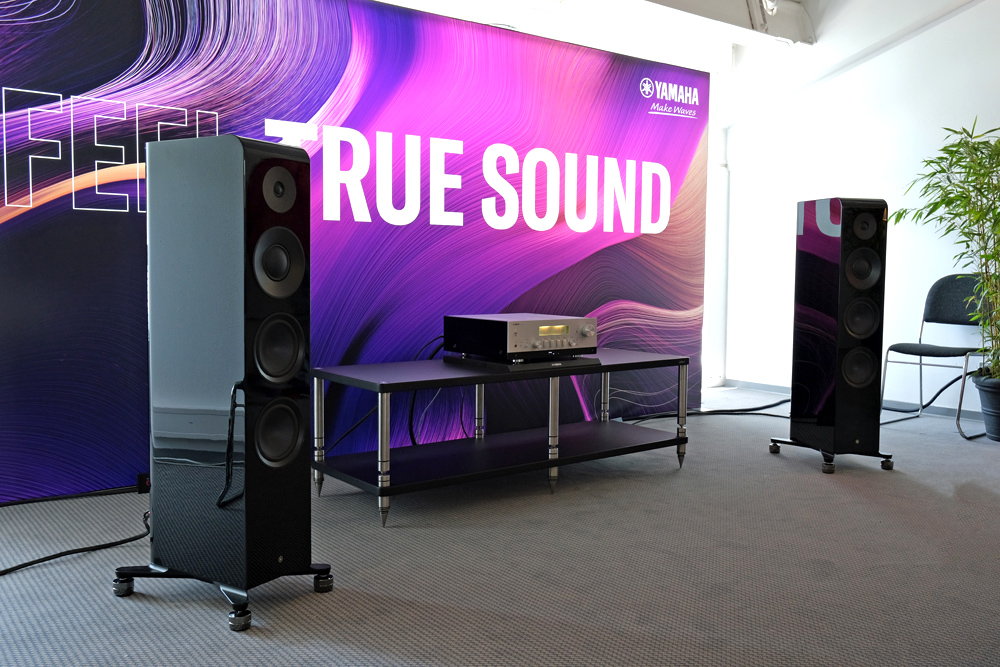 In terms of a representation of the ratio between performance and best value for money at the show, the gong would have to go to Yamaha's new RN-2000A receiver and NS-2000A floorstanding loudspeakers. A new tier below the flagship 5000 series, the new products showed Yamaha's long-running expertise in terms of presenting a balanced and natural sound (you'd think I'd got those from the company's spiels but, as they say, it is what it is). The sound was detailed and refined with good bass extension for the size while the NS-2000A's midrange (I've liked dome mid drivers for some time – ATC or Dynaudio domes anyone?) rendered vocals with purity mixed with fine resolution. Favourite for value at the show.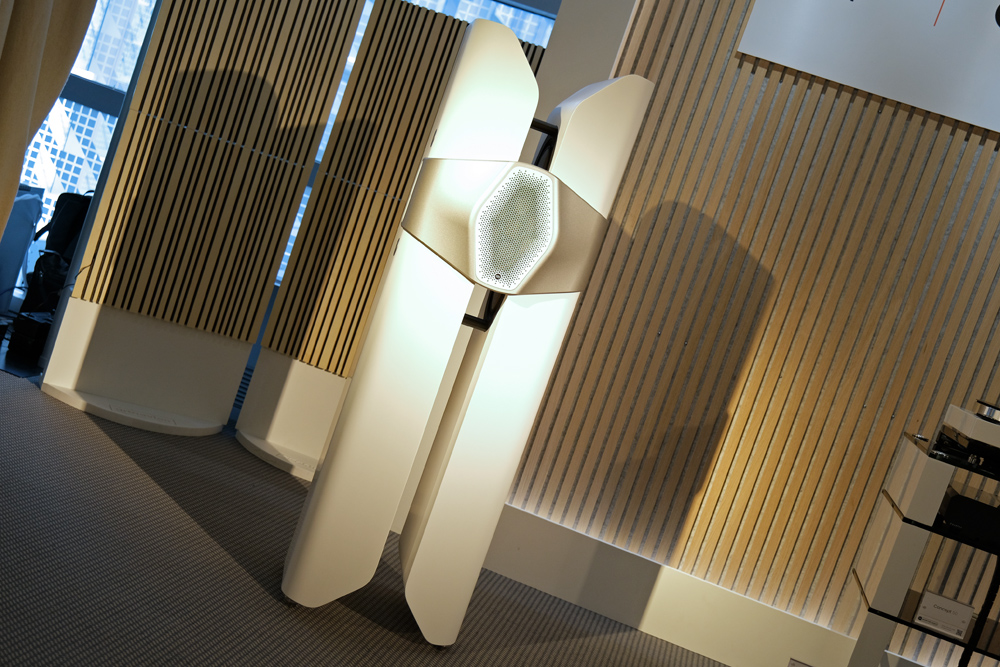 In prototype status but nearing completion (I'm told some minor tweaks are being finalised), the Monitor Audio Concept 50 was an extremely promising, umm… concept. It looks like nothing else out there and combines an equally unique driver configuration. The twin columns house push-push woofers while the centrally-mounted module features an array of six small midrange drivers surrounding an MPD tweeter. There's something to that unusual configuration because the image specificity was among the best I've ever heard at a show. These speakers d.i.s.a.p.p.e.a.r. Powered by Roksan electronics, the immediacy of the midrange (on some nicely recorded female vocals) was mesmerizing, and the lower frequencies played solidly in support. In my opinion, the lower end was an advanced work-in-progress, but this was one of the most promising and innovative designs at High End 2022.
… Edgar Kramer
www.soundstageaustralia.com