Chris Murphy from Hi-Fi Collective at the tune-spinning is usually synonymous with wisely-chosen music that avoids audio show clichés. In a lengthy audition (by audio show standards), Murphy spun a variety of music with a common theme: beautiful song writing. Lucinda Williams and Bruce 'The Boss' Springsteen among others were delightfully and quite captivatingly rendered via the new and very, umm…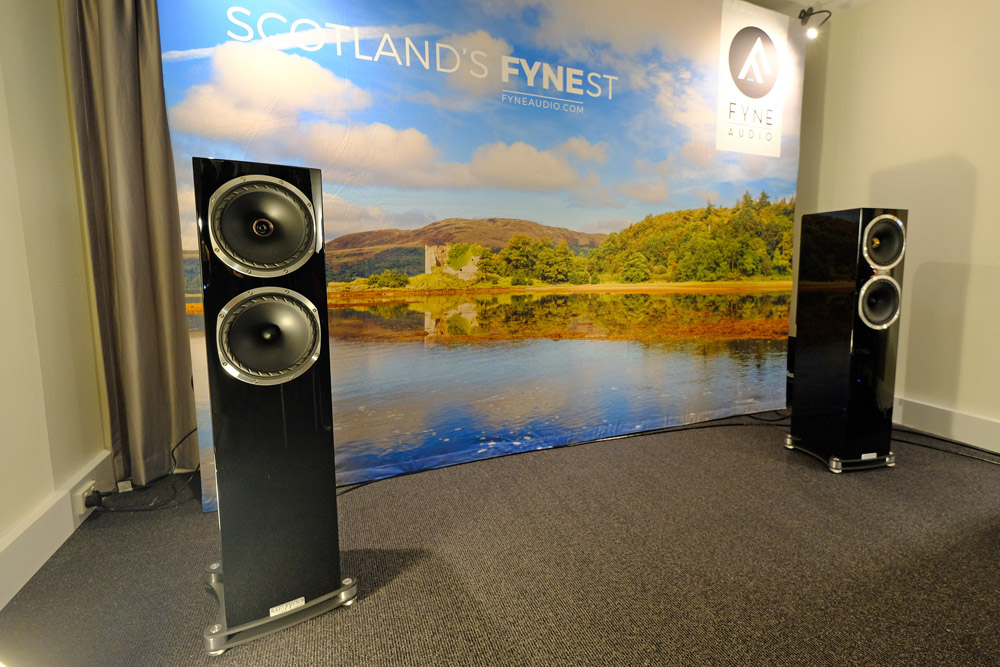 …fine Fyne Audio F502SP speakers from Scotland (now that word association must be getting clichéd by now). Support roles were played by an AVM integrated amplifier from Germany. These speakers disappeared, projecting a huge soundfield with terrific image placement. Music was natural and full. Fyne Audio's Sales & Marketing Director Max Maud was at the show and SoundStage! Australia had the opportunity to interview him at length. The fruits of that interchange will appear within the context of a product review at some stage soon. At this stage let's just say that Maud is a musician with decades of industry experience and he banded together with key ex-Tannoy engineers to "create products that perform at the highest level with high quality in-house-manufactured components unimpeded by the limitations of big company bean counters." Mission. Accomplished.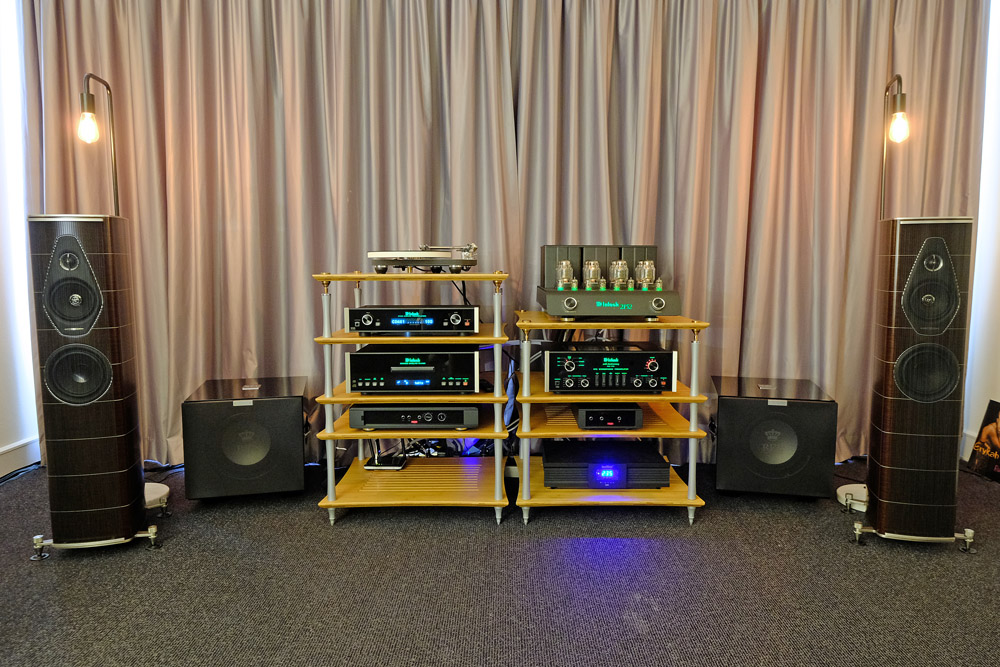 There's very little that can compete with the aesthetic beauty of McIntosh Labs electronics and Sonus faber loudspeakers. Proving once again that these products ooze substance that runs way beyond skin deep, the McIntosh electronics were highlighted by the super-beautiful MC2152 70th Anniversary amplifier and the new deliciously-designed Sonus faber Olympica Nova II (added support via a duo of REL subwoofers). A Rega Research turntable spun black while further McIntosh support via the new C53 preamplifier and MC452 power amplifier provided an alternative take on the American and Italian combination. All sat on the new Quadraspire SVT racks and hooked with Chord cabling. The sound here was detailed and expressive and while the room seemed to limit the potential sound stage width and depth, we know that the components are all more than capable of providing reference level performance in spatial reproduction. They certainly did that when it came to detail and resolution.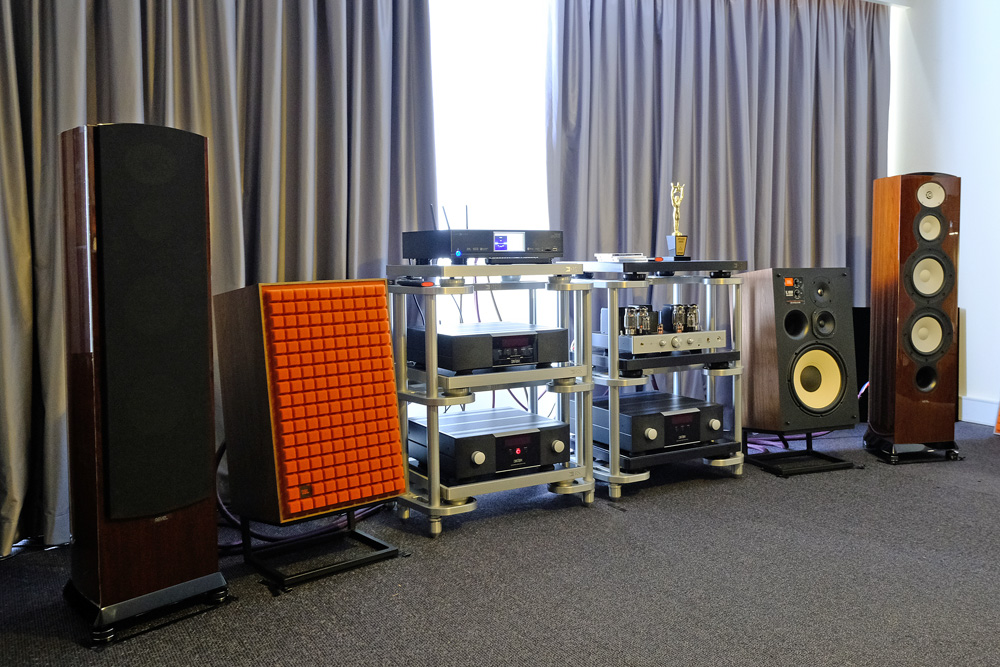 Convoy International ran two rooms with the primary one being a showcase for some of the company's best while the secondary room was specifically utilised to demonstrate the irrefutable benefits of IsoAcoustics' loudspeaker resonance/internal reflection vibration control. This year, in order to more efficiently illustrate the powers of the IsoAcoustics GAIA products, two identical sets of speakers were used, one with, one without GAIA, and instantaneous A/B-ing was facilitated via a remote controlled switcher. Brilliant. And super effective at clearly identifying the undeniable results. The main room saw a bevy of beauties from Mark Levinson such as the new № 5101 Network Player/Steamer, № 5802 and № 5805 integrated amplifiers teamed with Cary Audio DMS-600 Network Player and SLI-80HS integrated amplifier. Loudspeakers were the JBL L100 classic revitalised and Revel's totally modern F228Be. I managed to catch the JBL L100 first, which sounded spacious with proper stage height and massive width while also being tonally enchanting, then later the F228Be which contrasted the JBL by combining a more upfront and detailed sound with startling dynamics. We'll be reviewing a Cary Audio amplifier – and other Convoy temptations – within the next few weeks.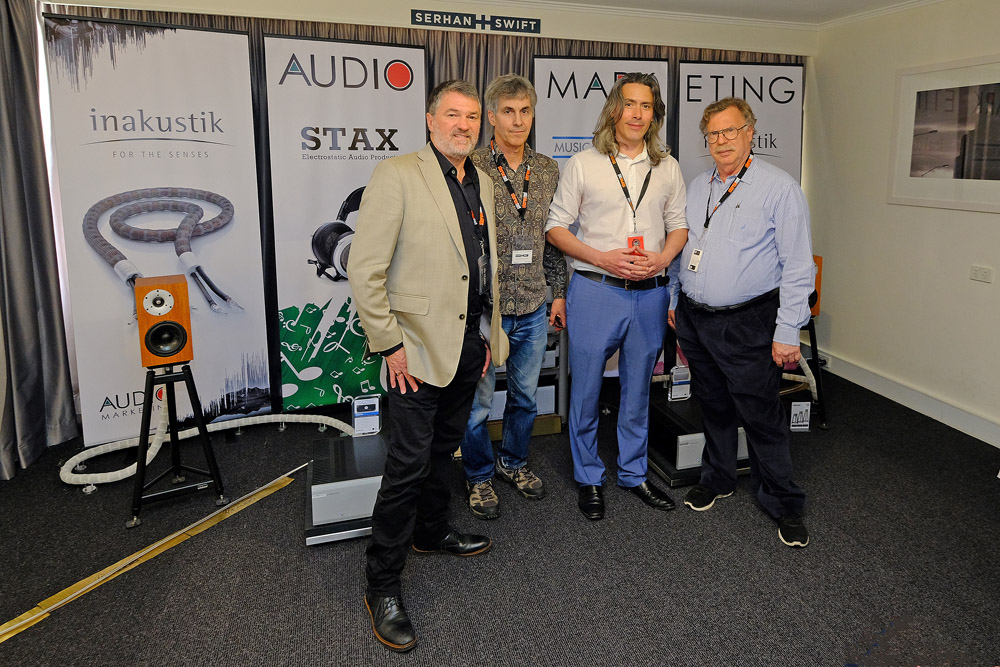 Hipster dudes? Les Davis, Brad Serhan, Tim Wallis & Morris Swift
The Audio Marketing room was a haven of 70s cool, vinyl chic and hipster shirts. Tim Wallis brought with him a heavy metal suite of Musical Fidelity and Döhmann Audio Helix Two. More 'big iron' was provided by in-akustik's flagship LS-4004 AIR Pure Silver loudspeaker cable coming in at the princely sum of AU$55K while tweak-commandant Les Davis peppered his magic Les Davis Audio stuff everywhere. The MF gear was highlighted by the M8sPre and M8700 monos on duty driving Serhan+Swift's delectable Mu.2 standmount speakers which performed their usual disappearing act and low bass tom-foolery. Way bigger sounding than any standmount has a right to while imaging like a newly-sharpened scalpel.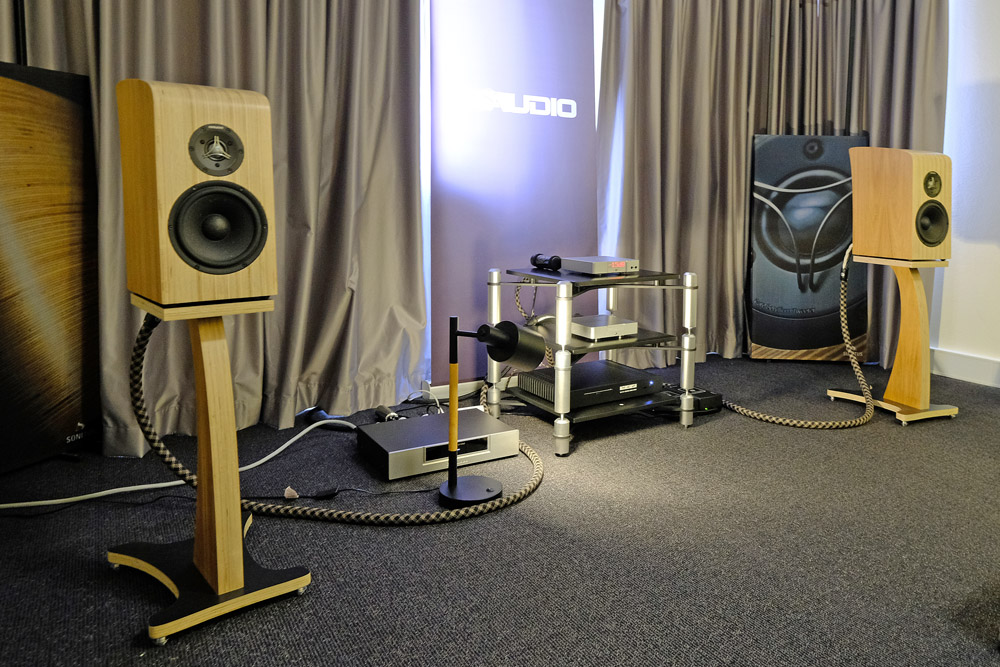 M8audio's distinctive Sweet Maxwell has been very favourably reviewed on SoundStage! Australia here. At this showing – in a perilously darkened room for shutters and lenses – the excellent yet unusual standmounter loaded the room with low and powerful bass driven by DiDit DAC212 DAC/preamp and Class-D AMP212 amplifiers and using the same company's streamer/server. There was plenty of body to the lower midrange too giving great presence to acoustic bass, low guitar notes and male and female vocals. To one side of the room sat, in a passive state, a single Tower Maxwell floorstanding speaker. Apparently, the freight company misplaced one speaker box and was not able to deliver the second one by the time of the show despite being booked for the shipment well ahead of time. The bane of an exhibitor's existence…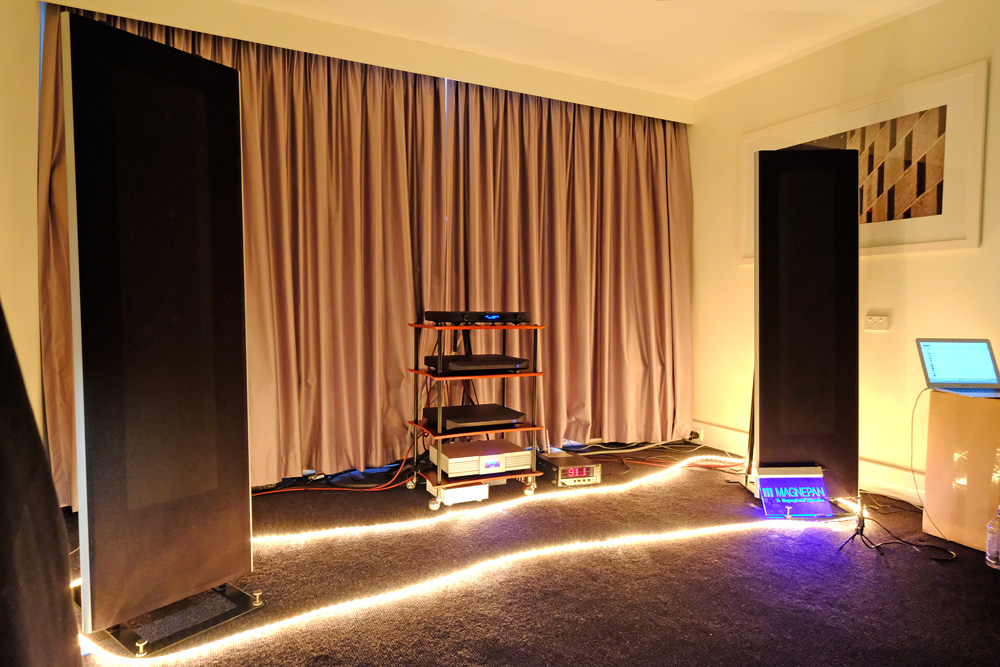 Another expert at show system setup and optimisation is Bill McLean who showed in yet another darkened room conducive to great listening but no so much to great photography. Having said that, the NuPrime-driven Magnepan speakers filled the room with power and a stunning sense of scale. I'm quite familiar with previous generations of this excellent preamplifier and monoblock combination via its NuForce incarnation. These are truly world-class and in conjunction with the affordable Magnepan 1.7 speakers made for great music.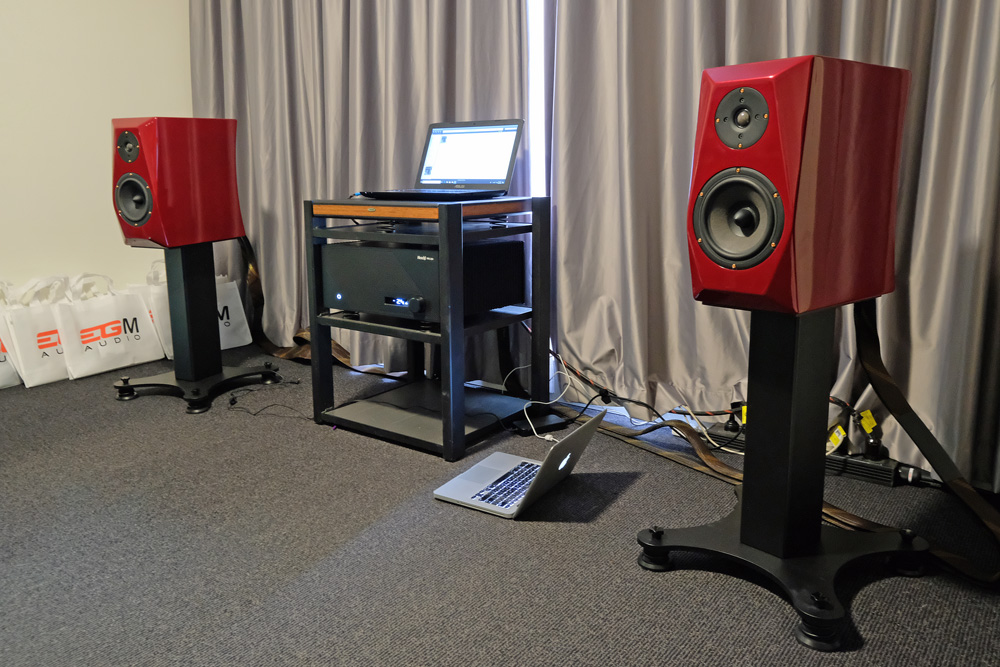 Lenehan Audio has developed quite the cult following – the continually-packed house was testament to that – and here the established Australian loudspeaker manufacturer teamed up with Aussie starters Heschl Audio Labs and EGM Audio. Mike Lenehan, Heschl's Rod Harris and EGM Audio's Joel Massey, the main design men at their respective companies, were at hand to introduce their products and meet-and-greet. Heschl Audio Labs has just released its first product in the high-end HAL-50 integrated amplifier with built-in bespoke R2R DAC implementation while Lenehan Audio showed a variant of its ML2 loudspeakers all tied with the high quality, high value EGM Audio cable suite. Sound here was detailed and with a sense of scale disproportionate to the size of the transducers. In other words, big, bold and detailed sound with powerful dynamics.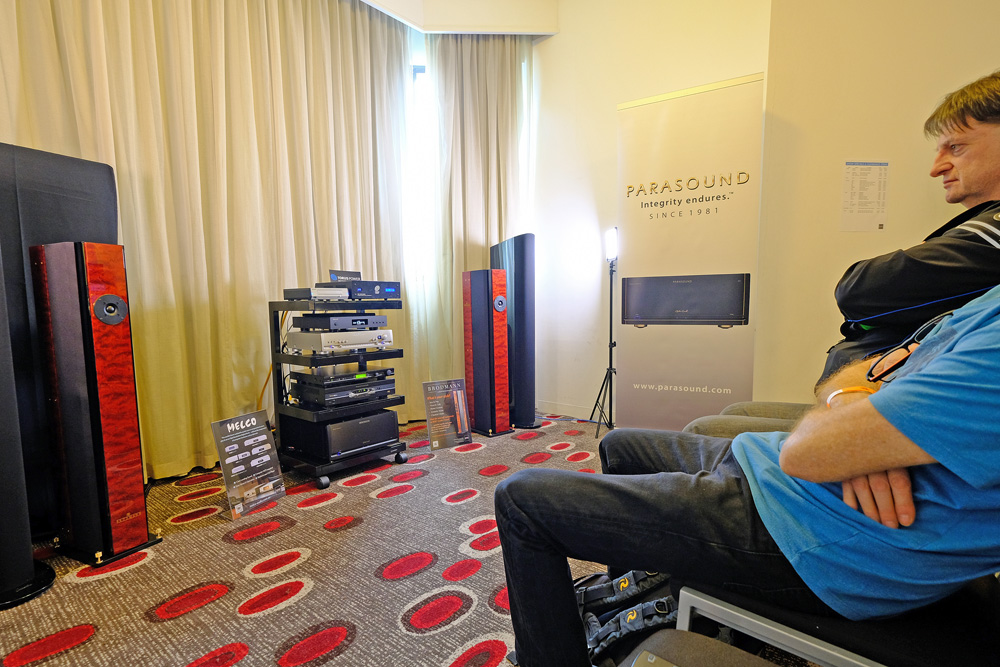 I'm very familiar with the Viennese Brodmann Acoustics loudspeakers having not only the pleasure of interviewing company head Bernd Gruhn several times but also very much enjoying the company's many wonderful loudspeaker designs. Brodmann Acoustics have a 'house sound' permeated with musicality and Gruhn and his engineering team 'voice' the speakers for ultimate tuneful gratification. The VC2 speakers were being precisely driven via Parasound electronics highlighted by the new P6 preamplifier and JC5 John Curl signature power amplifier (among other Parasound paraphernalia). A Melco front-end provided the tunes. And tuneful it was too, with the system sounding musical, flowing and texturally rich in terms of its tonal palette.


Australia's Richter Audio showed two updated designs in the under-AU$1000 bargain standmount Merlin S6 and the equally low-priced but high performing Wizard S6. While the award-winning Thor 10.6 was sitting idle at the time of my visit, you could be fooled into thinking the Merlin S6 standmounter was being kicked along with it. But nay, the little 2-way was showing its big sound and full bass powers driven by modest Marantz PM8006 integrated amplifier, N8006 Network Player and a Rega Research P3 turntable with Elys 2 cartridge all tied with Kimber cable. Super fun.


New Zealand's Theophany Rhapsody Kardia loudspeakers – the company makes a huge range of speakers – made their debut on our shores supported by Australian Elektra preamplifier and Reference power amplifiers. An Esoteric CD player spun digital while the highly respected, and rather beautiful, La Platine turntable from JC Verdier did the vinyl thing. Sonics were full-bodied in the midrange with nice extension up top, however the large Theophany speakers somewhat overloaded the small hotel room. Given the appropriate room context, we're confident these well-made speakers would display a more accurate low-end. Very interesting.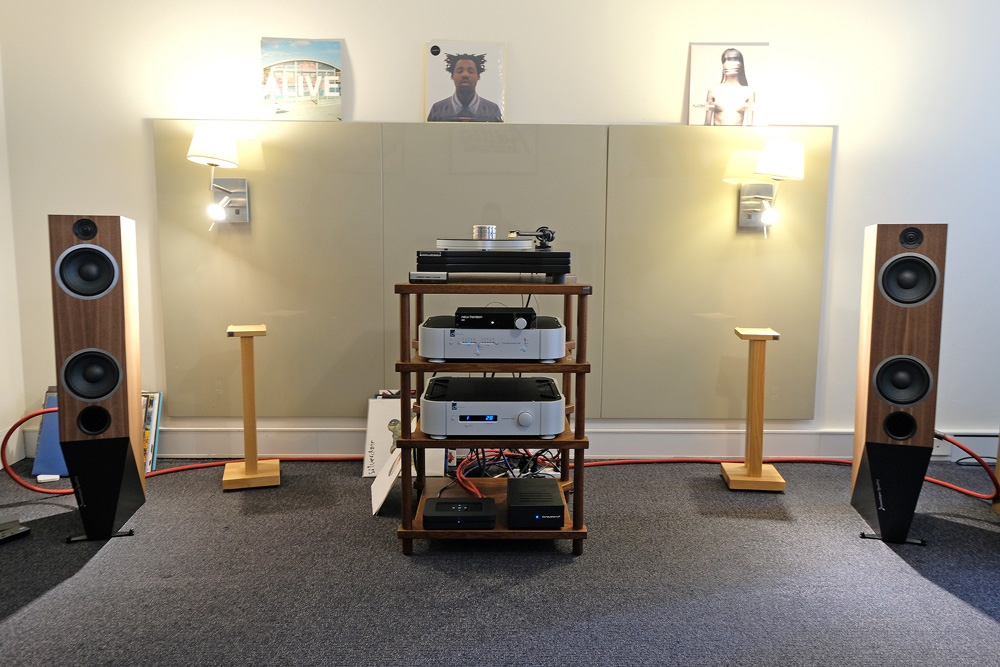 After briefly stepping into distributors Audio Influence's room and having to walk out due to its human traffic jam, I subsequently returned with a green light to discover what, as far as this writer is concerned, was the biggest bargain of the show. Audio Influence showed the Acoustique Quality Tango 95 standmount from the Czech Republic, a 3-way design that comes in at under AU$700 and which was phenomenally dynamic, superbly detailed and threw a massive soundfield. For that meagre dosh you get a Vifa tweeter, 100mm paper midrange driver and a polypropylene 200mm driver in a nicely veneered box. What?! Shown here with the Wega 73 floorstander (also exceptional value), supporting roles were played by Thailand's beautifully built Clef Audio Soloist-50 Class-A/AB integrated amplifier and an additional bargain in the New Horizon turntable from Italy which retails for around AU$3000. Cables were Atlas Cables. As well-priced as these items are in relation to high-end audio exotica, the build quality and overall value is, surely, exceptional. As was the sound which communicated the music with dynamic expression, accurate tonal qualities and more finesse than you'd expect at the price points quoted. The good people from Hi-Fi Racks were also in the country to support Audio Influence. We look forward to exploring more deeply some of these outstanding products.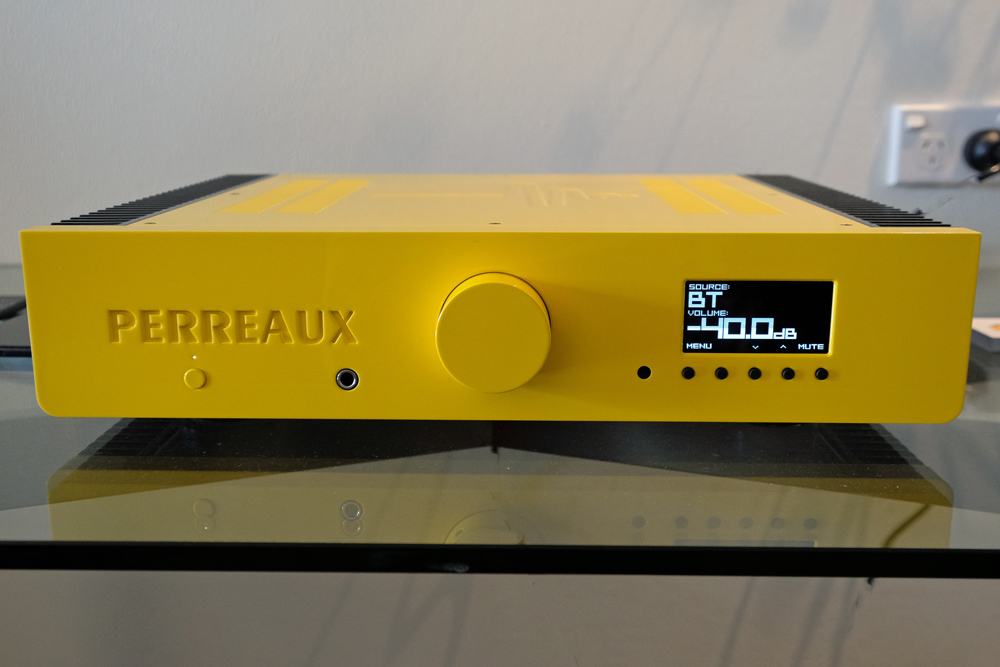 Discovery of the show was New Zealand's revitalised Perreaux brand who's new owners announced a new integrated amplifier which will be available in any gloss paint colour you'd care to order. Match it to your car, your furniture, your favourite tie… whatever. The amplifier is well made and finished and promises to bring back the Kiwi brand from what may seem a lengthy sabbatical. We'll investigate this product and some soon-to-be-announced ones in the near future.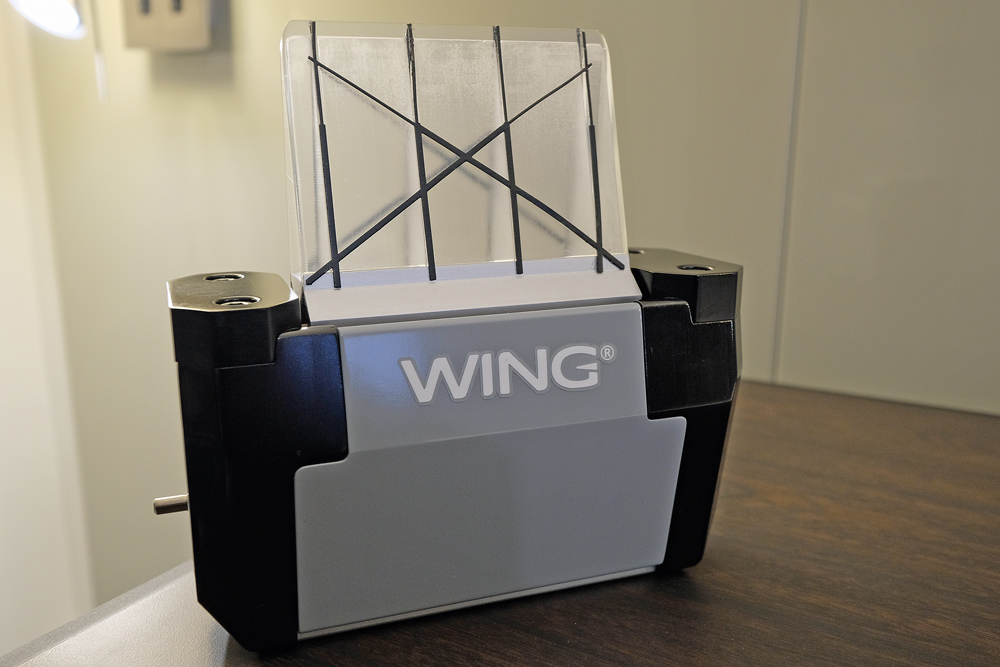 Production unit is about the size of a small AMT tweeter
Technology of the show went to another Kiwi brand, Wing Acoustics who presented the Wing Zero loudspeaker featuring the company's own unique high frequency driver. The new 'tweeter' for want of a better word is named the acousticWING and it's a 'wing-flapping', magnet-held, wide bandwidth, zero resonance distortion driver that looks like no other. The scope of this article is way too limited to fully explain the quite cunning principles at play but do visit the company's website to get the low-down on a remarkable new driver technology.
Thus endeth the coverage for this year's StereoNET Hi-Fi Show. This has been another successful staging of what has become the premier show in this country. Kudos to the organisers for presenting Australian audio enthusiasts with a conduit to a broad sampling of Hi-Fi and music.
Edgar Kramer
This email address is being protected from spambots. You need JavaScript enabled to view it.