Contrasting last year's marathon which had me landing from a Linn event in Bangkok, directly uber-ing from Tullamarine airport to the show and hard-clutching high-gear for reporting, my preparations for attending the newly-named StereoNET Hi-Fi Show were rather less feverishly frenzied. Arriving in Melbourne a few days early allowed some R&R, highlights of which were the excellent Melbourne Museum and the guided tour of Parliament House. Ditto for savouring the excellence of this wonderful city's culinary delights climaxing with the discovery of the institution that is Pellegrini's for the absolutely best coffee you'll have outside of Rome's finest. That morsel of recreational respite aside, Friday October 18 saw me arriving at the Pullman Mercure Hotel Albert Park ready to rock.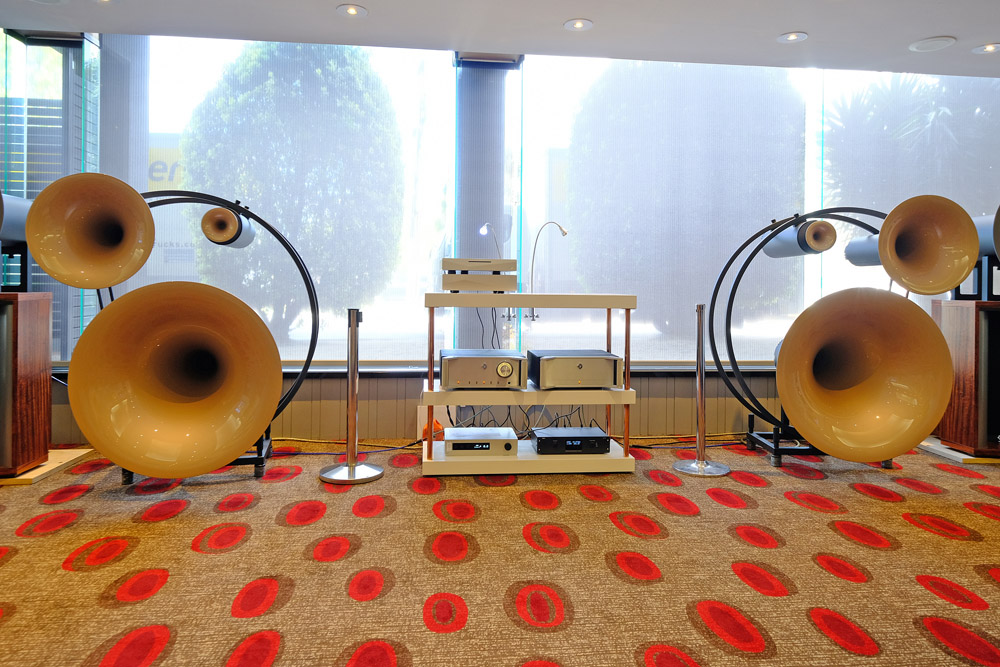 Indeed, the reception area was being rocked by the greeting space's Avantgarde Acoustic Trio speakers (sidled by the Duo on standby) being dynamic and detailed via the tight control of the company's own electronics and innuOS' new two-box high-end streamer/server. Avantgarde's International Sales head Jerome Andre and Aussie distributor Cameron Keating from Maxmedia manned the meet-and-greets. Several times throughout the show's duration I listened both intently and casually as I made my way across to the lobby or lift well. The music selection was, for the most part, anything but clichéd and the system shone with the usual horn speaker attributes and differing levels of low-end output as a result of bass 'tweaking' in order to improve performance.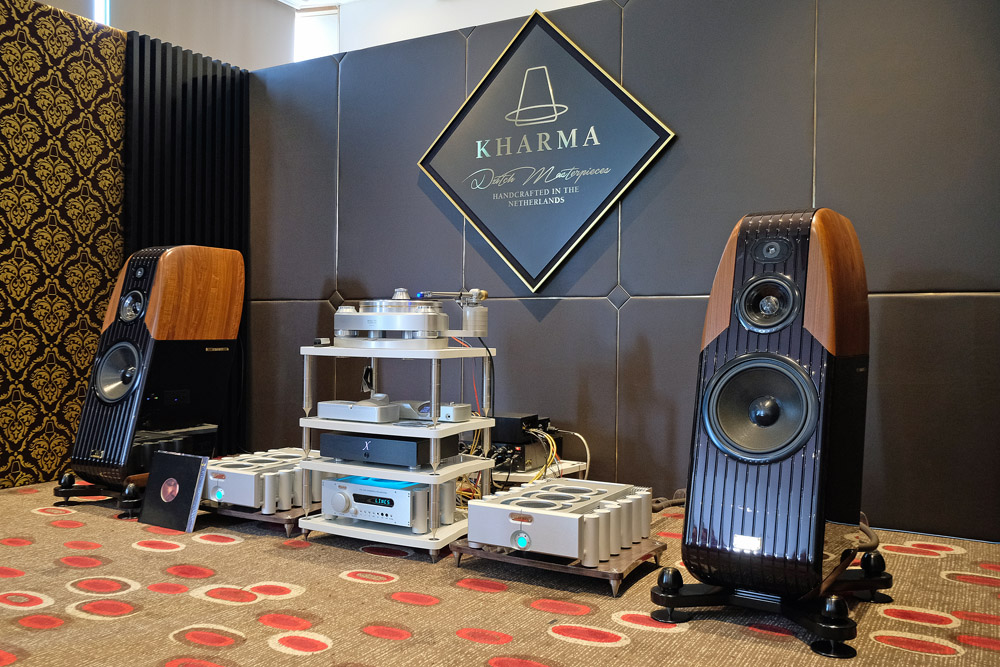 From there it was up to the next level where the largest room saw the sharing on a timed basis of VAF speakers and the show's über system from Radiance AV. The two setups were positioned at opposing ends of the room and turns were taken to demonstrate. In addition to its system, Radiance AV who distributes Soundsmith products, offered a coup by presenting a 'live' cartridge setup tutorial by Soundsmith's President and Chief Engineer Peter Ledermann. While the Skype connection presented some minor hiccups which were swiftly dealt with, the presentations were, as always, informative and the tutorials were always standing room only. Although I came back several times to catch them, I managed to miss VAF's presentations. However, I caught Radiance AV's system a couple of times and the Acoustic Signature turntable, full Chord electronics including the superb Ultima 2 monos (read the review here) and the Kharma Exquisite Classique speakers. This system sounded stupendous in terms of sheer scale, presence and bass power. No lack of impact here. Oh, and Chord's Rob Watts ran extremely interesting seminars on the machinations of modern digital design. This system, most assuredly, was one of the top performers of the show.
In addition, in an alcove alongside the big room, Radiance AV's Chris Strom ran day-long demos of Meze headphones at all price points using the highly-acclaimed Chord Electronics headphone amplification products. We stepped into this Aladdin's cave on a couple of occasions during the show and found it at brim level at all times. It's good to be busy…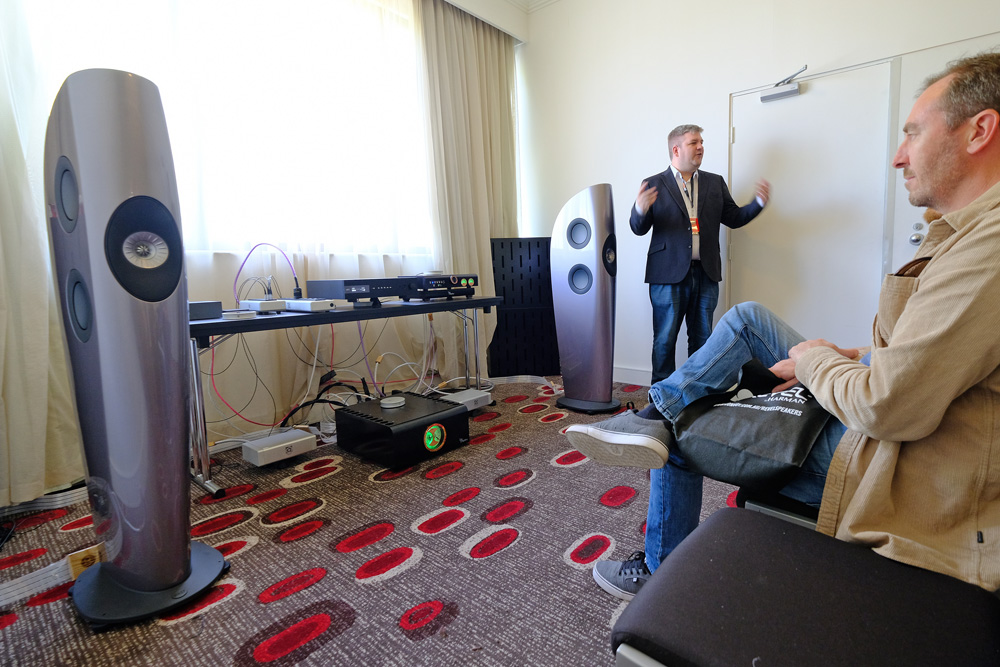 KEF's Ben Hagen cuts through the Blade 2 tech and overall design ideas
KEF APAC heavy-hitters, headed by General Manager Lawrence Chu and Product Manager Ben Hagens, were at hand across the company's demonstration rooms in conjunction with Australian Distributor Advance Audio Australia. Just across the hallway from the first exhibit I found a glass-enclosed room with a whole variety of multi-coloured LS50s, LS50Ws and the newer LSX. Big sound from little boxes is the applicable term here and while not much more can be said that hasn't been said about these terrific products, it's worth reiterating the superb value offered by this string of over-achieving marvels from KEF. Further KEF exhibits featured a demonstration room for Nordost's Björn Bengtsson's captaining the journey to discover synchronicity via the company's new QPoint and QSource products. Bengtsson's metronome video used to illustrate the concept served, in a simplistic way, to help grasp the idea behind the products. While I was there, the audience was left with little doubt of the products' ability to expand the soundfield and to wring finer nuances when all resonances are "in sync". At hand was a system comprising D'Agostino Audio electronics and KEF Blade 2 speakers tied with Nordost cables, of course. Finally, KEF R11s driven via Linn Selekt were demonstrated in yet another room where feedback from many visitors showed appreciation for the detailed and dynamic presentation. Oh, and just outside in the main corridor, a close-to-sign-off prototype D'Agostino Progression Integrated amplifier sat on static display with company President Bill McKiegan at hand to run through the soon-to-be-released product. It's promising and will feature comprehensive tech merging D'Agostino's renowned SQ prowess with concessions to the latest playback options such as Roon, Tidal, Spotify and much more. Interesting times…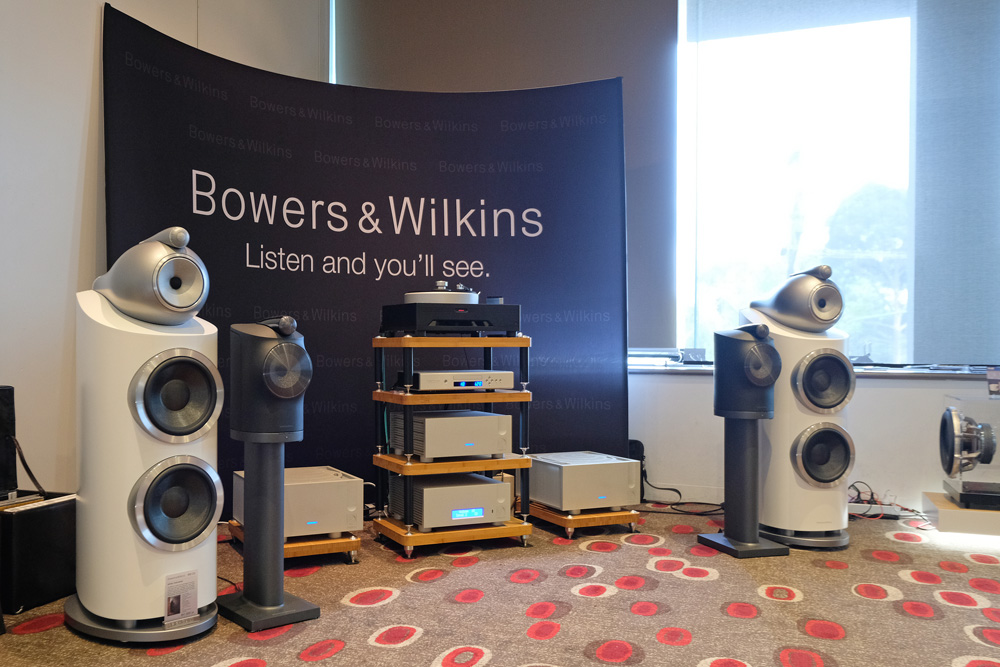 Bowers & Wilkins had just about the complete range of products on display. Peppered around the room's perimeter were 600, 700, 800 and DB series products while the main attraction on active duty were the new Formation Duo high-tech all-in-one standmounts and flagship 800 D3 speakers driven by Ypsilon electronics, featuring the new Aelius II monos and Döhmann Audio Helix Two turntable (review here). The flagship speaker was dynamic, detailed, with powerful and deep bass while being extremely honest with compressed or bright recordings, sounding a tad bright at times as a result. No fault of its own, I'm familiar with the considerable prowess of this superb loudspeaker, so the messenger should remain unscathed. The new Formation Duo speakers made their Australian debut. As big as they sounded while admirably filling the massive room with projection, a more suitable home context would truly show the substantial potential at hand. We look forward to reviewing this promising product soon.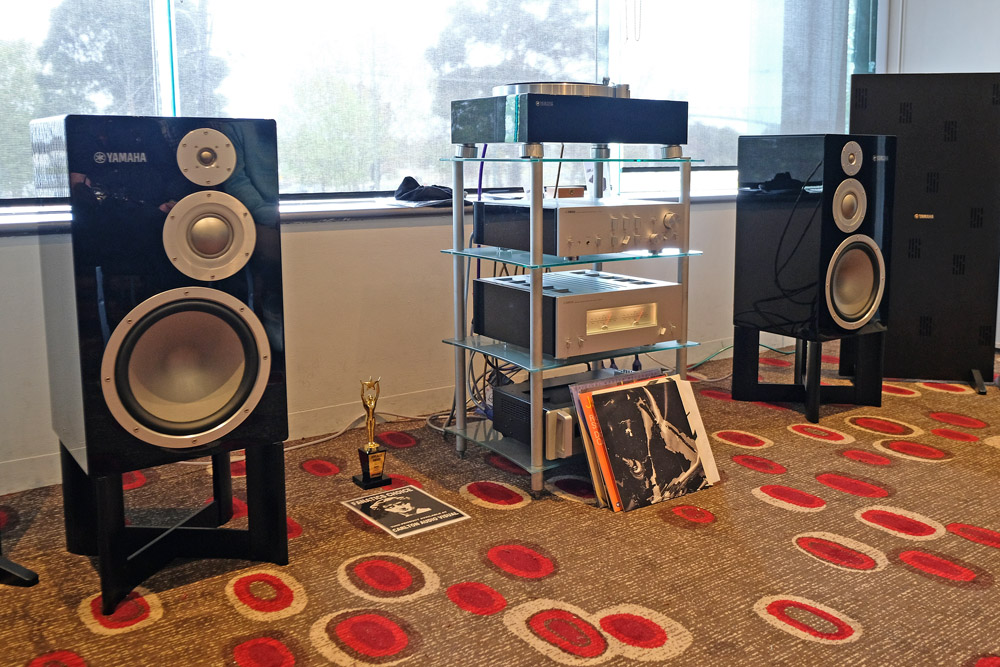 Yamaha showed a full 5000 series system from turntable to speakers. At SoundStage! Australia we're very familiar with these products having reviewed the superb NS-5000 loudspeakers on two occasions (Josh Givorshner here and yours truly in a 'Follow-Up') and more recently the extraordinary C-5000 and M-5000 preamplifier and stereo power amplifier combo (here). Again, the performance varied with the quality of the source – as it should be in fact, given these components' accurate reproduction. With well-produced fare the system sounded well-rounded, with great detail and good insights into the trademark tonal accuracy while throwing a big sound stage. Playing mediocre recordings, the software's flaws showed up as some brightness and compression. Don't shoot the messenger, right? After all, are we to listen to the usual immaculately-produced audiophile music bore-fest? No; as shown by the astute demo personnel who ran through a wide range of music covering all genres.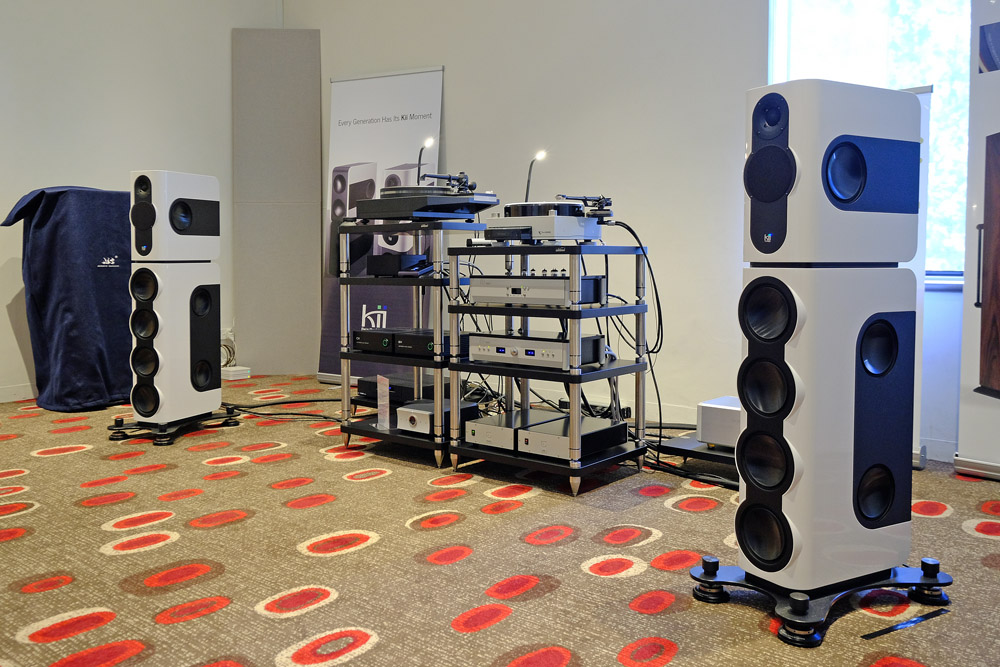 Pure Music Group showed with its usual array of tasty fare but with a twist. The system's loudspeakers were interchanged at set times in order to show both the full Kii Three BXT system and ATC SCM100 active speakers. To support Kii, seasoned show stager and Pure Music Group's proprietor Warwick Freemantle engaged a Kuzma Stabi R turntable with OAD UP-1 phono stage and Antipodes CX+EX Music Server. The ATC actives saw support from TechDAS Air Force V turntable, Doshi Audio V.3 phono stage, Doshi Audio V.3 line stage, Mola Mola's Tambaqui DAC and the same Antipodes server. Both systems had merits with the Kii setup sounding full and powerful in the bass (eight drivers per cabinet with DSP support will do that…) while the ATC speakers showed extraordinarily fast transients and overall attack while the low-end was one the tightest and most nuanced at the show.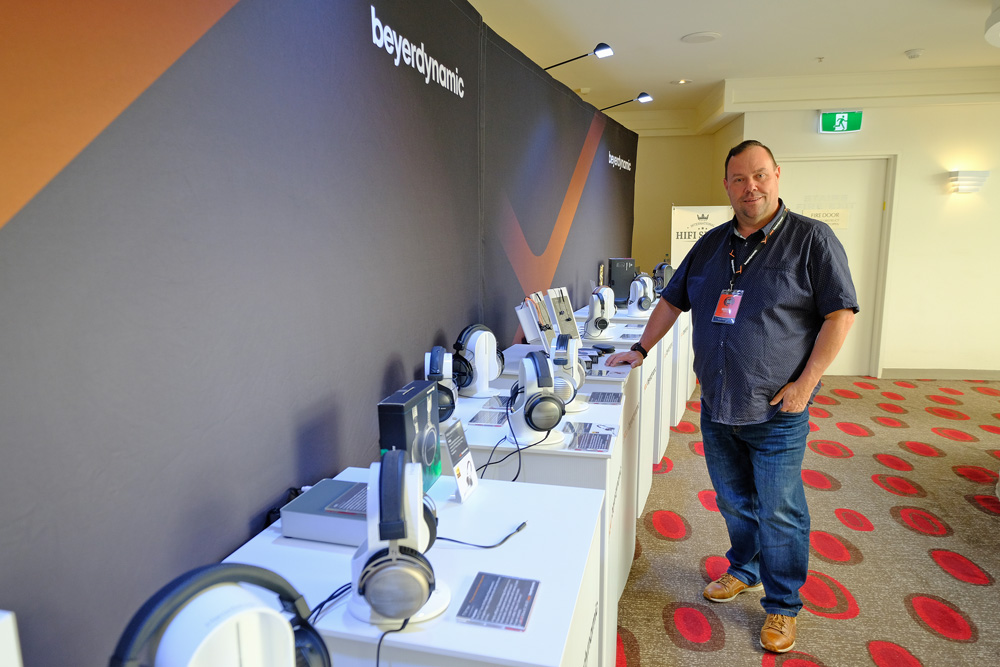 Wayne Farran steadying the extensive Beyerdynamics display
While headphones were few and far between in relation to the general Hi-Fi on show, Beyerdynamic's convivial Wayne Farran was at hand to guide punters through the large range of the company's cans on display. We have great respect for Beyerdynamic's ever-expanding product lines and we look forward to reviewing a top-end model, like say an Amiron or equivalent, at some stage soon.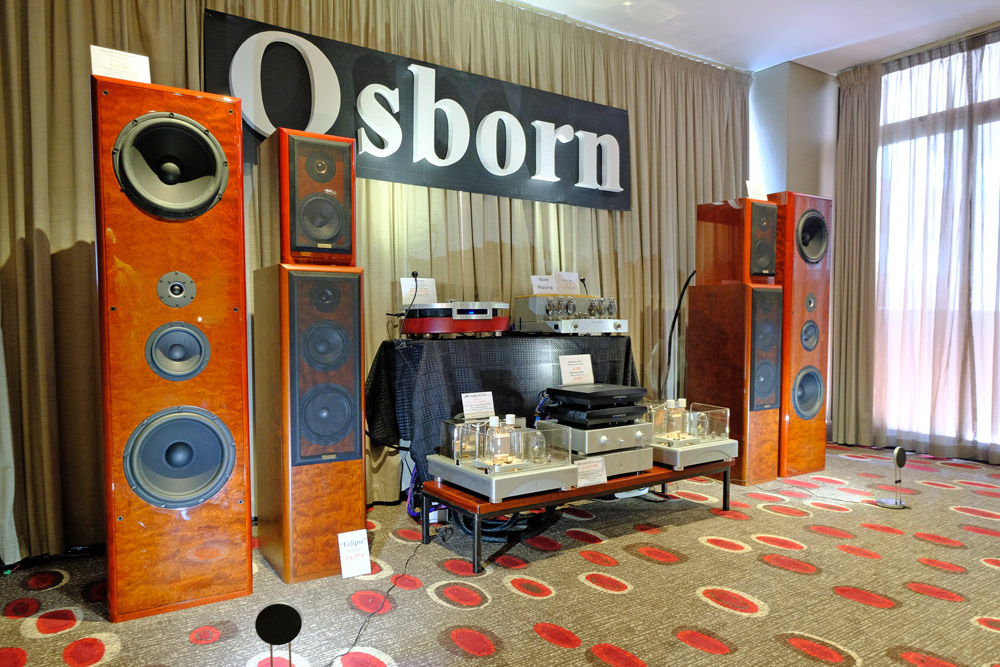 Eschewing the wall of product Osborn Loudspeakers usually presents, the Aussie company limited itself to the Grand Monument and new Eclipse floorstanders and the Titan standmount all supported via AM 833M monoblock power amplifiers alternating with Consonance's Cyber 880I integrated with Consonance's Droplet CD player and Reference DS-1/DB-1 Streamer/Digital Converter combo. Sonically, this was one of the company's best sonic results, as far as this writer is concerned, with a solid bottom-end supported by clarity and resolution without brightness or hardness.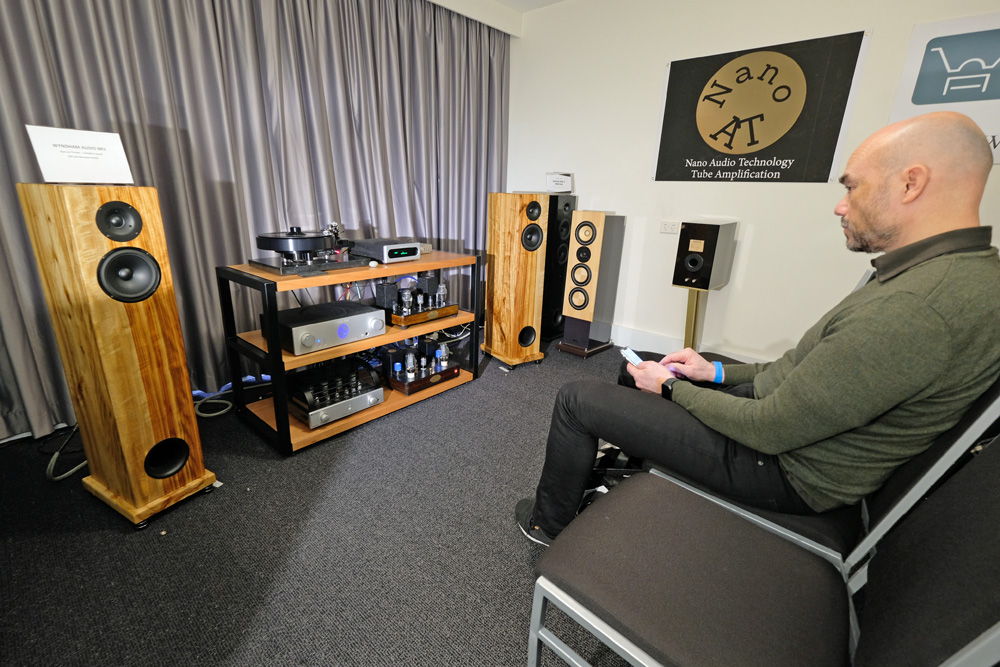 In one of my favourite rooms – I came back several times to this oasis – Australia's Nano Audio Technology's debuting and lovingly-bespoke 300B- and 6A3-based amplifiers were alternately valve-caressing either Contrast Audio or Wyndham Audio (also Australian) speakers. Brinkmann's Bardot turntable handled the grooves while Bel Canto's Stream handled the ones and zeros with both items connecting to Modwright's LSW-9.0 Anniversary Edition preamplifier. The solidly-built rack which supported the electronics is manufactured in Australia by Soundscape. Again, a diverse sound presentation with the Contrast Audio Model One As3-Ref standmount speakers (distributed by Grizzly Works) sounding clear, detailed and present if slightly lean while the stunning Wyndham Audio BR-1 in beautiful camphor real solid wood showed a sense of ease combined with a musically insightful presentation that had me glued to my listening seat.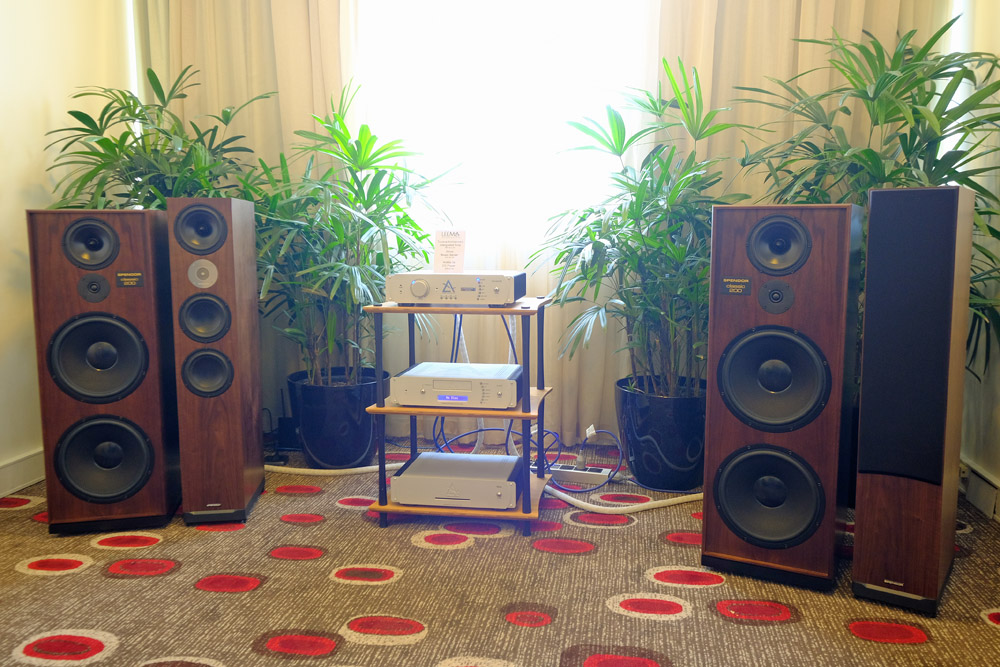 M&G Hoskins' display of Leema Acoustics Sirius Music Server, Antilla IIS CD player and Tucana Anniversary Edition integrated amplifier driving Spendor speakers proved to be quite interesting. The large Classic 200 loudspeakers sounded full-bodied and dug low while the dynamic, detailed and relatively smaller D9.2 presented a contrasting option. We're told Spendor produces every aspect of all its loudspeaker designs in the UK, from drivers, to crossovers to the final cabinet assembly and veneers. That is relatively rare these days.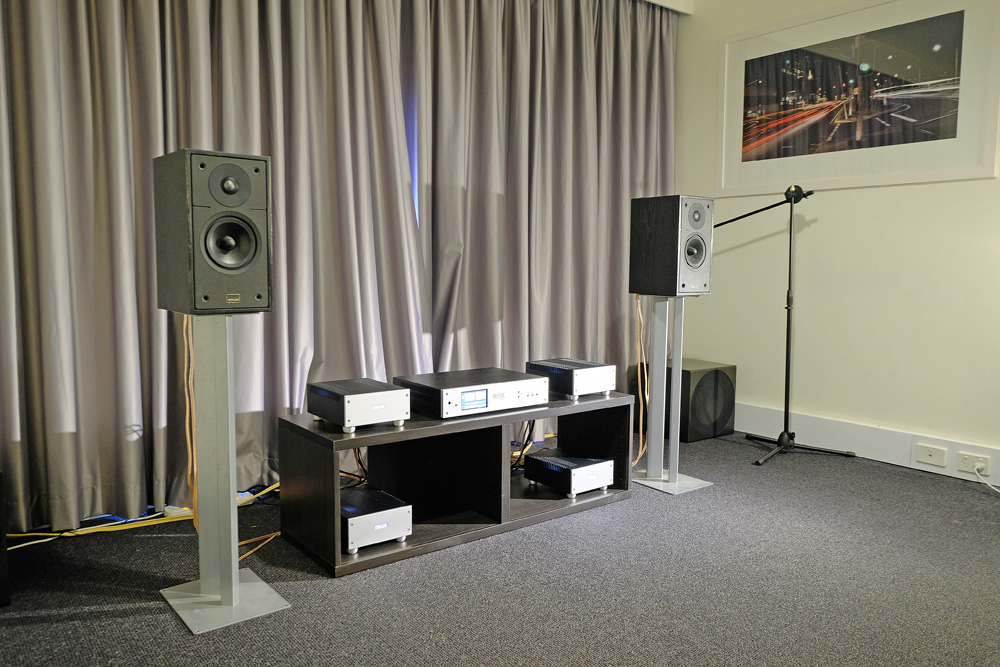 Digital specialist DEQX had a simple yet elegant display highlighting the company's HDP-5 multi-tasking digital processor and its new stereo and multi-channel Class-D amplifiers driving old-school Epos speakers. The clean, open, extremely controlled sound goes to prove that almost-vintage speakers, albeit rather good ones, can be made to perform to very high standards when driven appropriately and handled expertly by this most comprehensive of processors. See our recent interview with Founder Kim Ryrie and GM Alan Langford here.
Stand by for Part 2 tomorrow…
…Edgar Kramer
This email address is being protected from spambots. You need JavaScript enabled to view it.