How big a speaker do you really need? Well, that really depends on a number of factors. If you have a very large listening room, like to listen at volume levels that would scare possums in the next block, or have a primordial craving for bass depth and bass power, then perhaps small speakers are not for you. That said the M8audio Sweet Maxwell speakers perform surprisingly well when high-jumping criteria that are typically hostile to smaller speakers. In many normal home situations, you may well achieve better sound with high quality stand-mount speakers like the Sweet Maxwell than with similarly priced floorstanding speakers that superficially appear impressive but, may in fact, be poorly constructed and braced and/or may be the product of compromises in the design of the crossovers or may incorporate low quality drivers.
The Sweet Maxwell is the high-end genesis product from Mark Thomsen of M8audio. Thomsen is originally from Denmark and moved to Australia in 2009 with his Australian wife. He's an electronics engineer by profession with a specialty in audio. He had been building speakers for years just for pleasure and to further hone his skills, but early in 2018 he decided to take his passion to another level – he founded his own speaker manufacturing business, M8audio, based on his ideas and experience.
To ensure the highest possible build quality he decided to design, build and assemble everything in-house (with the exception of the speaker drivers). He also designs and builds his own crossovers with the highest quality components. Unlike many manufacturers, Thomsen has invested in a CNC machine in order to be able to build speakers to the tight tolerances he deems essential. Many manufacturers don't purchase a CNC machine until their business is firmly established – and even then, some actually never do. Thomsen spends hours in the cycle of listening, tweaking cabinet and cross-over components, sampling different drivers and then listening again. Given the number of possible permutations, you can be left with no doubt that this man's passion is extreme.
Bespoke Build
The Sweet Maxwell is a bespoke hand-built 2-way bass reflex standmount speaker selling at AU$6500 a pair. They are extremely well-made especially when you consider that they are built entirely in-house by an emerging company. The speaker curves up at the back and the side walls are tapered back gently. Therefore there are no parallel surfaces – all six sides (including the back and the baffle) are designed to avoid internal standing waves. It has twin ports firing from the top of the curved back of the speaker.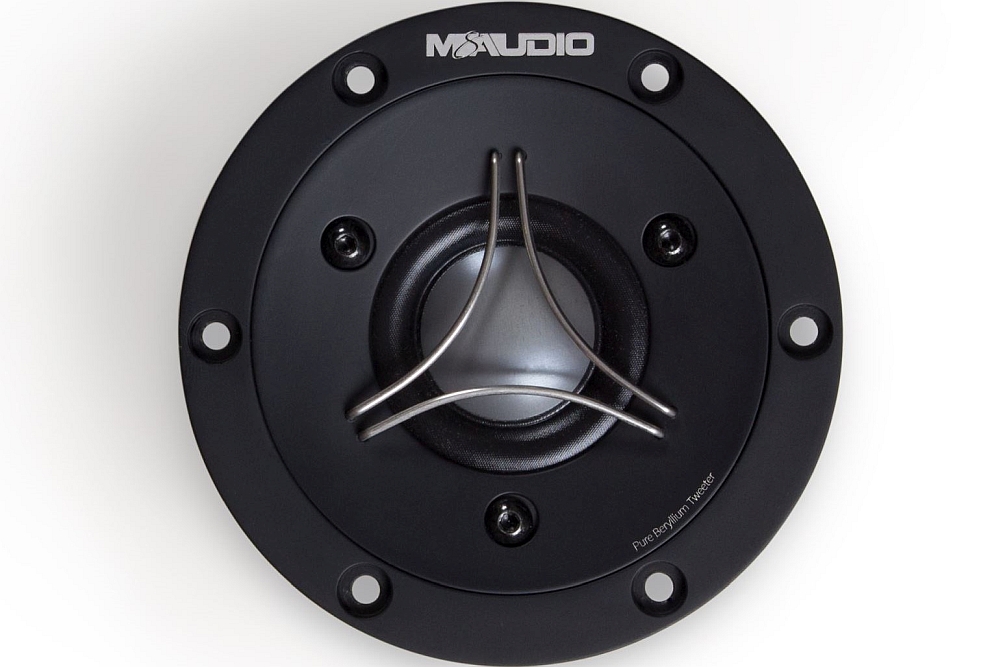 The Sweet Maxwell uses a 29mm (1 1/8 inch) neodymium motor pure Beryllium dome tweeter and a 187mm (7.5 inch) Egyptian papyrus cone low frequency driver with a neodymium motor. The frequency response is quoted as 47Hz – 40 kHz (±3dB) – that claimed bass response is, to my ears, very realistic and not overstated like so many other manufacturers'. The human ear is most sensitive to frequencies between 2 kHz and 5 kHz. Consequently, Thomsen chose to drive the Beryllium tweeter down to 1.5 kHz, thus avoiding crossing over at the typical 2.5 kHz to 3 kHz range where the ear is sensitive to crossover foibles. The cross-over is a 4th order acoustic slope and uses the excellent Jantzen Alumen-Z capacitors.
Sensitivity is quoted as 86dB (2.83V/1m) with the impedance at 6 ohms (minimum 4.2 ohms at 135 Hz). I did sense that this speaker does appreciate a good bit of power and current, but then, most speakers do. Minimum recommended amplifier power is 60 watts per channel. It is on the large size for a bookshelf speaker at 450 H x 216 W x 344 D mm (17.7 x 8.5 x 13.5 inches). Weight is a hefty 12 kg (26.5 lb). The 100 percent hand-finished cabinets are made from cross laminated birch veneer sourced from sustainable forestry suppliers in Europe. Internally it utilizes honeycomb bracing, viscoelastic dampers and natural sheep wool damping. The speaker can be ordered with either Satin White or Tasmanian Blackwood side panels. Due to the cross laminated birch veneer cabinet, all finished cabinets appear the same from the front view.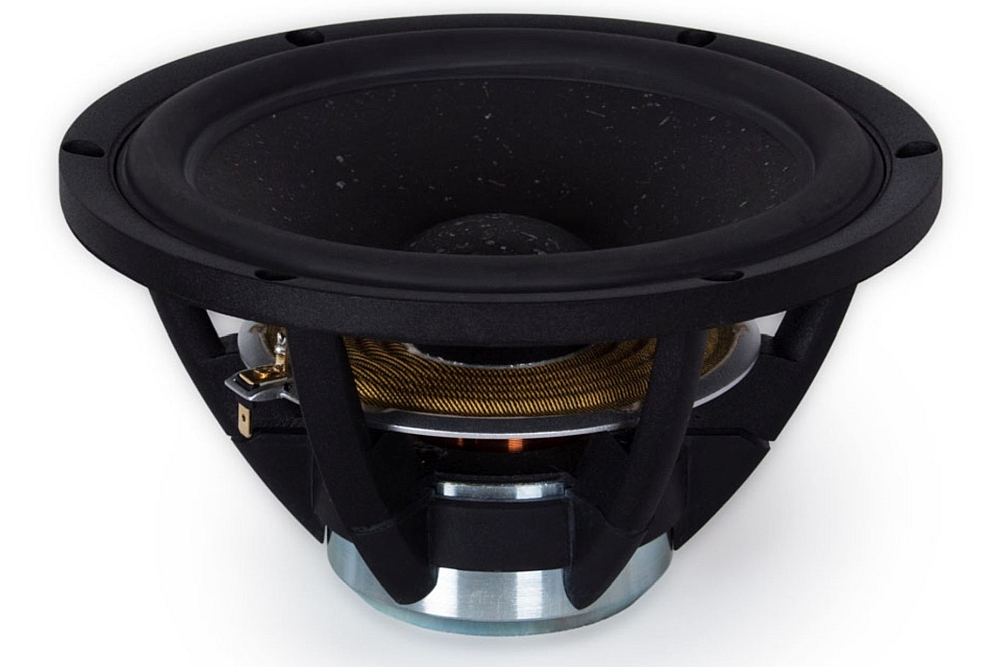 Although Thomsen doesn't mention it anywhere on his website, he is a strong unabashed supporter of the SB Acoustics drivers he uses in the Sweet Maxwell. Years ago some engineers from Scanspeak split away and formed Danesian Audio in Denmark with manufacturing in Indonesia. All of the drivers in the Sweet Maxwell are manufactured by SB Acoustics (Sinar Baja Electric) in Indonesia to specification and to strict tolerances to meet Danesian Audio standards. Even the difficult to manufacture Beryllium tweeter is made by SB Acoustics. Both the low-frequency (mid/woofer) driver and the tweeter driver are from the Satori level – the top of the line for SB Acoustics. Both are modified by M8audio in an undisclosed manner.
Sweet Setup
M8audio provided stylish matching speakers stands (retail at AU$1500 a pair) that were 650 mm (25 inches) high with the spike height included. The Sweet Maxwell is provided with a set of four viscoelastic feet for decoupling while the stands' top panel is perfectly matched to the dimensions of the speakers' base. The curved stand upright mimics the slant on the speakers' front panel providing further visual coherence.
The tweeter should be at the same height as your ears when you are seated in your listening chair. Factoring in the placement of the tweeter in the speaker, this resulted in the ideal height relative to my ears in my seat. And with the front baffle sloping back gently, the tweeters don't give you the visual impression that they are firing straight at you.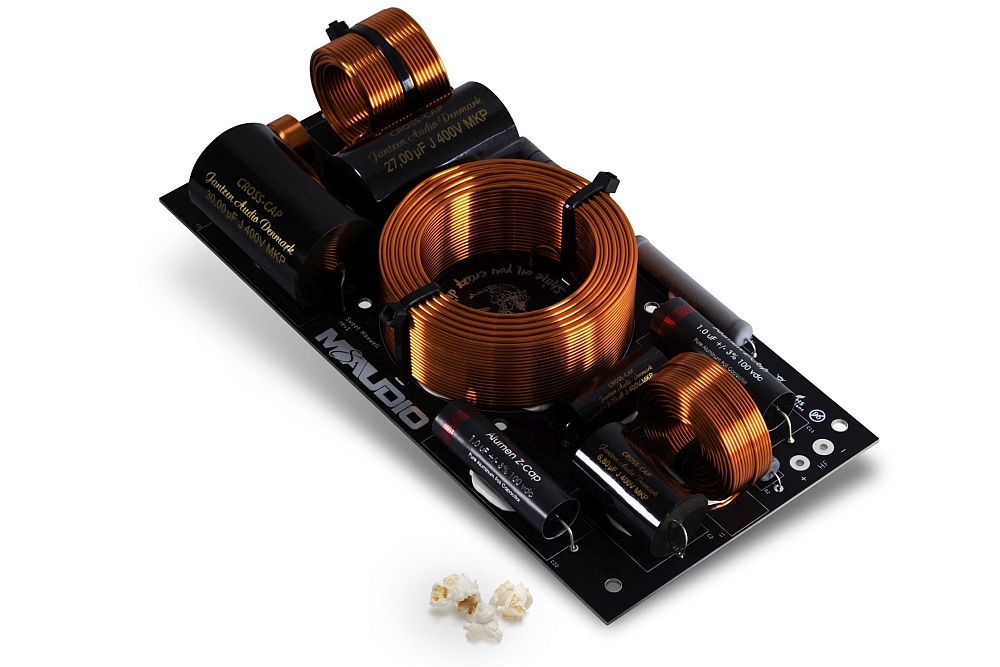 M8audio recommends positioning the speakers 1.5 metres to 3.5 metres (5 to 11 feet) apart and equidistant to the listening position. A minimum distance of 30 centimetres (12 inches) to the back wall is recommended, but ideally 50 centimetres (18 inches) or more if space allows. For the best imaging, position the speakers 1 metre (39 inches) or more from the side walls. Toe-in towards the listener will enhance the highs and improve the imaging. If that proves to be too bright then toe-out more. In my room, I positioned the speakers about 2 metres (6.5 feet) apart with the prime listening seat 2.5 metres (8 feet) away. I found that they sounded best in my room with generous toe-out resulting in the speakers firing maybe 2 metres (6.5 feet) behind my head. With toe-in more towards the central listening spot, the image width became smaller, more crammed between the speakers, the sense of scale was diminished. Either way, the strong central image remained. My listening preference is for as much clarity and openness as possible, without sacrificing imaging and soundstaging. M8audio suggests you should allow for a break-in period of about 100 hours and experiment with positioning during that period.
Mighty Sweet Listening
Some advantages that bigger well-designed speakers can give you are the sense of fullness or saturation, full tonal body, bass depth, scale and impact. It's extremely difficult (if not impossible) to get all that in a small speaker – there are always compromises. With small speakers, what the best designers strive for is the impeccable balance between those attributes. But usually, bass depth and the sense of scale are the attributes that take the biggest hit. The best designers are those that recognise and work within the parameters of those compromises to produce a balanced pleasing product.
Thomsen has obviously laboured with great care to get the balance just right in the voicing of the Sweet Maxwell. Texture, tonality and resolution are excellent for a small speaker. The guitar of Ottmar Liebert in "Not One, Not Two" from his One Guitar album (24-bit, 96kHz) was remarkably solid and full for a small speaker, with great micro-detail allowing even the strings rattling on the fret board to come through.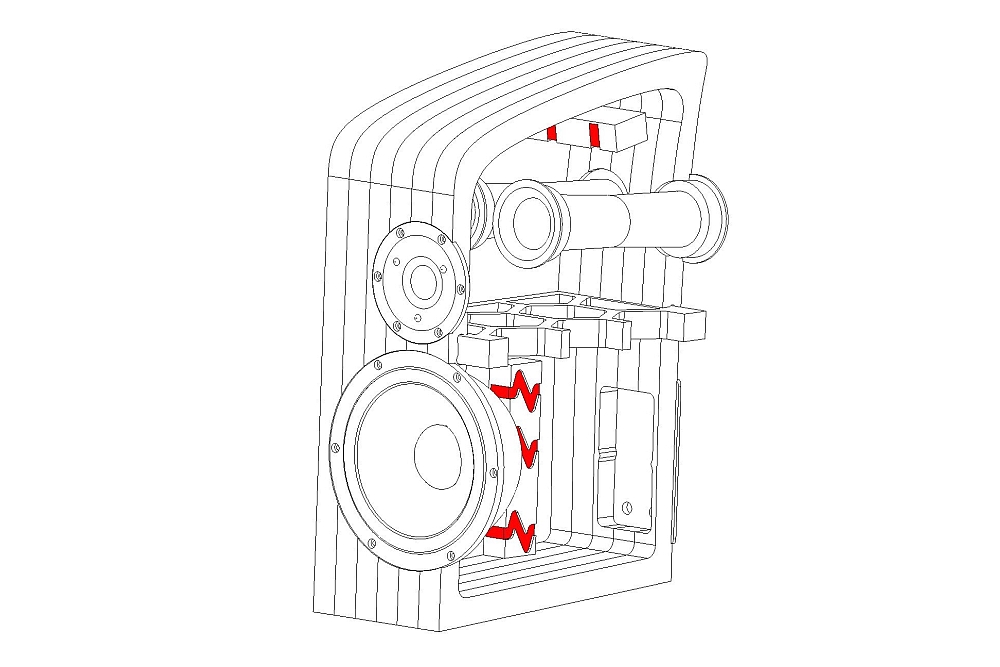 These are speakers that exhibit very little congestion. You can play at high SPLs without the drivers breaking up. I played "Grizzly Bear" from Angus and Julia Stone's self-titled album (24-bit, 96kHz) at considerable volume, and the sound remained tidy and controlled exhibiting good bass power. It is a track with great punch in the bass and the Sweet Maxwell didn't compress or congeal.
If you value beatific tonality, these speakers will most likely meet your criteria. Playing "Andante Cantible OP.11" from the Pieter Wispelwey album Die Deutche Kammerphilharmonie Bremen (24-bit, 192kHz) was captivating to say the least. I found myself absorbed in the music rather than critiquing the sound, so the speakers were obviously doing things very right. The bass in "Rose" on Joseph Tawadros's album The Hours of Separation was convincingly real with wood tones resonating.
I noticed that without fail, these speakers place their emphasis on portraying the emotion and intent of the music and the artist. They don't try to impress in the manner that lesser speakers do – they don't overtly thrust detail and intense resolution at you without a purpose behind that portrayal. If that is ultimately what the recording calls for, then that is what you'll hear. But normally they'll present the music in a holistic, non-fatiguing and sweet manner. I found I could listen to even poor-recorded music, and enjoy it. A good case in point is Adele singing "Hello" from her album 25. That is not to say that they embellish the music with false richness and smoothness at the expense of showing you exactly what is in the grooves. They are highly resolving but somehow they don't thrust that resolution at you in a harsh manner. I suspect that ability is largely due to the excellent choice of high quality drivers and cross-over, the cross-over frequency and the highly inert well-constructed cabinet.
Another track that highlighted the strength of these speakers was "Winter Birds" from the Ray Lamontagne album Gossip in the Grain. This is just guitar and voice – no overdubs, no background vocals. The sound was full, there were no unnatural sounds produced by the speakers, the voice was prominent (as it should be) with the guitar slightly laid-back in the sound stage. Lamontagne's occasional guitar "flub" and sticky fingers on the fret board were very transparent. The centre image was very strong. It was presented beautifully and naturally.
The tracks "Fields of Gold" and "Songbird" on Eva Cassidy album Songbird showed excellent soundstage depth, clarity and reverb. The vocals were true sounding and the highs were hard hitting but not excessively strident or harsh. Thomsen has done an excellent job of making less than stellar recordings sound good and yet still give you full resolution.
I think it's fair to say that Fiona Boyes is not a name recognized in a lot of homes in Australia, even though she hails from Australia (the Clarence River NSW area I believe). She has an earthy presentation and voice. Her 2016 album Professin' the Blues (24-bit, 176kHz) was produced by Keith O. Johnson. Her song "Angels and Boats" highlighted an incredibly deep reverberant soundstage.
As a test of coherence and integrity, I played "Burning Man" and "The Mountain" from Dierks Bentley's new album The Mountain (24-bit, 96kHz) at high levels (which for me is about 90 dB). My ears survived quite well. If you don't know this album, it is reasonably well recorded but like many modern-day recordings does suffer from some compression and harshness. But the bass remained controlled, and the soundstage was huge albeit with a bit of congestion at times. The screechy guitars at the end of "The Mountain" would shred many tweeters and ears. But the speakers refused to close-in or congeal.
Strong deep bass is typically missing in action with small bookshelf speakers, and truth be told, these speakers are no exception. But you do get the sensation of deep bass nonetheless. I listened to "Chameleon" on Trentemoller's album The Last Resort as a test, and the overtones of that deep bass were sufficient to fool the brain into hearing a satisfying level. Of course the depth and impact of larger speakers can allow the brain to more easily fill in the missing frequencies. But given their size, these smaller speakers gave an excellent rendition.
Even exceptionally musical speakers can destroy the illusion of live performers if they exhibit unusual or unpleasant sounds. The Sweet Maxwell's uttered not a single honk, box sound or unpleasant sound. They didn't sound like electrostatics but they didn't sound like cones in a box either. They just sounded right. They had a very natural presentation with no "tizzy" busy sensation on "hot" tracks. They tamed "The Sky is Crying" and "Little Wing" on Stevie Ray Vaughan's album The Sky is Crying (24-bit, 96kHz) which can sound a bit harsh and compressed in places. You could easily hear the soft cymbals in the background, the intricate syncopated drum work, the heat in SRV's guitar. Yet it all remained tight and in control with resolution into all aspects of the soundstage. And I could walk around the room and hear a very balanced soundfield everywhere.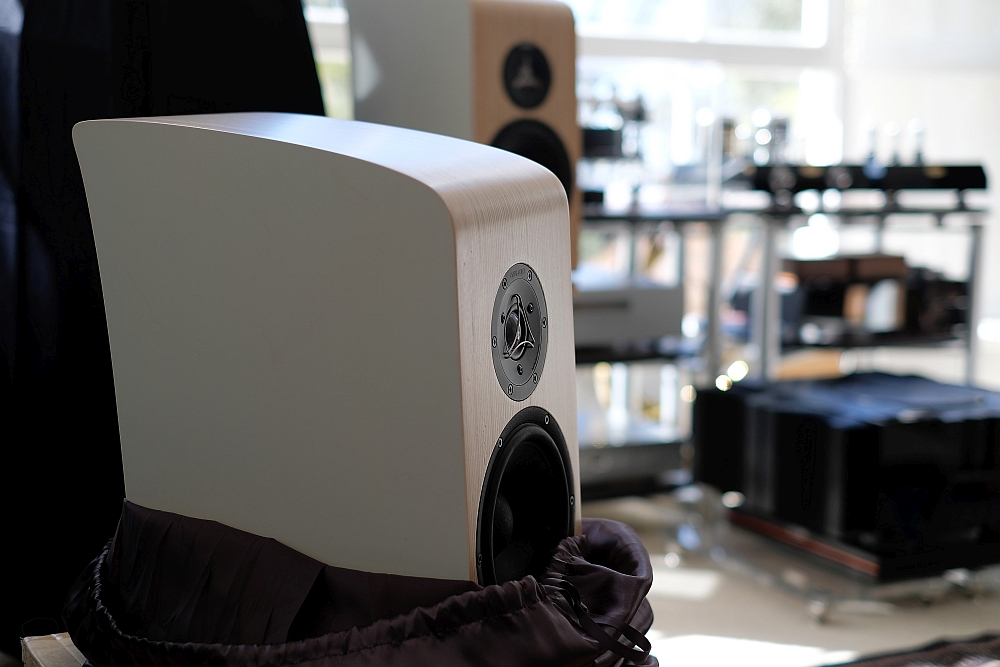 Another aspect that big speakers can more easily give you is a sense of height in the recordings. The Sweet Maxwell speakers in my room presented the music in a horizontal band across the soundstage emanating out from about the actual height of the speakers themselves. This "band" varied in height from recording to recording. It didn't always extend to the floor or up towards the ceiling like my reference speakers typically do. A good example of this was the track "This Masquerade" by Gene Harris on his album Listen Here. Nevertheless, the piano was natural and full with bell-like clarity and no hardness. Only the slightly foreshortened height gave away that the speakers were not floorstanders.
The Roger Waters track "Amused to Death" from the album of the same name (24-bit, 192kHz) gave a very wide soundstage and well beyond the speaker sides. It was deep, textured with clear tonality and articulation in the background vocals (Waters' voice wasn't so clear, but that is just his voice not the speakers). In the quieter passages there is a lot of micro detail that came through very well, and I jumped a bit mid-way through when guitars and drums explode momentarily.
Maria Joao Pires playing Chopin's "Berceuse in D flat major" on Maria Joao Pires Chamber Orchestra of Europe & Emmanuel Krivine was beautiful – excellent weight and balance in the piano, bell-like without excessive ringing. Piano runs were light and fast, just the way I believe Chopin would have played them. It was one of those tracks I had to play a few times because I found myself too absorbed in the flow of the music to actually listen critically. I had to replay with my "critical listening" hat on, but it kept falling off.
Comparison
In a comparison to the KEF LS50 speakers, I did notice that Mark has voiced the Sweet Maxwell for ultimate clarity, openness and transparency. They exhibit pristine clarity and focus. I'd say the Sweet Maxwell's are very neutral but some people may hear them as being ever so slightly lean. The mid-bass of the KEF speakers is a bit warmer which presented slightly more body and weight in vocals and instruments, but at the expense of some clarity and transparency. The KEF speakers also seemed to struggle with deep bass, and at times, said bass was simply MIA. The Sweet Maxwell speakers however, were able to go reasonably deep with some power and weight behind it. You could say that the voicing of the Sweet Maxwell is thoroughly modern but I say that in a good way – the high quality drivers, cross-over and overall design brings out the best of small stand-mounts.
Conclusion
Large floor standers can offer more gravitas, bass power and volume but they are not without their own set of problems that a designer needs to deal with. But with the Sweet Maxwell everything is there, just on a slightly smaller scale. However, I found that my brain quickly adjusted and easily compensated. Should you want more bass, Mark is planning two floor-standing variations of the Sweet Maxwell. They are in the planning stage so there aren't many details to pass along. If you can't wait and really feel that you need more bass then consider that M8audio also makes a matching subwoofer that will neatly integrate with the Sweet Maxwell and also the smaller Rocket 5.1 SuperResolution speaker.
These Sweet Maxwell speakers have great presence and energy. The music is presented with beautiful tonality in a musical non-fatiguing way and without harshness. I believe you will find that their resolution, articulation, imaging and transparency will have you gleefully playing music you'd long forgotten about as you delve through your library. I know I did! Sweet indeed!
… Tom Waters
Associated Equipment
Speakers — PMC MB2 SE speakers
Amplifier — Mark Levinson 33H monoblocks
Preamplifier — Trinnov Audio Amethyst
Sources — Gryphon Mikado Signature CD Player, Mac Mini (running Roon Core), Bricasti M1 DAC
Processor — Trinnov Audio Amethyst
Cables — ZenSati #1 and #2 interconnects and speaker cables, sILENzIO S/PDIF, Nordost Tyr 2 AES-EBU Nordost Tyr 2 power cords Synergistic Research Hologram A and D power cords
Audio Rack — Schroeders and Schroeders
Miscellaneous — Nordost Quantum QX4 line purifier, Nordost Quantum QV2 AC line harmonizers, Nordost Quantum QB8 power distribution, dedicated 20 amp power lines, Stillpoints Ultra 5 isolation footers, Symposium Rollerblock Jr isolation footers, Symposium shelf
M8audio Sweet Maxwell Loudspeakers
Price: AU$6500 (includes worldwide shipping)
Warranty: Five Years
Australian Distributor: M8audio
+61 (0) 4 32 322 807
www.m8audio.com
M8audio
39 Parkland Drive, Woodwark
4802 Queensland, Australia
+61 (0) 4 32 322 807
www.m8audio.com