In the early 1990s Rotel, already a 20-plus year old company with a rich audio history, announced the release of an all-out attack on the high-end audio space. It launched the now-iconic Michi brand with a limited range of super high quality products featuring advanced circuit designs born from astute engineering and bearing a distinctive Japanese styling (the gorgeous redwood side panels enhanced the elegant lines) married to superb build quality. Now, 30-odd years on, we again see the emergence of the Michi brand with an aim to revive the glory of the nascent products of yesteryear.
Rotel distributor Interdyn is also the custodian of the Michi brand in Australia and New Zealand. Rather fittingly, SoundStage! Australia was invited to attend Interdyn's Australian introduction of the new Michi P5 preamplifier, the S5 stereo and M8 monoblock power amplifiers in a dedicated function room at Supernormal, a chic Melbourne inner city 'Modern Japanese' restaurant. In support to provide some tunes was a computer audio rig and a Pro-Ject Xtension 9 turntable and Ortofon cartridge all tied via Ortofon and IsoTek cables. The speakers were the rather magnificent Monitor Audio PL300 II floorstanders.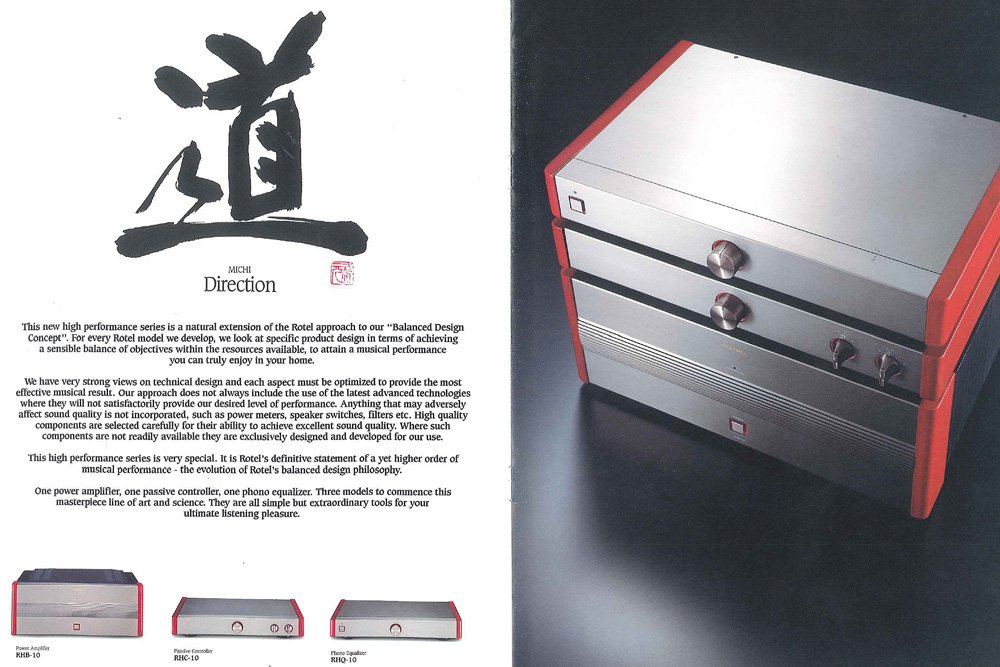 1990s-era Michi advertising
Prior to the listening session to follow, I spoke to Rotel's Managing Director Peter Kao (Kao's great uncle founded Rotel), Daren Orth CTO and Interdyn's Director Sam Encel, about some of the decisions and ideologies behind this new flagship range of products. I started off by asking Orth why the over 30-year gap between Michi's original series and its return:
Daren Orth: Rotel went through a period of moderate instability. In addition, the Research & Development period took three years to finally settle on the designs you see here tonight. Although over 50 years old, Rotel is still family owned and it took this time to reach an appropriate time, to reconsider the Michi brand, design and engineer the products, assemble suppliers and tool-up for the production and manufacturing stages in a dedicated assembly line in our factory.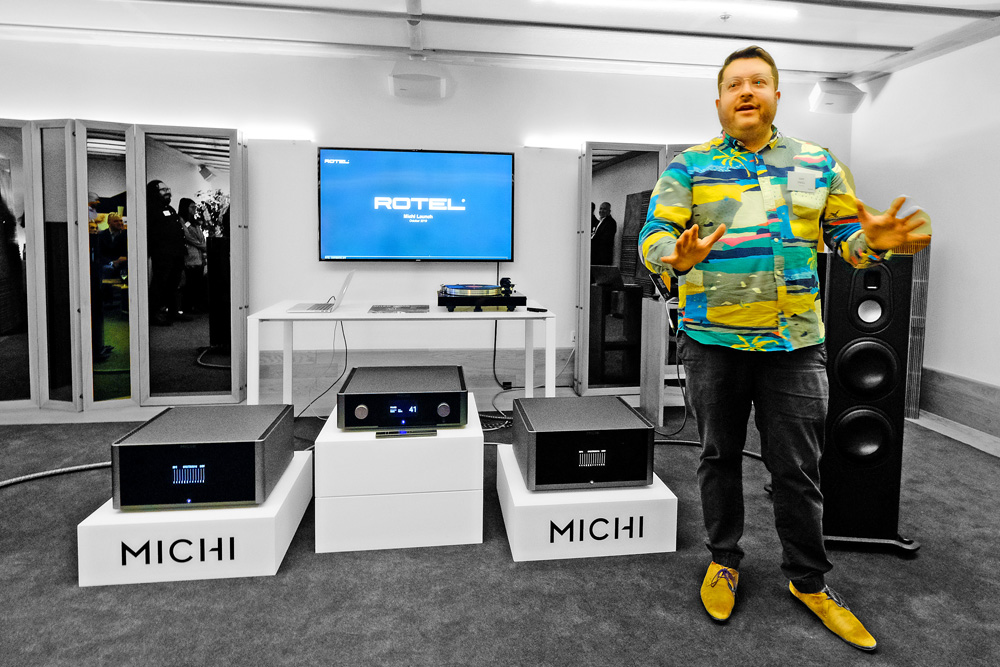 Sporting the second-most-colourful shirt at the event, Interdyn Director Sam Encel introduces Michi to VIP guests
Edgar Kramer: What was the motivation to reintroduce the Michi brand?
Peter Kao: The original Michi products launched in the early 1990's and set a new standard for audio in the global marketplace receiving numerous awards and still held with high regard. The relaunch of the Michi brand is a fitting tribute to the history and heritage of Rotel and celebration of this family-owned and 3rd generation family-operated Hi-Fi audio business.
EK: Are there any new ideologies, or going back to the drawing board, behind the new Michi products or are they super-developed tweaked versions of existing flagship Rotel products?
DO: We started with a blank slate. I asked the engineering team "Can you do this?" And when they said they could, I knew that I'd have to push harder. I wanted them to say "Maybe we can" and that would tell me they would try new avenues and take old ones further. We pushed our design to the furthest we could to meet the target. I wanted a revolutionary product.
Peter Kao: Michi products have been designed leveraging the core strengths of Rotel such as custom designed and in-house built toroidal transformers, massive slit foil capacitors and exceptional audiophile grade components. The core DNA of Rotel's 58 year history has been retained but the technology and engineering is new allowing these products to achieve the level of performance required to proudly wear the Michi logo.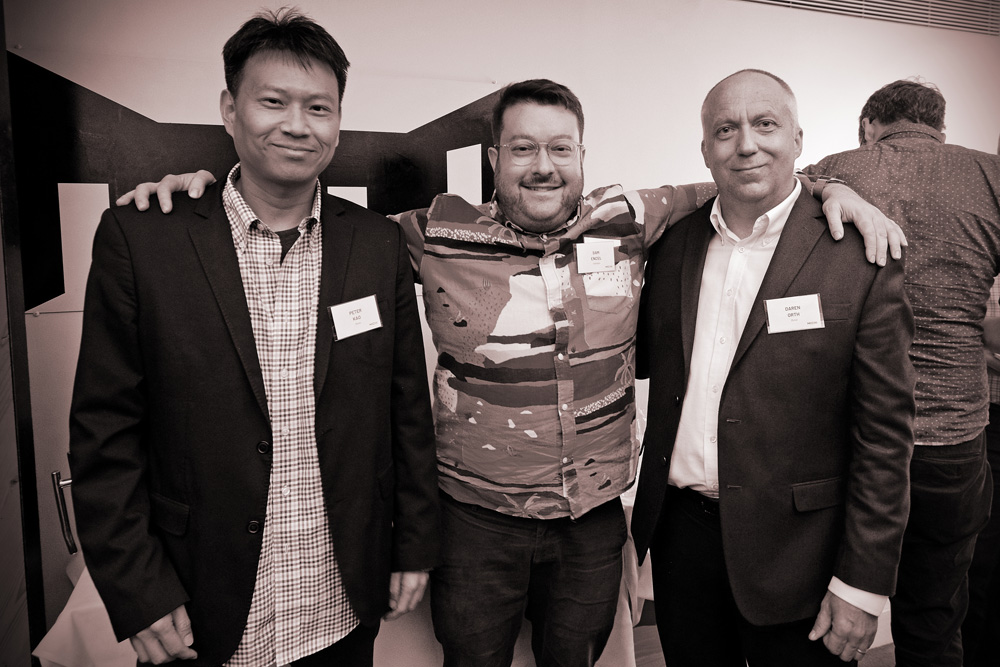 From left to right: Peter Kao, Sam Encel and Daren Orth
EK: Will Michi technology trickle down to Rotel products or will it be exclusive?
PK: The audio engineering development for the new Michi products required 3 years of dedicated design effort. These innovations and technologies will be scaled and introduced to the benefit of all new Rotel models ensuring this investment is optimised and furthering the commitment to deliver uncompromised value.
EK: I believe Michi means Road, or Path, in Japanese. What path do you envisage Michi taking Rotel and how will you market the resurrected brand?
PK: Michi is deservedly on a "path" to become a globally respected premium audio brand promising an elevated level of acoustic performance and respectfully warrants the individual identity of the Michi brand mark. These new models are evidence of the ongoing investment and dedication of Rotel with all products under both brands benefitting from their respective markets continuing to grow the family of satisfied Rotel and Michi customers.
Post-studying the Interdyn product portfolio, I took the opportunity to briefly discuss with Sam Encel a few salient points. Of note to this writer was the fact that Interdyn's top-end loudspeaker space was thoroughly covered with the highly-respected PMC and Monitor Audio brands. There seemed to be somewhat of a null in Interdyn's stable as far as high-end amplification, barring Rotel's top-most offerings. The Michi electronics would seem to plug that higher level void.
Sam Encel: Absolutely. A premium amplification offering has been on our wishlist for some time. We're sometimes caught between a rock and a hard place in wanting to maintain focus on a small pool of brands, yet desiring credible products in all of the major categories and price points so as to give our dealers a one-stop distribution experience. In Michi, we'll now have that next level of quality amplification without having to step outside of our existing brands.
EK: Will the Michi electronics be represented by a "premium" group of retailers around Australia?
SE: Indeed, Michi will be represented by a handful of qualified and passionate dealers across Australia and New Zealand. While we have a fantastic array of Rotel dealers in the 14 and 15 Series, eligibility for a Michi dealership will be distinct and tightly held. The interest level is already high, even amongst dealers who weren't able to make it to our launch, so we're certainly going to need to be selective.
And it's easy to understand why the dealer – and indeed consumer – interest is high. These are beautifully engineered products. A sample on display on the night featured an acrylic top panel (apparently units can be ordered with this option) succinctly exhibiting the superb build and component quality adopted here. Think massive custom transformers, generous power supplies, proper heatsinking and faultless assembly.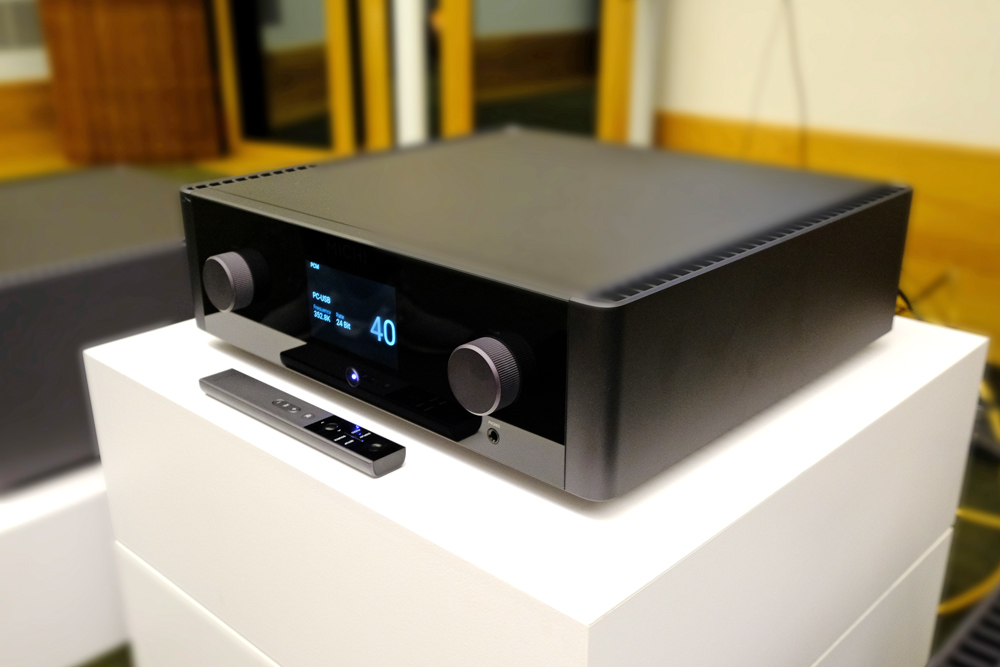 The P5 preamplifier will feature multiple analogue balanced and unbalanced inputs/outputs, a built-in Moving Magnet and Moving Coil phono stage and comprehensive digital connectivity options. These last are a barrage of Toslink optical and S/PDIF coaxial inputs and outputs, USB, RJ45 Ethernet and finally a RS232 data and 12V trigger set-up. The P5's fascia sports a new elegant high resolution display which keeps the user super-informed.
The new Michi power amplifiers are Class-AB high current designs featuring a distinctive central high-resolution display with an option to indicate either a peak power meter or spectrum analyser. The M8 is a 1080 watts (8 ohms) powerhouse while the S5 is no slouch at 500 watts (8 ohms). Connectivity offers balanced and unbalanced inputs, high quality speaker binding posts, RS232 and RJ45 Ethernet data ports and 12V triggers. As part of the design culture at Rotel, especially so for these upmarket Michi products, the power supplies are massive and feature dual custom toroidal transformers supported via substantial British-built capacitors. There's little doubt that these new Michi products are to be taken extremely seriously as far as their engineering is concerned. And ditto for the impeccable fit and finish and the components' elegant styling.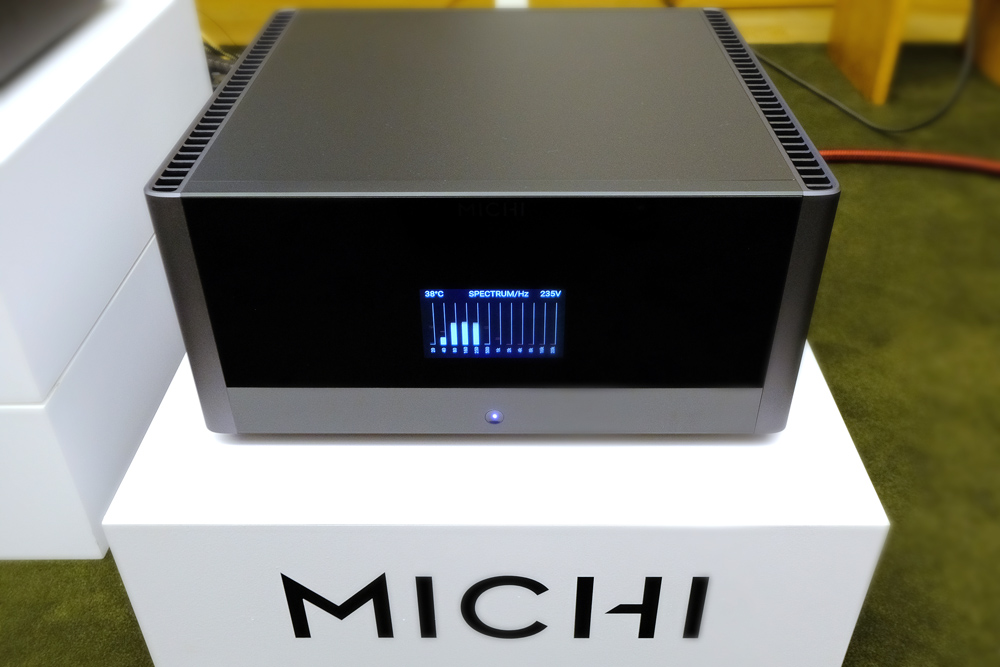 In a brief listening session conducted by Interdyn's genial Leigh Fischer, the Michi combo showed great potential in what was, despite Interdyn's valiant and commendable attempt to treat the room with Artnovion products (which the company also distributes), a difficult acoustic environment.
With music flooding the room – yes the system threw a massive soundstage – a Tony Bennett and Diana Krull track sounded full and warm while a Dead Can Dance live track was detailed and dynamic. Through a further variety of well-selected tracks, there was clearly great potential at hand for refined and resolute performance. Ergo, SoundStage! Australia will be negotiating with Interdyn to commandeer review samples as soon as they become available – we're told the Rotel factory is in full production swing with global demand being extremely high.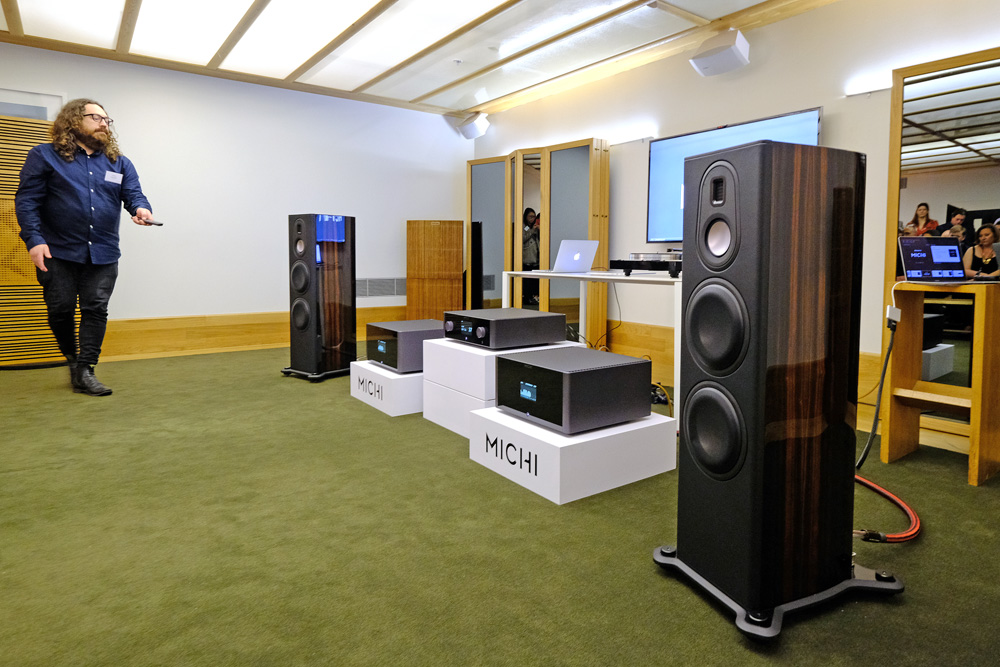 Event DJ Leigh Fischer spinning demo tunes
In addition, when we asked about the obvious extension of the Michi product line by way of an integrated amplifier (an crucial short term release one would imagine), a classy Digital-to-Analogue Converter and/or streamer (also a critical future component) and perhaps an extravagant CD player (this writer can only wish…), Rotel management kept their cards closely guarded to their chest and neither confirmed nor denied the possibilities. From a strategic point of view, I imagine an integrated amplifier with both a built-in DAC and phono stage would, surely, have to be the next cab off the rank for Michi.
Conclusion
While the resurrection of the Michi brand is obviously a serious commitment by Rotel to present high-end audio consumers with an upmarket option, it is also a strong statement of the ongoing vitality of the luxury audio space. The near-half-century-old company has pledged considerable R&D, production and manufacturing resources to offer the market an alternative. Rotel also promises to allot considerable marketing efforts to re-establish the brand with the gravitas it deserves.
Now, with those super enticing monos steadfastly visualised, we hanker our blissful explorations on the path to Michi…
Rotel Michi High-End Line
Price: Australian RRPs imminent announcement
Australian Distributor: Interdyn
+61 3 9426 3600
www.interdyn.com.au
The Rotel Co.
2-11-4, Nakane, Meguro-ku
Tokyo
Japan 152-0031
www.rotel.com