Melbourne's SGR Audio is an established and growing concern with an expanding line of superbly-designed products ranging from source to speakers – the latter both passive and active. In fact, SoundStage! awarded a 'Best of Show' commendation to SGR's superbly-designed Discovery series speakers at High-End Munich 2017 – see write-up here. The company also makes the outstanding modular Signature Hi-Fi Rack that is not only aesthetically beautiful but also features solid engineering principles. Now, SGR Audio has launched a Visco-Elastic Vibration Isolator upgrade that promises further performance benefits.
When back in 2012, in another life, I reviewed the three-tier SGR Audio Signature Hi-Fi rack for www.6moons.com, I awarded it with that publication's highest honour. I felt – and still do – that the racks not only provide discernible (and measurable) performance benefits but also represent outstanding value given SGR Audio's meticulous attention to design detail, extremely high level of construction quality and beautiful fit-and-finish. And there are many conceptual elements at hand so implemented in order to provide sonic improvements over even decent competitor rack supports that do not benefit from SGR Audio's commitment to engineering.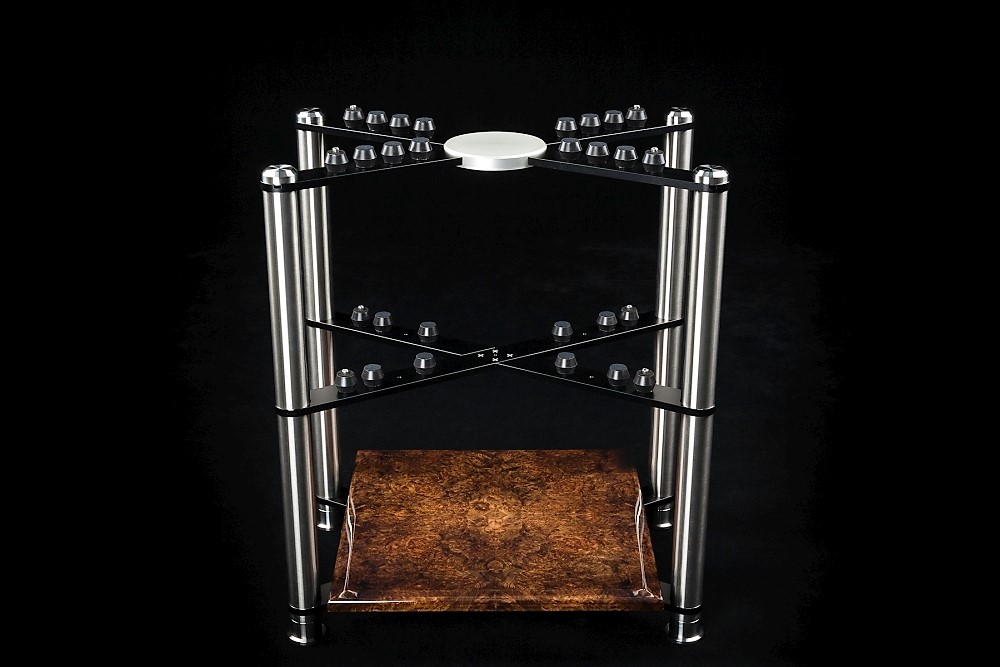 The holistic concept is made up of several elements that make for an outstanding sum-of-it-parts. The perfectly-machined pillars are sand-filled for ultimate vibrational control while distortions are further controlled via sorbothane-like soft isolator pods that support constrained-layer damped beautifully veneered shelves available in a range of timbre types in mat and gloss finishes. And while on the platforms/shelves, the knock test on these beautiful pieces provides a low 'thunk!'-like sound that is as resonance-dead as you're likely to hear. Post-review, I bought two 3-tier racks to house my reference system.
But things don't stand still at SGR and Stuart Ralston, proprietor and Chief Engineer, saw potential improvements available in a new compound mixture for the sorbothane-like isolators supporting the damped platforms. So, where the original Isolators were a 1.5 inch diameter cylindrical 'puck', the new Isolators are a conical stacked shape tapering at both the top and bottom from the fatter middle section. They have a higher profile and feel slightly more… solidified. The new Isolators fit to the solid aluminium cross-braces (themselves beautifully anodised) in the same way – by simply screwing them on via the protruding threaded screw. The outermost Isolators feature a Hex-bolt head protrusion which guides into an aligned intrusion into the bottom of the shelves. It's simple and extremely elegant and the system allows for multiple Isolator placement in order to allow for heavy components and ones with shifted centre of gravity. Further evidence of SGR's attention to detail is displayed via the Isolators' felt-covered tops and bottoms which provide a soft surface for both the prevention of scratching and oil marking, as negligible as that is in the newly-designed Isolators.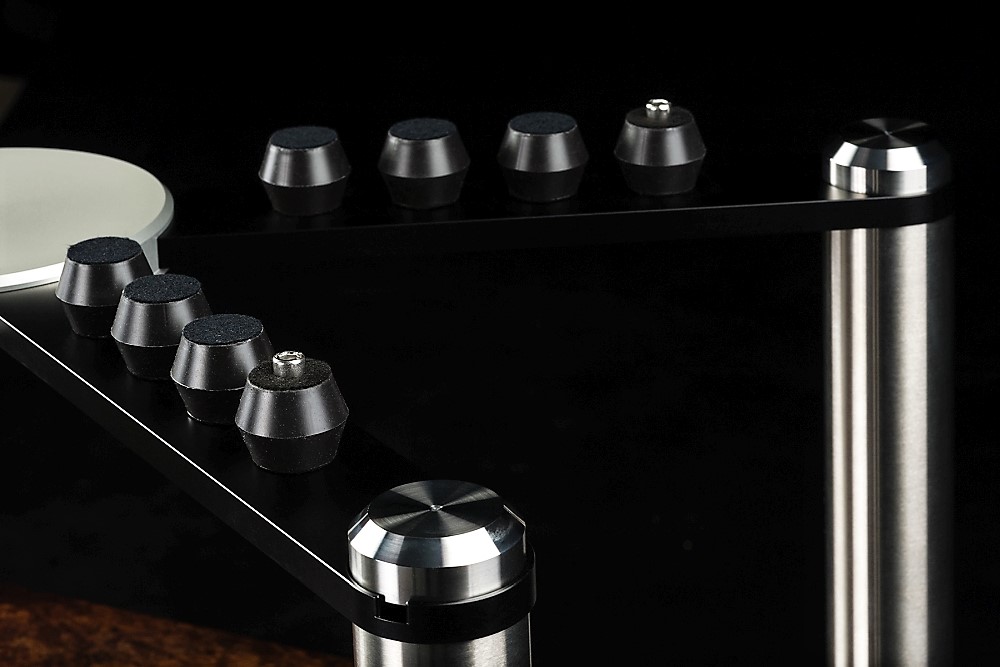 Stuart Ralston provides an insight into how he arrived at the latest Isolators' concoction:
When we originally released the Hi-Fi racks we used Sorbothane for the isolators. Sorbothane seems to be the industry standard for this type of application, a very good product and quite effective, but it does suffer from two major issues which effect performance. We found it does not stand the test of time, suffering from a problem known as 'compression set'. This means that under load, when the isolators are compressed, they do not bounce back to their original height if the load is removed. Over time, they effectively become squashed, which compromises their isolation ability. The second issue with Sorbothane is that under load it tends to leech/bleed the oils in the material, which caused stain marks on our anodised aluminium surfaces. So we needed to find a material that did not suffer from these issues. Over 12 months of testing many materials passed, until we finally found a specialised silicon-based polymer that was available in a liquid form that could be set in a mould. Extensive testing proved that the product had almost no long term shrinkage, very little compression set (bounced back to 95% even under 300% load!) and next to no oil bleeding. Testing also proved it had better isolation properties than sorbothane and up to 6dB better isolation at midrange frequencies. So we had a winner, and just needed to perfect the manufacturing process.
In our in-house machine shop we designed and made a two-part aluminium mould. After the liquid silicon material is inserted, this mould is pressed together in a hydraulic press under five tons of pressure until the silicon cures. To avoid air entrapment and bubbles a vacuum degassing chamber was required as well as a unique application process to apply the liquid into the mould. One of the major hurdles was finding a method to attach the metal washers on the faces of the isolators, as the silicon used does not stick to metal. We tested a dozen metal coatings and adhesives which all failed, and then, admittedly, we found the solution to our problem quite by accident when someone picked up the wrong spray can in the workshop and used it for the test!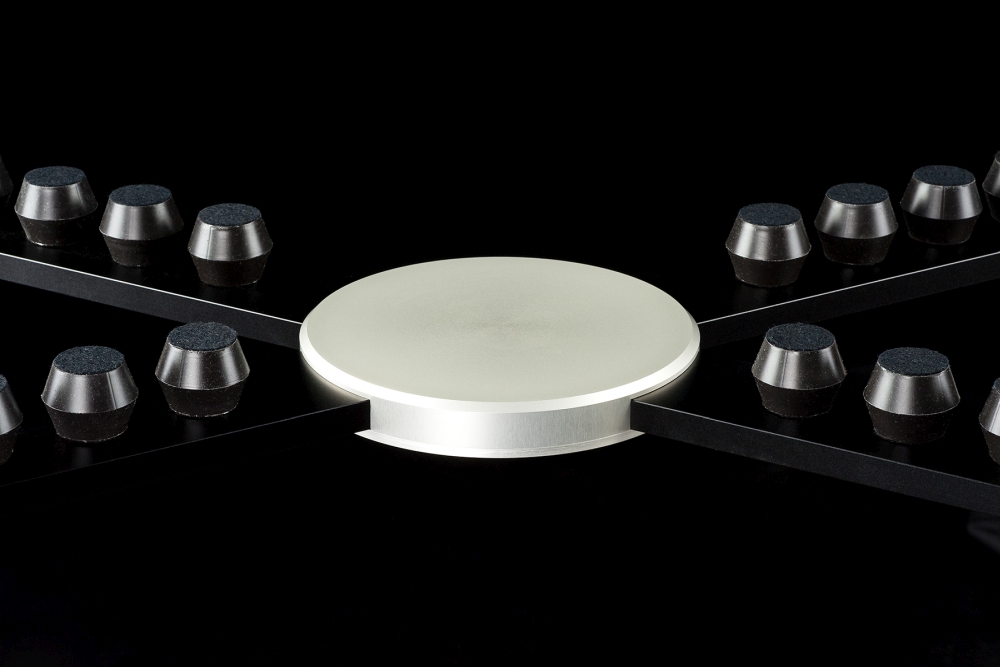 A large industrial moulding machine the size of a car (and costing many times more) could probably pump out 1000's of these isolators an hour, but our market doesn't justify the huge capital investment so we continue to manufacture our isolators in house with the majority of the process done by hand. Using multiple mould sets, we can produce about 40 an hour. Each set of 4pcs is rated to carry 15kg equipment weight, and each standard rack level can accommodate up to 16 isolators, to a max load rating of 60kg. A Heavy Duty (HD) brace is available with an additional HD isolator that increases the load rating to 100Kg.
And that in a nutshell illustrates the lengths SGR Audio goes to in terms of engineering and in order to manufacture as much as possible in-house, in Australia. Needless to say that even more devotion is applied to the company's superbly-engineered electronics and outstanding speaker products. This writer has had the privilege of visiting SGR Audio's factory and equipment auditioning facilities on a number of occasions and has left impressed each time. Good people, appropriate resources, astute business practices and dedication to scientific methodologies are the signature attributes at SGR Audio.
Viscosity
Substituting the old Isolators for the new is simply a matter of removing all the equipment from the racks, lifting the selves off the Isolators and cross braces and screwing off/on old for new. The new Isolators have a higher profile so the shelves stand a tad taller off the cross braces while the new Isolators also have a higher level of 'springiness'.
I listened for a couple of hours prior to making the changes to the new Isolators just for the fun of it and to get one last 'feel' for the sound (I'd be silly to claim my sonic memory would be accurate after the 30 minutes it took to change all the shelves over). Having said that, I know the sound of my very revealing system intimately and small changes are fairly obvious. Sitting down post-Isolator change showed some subtle differences in sound. I won't claim 'chalk and cheese' differences – I avoid that sort of hyperbole at all costs in my reviews – but I will say that although subtle, to a careful listener the differences are nevertheless there – and positive and worthwhile at that.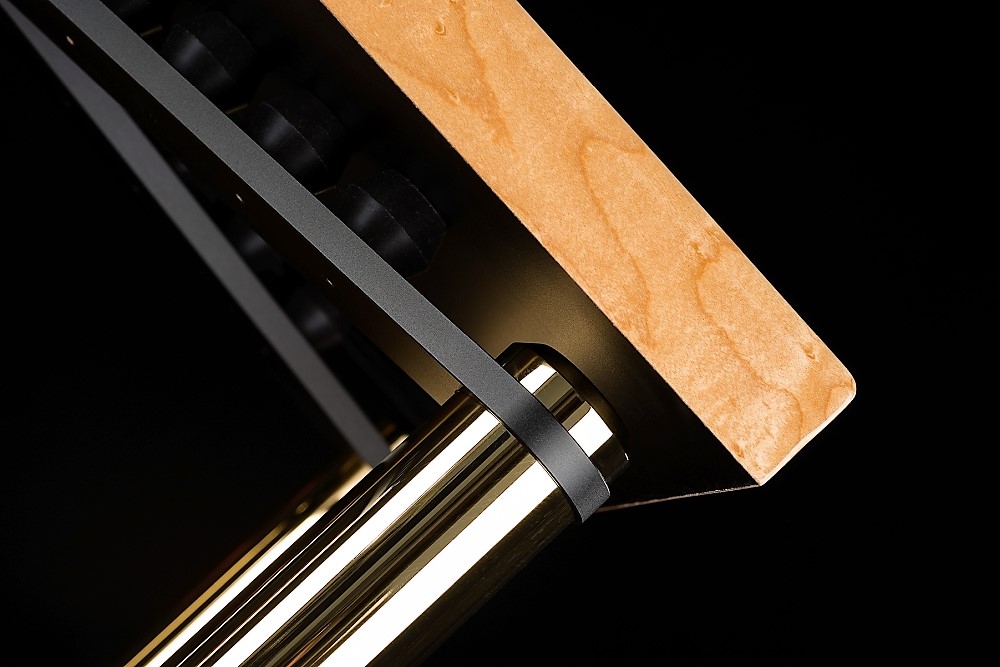 It's mostly in two areas of the presentation: it's an increase/improvement in the soundstage's layering and a marginal tightening of the low-end. My usual staple reference music had a consistent presentation of newly-expanded space with images subtly more layered in terms of depth. The placement – or what I sometimes refer to as image specificity which also refers to the sense of image presence – has now a more defined solidity.
A perfect example is illustrated via my preferred test tracks from Jackson Browne's The Naked Ride Home, Brian Bromberg's Wood, any of Renaud Garcia-Fons' releases and other well-produced bass-prominent music. It was here that the Isolators were more evidently powerful in their tightening of the bass and the increased level of texture and nuance in the important three octave (approx.) band between 300Hz and 30Hz.
Recordings with predominantly acoustic instrumentation in large spaces such as Ryan Adams', Harry Belafonte's and The Weavers' extraordinary live captures at Carnegie Hall were enhanced with a larger sense of space and ambience. Belafonte's meanderings around the stage seemed more serpentine, especially in the depth perspective. Adams' rocking back and forth from the microphone came across as being more pronounced, more realistically-dimensioned.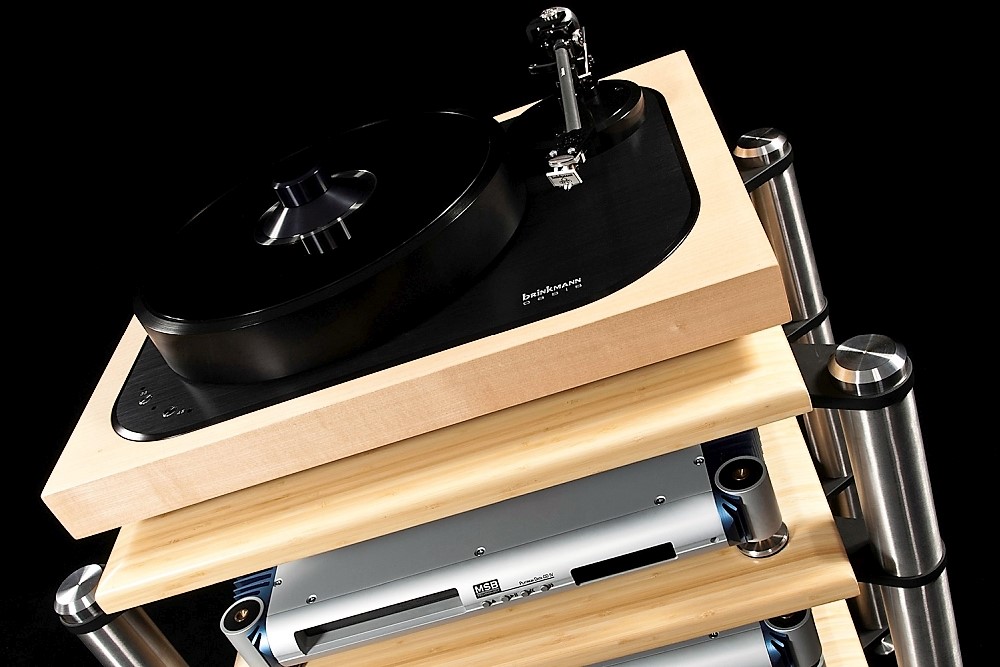 And it's in these same live recordings – and I would include a fourth Carnegie Hall production masterpiece in Peter McGrath's capture of Earl Wild in concert – that actually, by default, contain a whole lot of low level micro-detail inherent in the 'liveliness' of the audience, their movements, coughs, claps, etc. Here too, I could swear, the Isolators brought forth a subtle enriched clarity that would also translate to musical information when recorded in the requisite resolution – not meaning format resolution but rather recordings possessing the appropriate exactitude.
Conclusion
SGR Audio's Signature Hi-Fi Rack is one of the very best audio support systems available, full stop. It's a product built to exacting standards in Australia by a company that is fanatical about quality and control of all production aspects. Now, this extraordinary value product is further enhanced via the new Visco-Elastic Vibration Isolators which provide a noticeable sonic benefit and, like all things SGR Audio, are based on the observance of scientific and engineering principles.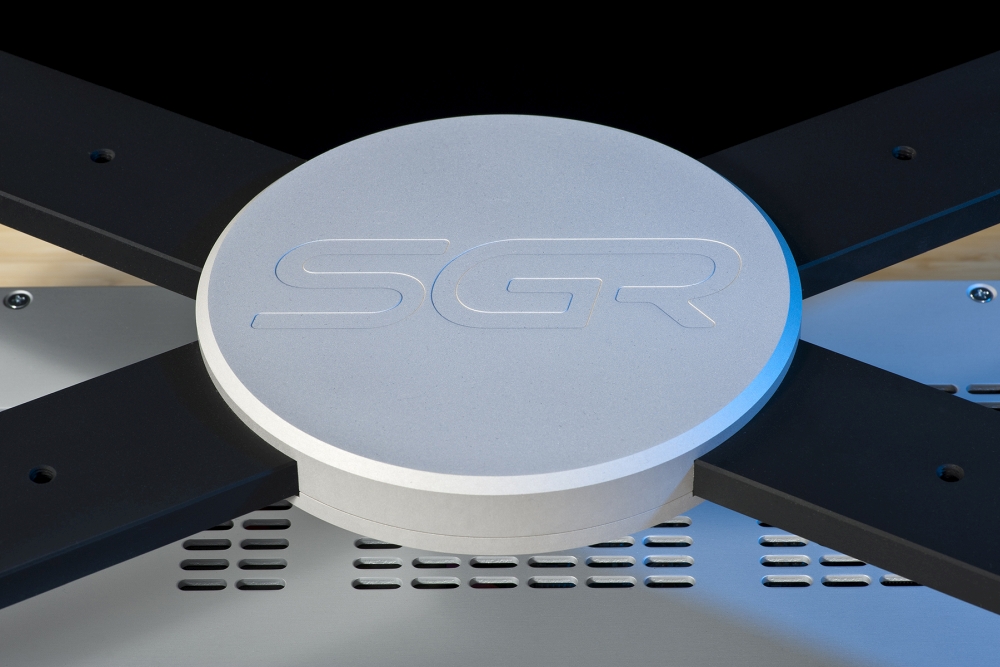 That a company can dedicate such extensive pre-fabrication research and analysis of materials and production techniques while committing to in-house manufacturing of, what some may think within the scheme of things, is a trivial component is a credit to this courageous company.
Kudos to SGR Audio who, once again, despite its proven record in the highly technical arenas of electronics and loudspeaker design, proves to the audio world that, in the case of the Isolators, from little things big things come.
… Edgar Kramer
This email address is being protected from spambots. You need JavaScript enabled to view it.
Associated Equipment
Speakers — Wilson Audio Alexia, Axis Loudspeakers VoiceBox S (nearfield monitor)
Amplifier — Gryphon Audio Antileon EVO
Preamplifier — Supratek DHT Reference, Lightspeed Attenuator LDR passive
Sources — Yamaha CD-S2100 transport, Totaldac d1-core DAC, MacBook with BitPerfect software, AIFF files
Processor — DEQX PreMate
Cables — sILENzIO loom, Vermouth Audio Black Pearl loom (in for review)
SGR Audio Signature Hi-Fi Rack Visco-Elastic Vibration Isolators
Price: AU$750 per level for Signature H-Fi Rack (without shelf, includes 4 Isolators), AU$150 (set of 4) Visco-Elastic Vibration Isolators, from AU$135 for shelves
Warranty: Five Years
Australian Distributor: Audio Fidelity
+61 (3) 9036 2751
www.audiofidelity.com.au
SGR Audio
11 Websters Road
Templestowe VIC 3106
Australia
+61 (3) 9846 8002
www.sgraudio.com