Predominantly, Wilson Audio Specialties has achieved an enviable reputation and has garnered universal acclaim for its engineering excellence of massive full-range loudspeaker systems. Paradoxically, this has occurred despite the company's breakthrough product being the iconic WATT (Wilson Audio Tiny Tot), a high precision 2-way monitor that, in a subsequent iteration, 'grew' up to be a near full-range speaker via the addition of the 'Puppy' dedicated bass module. And while Wilson Audio Specialties' uncompromising trickle down technology advanced its subsequent smaller floorstanding designs, the lessons learnt with 'the big ones' have consequently also led to exceptional standmount loudspeakers – generations of CUB and Duette – that, while being necessarily simpler in execution, have enjoyed the substantial benefits of the engineering team's continuous research. Now, under the Wilson Special Applications Engineering (WSAE) division, we see a new monitor in the diminutive TuneTot.
Tinier Tot
The new TuneTot has been engineered to retain Wilson Audio's tradition of high performance via, among other things, the use of proprietary cabinet construction materials, time domain observance and exceptional build quality, all a consistent mantra since the company's inception. So, in common with its WSAE stablemate in the Alida, the TuneTot's conceptualisation originated from a desire to provide a solution for discerning music lovers seeking a high performance loudspeaker which would be flexible in terms of placement and which could provide styling options suitable to somewhat more casual and diverse environments.
To that end, the TuneTot presents a small footprint (the smallest speaker ever designed by Wilson Audio), is available in a number of new Wilson Gloss colours, is finished in a quality consistent with the entire Wilson Audio speaker line, uses the company's exclusive materials technology and has been engineered with attention to the time domain in order to fall in line with the company design ethos and expected performance standards.
In order to achieve these mandates, very little (pun intended) if anything has been compromised. TuneTot features a dedicated version of Wilson Audio's 25mm Convergent Synergy tweeter (also used in Sabrina) which features a doped fabric dome while the 145mm mid-woofer driver is from Scan-Speak's Revelator range (a modified version of which is also used in Sabrina and in Alexx). In my experience as heard in other high-end designs, this driver has proven itself to be extraordinary and capable of class-leading bass power, lightning-fast transient response and tremendous dynamic expression. It features a scored 'sliced' paper cone and a massive magnet system. This uncompromising mid-woofer is manufactured to Wilson Audio's specifications by Scan-Speak while the CS tweeter is also fabricated to strict guidelines and then further modified and customised in-house. As used in Wilson Audio's larger designs, TuneTot features twisted double wire internal interface between the high quality, potted crossover and the bespoke drivers.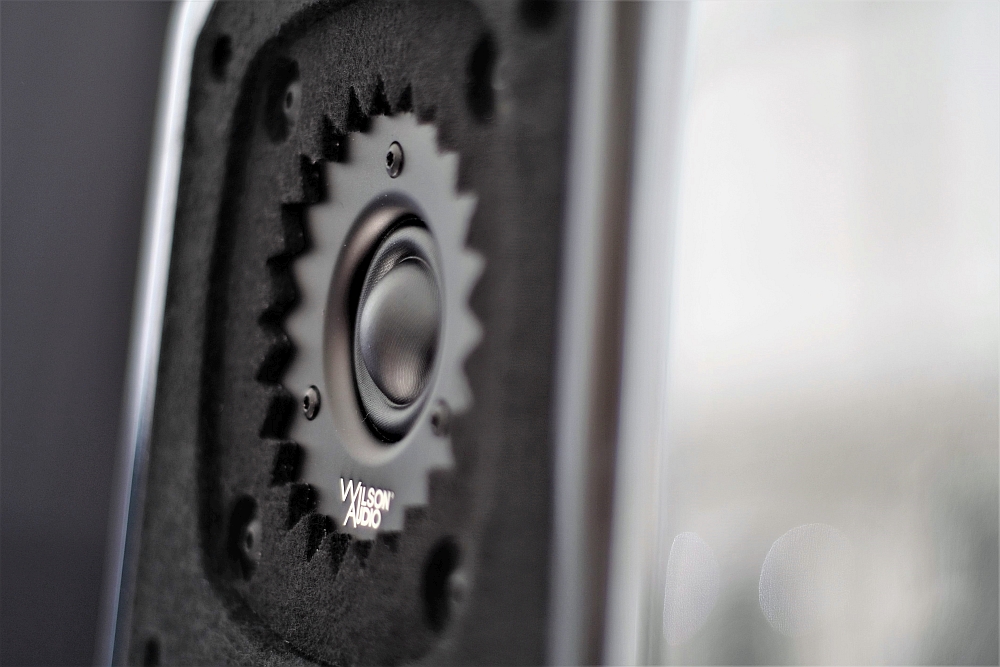 Time domain attention is by way of the sloped (5-degrees) front baffle and the included spiking system which has been designed to provide improved driver integration. While comparatively crude in terms of finer adjustment when compared to, say, my reference Alexia Series 2 (see review here), TuneTot nevertheless offers time propagation alignment via rake angle adjustments provided by way of said spiking scheme which can be incorporated on either the speakers' front or rear. The 'calibrated' spikes can be inserted into the speakers at different heights via spaced thread sections in order to adjust, either forward or backward, the speakers' tilt. In the comprehensive manual, images illustrate an approximate portion of the TuneTot's top panel surface that should be visible in order to obtain approximate acoustic alignment. I say approximate because such alignment can only be realised at one listening position, however, the TuneTot is forgiving in terms of dispersion – and features an appropriate polar response – because of its intended use which allows bench-top, bookshelf, credenza placement in addition to a more critical implementation on speaker stands.
Wilson Audio specifies the TuneTot as having a Room Averaged Response (RAR) spanning from 65 Hz to 23 kHz with +/-3dB parameters while the system sensitivity is quoted as 86dB (1 watt/1m/1 kHz). The impedance specification is fairly benign, being 8 ohms with a minimum of 6.61 ohms at 172 Hz and Wilson Audio recommends amplifiers of 25 watts per channel capacity as a minimum.
The very solid rear-slot-vented cabinet – optimised using Laser Vibrometry – is constructed from a mix of Wilson Audio's proprietary S material for the front baffle and X material for the cabinet. These composite materials are also used on Wilson Audio speakers all the way up to the new WAMM Master Chronosonic. The X and S materials have been engineered, over a number of generations, to wring the best driver performance through their suitability across specific frequency bandwidths. The slanted front baffle, non-parallel cabinet walls, sculpted design and first-class fit and finish make for a rather attractive speaker, with the famous Wilson Gloss paint superbly-applied to better-than-automotive quality standards. In common with the last few generations of Wilson Audio speakers, a laser-etched brushed aluminium cover, just above the high quality WBT binding posts, provides access to the crossover. TuneTot is quite heavy for its size, weighing-in at 13kg, yet further evidence of its solid fabrication.
A new 'Ecosystem' has been developed for TuneTot which effectively presents a number of options both in terms of performance and cosmetics. Most importantly performance-wise, an 'ISOBase' platform has been developed to provide a solid base to counter vibrational/resonance distortions when using TuneTot on bench-tops, credenzas, etc. The platform is available in colours matching the speakers and is constructed from CNC-machined and anodised aluminium. On the ISOBase's top face, constrained-layer damped inserts (finished in matching gloss paint) house spike indent slots providing both a modicum of fore and aft adjustment and a 'rigging' point for the spikes' solid coupling to the platform. ISOBase is beautifully finished and is solidly weighty.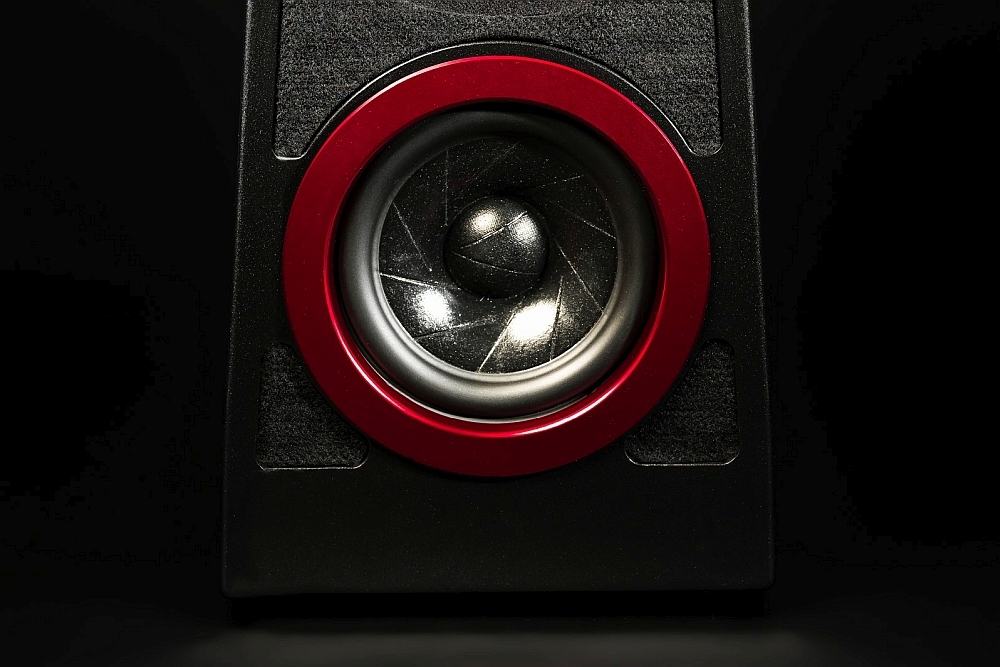 The 'Ecosystem' also offers a machined aluminium 'Trim Ring' – available in four gloss colours – which serves as a dress for the mid-woofer drivers' mounting hardware, providing both a more attractive presentation and the option to mix and match colour themes. A black gloss TuneTot could be paired with a gloss red Trim Ring, for example. The Ring preference, of course, makes the grilles optional, as Wilson Audio found a large percentage of users were eschewing their use. However, should you require them, front grilles can be purchased as an added extra.
In line with Wilson Audio tradition, the TuneTot is provided with a comprehensive accessories pack. Included are a number of US-made tools for tightening the driver mounting hardware and the spikes, surface-protecting spike cups (when ISOBase is not in use), a micro-fibre polishing cloth and more. The accessories pack also contains foam bungs which have been cut to shape to perfectly fit within the reflex slot/port. Inserting the bungs into the ports can provide a form of 'tuning', reducing overall bass output. This can be of benefit in restricted spaces where boundary proximity often results in excessive low frequency augmentation.
Daryl Wilson heads both the company as CEO and leads the design team at Wilson Audio. He has been responsible for several of the company's recent speaker releases such as the monumental Alexx, my reference Alexia Series 2, the over-achieving Sabrina and others. I wanted his perspectives on the ideas and general philosophies behind the development of TuneTot.
We've had so many requests for a compact loudspeaker solution, like TuneTot, for many years now. Something even more compact and smaller than Duette or other previous Wilson Audio offerings. Music lovers around the world want to enjoy high quality and accurate playback systems in more than just their dedicated listening rooms. There are so many spaces in homes and offices that will not accommodate a floor-standing, full-range loudspeaker. We established right from the beginning that the solution we design and create has to, firstly, be adjustable and adaptable in it's given installation environment, hence we've developed the spike system to accommodate a wide variety of listening distances and ear heights (we've also added a simple to install vent plug as one more way to tune your system. Secondly, it has to have the performance and beauty people expect from a Wilson Audio loudspeaker, and finally, it has to give more to the listener than what is expected from such a small "package". TuneTot checks all the boxes.
Given those requirements, I was curious as to what design and engineering challenges may have been encountered in terms of this smallest Wilson.
Engineering a small, compact loudspeaker to perform in a variety of hostile environments was challenging, but we have a vast archive of experience going all the way back to the original WATT released in 1986. We learned a lot from developing all the iterations of WATT, both series CUB 1 and 2, and both Duette 1 and 2. The biggest challenge with TuneTot was the limited internal volume and getting as much LF information as possible out of its small enclosure. We are very pleased with the results and it definitely gives more than what is expected.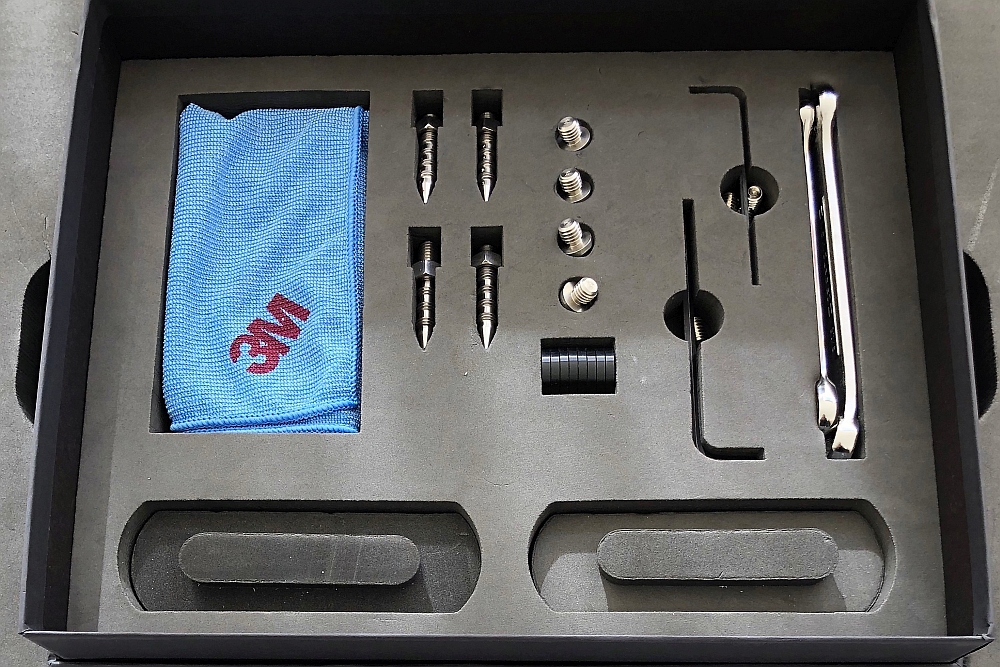 Indeed, and without pre-empting the listening impressions to come, I asked about the drivers.
The wonderful and very capable mid-woofer used in the TuneTot is a modified version of the mid-woofer used in the Alexx and Sabrina. Scan-Speak modifies these drivers as per our specifications and we do not further modify this particular driver in-house. The Convergent Synergy tweeter is the same version used in the Sabrina and all Convergent Synergy tweeters are modified in-house by our craftsmen.
NoTot
To start with, I was keen to hear the tiniest Wilson in as favourable circumstances as possible so I placed them on good quality Atacama stands. In this configuration I used TuneTot with and without the ISOBase.
This is indisputable… the first thing you'll be quite taken aback with, something that will shake your preconceptions, will be the sheer scale of the presentation. No matter your final opinion on the TuneTot, the grandeur, the largess of the soundfield offered by TuneTot is undeniable and totally in conflict with the speaker's stature. To wring that much presence, bass power and dynamic expression (all the ingredients of 'scale') from such a small cabinet and main driver combination, without the use of DSP, is pure engineering genius.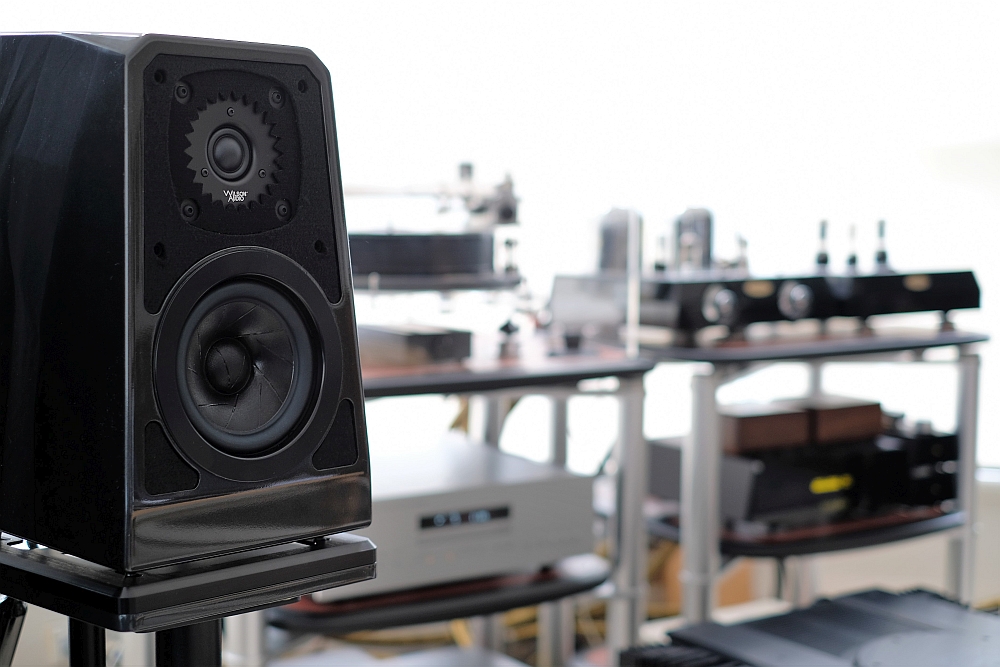 I brought out the challenging stuff. I use "Sergio Leone" from Jackson Browne's The Naked Ride Home regularly in my reviews. Not only is it an enjoyable track on a musical level, but it features all sorts of tests for resolution, dynamics, bass depth and so on. TuneTot was able to convey not only the intro's various micro-dynamic themes (a mix of electric guitar and bass, subtly-played drums and keyboards) in exceptional detail and tonal faithfulness, but it then presented Browne's voice clearly, yet smoothly, while handling the subsequent crescendos without compression. The complexities of the track as it climaxes were superbly resolved, with all the musical strands of the intricate mix being precisely resolved and separated while maintaining the music's integrity. The low bass drone that 'rolls' in at the track's three quarter mark was easily discernable and satisfyingly deep while also being tight. Sure, it paled in comparison with the depth and amplitude offered by Alexia Series 2, but then, that's like likening the ease of a V12 with the high performance potential of a 1.5L turbo. Both will be satisfying within their contexts, noting the latter's capabilities are determined by the laws of physics.
If you've ever heard or lived with a small 2-way floorstanding speaker, a really capable one, you'll no doubt be comparing its aptitudes with TuneTot's. Tok Tok Tok's "Have a Talk with God" from the I Wish CD, showed Tokunbo Akinro's delicate vocals locked-in front and centre in a very large – and amazingly deep – soundstage. When the mouth athletics of Morten Klein cut in, there's considerable depth to his low vocals and the subsequent entrance of the saxophone was completely believable in terms of tonal accuracy and soundfield placement.
Large orchestral works from Mahler, Sibelius, Beethoven and others surprised with their majesty. TuneTot is capable of an open, spacious soundfield with surprising height and, because they do not stunt crescendos, they accurately track the swings and oscillations of the orchestra in a similar way that far larger speakers do.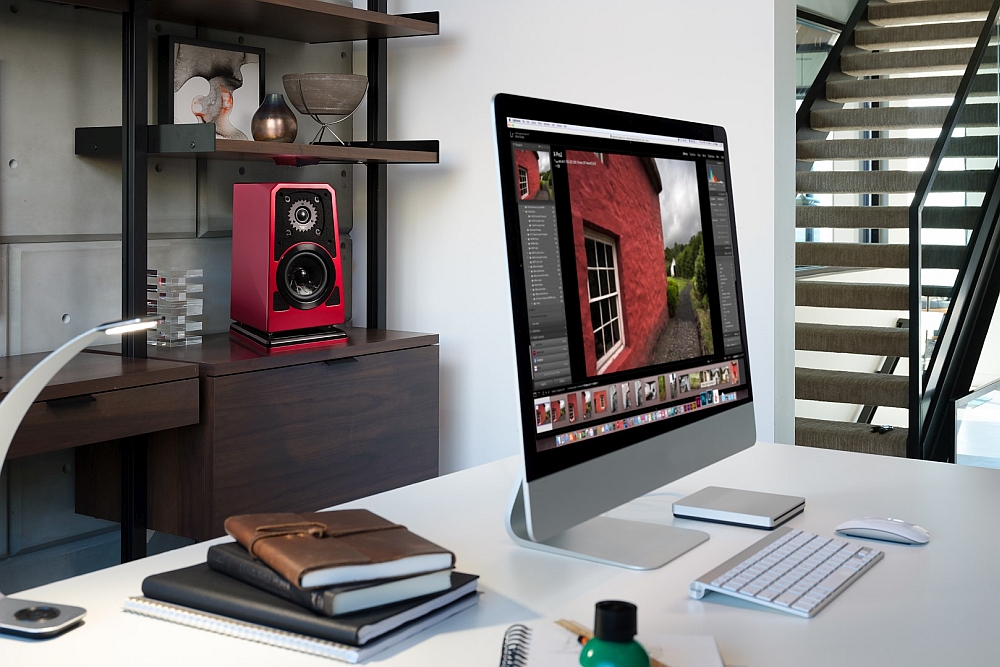 On more intimate recordings, such as Vincent Bélanger's Pure Cello (see our Encore video series here) TuneTot clearly demonstrated superb competence in terms of low frequency depth and tone. There was a profound sense of the instrument's timbre, its truest character, while the exceptional tweeter undiscriminatingly exhibited stunning detail from bow rosin and string. Bélanger and his instrument were placed solidly within a large soundfield that, as mentioned above, was large and natural in scope but which also reproduced a sense of ambient space – the sound signature of the recording venue, in other words.
For giggles, I spun Yello's "Oh Yeah" from the duo's Essential CD release. Given my findings in terms of the surprisingly ample low frequencies TuneTot was capable of, I expected a reasonable outcome. However, I was surprised at the punch and power of the bass and the dynamic capabilities of this diminutive transducer. Both Dieter Meier's low vocal shenanigans and the driving bass were believably deep while the track's energy and exuberant vitality was communicated in a most satisfying manner.
I dropped Wilco's Schmilco via the track "Quarters". This is a superb recording and TuneTot's rendering of the acoustic guitar showed its body and warm string tone, a musical ease, while the isolated toms and kick drum beats solidly punched over and above the line of the music.
The Dave Brubeck Quartet's Time Out on LP was a revelation in terms of mini-monitor performance. The piano's transient attack and purity was quite mesmerising, Brubeck's heavy chord style punching through… truly glorious. Eugene Wright's bass drove the rhythm solidly and when Paul Desmond comes in with the sax… oh my, what textured and tonal beauty! And don't think for a moment that the visceral shock of the drum solo on "Take Five" gave all that much away to larger designs. Sure, Alexia massages your insides but TuneTot gives you a large dose of that authority in a way that is only diminished… comparatively. In isolation, it more than impresses.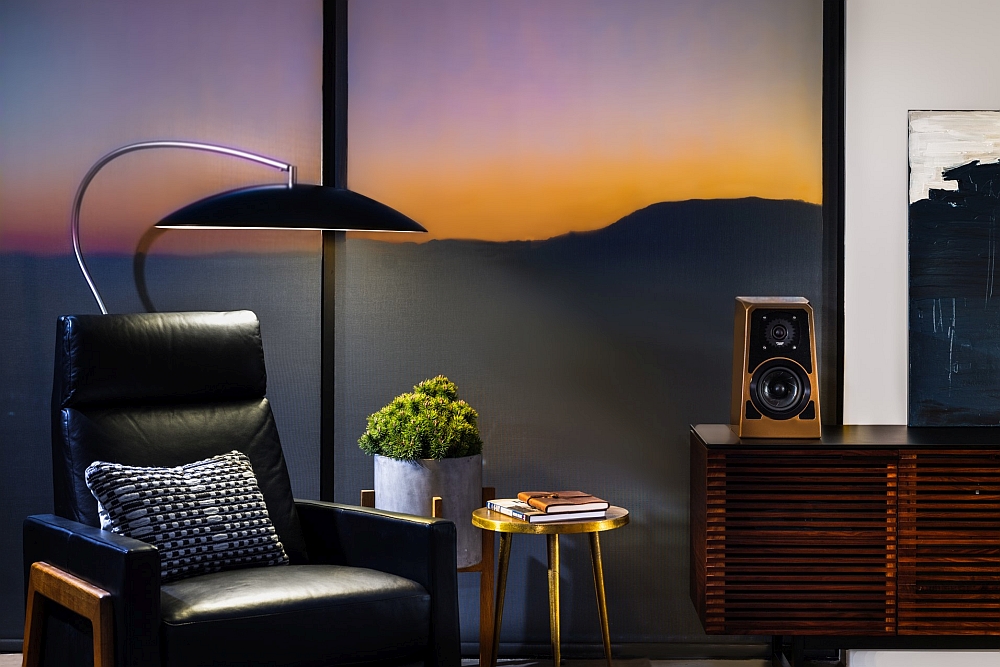 The sweetness and delicate beauty of Mary Webb's voice on her Love Like Planets LP (a release also available on CD via Halcro Records) is conveyed with exquisite purity and detail as is every nuance and vocal undulation. This is an honest recording with the rare combination of accuracy and musicality which is elevated even further via its vinyl version. Yes, in this instance, I stand by that claim…
Removing the ISOBase and placing the speakers directly on to the Atacama stands' top plate made a subtle but noticeable difference in presentation. The bass became marginally looser and images lost some (very subtle) focus. In the context of my main room, these were small differences. However, when used on the top surface of the secondary room's AV credenza, the differences were more evident. While there seemed to be a bit more bass output sans ISOBase, the lows were somewhat less defined, transients were slightly stunted and imaging less precise – these omissions no doubt the products of resonant/vibrational excitations from the wooden credenza. In my opinion, when using TuneTot on a bench-top, desktop or some form of shelving, the ISOBase becomes a much more important factor in procuring the best performance from these most resolute speakers.
Conclusion
Many audiophiles will tell you that there's magic in a simple 2-way speaker, preferring the smaller form factor and its inherent sonic qualities to your average larger design. And sure, the mix of small baffle surface (aiding controlled dispersion making for a 'disappearing act'), cabinet solidity brought about by smaller enclosure panels and the relative simplicity in terms of crossover topology, among other things, can produce a most appealing loudspeaker. Given a skilled designer, the cumulative result is usually made up of elements of coherence, balance, spatial precision in harmony with satisfying dynamic expression and low frequency extension. TuneTot owns all of the above.
However, over and above the qualities a good standmount speaker provides, TuneTot offers further technical and engineering aptitude and the vital musical pleasures which are essential for the most demanding music lover. TuneTot's alluring mirage will convince you that you are experiencing a loudspeaker with all of the excellence of a small 2-way but with the added gravitas of a substantially larger design.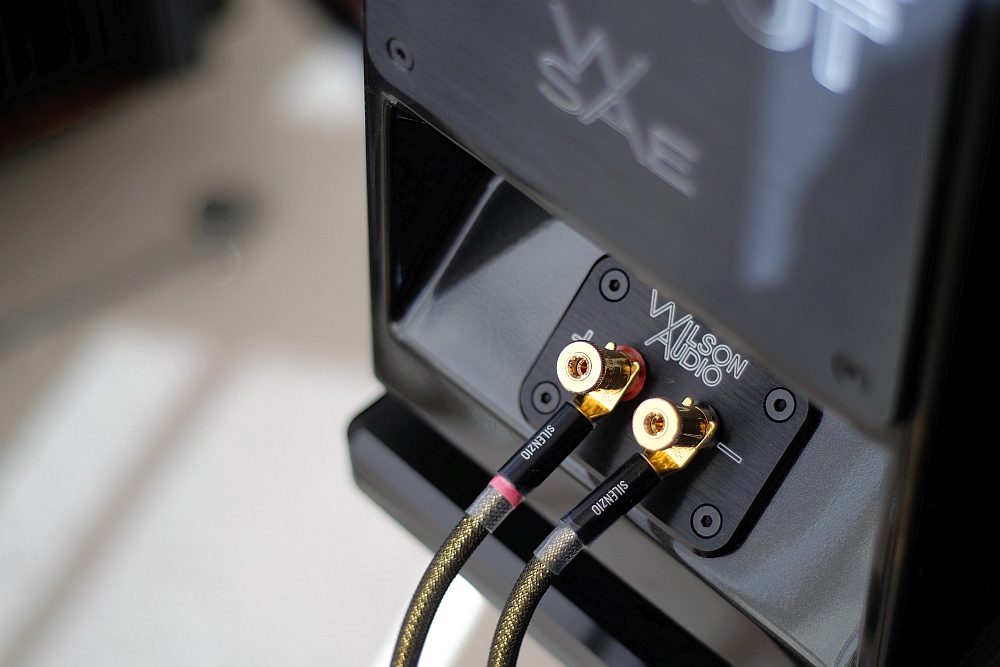 And then you have the pride-of-ownership associated with the stratospheric Wilson Audio standard of overall construction using proprietary fabrication materials, the superb Wilson Gloss finish, the 'Ecosystem's' choice of quality accessories offering styling customisation and the cachet attached to one of high-end audio's most respected brands.
TuneTot plays music like a Goliath with David's stature. It's also a mimic… an impressionist. With ears open and eyes shut, TuneTot is an impersonator. From the midrange on up to the highest treble, it performs an extraordinary imitation of the larger Wilson Audio designs, the last few generations of which have been outstanding in balancing precision and musicality. That has become the company sound signature. TuneTot will draw you in and engage your senses… it's Tuneful. Totally.
… Edgar Kramer
This email address is being protected from spambots. You need JavaScript enabled to view it.
Associated Equipment
Speakers — Wilson Audio Alexia Series 2, Axis Loudspeakers VoiceBox S (nearfield monitor), Vermouth Audio Little Luccas Mk.II
Amplifier — Gryphon Audio Antileon EVO
Preamplifier — Supratek Cortese, Lightspeed Attenuator LDR passive
Sources — Digital: Yamaha CD-S2100 used as transport, Totaldac d1-core DAC, MacBook with BitPerfect software, AIFF files. Analogue: Michell Engineering Orbe with Gert Pedersen Level 3 modifications and Origin Live Ultra upgraded motor, Trans-Fi Terminator air bearing linear-tracking arm, Shelter Harmony cartridge, Supratek Cortese & REDGUM Audio RGPH2 phono stages
Processor — DEQX PreMate
Cables — sILENzIO loom, Vermouth Audio Black Pearl Mk.II loom
Audio Rack — SGR Audio Statement Model V
Miscellaneous — Les Davis Audio Viscoelastic CLD discs
Wilson Audio Specialties TuneTot Loudspeakers
Price: AU$16,995 in standard colours, Grilles AU$495/pair, ISOBase AU$3995/pair, Trim Ring AU$1495/pair
Warranty: Five Years
Australian Distributor: Advance Audio Australia
+61 2 9561 0799
www.advanceaudio.com.au
Wilson Audio Specialties
2233 Mountain Vista Lane
Provo, Utah 84606
United States of America
1 801 377-2233
www.wilsonaudio.com