Highly-acclaimed Lithuanian high-end loudspeaker maker AudioSolutions has announced the release of Virtuoso B, an upmarket standmount speaker bearing several of the company's bespoke trickle-down technologies.
The new Virtuoso B is part of AudioSolutions' penultimate series below the Vantage 5th Anniversary line. Virtuoso B adopts many of the features in the flagship line, most notably the 'box-in-a-box' cabinet construction architecture and driver technology. The box-in-a-box enclosure-building technique is very costly but bears fruit in terms of providing the drivers a super-inert platform from which to operate while also being devoid of vibrational distortions.
Pretty much as the name implies, the box-in-a-box construction features an internal cabinet constructed from a specific material grade with a controlled resonance. The internal cabinet is then further braced and damped (a thick polyurethane glue layer is also used as a damping material), again with a mindful construction technique aimed at further reducing resonance. The outer box is then directly attached to the inner shell, with the resulting structure being extremely inert and resonance-controlled.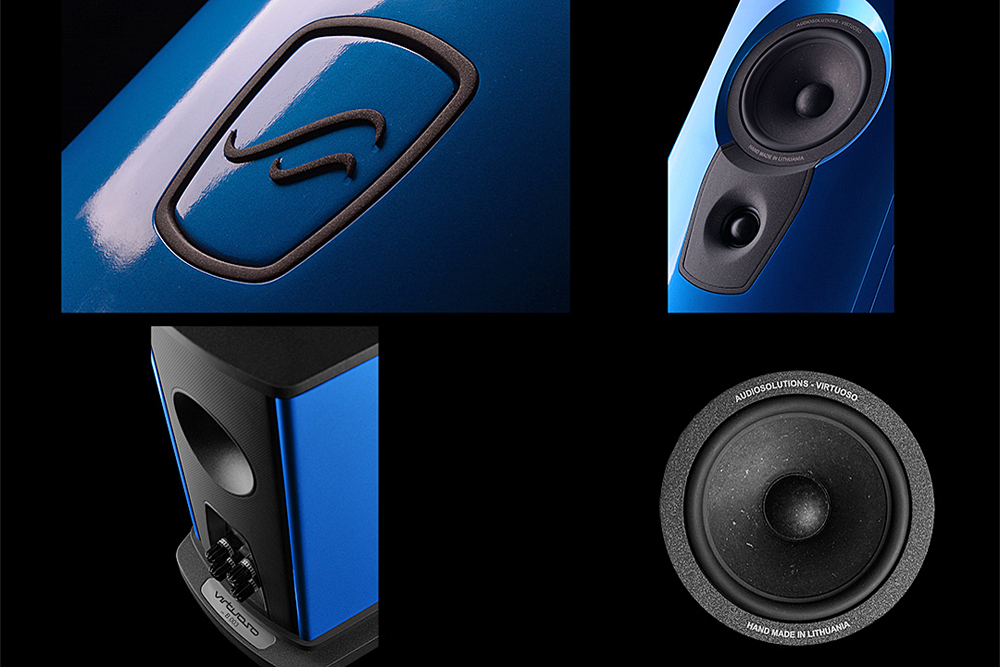 AudioSolutions is also known for its 'Adjustable Harmonics Crossover' network design as used in its upper echelon models. The crossover design allows switchable 'Balanced', 'Moderate' and 'Enhanced' modes to cater for varying tastes and listening environments. The crossover works in tandem with AudioSolutions' high quality drivers, namely the 30mm silk dome tweeter which is flare-loaded via the company's Mini-Horn architecture as used across all its models. The Mini-Horn provides a target dispersion, acoustical impedance damped dome flexing, improved efficiency and potentially greater dynamic range.
In the Virtuoso B, AudioSolutions has employed its 'Extended Band' 165mm midrange driver which aims to widen the frequency range as far as possible in order to avoid the artefacts that occur at the crossover point. These crossover distortions can be perceived as brightness, or etch, so the… solution (pun intended) was to extend the bandwidth of the midrange driver to place the crossover at a less sensitive/perceptible frequency. The AudioSolutions Extended Band driver works across a superbly-extended almost four octaves range from 500Hz to 7kHz. Bass extension is provided via a 190mm down-firing bass driver and a large 'Extended Flow' low distortion rear-facing reflex port. The drivers and crossover are said to be designed such as to provide a point-source soundfield.
The Virtuoso B is specified as having a sensitivity of 91.5dB (2.83V/1m) and a nominal impedance of 4 ohms. Frequency response is quoted as 30Hz to 30kHz (no parameters stated) while power handling is 260 watts maximum.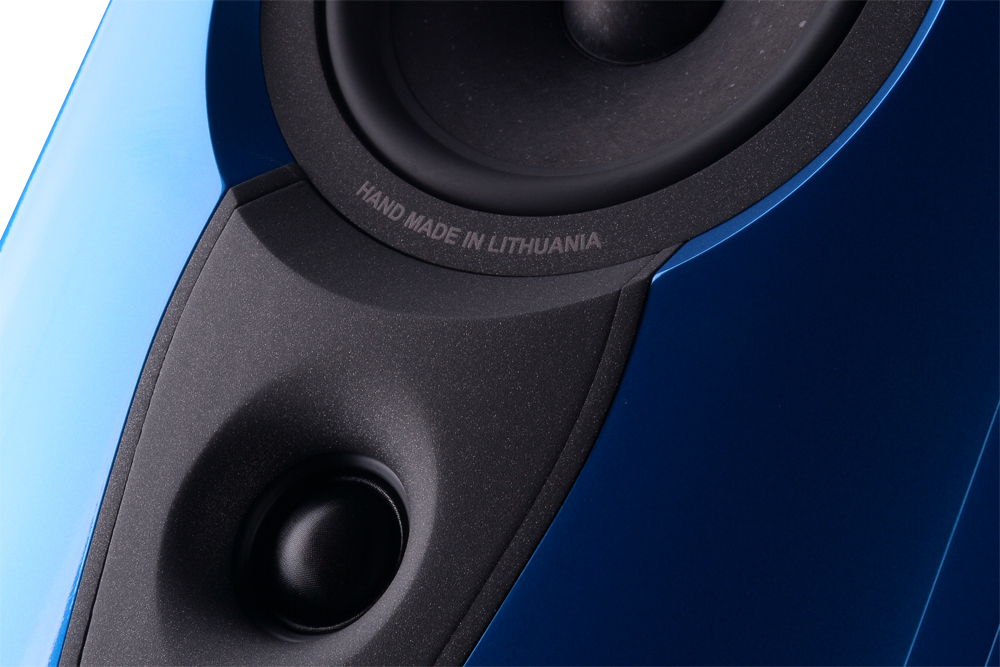 The AudioSolutions Virtuoso B is available in a range of gloss paint colours – Pearl White, Silver, Zinc Grey and Black. The company also offers a wide range of optional added-cost colours and AudioSolutions will cater for custom colours. A bespoke stand is available in matching colours at additional cost.
The new AudioSolutions Virtuoso B is available via importer Absolute Hi End's established line of specialist dealers around the country.
AudioSolutions Virtuoso B Loudspeakers
Price: AU$18,500, Stand AU$5600
Australian Distributor: Absolute Hi End
+61 488 777 999
www.absolutehiend.com