Danish audio specialist Copland has introduced a new flagship 'CSA' series hybrid integrated amplifier with a comprehensive features set making it a powerhouse hub for analogue and digital audio.
Bearing the trademark Copland industrial design aesthetic as also illustrated by its highly regarded CSA 100 cousin (our review here), the CSA 150 hybrid integrated amplifier (150 watts into 8 ohms with quoted 2 ohms capability) ups the ante with higher power output and added features. Copland has again employed its "double-triode gain stage" with MOS-FET buffering which the company states provides efficient coupling between the valve and solid state circuits/stages. Wide bandwidth power supply regulation and active regulation of the power amplifier driver stages is said to provide immunity from mains fluctuations, noise, interference and challenging load demands.
The CSA 150 houses an in-built Digital-to-Analogue converter with DSD playback capabilities via ESS Technology's Sabre ES9018 Reference 32-bit DAC chips in quad-mono configuration. Digital playback is facilitated via inputs comprising a coaxial S/PDIF, two TosLink optical and single USB options. In addition to those digital input alternatives, the CSA 150 also provides wireless audio transmission via the high quality aptX HD Bluetooth format said to provide CD's 16-bit/44.1kHz quality wireless playback.
Analogue inputs include one balanced XLR and three unbalanced RCA while line output/Tape Loop is via unbalanced RCA and Pre/Out unbalanced RCA with variable output. An on-board RIAA phono stage caters for Moving Magnet (MM) cartridges (47 kohms) while the CSA 150 also provides headphone output via a front panel 6.5mm jack.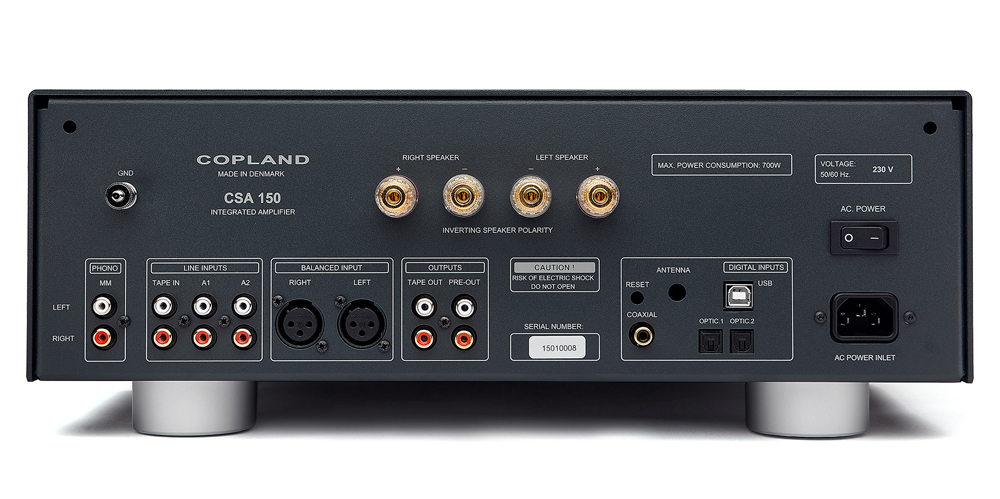 The new Copland CSA 150 hybrid integrated amplifier is available via importer Audio Magic's wide network of audio specialist dealers around the country.
Copland CSA 150 Hybrid Integrated Amplifier
Price: AU$8400
Australian Distributor: Audio Magic
+61 3 9489 51 22
www.audiomagic.com.au