The new Cardeas loudspeakers embody German maker Audio Physic's latest thinking in acoustic transducer design subsequent to a re-examination of every design and engineering aspect.
Audio Physic re-evaluated the cabinet, drivers and crossover topology of the new Cardeas flagship speakers, not for the sake of releasing a new model, but in order to completely improve every aspect of design. After years of Research & Development, the company has adopted a stream of new technologies which, as a combined grouping, it now calls PowerTrain technology.
For starters, Cardeas sports an entire suite of new drivers. The re-engineered transducers feature the new HHCT III+ 39mm tweeter taking care of the high frequencies. The new tweeter is accompanied by a new HHCM SL 150mm spider-less midrange driver, two new 180mm 'Double Surround' mid-bass drivers and two new 280mm 'Double Surround' woofers in push-push configuration.
Plasma Protect connectors from WBT form the interface connection for the drivers and Audio Physic's 'VCT' technology has also seen a re-engineering makeover. The VCT crossover now sports higher quality WBT connection terminals and brand new bespoke capacitors which feature low impedance "foamed copper lattice" technology.
The Cardeas loudspeakers' enclosure has been restructured with an improved architecture designed from a multi-layer honeycomb construction. The asymmetrical structure is a sandwich of the "high-tech" honeycomb and an external compound assembly of glass and vibration-resistant elastomer layers. The Cardeas' extremely inert and non-resonant enclosure is further stiffened via a complex bracing scheme constructed from the same honeycomb panels. The cabinet sits on massive aluminium outriggers with adjustable levelling system.
Audio Physic specifies the Cardeas speakers as possessing a frequency response spanning from 25Hz to 40kHz (no parameters provided), a sensitivity of 89dB and a nominal impedance of 4 ohms. The company recommends feeding the Cardeas speakers with between 40 watts to 350 watts of power.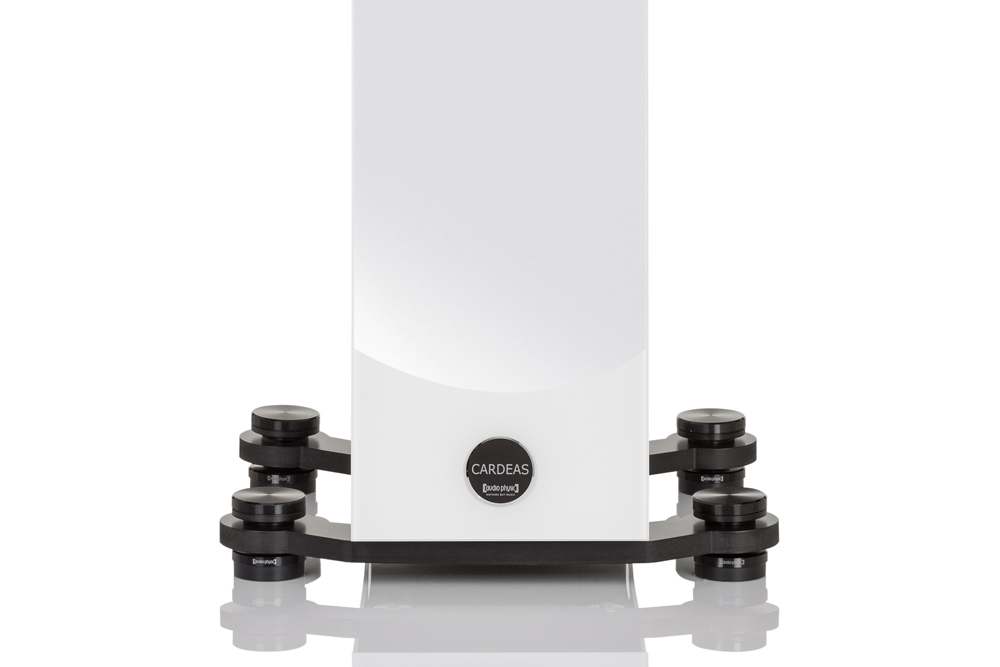 The Cardeas loudspeakers are available in Glass Black and Glass White high gloss priced at AU$70,000 or Glass Red, Anthracite, Glass Pearl White and Glass Silver-Grey at AU$72,000. Audio Physic has stated that shipping will commence in Q1 2021.
Audio Physic Cardeas Loudspeakers
Price: From AU$70,000 to AU$72,000
Australian Distributor: Radiance Audio Visual
+61 (0) 2 9659 1117
www.radianceav.com.au