Building upon its portfolio of powerhouse amplifiers, McIntosh Laboratory has launched the new MA12000, the most powerful integrated amplifier the company has ever produced.
The new MA12000 expands the latest stream of McIntosh Laboratory's hybrid integrated amplifier releases featuring circuitry which has been refined over the years. Combining a valve preamplification stage and a solid state output stage, the new MA12000 sees a new milestone for the company, in terms of output power.
The MA12000 is driven by a valve stage comprising a quad of 12AX7A valves (two per channel) providing preamplification duties while McIntosh Laboratory's Autoformer technology delivers an unwavering 350 watts output per channel into impedances down to 2 ohms. Other proprietary technologies, such as Power Guard which monitors the signal and adjusts it to prevent DC/clipping (which can fry tweeters) and Sentry Monitor which cuts-off signal in order to prevent catastrophic damage are also featured in the brute-force amplifier. The MA12000 is said to be endowed with up to double the filter capacity compared to the company's other integrated amplifier offerings, translating to powerful loudspeaker control.
The MA12000's connectivity options are extensive. There are a total of 10 analogue options which include inputs for two balanced XLR, six unbalanced RCA, Moving Magnet (MM) and a Moving Coil (MC). Outputs consist of a balanced XLR and an unbalanced RCA providing the alternative of connectivity to one of McIntosh Laboratory's power amplifiers or an additional amplifier in a separate zone within the house. All input signal can be user manipulated via the on-board 8-band Equaliser. Loudspeaker output is via the company's bespoke and easy to operate Solid Cinch gold plated binding posts.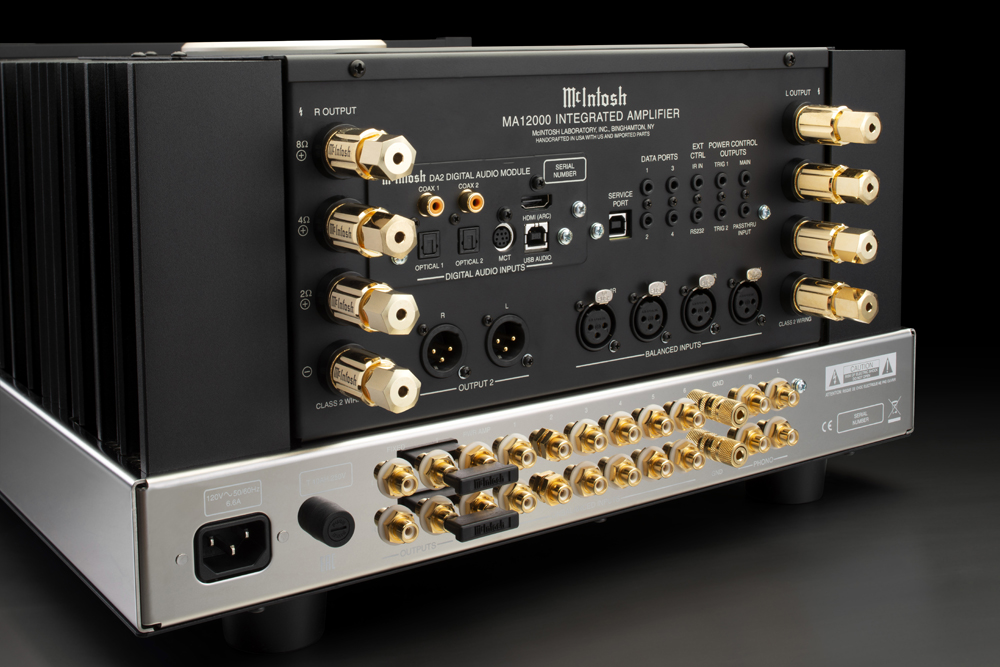 McIntosh Laboratory's renowned MA2 digital module offers equal input versatility. The MA2 module features seven digital options comprising of two S/PDIF coaxial, two Toslink optical, USB, proprietary MCT input (for hook-up to McIntosh's own SACD/CD digital transports) and HDMI ARC return input. The DA2 module features McIntosh Laboratory's own next-gen Quad Balanced, 8-channel, 32-bit DAC with supported resolutions being DSD512 and DXD up to 384kHz from the USB input while the remaining inputs offer 24-bit/192kHz resolution.
The MA12000 offers a high quality headphone output via a 'High Drive' amplifier with Headphone Crossfeed Director (HXD) technology which is said to offer "an added dimension to headphone listening."
The MA12000 is controlled via powerful microprocessors for comprehensive functionality and operation options which are available via the front panel controls or through the included comprehensive remote control.
McIntosh Laboratory's current design language is adopted on the MA12000. This entails McIntosh's monogrammed heatsinks, the famous blue back-lit VU meters, smoked glass fascia with green logo, a central glass window displaying the up-lit valve array, extensive mirror-finished polished metalwork, aluminium trim accents, top panel printed circuit graphics, retro rotary controls and more.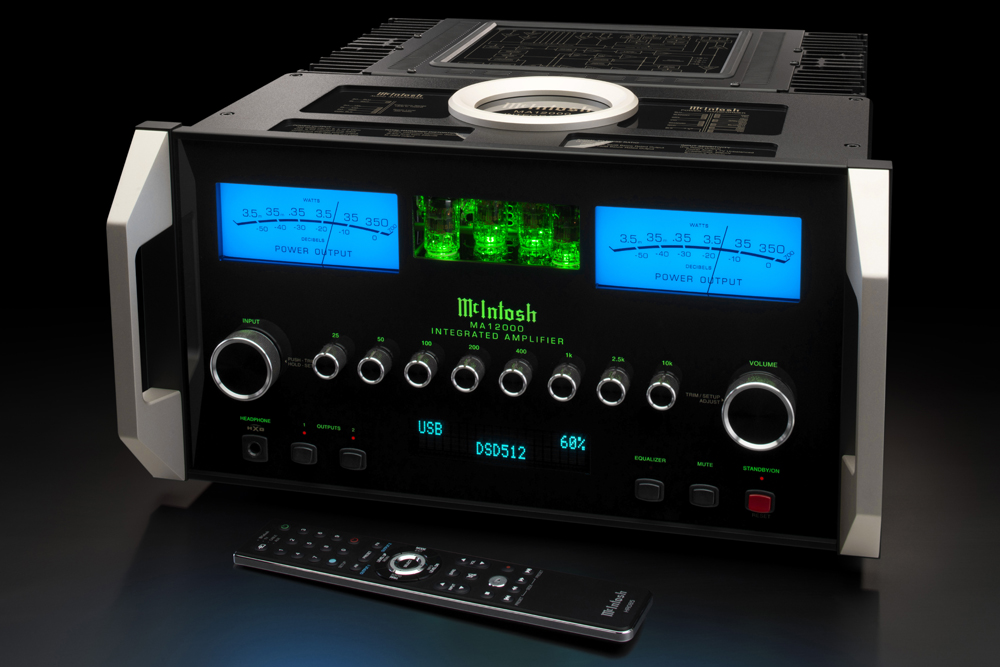 The McIntosh Laboratory MA12000 hybrid integrated amplifier is available in Australia via distributor Synergy Audio's established network of specialist audio dealers around the country.
McIntosh Laboratory MA12000 Integrated Amplifier
Price: AU$27,995
Australian Distributor: Synergy Audio
+61 3 9459 7474
www.synergyaudio.com