Magico's new A5, the A Series loudspeakers' new flagship, features new custom driver designs plus enhancements, refinements and a world debut in the company's proprietary crossover technology.
The new speaker is an extension of the popular A3 which itself has garnered acclaim around the globe. For the new design, Magico has developed its first 5-inch (125mm) driver and engineered new bespoke woofers. The new midrange driver is said to achieve superb transparency while also having very wide dispersion capabilities. It's a very low distortion, high power design featuring a titanium voice coil and powerful magnet system. Eddy currents are minimised via a pure copper pole cap which also aids in improving driver efficiency.
The A5 features three new FEA-designed (Finite Element Analysis) 9 inch (225mm) woofers which are advancements on the company's graphene Nano-Tec driver material technology. The cone diaphragm is constructed from graphene-layered carbon fibre and uses "advanced new core materials to achieve the highest possible stiffness to weight ratio… 50 times the tensile strength of high-carbon steel." The massive motor system is built around a 125mm pure titanium voice coil terminated by a copper cap. The woofers are capable of 12mm linear excursion with low distortion. The drivers' inductance is also said to be extremely low.
The new drivers are supported by Magico's A series 28mm pure beryllium dome tweeter derived from the company's flagship M series. The tweeter's rear chamber has been engineered with high damping properties allowing low distortion, controlled resonance and high power handling.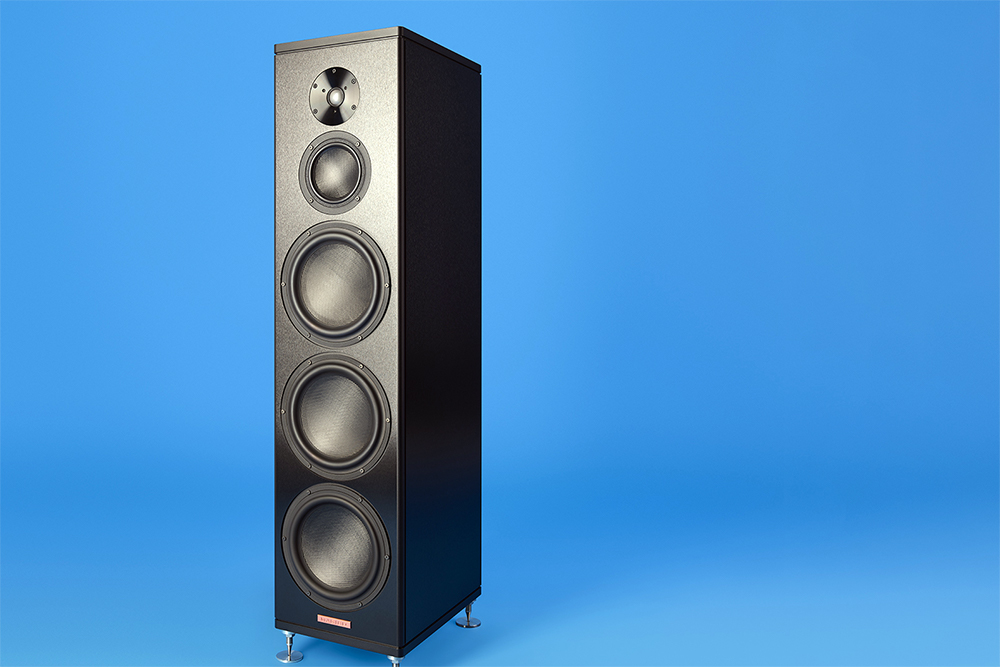 All the drivers are reinforced by Magico's proprietary 'Elliptical Symmetry Crossover' technology which features extremely high quality components. Debuting on the new A5 is a crossover configuration populated with Mundorf's new high-end M-Resist Ultra foil resistors which Magico claims will be used for the first time anywhere. Mundorf's new resistors, which were under development and were perfected over many years, are said to be extremely transparent and capable of handling very high power levels.
The A5's cabinet reflects Magico's Q series, the company's previous flagship range, and adopts 6061-T6 aircraft grade aluminium in a high quality brushed black finish. A dedicated internal enclosure has been designed to house the new 5 inch driver exclusively.
The A5's frequency response has been quoted as spanning from 22 Hz to 50 kHz (no parameters given) while the nominal 4 ohms design is said to have a sensitivity of 88 dB. Recommended power is from 50 watts minimum to a rather high 1000 watts maximum, the last figure being testament to good driver design.
Magico's founder Alon Wolf told SoundStage! Australia "The A5 builds on that success with a new 5-inch midrange of extraordinary musicality. And the A5 'plays larger,' with powerfully extended dynamic range."
The new Magico A5 will be shipping in Q1 2020 and will be available in Australia shortly after via established audio specialists around the country.
Magico A5 Loudspeakers
Price: AU$35,800
Australian Distributor: Absolute Hi End
+61 488 777 999
www.absolutehiend.com