After making quite the splash at High End Munich 2019, Lithuania's loudspeaker specialist Audio Solutions is now set to make a big impression in Australia with the announcement of the new Virtuoso line and the arrival of Virtuoso M.
At this stage, the new Virtuoso line will comprise two floorstanding models in the Virtuoso S and M, the latter of which has recently arrived in Australia and is available for purchase. The Virtuoso range fits in between the Figaro and the highly-acclaimed Vantage 5th Anniversary series and benefits from trickle down technology used in the company's flagship range.
For starters, the Virtuoso M features a 'box in a box, self-locking' cabinet construction which aims to eliminate enclosure resonance and vibrational distortion. The inner box is sealed with the outer enclosure being glued to it, the construction providing a claimed "10 times the stiffness of a single layer cabinet" while the sonic benefits are said to be accurate and neutral sound.
The Virtuoso M features a user-adjustable crossover with selectable 'profiles' providing differing sound attributes. The 'Balanced' profile's main attributes is clarity with a large soundscape, 'Moderate' can be used to tame some brashness in modern rock recordings (a mild EQ curve to soften edges) while 'Enhanced' allows "the listener to experience the finest level of musical details from their recordings."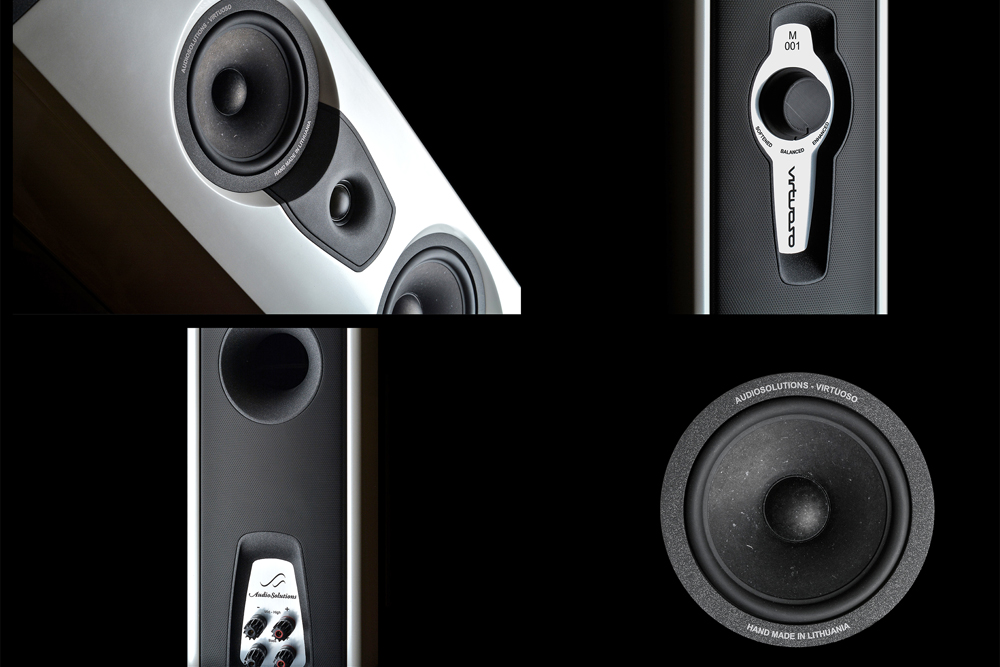 The Virtuoso M uses a mini-horn loaded 30mm silk dome tweeter and a 165mm Hard Pulp paper wide-band midrange cone driver, both being similar arrangements as offered in the Vantage 5th Anniversary flagship series. Low frequencies are provided via two 190mm Hard Pulp cone woofers.
Audio Solutions specifies the Virtuoso M as having an in-room frequency response from 25 Hz to 30 kHz, a sensitivity of 92 dB at 2.83V/1m and a nominal impedance of 4 ohms. Crossover frequencies are stated to be at 500 Hz and 7000 kHz, the latter being very high, a testament to the wide bandwidth provided by the midrange driver (or as the company refers to it, "band-enhanced"). Nominal power handling is 170 watts with a maximum of 340 watts.
The Virtuoso line is offered in seven standard gloss finishes, five special metallic colours and a special finish called 'Flame Chameleon' for its ability to change tone depending on how light falls on upon it.
The new Audio Solutions Virtuoso M loudspeakers are available in Australia now.
Audio Solutions Virtuoso M Loudspeakers
Price: AU$45,900
Australian Distributor: Absolute Hi End
+61 488 777 999
www.absolutehiend.com