Swiss company Goldmund continues to expand its active wireless multi-enclosure high-end speaker systems with the addition of the new Hindu philosophy inspired Prana.
Among other powerful life-affirming meanings, Prana in Sanskrit signifies a 'Life Force', an energy that flows through the body and brings life. In Hindu lore, it even provides life energy to inanimate objects, an apt symbol for the potential of these new speakers to revitalise your music. And indeed, Goldmund has been offering wireless speakers for some time now, with the company's offerings extending to five system solutions and two wireless subwoofers.
Complementing the Prana in the dual enclosure models are the Satya and range-topping Samadhi while the slim single enclosure floorstanding Logos and standmount Metis MK.II slot in below the Prana. The range (including the subwoofers) feature high quality aluminium enclosures as has been the company's modus operandi, both in terms of speaker cabinetry and component chassis, for quite some time now.
The Prana can run wirelessly (barring AC connection, of course) to run its in-built amplification which totals 600 watts per side. Based on Goldmund's Telos amplifiers, Prana features a 250 watt amplifier driving its 250mm woofer (bass reflex loaded) and a 175 watt Telos amplifier each for the 25mm soft dome tweeter and 170mm midrange driver. The drivers have been specifically designed to produce optimum output at extremely low distortion for their dedicated frequency bands.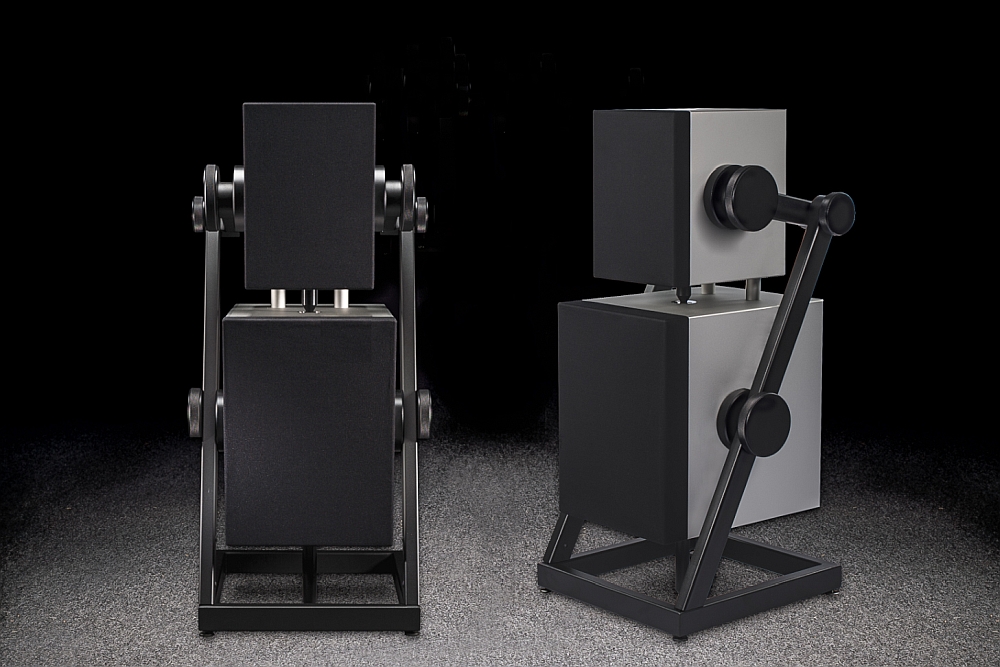 Goldmund's DSP implementation features its 'Leonardo 2' technology which has been refined via newly-developed time alignment correction algorithms. The DSP suite includes adjustable digital crossovers, variable speaker gain structure and adaptable delay schemes.
The Prana speakers' frequency response has been quoted as ranging from 35Hz (-6dB) to 25kHz. On its rear panel, Prana houses a digital S/PDIF input and output and Goldmund's 'Wireless' digital input. Wireless connectivity allows the speaker system to be the primary end-point for your music library while Goldmund also caters for multiple source scenarios via its optional Talisman Wireless Hub.
"Prana has been designed to provide a sound that is the closest to reality. No colouration, no noise, no distortion," SoundStage! Australia was told, continuing "Goldmund is absolutely obsessed by sound quality, stubborn about providing its customers with the best existing reproduction… only the highest level of realism can bring the highest level of pleasure and emotion."
Goldmund high-end audio products are available in Australia via Absolute Hi End's established dealer network.
Goldmund Prana Wireless Speakers
Price: AU$100,000
Australian Distributor: Absolute Hi End
+61 488 777 999
www.absolutehiend.com