While many high-end audio companies offer digital products alongside a wider variety of electronics and speaker systems, dCS (Data Conversion Systems) of Cambridge in the United Kingdom is a specialist manufacturer dedicating its considerable engineering and design expertise to a single pure aim: the reproduction of digital playback at its utmost pinnacle.
Originating, and revered, within professional studio-based circles, in the last few years dCS has shifted its focus to producing playback components predominantly for the high-end audio consumer wishing to own the very best in digital playback. The new direction has brought about corporate growth resulting from a customer base who appreciates the many innovations and the intense engineering applied to dCS' advanced reproduction components. Of course, around high-end audio circles, dCS' current glory culminates in the magnificence of the four-box Vivaldi system, thought by many enthusiasts to be the current state-of-the-art in digital playback.
And while in the United Kingdom, and again in tech-hub Cambridge, I jumped at the chance to pay these über engineers a visit and get a deeper understanding of the machinations behind this most interesting specialist.
Moving along
Alas, things don't stand still at dCS and the company has been ramping up its product development to include single box transport solutions for SACD/CD which are subsequently upgradeable via systematic additions of external digital-to-analogue converters, network bridges and master clocks – or via software updates – when the means allow. dCS' engineers are purely dedicated to a single purpose – the best possible digital playback that is currently technologically achievable. No distractions on other aspects of the reproduction chain, no diversions towards the demanding black art of transducer design… just pure digititus.
Arriving at the modern facility I was greeted by Liam Davison Export Sales Manager (my contact and dCS ambassador Raveen Bawa also Export Sales Manager was on his way to Hong Kong for the Show there – see our report here) who, to start, guided me to the brand new listening studio. Here's a wonderfully proportioned environment suitable for large speakers, acoustically treated and sporting a reference level system used as a guide to development of dCS' products. A stunningly beautiful pair of gloss white Wilson Audio Alexx is used as the speaker system driven via D'Agostino Master Audio Systems Momentum monoblocks and a full dCS Vivaldi stack. The brand new 30th Anniversary Vivaldi One Limited Edition player was also on display in an over-the-top, circa 75K British-pound, all-gold finish (an exquisitely applied three-step process involving nickel, copper and gold plating) that was rather… extroverted for this writer. More understated gloss black and white are also available.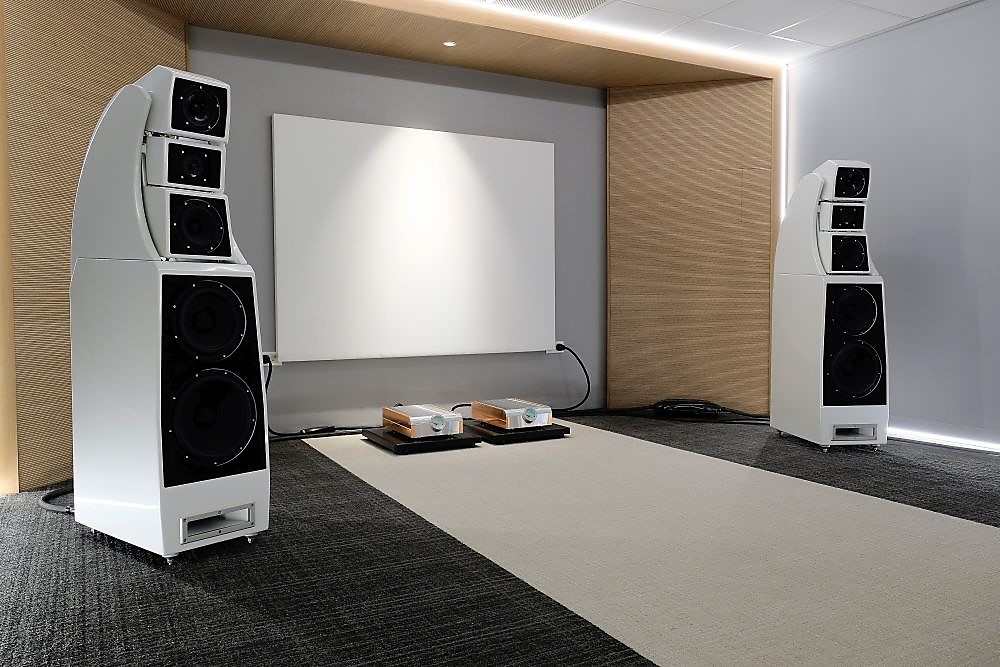 A superb acoustic environment featuring a reference level system is used for auditioning and listening tests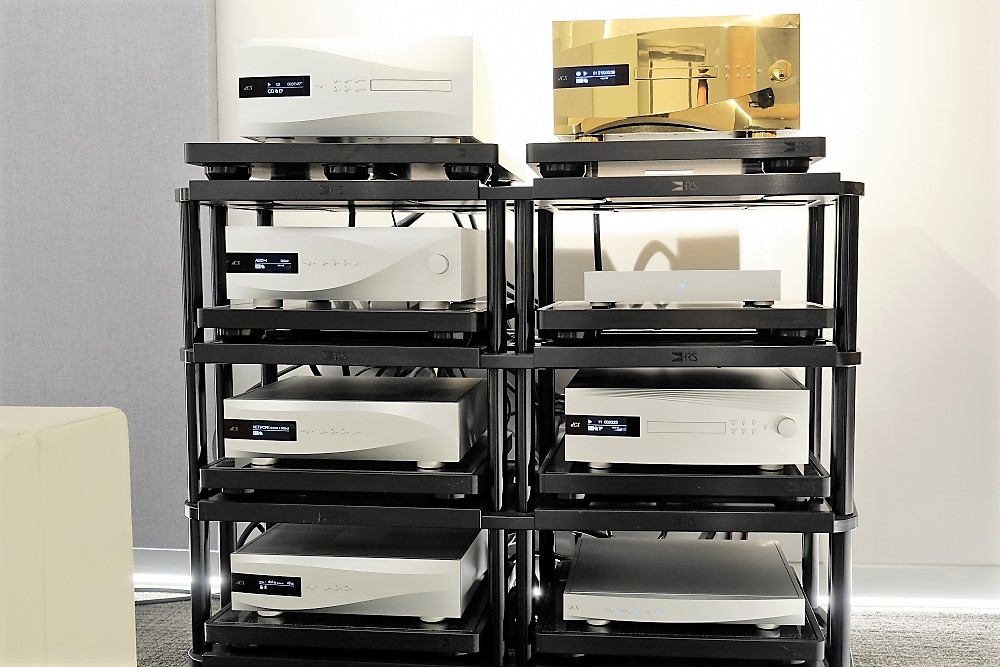 dCS component stack including four-box Vivaldi and Vivaldi One in limited gold finish
Listening to music in this environment was an absolute pleasure. The careful acoustic design means the system is able to perform at its most efficient with the sound displaying enormous dynamic expression, precise layer separation and a massive soundfield populated with thoroughly focused images. The low registers were superbly extended and rather full yet nuanced with plenty of warmth from upper bass to lower midrange. Tonal qualities and harmonic content were superb while dCS' signature accuracy and extraordinary detail retrieval were there aplenty. Overall, astoundingly good.
Lab science
From there, the tour continued into the laboratory section where all the dCS products are tested in custom multi-component rigs. There Martin Reynolds Technical Support Specialist, showed the multiple work stations where technicians assemble the various dCS products which, aside from transports, are built entirely in-house. Production efficiency is maximised by many of the lines sharing a number of common boards with subsequent assembly of the various power supplies, hardware options and control, operational and playback software. Ditto for dCS' new Digital Processing Platform which is the very powerful DSP and FPGA basis across the company's product lines.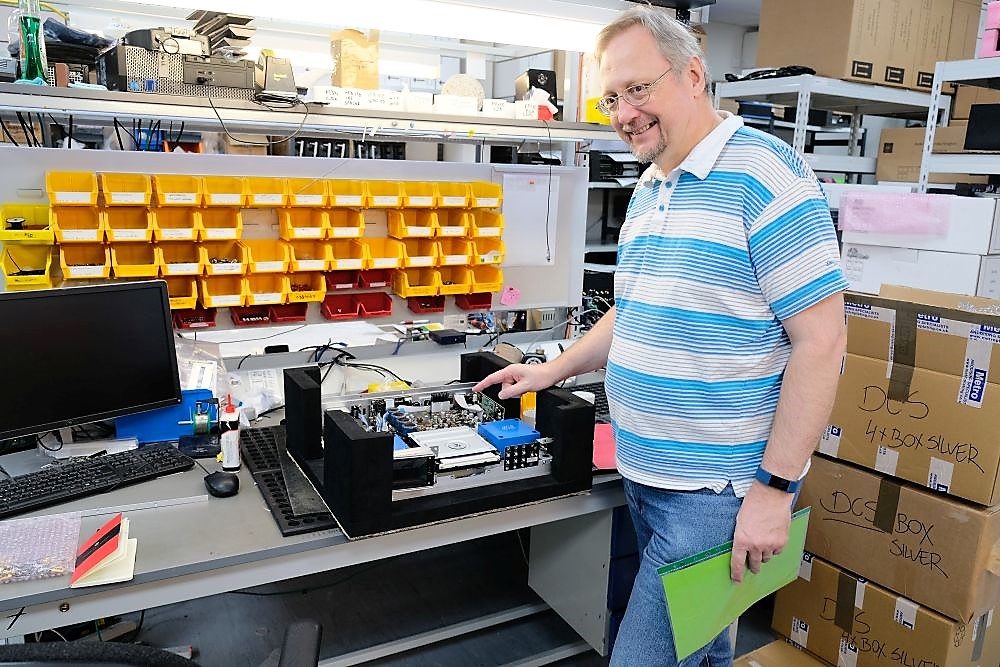 Martin Reynolds here with a semi-assembled dCS Vivaldi
In an adjacent area, units are fully measured and tested, 'signal-soaked' for a further 96 hours and then auto-tested yet again on a bank of purpose-designed computer-controlled stations. These rigs are able to handle several units at a time and, depending on the component at hand, perform around 280 different tests on inputs and outputs, operating modes, functions, etc. Results are shown on a bank of LCD screens with the data then analysed for errors where faulty units can then be quarantined and subsequently transferred to a rectification program.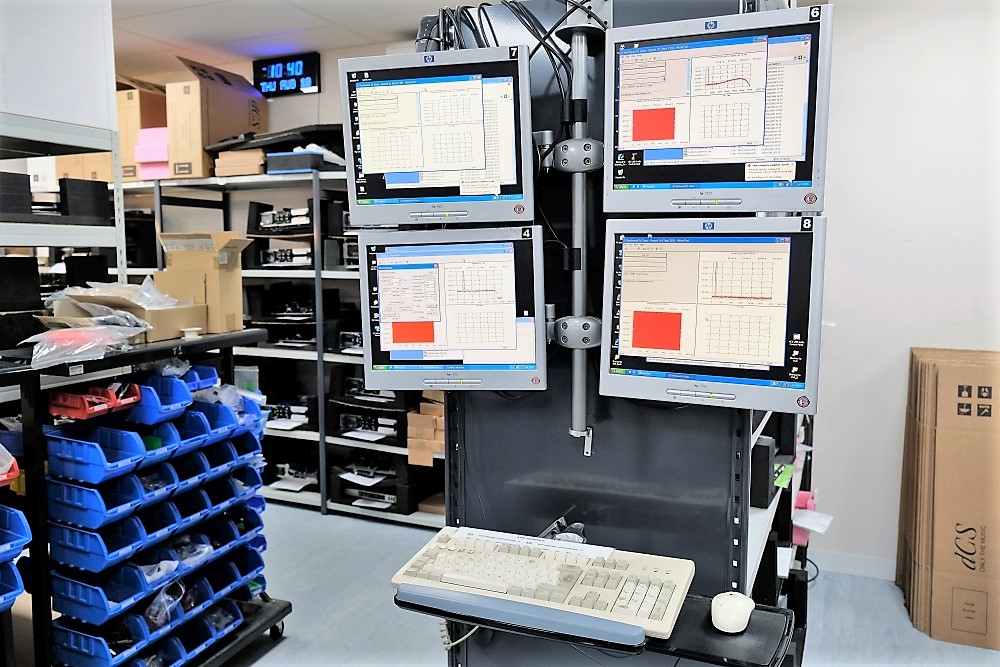 Full visual testing reports available on screens
Further tests are then performed manually and these include sound tests in terms of operational stability (final sound tests are of course conducted in the gorgeous listening studio). Finally, there are a number of visual inspections which are referred to as the "Third Eye" which are conducted by several technicians – the case work needs to be perfect – prior to packing and boxing for shipping.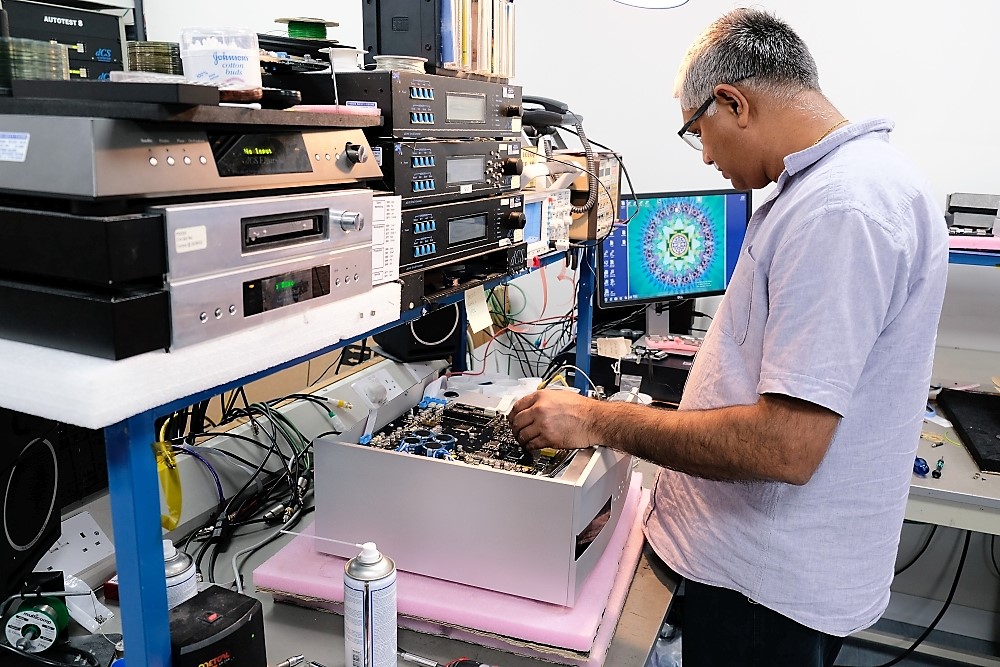 Technician Yatin testing Vivaldi transport
We then enter a large open space occupied by the design and software developers team. Here, Head of Design Ray Wing guided me through 3D CAD modelling processes involved in the design of the internal component layout. The exquisite casework of dCS products is actually supplied by a subcontractor and one of the UK's best specialist metal machinists and finishers based around Cambridge.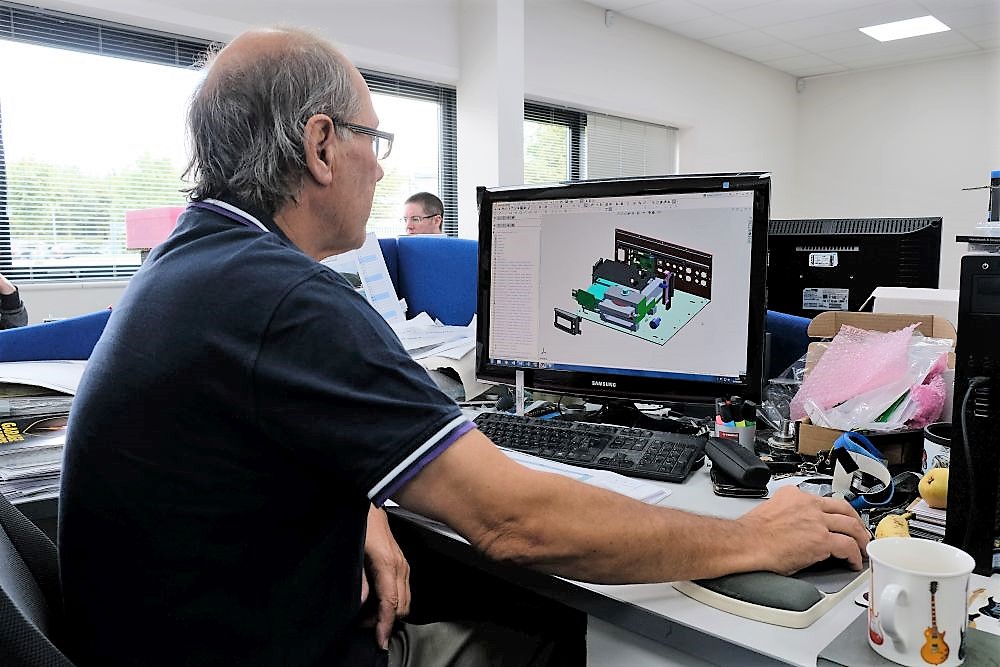 3D modelling for a Vivaldi One internal layout
Wing, who's been with the company for over 20 years, personally inspects the final versions of the metalwork – prior to the many subsequent inspections and tests – and is extremely pedantic about the quality of the final product which may go through as many as ten to 12 prototypes. As Wing put it, "Quality is the number one philosophy… we don't cut corners at dCS."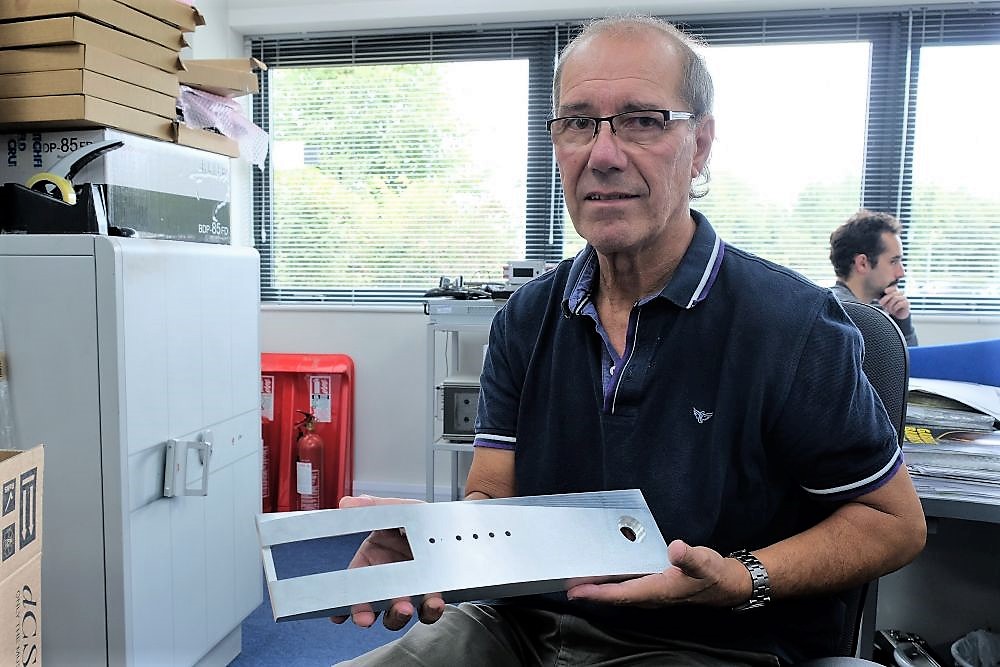 Ray Wing shows a semi-finished front fascia
Wing then introduced me to Andy McHarg, dCS Technical Director who has been with the company since 1993. McHarg explained that in the development of dCS' Ring DAC, the aim was to produce the absolutely most accurate digital technology available. The latest generation Ring DAC was engineered to also produce the lowest possible distortion achievable. I was told about the early dCS days when the company moved from radar technology to digital products for the professional real (the 900 series). Audio enthusiasts in Japan were voraciously consuming the Pro-level gear and soon word spread of the technical excellence and extraordinary sonic performance of the dCS digital playback systems. However, the excellent 972 player was thought by non-Pro consumers to be somewhat operationally complicated, instigating the launch of the Alan Boothroyd-designed Elgar to hit the consumer space. The rest is history and indeed, a long corridor alongside the listening studio serves as a museum of the various dCS products with glass-encased boards illustrating the evolution of the Ring DAC and associated electronics.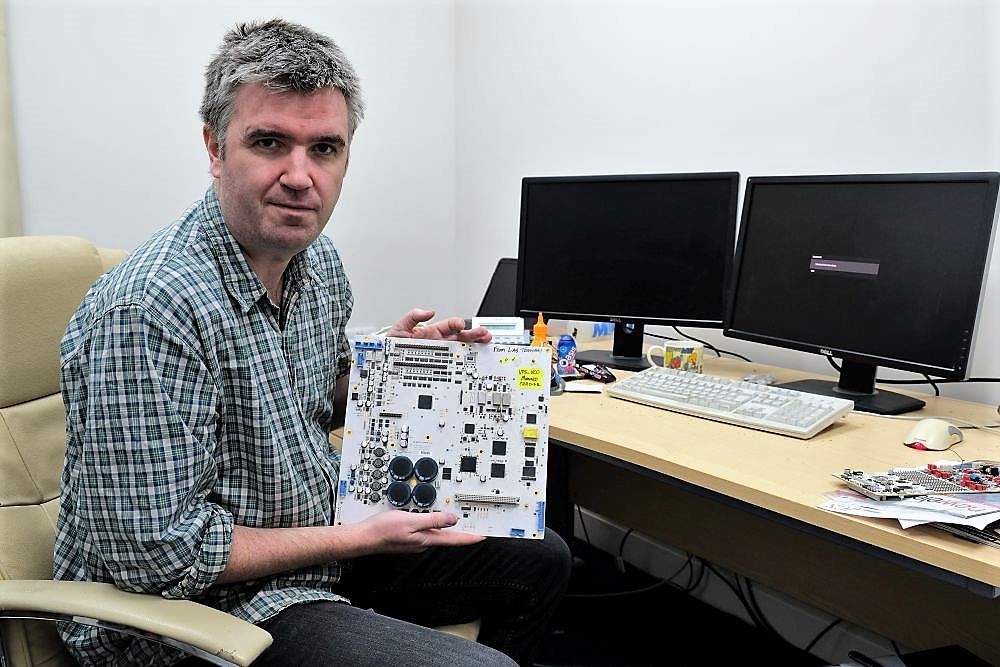 A Vivaldi main board shown by Andy McHarg
Conclusion
The end of the tour saw me landing back in the listening studio being mesmerised again by the sonics on offer in this most stunning environment. Now, I also had a deep understanding – and deeper respect – for dCS as a company and profound admiration for the dedicated people behind it. It was vibrantly clear to me that dCS is hell-bent on providing the best possible solutions for the high-end digital playback space. And the mandate is that it must all be achieved with the utmost in uncompromising quality and with utter respect for the work of the artists who artfully create the music we so enjoy.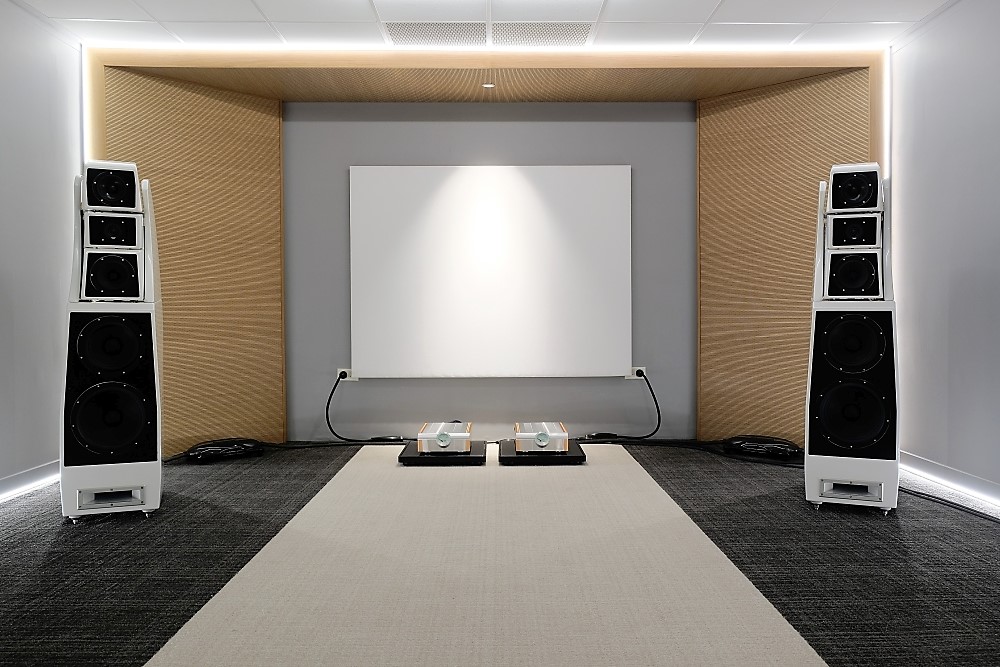 As I waited in the listening studio for the imminent arrival of the limo to the airport, I revelled in the music as it washed over me in the grandest of scales. Heathrow and further travels beckoned but I was indeed, already flying high…
… Edgar Kramer
This email address is being protected from spambots. You need JavaScript enabled to view it.
Australian Distributor: Advance Audio
+61 (2) 9561 0799
www.advanceaudio.com.au
dCS Limited
Unit 1, Buckingway Business Park
Swavesey, Cambridgeshire CB24 4AE
United Kingdom