For more than 40 years German High-End audio manufacturer T+A has been attempting to push the limits of what technology can deliver across its range of audio products – which are all built in Herford, Germany. In the company's words, "We don't build mass products, we build acoustic treasures, we build heartbeats, goosebumps and enthusiasm".
Theory + Application
The MP 2500 R 'Multi-Source SACD player' and PA 2500 R integrated amplifier here for review form part of the penultimate R-Series range of equipment which is engineered for purists using design and technology borrowed from the flagship HV-Series.
From the moment I unpacked the T+A components I was impressed. The casing, although certainly not extravagant, is gorgeously crafted brushed aluminium, simple and understated. T+A employ high quality SMPS rather than large toroidal transformers making the gear lighter than appearances would suggest, however it has an adequate amount of heft – not so much to be back-breaking, making it highly manoeuvrable once in situ. The top of the cases feature the T+A logo atop of a large window of clear Perspex allowing full view of the interior which dazzles with LEDs illuminating the PCBs.
The units powered up quickly and operation was a breeze. I liked the way the disc player operates with the track selection sensitivity set just right to allow you to skip back a track without having to tap multiple times back and forth to get the track that you want. Drawer operation is also smooth and responsive. And the fluorescent display is super-cool. It's large enough to be readable from a typical seating position yet not overpowering or cluttering the fascia. And I loved the amplifier's power meter which shows the output in watts and allows a glimpse of how hard it's working.
Learning
PA 2500 R
Just like an old-fashioned integrated amplifier the PA 2500 R offers analogue only inputs (both balanced XLR and single-ended RCA) leaving the digital tech to its partner, the MP 2500 R (or your choice of source component).
The PA 2500 R is fitted with three XLR inputs (of which one can be configured as Surround Pass Through), four high-quality Cinch inputs (RCA, symmetrical XLR), asymmetrical (RCA) pre-amplifier output sockets and two pairs of loudspeaker outputs with heavy-duty terminals machined from ultra-pure non-magnetic brass with rhodium-plated contact surfaces. A headphone socket is provided on the front panel.
This powerhouse uses dual-mono construction to deliver more than 280 watts of continuous power per channel into 4 ohms and up to 560 watts into 2 ohms. T+A states that the PA 2500 R is effortlessly capable of controlling speakers which are critical in terms of phase and impedance. Distortion is impressive at <0.02%.
Under the hood we find low-loss mica capacitors with silver electrodes, zero-induction resistors, precision low-noise audio resistors, and nickel-free gold- or rhodium-plated terminals specially manufactured for T+A. T+A says that many of these components were developed for military applications and therefore fulfil exacting requirements in terms of quality and durability. Another in-house development for the latest R-series is a completely new and very fast data bus for data exchange between the devices, which makes it possible to control a whole system with a single remote-control handset. Alternatively, if the system includes an MP 2500 R, the equipment can be controlled using the T+A app for iOS or Android.
The amp is equipped with a sophisticated protective circuit which is situated outside the signal path to avoid any adverse effects on sound quality. This circuit constantly compares the input signal before the output stage with the output signal and instantaneously switches off the output relays if it detects the slightest deviation (clipping, distortion, etc.). The protective circuit is also triggered if overheating occurs, or if a short-circuit is present at the outputs. All the electronic circuitry for controlling the machines is recessed into the solid aluminium front profile for optimal shielding benefit. The front panel features a bright, dimmable screen (VFD) and control knobs with variable lighting. As I alluded to earlier, I really loved the look and feel – if I was a designer, this would be exactly the sort of look I'd be aiming for.
T+A believes the quality of any output stage is greatly influenced by a combination of mains power supply and circuit topology. The mains power supply in the PA 2500 R is said to be able to deliver very large quantities of current extremely quickly, even when the gradient of the peak signals is steep.
According to T+A, the volume control and input select functions are entrusted to sealed gas-tight gold-contact relays, which are resistant to contact problems caused by corrosion, dust, or ageing effects even after many years of operation. Integrating the relays directly into the circuit allows the signal paths to be as short as possible and the signals pass from the input sockets to the pre-amplifier circuit boards without crosstalk. As an option, input 4 can also be fitted with one of two high-quality phono pre-amplifier modules; they feature different circuit topologies optimised for Moving Magnet (MM) or Moving Coil (MC) cartridges.
As with the HV-series components, the circuit topology of the input stage is based on a cascaded differential amplifier with hand-selected audio J-FET transistors, discrete construction, without operational amplifiers (op-amps). This overall circuit design, combined with the high quality of the components employed, is said to eliminate the need for negative feedback. The result is that the amplifier boasts excellent linearity combined with an extremely wide dynamic range allowing signals up to 60V to be processed without distortion.
The volume control takes the form of discrete precision resistors and bi-stable gold-contact relays, resulting in exact channel matching combined with the shortest possible signal paths to eliminate unwanted noise and distortion. The following voltage amplifier stage and current amplifier are completely isolated from each other galvanically. This design avoids the danger of feedback effects from the loudspeaker currents into the voltage amplifier stages and precludes adverse effects from the loudspeaker load. The voltage amplifier is an extremely linear design with a wide bandwidth, consisting of a cross-coupled cascaded differential amplifier, followed by a single-ended Class A large signal stage – a design principle renowned for its high sound quality. The fully symmetrical output stage is equipped with MOSFET drivers and the latest thermal tracking bi-polar output transistors. This arrangement according to T+A provides a very harmonious, audiophile sound image combined with a tremendous ability to deliver current.
MP 2500 R
T+A was one of the first high-end manufacturers to enhance its CD players to include additional digital sources such as a network streaming client, a tuner and various inputs for external digital sources. This avoids the need for separate source components and the expense of additional cases, converters, mains power supplies, cable connections, etc. This unorthodox idea has proven to be a logical approach allowing T+A to refer to this category of equipment as multi-source players.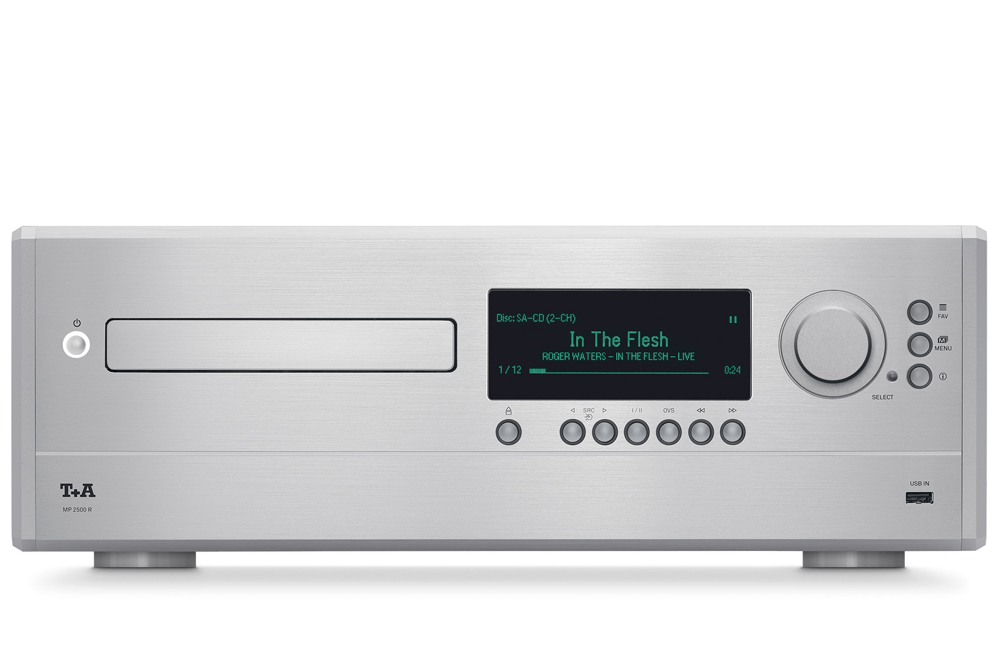 The MP 2500 R is T+A's latest and most sophisticated Multi-Source Player, SACD and PCM/DSD DAC in the R-Series. It was developed to reproduce high-resolution audio files without any trace of compromise. Instead of a CD mechanism the MP 2500 R comes equipped with the same SACD drive as the company's high-end SACD player, the MP 3100 HV.
PCM data is converted using T+A's double differential quadruple converter while DSD data is handled by T+A's 'true 1-bit DSD converter' as employed in the PDP 3000 HV, which processes the DSD data in native form as a bitstream rather than converting it.
The MP 2500 R's streaming client takes the form of the new T+A high-res streaming board, which is capable of streaming audio data using UPnP at up to 192 kHz/24-bit resolution. The MP 2500 R provides access to various music services including Qobuz and Tidal as well as Internet radio through the home network via LAN or WLAN. The built-in digital tuner offers FM, FM-HD and DAB+ capabilities. Also included is a high quality Bluetooth streaming module using aptX technology for transferring music from mobile devices.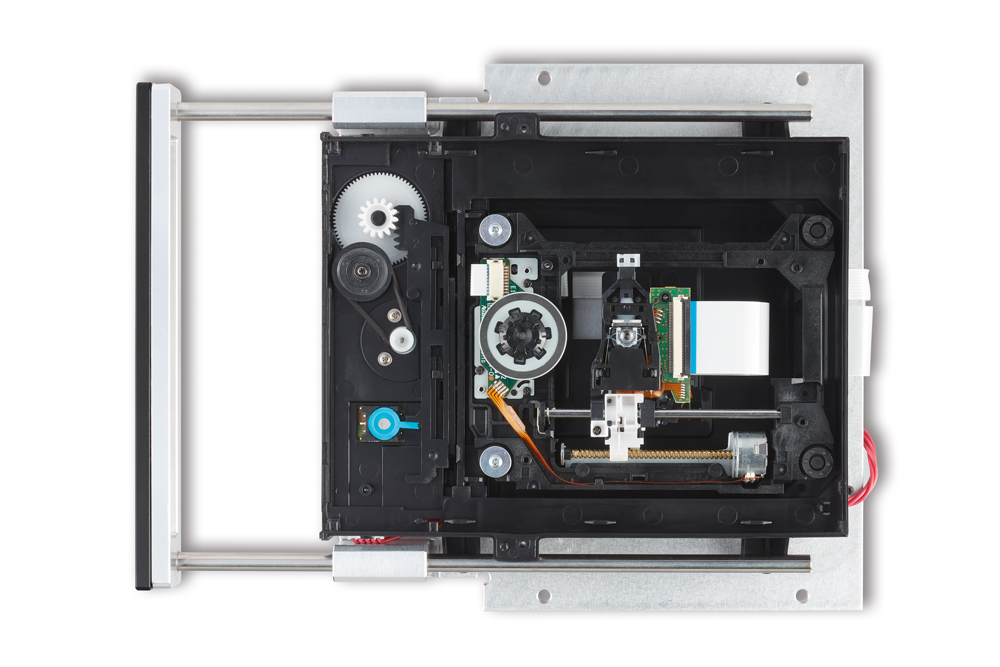 System Control is available via the SRC 1 infra-red remote control handset or the T+A MusicNavigator App which can control every element of the equipment. It not only displays the information pertaining to the streaming client, but also the screen content of all sources such as the station name and radio text when used in FM radio mode. The MusicNavigator app is very intuitive – within minutes I had searched for and added to favourites both Triple J and ABC Classic FM.
Connecting via Bluetooth to my iPhone was equally straightforward, I Had Queen's 'The Miracle' streaming from my Onkyo HF Player app in no time at all.
As a Source controller the MP 2500 R is equipped for pretty much every contingency. It picked up my ageing WD MyBookLiveDuo NAS via DLNA and I could see my music library but I couldn't get it to play. I've always struggled with this NAS – with my LUMIN streamer I had to install MinimServer however since changing to Roon a few years ago I no longer had MinimServer installed and couldn't download a new version. Accessing the music library via Roon was easy-as and is nowadays my preferred method.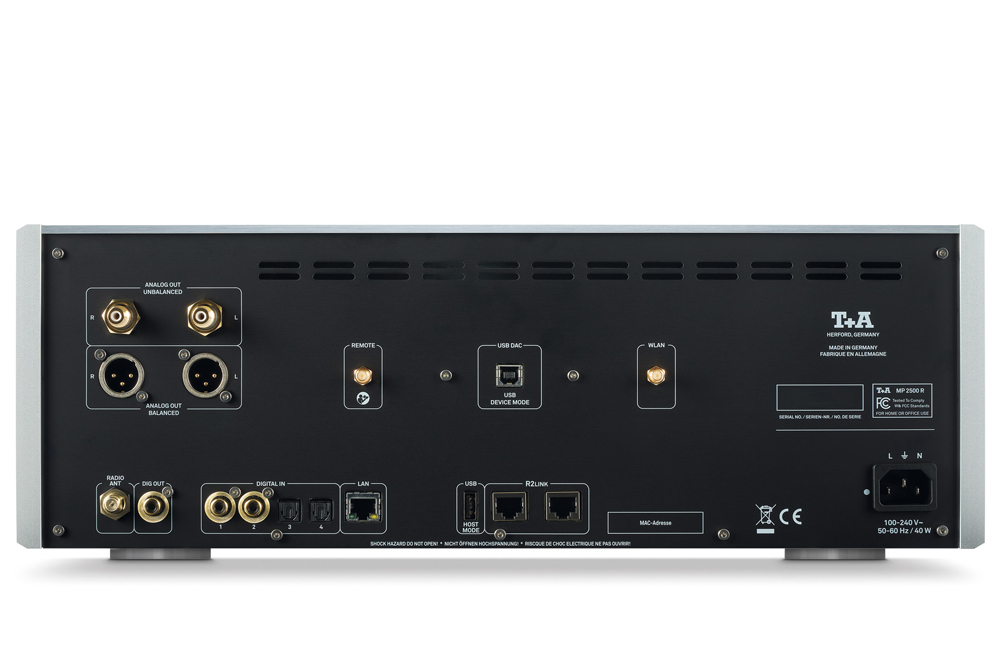 The MP 2500 R is equipped with both symmetrical (XLR) and asymmetrical (RCA) analogue outputs and is said to feature a jitter-free digital output. The digital connecting board includes five high-quality digital inputs for converting external digital sources, such as set-top boxes or PCs.
Listening
Being a German design, I thought it appropriate to warm up with a little oldskool Kraftwerk from their 2005 album Minimum Maximum. My initial observation was that the T+A combo had a very 'decisive' sound. The opening track "Man Machine" (a long-time favourite of mine) was gripping. As the track progressed, I succumbed to the temptation to hike-up the volume, enthralled by the understated power meters bouncing back and forth on the display of the PA 2500 R when the truly kick-ass sub-sonics sent the woofers of my Sonus faber Amati speakers hurtling toward me. I felt more so than heard the impact. Fortunately, there was no damage done. The T+A certainly has some power and isn't afraid to 'man up' when required.
Hiromi and her Trio Project's Alive album was stunning. The T+A presented a level of realism in depth-of-field I've not heard before and the 'enveloping' sensation that I experienced with the Kraftwerk set remained, demonstrating that it wasn't simply a virtue of the recording. Musically, the Trio's work is complex – and fast paced, the T+A did more than just hold it together – it was like taking the handbrake off. The Piano was vibrant yet retained warmth, the drums were crisp and tight, and the cymbals shimmered as they should.
As sometimes tends to happen when left to my own devices, one thing lead to another and I stumbled upon Dhafer Youssef's 2018 album Sounds of Mirrors and what I found to be an emotionally stirring composition titled "Humankind". This piece of music is a duet of voice and clarinet where the two blend together almost seamlessly. With the T+A combination in command, the atmosphere and sense of space was simply stunning. I've revisited "Humankind" several times now since letting go of the T+A and have never quite been able to recapture that initial experience.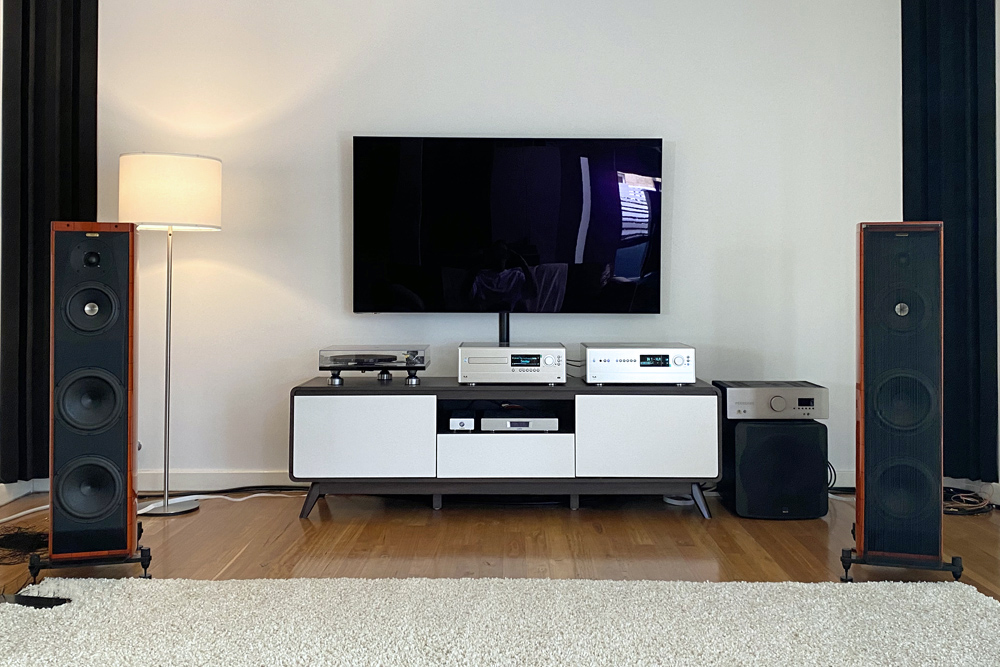 The Hadouk Trio's "Suave Corridor" was perfect chaser and offered a similar experience. The percussion was crisp and the piece had almost life-like realism – with my eyes closed I had to fight off the urge to try and reach out and touch it. As before, the drums had weight and power, no trace of compression. And at low volumes the detail and subtle nuances remained.
"This Town" from Patricia Barber's Clique album was up next. The picked strings of the bass were articulated with such precision that my attention was frequently drawn to them. Patricia's sublime vocals were dynamic and three dimensional and the piano was faithfully rendered – vibrant and warm but particularly in allowing me to discern the dynamics between the softly-struck and enthusiastically-struck keys. On this track the devil is in the details – it's a beautiful piece on a good system but a better system reveals the truth even more clearly.
The T+A combo handled Ben Sidran's tune "Sixteen Tonnes" from his album Don't Cry For No Hipster with ease providing a foot tapping experience at both high and low volumes. The kick drums were deep, tight and powerful. The piano providing the melody underpinning the tune and Ben's vocals having a sense of 'in-the-room' realism that commands your attention.
Moving to the classical genre I played Dvorak's New World Symphony No. 9 in E minor (Fritz Reiner, Chicago Symphony Orchestra, Mercury Living Stereo). Through the T+A the extra resolution and detail in the midrange was fabulous. The width and depth of the orchestra were almost as tangible as in real-life and in some ways sounded less cluttered than actually being there.
I discovered thanks to Qobuz that Jethro Tull's new album The Zealot Gene (Yes, they're back after many years of silence…) was now available. "Shoshana Sleeping" was the only track available for streaming and it was enough to make me pull out my credit card. As with almost every other piece I auditioned through the T+A, I found the combo to be very 'sure-footed' the bass was lithe starting and stopping on a dime and the dynamics in the vocals were the best I've heard on my Amatis. Compared to the existing setup the T+A combo threw a larger soundscape and provided greater focus allowing individual musicians a more believable presence.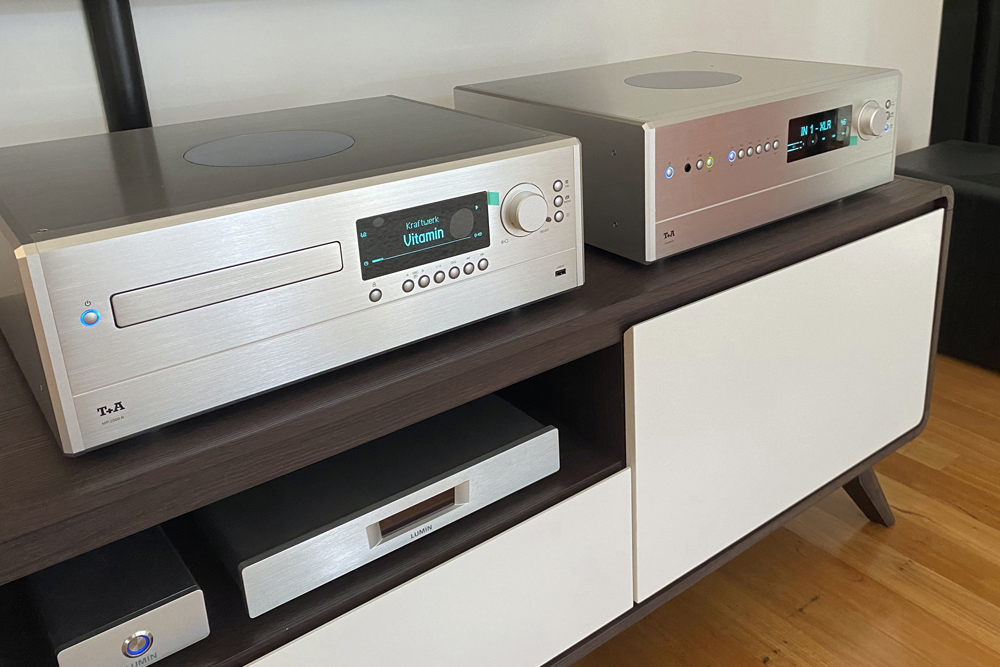 With this much muscle and power on tap I reached for another old favourite keen to explore the 'rock-concert in your lounge-room' ability of the duo. From the album Razor's Edge, I cued up AC/DC's "Thunderstruck". Immediately noticeable was the layering of the voices in the intro followed by the impact and punch of the drums. Through the T+A combo the rhythm guitar had an even more electrifying bite than I'm used to almost bringing it into the room to join Brian Johnson's screaming vocals.
One of the more eclectic high-res DSD downloads I have is an album titled 8 Ensembles in 1 Bit. It's renowned for its purist approach in the recording, having the microphones placed above the heads of the musicians who were precisely positioned for sound balancing to avoid post recording mixing. It's not something I listen to often but I wanted to see what the MP 2500 R could do with such a recording. I was not disappointed! The DAC in the MP 2500 R did a fantastic job on the track "Samba de Rei" by the Breno Viricimo Group. Not only was each instrument's 'voice' exquisitely reproduced, the T+A clearly illustrated that the recording technique produced a soundstage which had a level of coherency in a league of its own. Each instrument had not only its own space but was also seemingly able to overlap and interact with the other instruments. Interestingly, in the liner notes it's mentioned that the musicians themselves were thrilled upon hearing their work played back with comments such as "We are playing right here in this room for ourselves to listen to!" A few others closed their eyes, made no sound and sat totally still apart from the occasional jaw drop.
Enjoying
It's been a while since I've ponied up for some new gear and it's becoming increasingly apparent that times have changed and the time for me to update is fast approaching. I knew that pitting my ageing Perreaux e250i against the new T+A combo wouldn't leave me in a good place, but that's just what I do… This T+A combo is a serious contender.
The T+A gear never lost its composure on anything I played through it. Whether at concert volume or quiet evening listening levels the character and presentation remained absolutely consistent, stable and musically expressive. The bass performance at high and low volumes was exemplary, on two occasions casual listeners thought that my SVS SB3000 subwoofer was involved (I subsequently removed it from the room to ensure it wasn't adding any unwanted resonance or other deleterious effects). But it wasn't just the power or the depth, with the T+A in my system it seemed to declutter the lower octaves as it went about its business. Powerful but not overpowering and with the ability to tease out and unmask true depth like I'd not heard before. In that particular regard my Amati Homage speakers revealed secrets they'd been keeping from me. Simply put, my stereo sounded like a much more expensive system – and to be fair given the price differential between the components, it was. All the same, it sure was nice to hear what a few extra wads of moolah can do for you.
Criticisms? Not many… The supplied XLR interconnects could be longer. They're suited to vertical positioning but in my cabinet a side-by-side placement (which I prefer to avoid heat transfer) was difficult. But I'm quibbling here. There really wasn't anything I didn't like and there was sure lots that I loved!
… Barry Jones
Associated Equipment:
Speakers — Sonus faber Amati Homage
Amplifier — Perreaux e250i 40th Anniversary Edition integrated amplifier
Sources — Digital: Lumin T1, Oppo BDP-105D Analogue: Rega RP6 turntable, Rega Exact-2 cartridge, Rega Aria phono stage & Rega Couple interconnects
Processor — DEQX HDP-5
DAC/Headphone Amplifier — Chord Mojo DAC
Headphones — AudioQuest Nighthawk
Cables — Nordost White Lightning, Kimber Cable Timbre balanced and Van den Hul D-300III unbalanced interconnects, Atlas Compass Digital Coaxial Audio Cable, QED Performance Graphite USB
Miscellaneous — Isotek Sirius Power Conditioner, 8 x Auralex SA8600 bass traps in front wall corners, 12 x Sound Acoustics MP700-40 ceiling acoustic panels
T+A elektroakustik MP 2500 R Multi-Source SACD Player and PA 2500 R Integrated Amplifier
Price: AU$19,900 and AU$19,300 Respectively
Australian Warranty: Three Years
Australian Distributor: Interdyn
+61 3 9426 3600
www.interdyn.com.au
T+A elektroakustik GmbH & Co. KG
Planckstraße 9-11
D-32052 Herford
Germany
+49 (0) 5221 7676 0
www.ta-hifi.de