Australia's wide land may be rich in 'golden soil', parched across its deserts and 'girt by sea' around beautifully picturesque beaches but it's also opulent with unique flora in dense forests sprinkled throughout the continent. The tree species are countless and varied and, for example, if you make your way to Far North Queensland, up in Cairns, you will find the planet's oldest rainforest, the Daintree Forest. It's a precious and astonishingly beautiful World Heritage treasure teeming with living and breathing wildlife.
Proudly Australian, and in order to mark its 21st Anniversary milestone, Redgum Audio has adopted the arboreal nomenclature of one of Australia's ubiquitous Eucalyptus trees in its flagship Magnificata preamplifier and monoblock amplifiers combination. Also reflecting its arboreal company name, the Amplifolia top-end electronics from Redgum Audio are adorned with a beautiful Redgum fascia. Redgum is a richly coloured timbre, of course here reddish in colour, and the company adds a patina of gloss via an immaculately-applied and polished lacquer.
Aside from the beautiful timbre fascia there are other unusual features… some would call them eccentricities, actually. For starters, along the lines of past products from Redgum Audio, the preamplifier features an 'ignition' key. Umm, yes indeed folks, operation of the preamp requires a turn to the horizontal position of the key which comes with a key ring and a metal Redgum Audio badge. As a cosmetic touch, the unit features large heatsinks matching the ones that are an aspect of the monoblocks' design.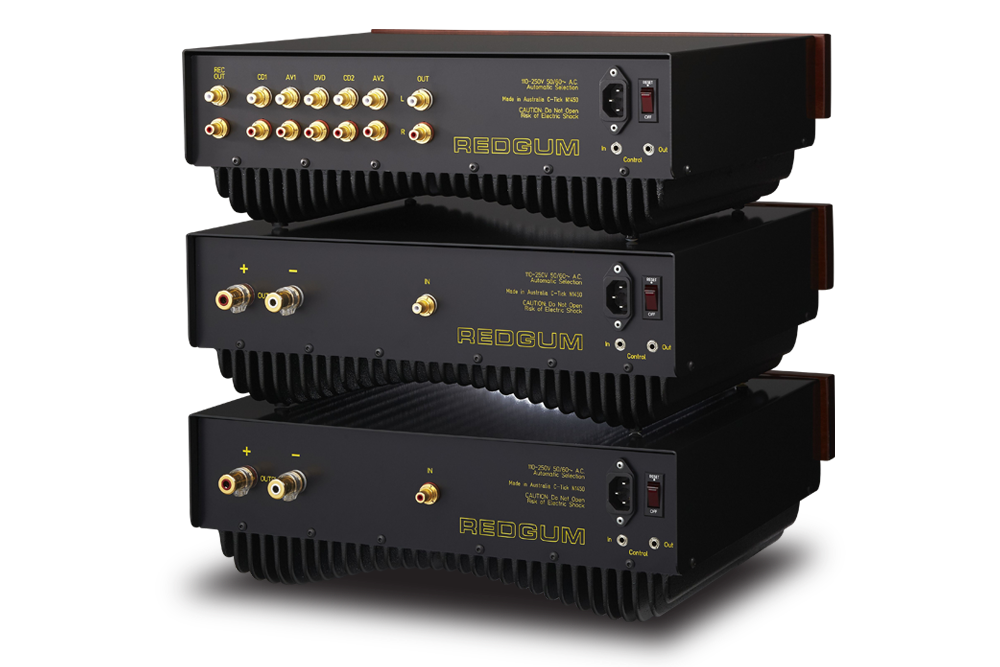 To add yet more spice, the heatsinks are mounted on… the bottom of all three units. Huh? Indeed, that may be your reaction. It was also mine when I first encountered the company's amplifiers some years ago. However, Founder and Chief Designer Ian Robinson has explained – I'd say many a time too – that in a departure from his normally conservative engineer's mindset, Robinson included the nicely-machined heatsinks in a rare personal flamboyance. He calls them SignWave heatsinks for the obvious shape resemblance. In the case of the preamp, the SignWave sinks are purely cosmetic flash. Come the Class-A/B monoblocks, the unique heatsinks are less fashion, serving more of a purpose, albeit on light duty, by absorbing and dissipating negligible amounts of generated heat. After many hours of use at reasonably high SPLs – with a relatively tough speaker load – the heatsinks feel, to the touch, ever so slightly warmer than ambient temperature. In other words, their location is irrelevant, despite the generous power on tap the amps do not require significant heat dissipation.
On this, Robinson's humour comes through in a bolded italics-accented sentence in the manual: "… Magnificata is a seriously powerful amplifier system. So yes, it is capable of vaporising your speakers, absolutely." He goes on to say, "… you have now been officially warned! Drive safely." Love it. Further entertaining value was found throughout, including in the humorous multi-paragraph description of the physics involved in the three components' micro-fibre covers which double up as polishing cloths post handling. Gold. I'm thinking Robinson also takes personal glee in the preamplifier's turn-on SFX and pyrotechnics display. Fire-up the unit and you get whizzing and clicking and flashing lights – theatre with a flash of Aussie larrikinism…
Take a leaf
The Magnificata preamplifier is a passive unit requiring AC for the logic control system that governs the twin mono motorised volume pots and diagnostics. Redgum Audio looks after its customers by providing three (yes, you've read correctly) remote controls. One is a rather large and attractive LCD touchscreen jobbie while a convenient credit card style secondary unit provides all the necessary functionality. The third remote is another credit card style unit which is provided as a spare should a loss occur.
The preamp sports five inputs, a record output and a line output for connecting to the monoblocks. All connections are via very high quality 24 carat gold plated copper RCA sockets which are hand-wired with OCC single strand, solid core silver wiring. An in/out trigger 'Control' loop is provided for automatic activation of the amplifiers when the preamplifier is powered up. Redgum provides two mini jack cables to facilitate this. An IEC socket and a lit mains switch (it lights up when the unit is in the off status thereby providing AC supply confirmation) round out the rear panel features.
The Redgum front panel is only interrupted on the right hand side by twin volume and input knobs. The volume pots work in unison when used via the remote controls but they may be individually adjusted manually to provide balance control fine-tuning should it be needed. Redgum quotes a superb channel balance within 0.01dB and claims a world-first in the implementation of a dual mono remote controlled volume arrangement. A "very low internal impedance to keep hum injection to a minimum" couples with a 10-kohm pot impedance. Conveniently, the unit can select AC voltage automatically while an EMI filter has been incorporated within the design.
Equal simplicity is featured in the mono amplifiers which are an evolution of the company's previous range-topper the RGM300ENR (the original design spawned back in 1993). The front fascia is a plain slab of beautiful Redgum. Round the back you'll find a single RCA socket (same design as in the preamp), WBT speaker binding posts and the 3.5 mini-jack remote activation in/out sockets. The hefty 52kg Magnificata monos are MOSFET designs. Robinson has used 24 double-die 250 watts direct coupled MOSFETs a configuration that cruises along at leisure while being able to provide high power and high current capabilities coupled to the usual MOSFET reliability. Redgum states the monos are capable of driving ultra-low impedance loads down to 0.7-ohms. Again, Robinson's humour in the manual: "And you thought you were past wishful dreaming! Its individual Test Report will be something that only you can brag about."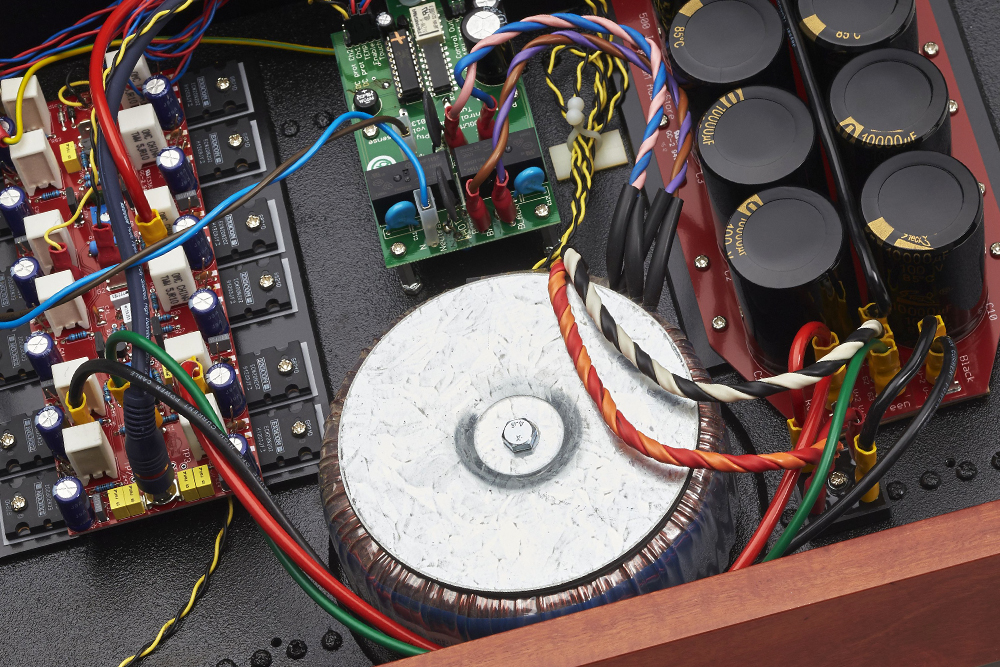 A large 1KVA transformer inhibits each mono while the 'UltraFlex' power supply is enhanced via a 200,000 micro-Farads capacitor bank. The design is rated at 350 watts into 8-ohms, 550 watts into 4-ohms and 900 into 2-ohms. In other words, power and current aplenty. Robinson's primary goal in designing the monos' power supply is for it to exhibit adequate and instantaneous response to the largest of musical transients. Ergo 'UltraFlex'. The monos' input impedance is a useful 47-kohms.
Robinson also has strong ideas about the role of a preamplifier within the context of an audio system:
"As you know, a passive pre-amp is basically a volume control and an input selector. It draws no power, so there is no need for a power supply, and it includes no active components. This adds up to 0% distortion, 0% noise, and signal to noise at infinity. In contrast, an active pre-amp uses transistors or IC's on the active input and output stages to increase the signal level/noise. Between them is placed a passive volume control. Oddly enough, having created this increase each time, there is every chance of most of this level increase being purposely "lost" (through choice of components) within both input and output stage as such levels cannot be passed on to the power amp connected to it in the system! Rather like putting a brake on a motor because there is too much power for the gearbox!
"In sum, having active components cannot ever create less noise than having no active components (as in a passive pre). Which in practical terms, is typically described as not adding colouration to the music. Ah, neutrality! Does this mean the neutrality of the Redgum sound remains… distinctive? (A new kind of oxymoron!?)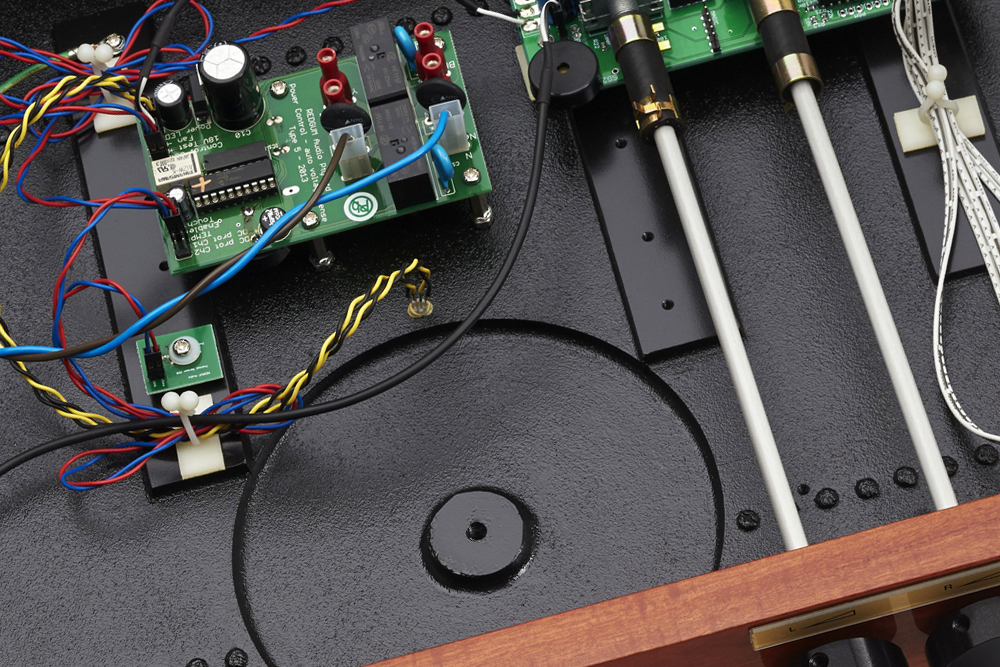 "Once the Preamp is covered, then, for the "dog to wag the tail" (and never vice versa!), an (power) amp needs plenty of power that is responsive to the needs (aka the nature) of music. Hence, the use of high current designs to create plenty of transient power thanks to the UltraFlex power supply. In a nutshell, a Redgum design concentrates on the creation of highly controlled dynamics, for which there are no electronic tests to substantiate this. (Which leaves only the heart strings!?) Listening to each track should have that "every time is the first time" freshness to the ear. Goosebumps for Grown-Ups!"
A confident seven year warranty applies across these products. Build quality is very good based on the internals in general and as far as cosmetics well, I've already covered the beautiful fascia and machined heatsinks. If I was to nit-pick I'd have to mention that heavier gauge metal top covers would more appropriately befit a flagship. The covers are nicely painted but ring post the ole' finger flick – perhaps some damping material on the underside – Dynamat sheets come to mind – would compensate for the thinner bent metal gauge. All else is very nicely done indeed.
Tall trees…
A component that has an immediate and striking quality will jump out at you from fire-up. The Magnificata amps did just that with one of the tightest bass registers I've experienced from an amplifier. It's up there on par with the very best I've heard which is via the far more pricey – and my own reference – the Gryphon Antileon EVO. Boy do these amps punch. They may not dig quite as deep as the Gryphon super-amp but they punch a tad harder and tighter. It's an astonishing sock-to-the-gut type of presentation that injects power and pace to all kinds of music but especially Rock and Blues.
Kick drum and electric bass will propel the music along providing that enjoyable and rhythmical boogie that gets toes a-tappin'. This is a high damping factor amplifier, no doubt. And the ample power and current capabilities are, obviously, playing a complimentary part in the extraordinary bass at hand.
The Backsliders' "Big Trouble" from their Poverty Deluxe CD release starts with massive drum hits before Dom Turner's guitar cuts through. The Magnificata combo hammers the drums out into the listening space with phenomenal attack and tonal detail. When the rest of the band kicks in they are all easily discerned via the Redgum combo's superb separation and resolution. And there's exemplary detail retrieval available here too. Throughout the album, the finer low level articulations of Turner's metal strings, his midrange-rich vocals and the subtleties of the various percussion instruments are all presented effortlessly without being coarsely in your face.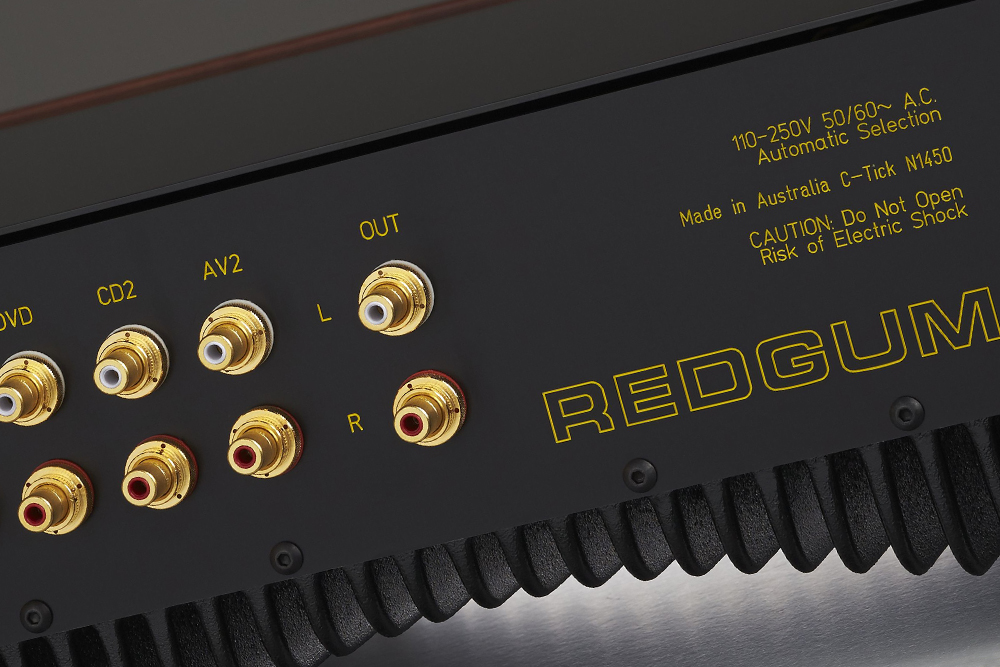 A similar experience was heard with Zeppelin's "When the Levee Breaks" from IV. Bonham's massive intro pounds, delights and excites and then the famous harmonica line blows in with excellent dynamic oscillation and excellent detail. With this combo you will not miss any information, in terms of detail frequency-wide, if that is an aspect of the recording.
The Magnificata team is otherwise totally neutral. I use the word "otherwise" because the bass power is phenomenal – and never, ever bloated or boomy – so there are no romantic colourations or strays from the path of accuracy. If the rest of the chain in the electronics, cabling and speakers are of similar faithfulness to their input and output, you will get truth and purity. But with perhaps a touch more bass punch than your average amplifier.
One of my favourite live recordings comes from Ryan Adams solo at Carnegie Hall. Ryan is placed accurately in the centre of the large soundstage and here's where you'll hear another of the Magnificata combo's very powerful strengths. The soundstage has enormous depth. Adams is seemingly well behind the speaker plane while ambient cues from Carnegie's large main stage behind him appear way beyond. Ditto with the famous Harry Belafonte recording at the same venue all those years before. Belafonte moves around the stage and the Magnificata tracks his movement across and back and forth superbly. This is soundstaging and imaging done right.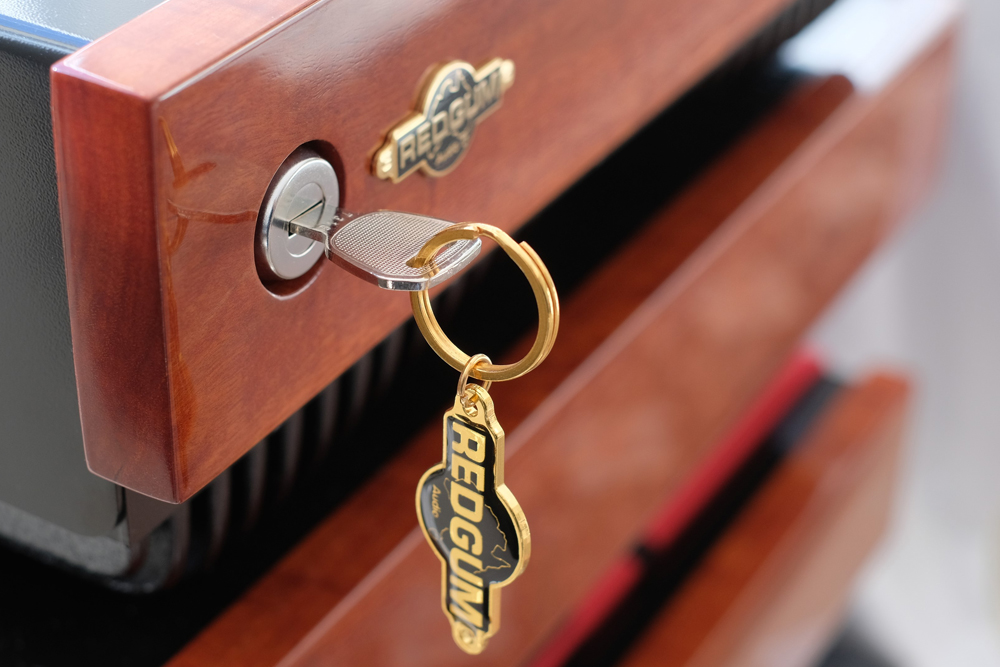 There is ample dynamic expression with the power and headroom of the amps, combined with the transparency of the passive, providing big swings from soft to real loud. The amps are cruising along under what would normally be stressful conditions for lesser powerhouses so when the recording demands largess there is plenty to be delivered. Lawrence of Arabia's Overture from the movie soundtrack – as rendered via the Cincinnati Pops – is book-ended with big percussive timpani accents that will test an amp's power supply. If there's any deficiency in the supply chain, the music will be dynamically stunted, marginally compressed. This is not even perceived by the listener, in some cases, where the deficiency may be only minor. Only exposure to playback which provides the full envelope of dynamism will bring on the "ah, that's what it's supposed to sound like…" moment. This has happened to me in the past. Since owning it, my current amplification has delivered that response against every other amplifier I've reviewed – the Gryphon is a dynamic powerhouse. The Magnificata is very, very close indeed.
Conclusion
I may have said this before in my many amplifier reviews. The job of a great amplifier is to pass on the information up the chain with as little manipulation as possible. Intact is best. It needs to control the speakers it has been charged to drive with utter, unwavering commitment. It should provide appropriate levels of power and current without power supply 'sagging' therefore not compromising the music's dynamic swing and overall expression. All this while being tonally accurate and neutral. Ditto, the role of a preamplifier – given appropriate system gain relationships – which is to control volume and to provide switching for whatever sources are required while being totally sonically transparent to the source – do no harm. If you like fruit and spice, well, your source is there to embellish the sound with the preferred produce of countless flavoursome trees.
Given these ideals of signal integrity preservation are rather elusive, albeit not totally rare nor unique, the Magnificata passive preamplifier and monoblock amplifiers from Redgum Audio meet this stringent mandate – with full autumn leaves flying colours.
. . . Edgar Kramer
This email address is being protected from spambots. You need JavaScript enabled to view it.
Associated Equipment
Speakers — Wilson Audio Alexia
Amplifier — Gryphon Audio Antileon EVO
Preamplifier — Supratek DHT Reference, Lightspeed Attenuator LDR passive
Source — Yamaha CD-S2100 transport, Totaldac d1-core DAC, MacBook with BitPerfect software, AIFF files
Processor — DEQX PreMate
Cables – Vermouth Audio Black Pearl loom (in for review)
Redgum Magnificata Passive preamplifier & monoblock amplifiers
Price: US/AU$29,500 as package or Pre US/AU$2950 for preamp and monos US/AU$16,500 each.
Warranty: Five years parts and labor.
USA Distribution:
Colleen Cardas Imports
www.colleencardasimports.com
This email address is being protected from spambots. You need JavaScript enabled to view it. or This email address is being protected from spambots. You need JavaScript enabled to view it.