There are few, if any, cable manufacturing companies that can lay claim to producing cables for over 40 years. In Ballrechten-Dottingen, Germany in-akustik has been doing precisely that. in-akustik's wide range of cable products are fabricated in-house via advanced manufacturing processes while the company has also been nurturing long-standing partnerships with quality record labels and high-end audio specialists such as Piega and Primare. From in-akustik's top-flight Referenz range, we take a look at the uniquely-designed flagship LS-4004 AIR loudspeaker cable.
Not Just AIR
The LS-4004 AIR cables come in the largest cardboard box I've ever come across for a cable product. Within, nested between large sheets of protective foam are the cobra-like cables. Literally python-like. The cables are coloured brown-ish like the snake and they are packed in a coiled fashion… just bring your charming flute. They are very flexible so really, if made to coil somewhat tightly, the box will end up containing… umm, air. Inside you'll also find a plastic bag enclosing cotton handling gloves, a number of company and product information brochures and documents with serial numbers.
The ends of the cables are further protected within small soft velour 'bags' and removing these exposes the ultra-high quality bespoke connectors – in our case, single-wired spades all round. The high conductivity tellurium copper spade connectors have a very clever angle adjustment which allows for a degree of adjustability when connecting to binding posts which are either close to the ground or within a tight space. The spade ends can be removed and changed over to accept any configuration of spade and banana connector.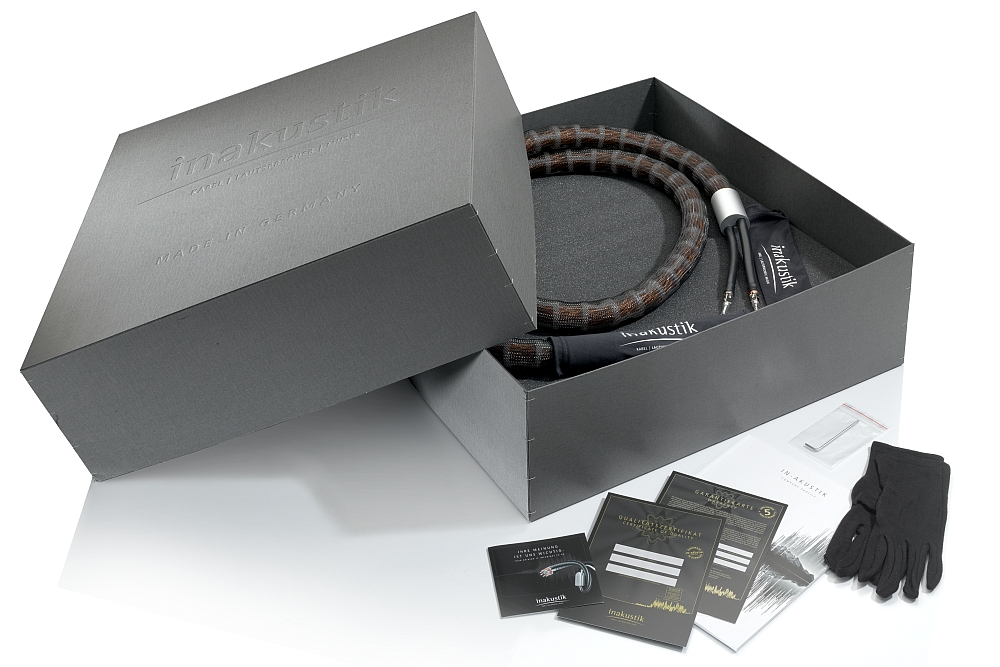 The rather complex construction of the cable itself is unique, in my experience. The cables are configured in what in-akustik calls an 'Air Helix Structure' which is formed by a plastic/elastomer guide that maintains the various conductors both in a specific distance apart from each other and wound in a consistent geometry.
The cable consists of 16 small gauge high purity copper conductors – or 'Cross Link Super Speed waveguides' in in-akustik-speak – which are polished, lacquered and then inserted through a thin profile 'clip' or guide which acts as an air separator while also providing the template for the specific Helix winding. The clips are spaced along the cable at calculated intervals and, due to the individual conductors' gauge and separation, the entire cable is extremely flexible.
The Air Helix structure then receives a PE network jacket. Termination is completed via a custom designed machine which strips the lacquer from each of the conductors' ends. The conductors are then bundled and pressure-locked on to the bespoke termination connectors. By avoiding the use of solder, contact resistance is minimised and the conductor quality and conductivity is maintained.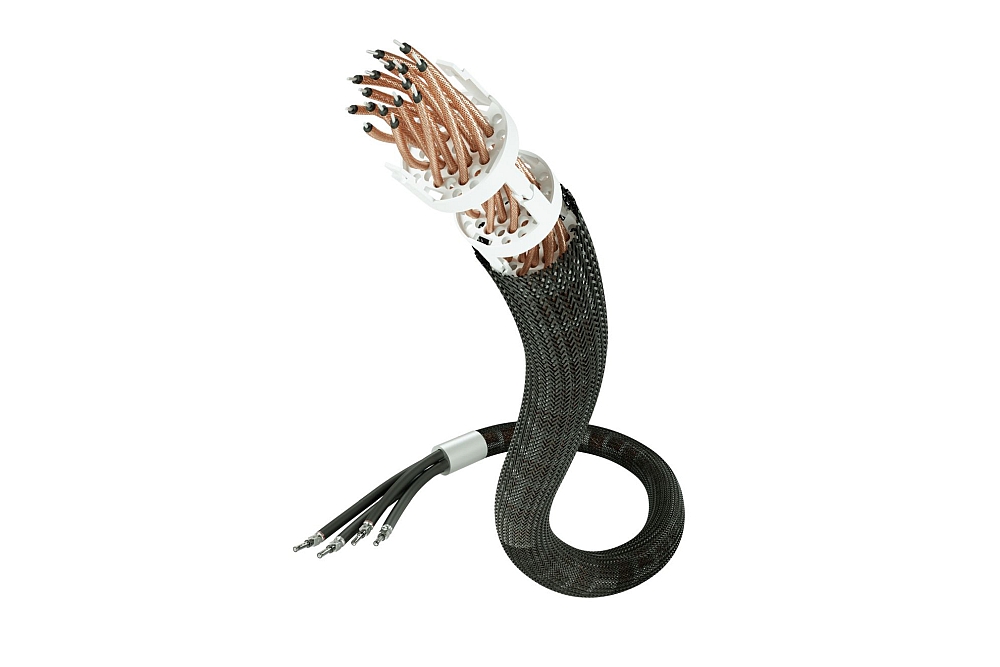 The 'snake' features a machined aluminium end cap with etchings depicting the company logo and the product name and serial number. Past the end trim cap, the conductors are then bundled into positive and negative runs through a black rubber-like jacket. The Referenz LS-4004 AIR loudspeaker cables are made entirely in Germany and the overall quality shows.
As part of their product portfolio, in-akustik (also appears as inakustik in various products and website locations) has produced its own system conditioning CD while also being involved as distributing partner for a number of world-class music labels and being on the lookout for local and international talent. In addition to this, inakustik is involved in large commercial audio visual installations, telecommunications cabling and even acoustic environment manipulation via a number of products catering to domestic and commercial customers. The headquarters also houses a massive warehousing facility. Overall, this is a sizable concern and as far from a single guy winding cables in a garage as you can possibly get.
Something in the AIR
Adapting the cables into the context of my system was simple enough. The cable's flexibility and angled spades came in very handy in terms of fitting within the tight space behind my Gryphon Antileon EVO amplifier while, at the other end, there was no impediment to the Wilson Audio Alexia Series 2 speakers' binding posts which are placed reasonably high off the floor.
Well, how do you describe total neutrality? That was the immediate judgement in terms of this cable. To an even higher degree to what I use as a reference, the zILENsIO twin cable runs from ZenSati, which have an ever so subtle steer from absolute neutrality towards the side of tonal warmth and beauty. The LS-4004 AIR cable maintains its position within that absolute line of neutrality, allowing the expression of your components to fully shine through.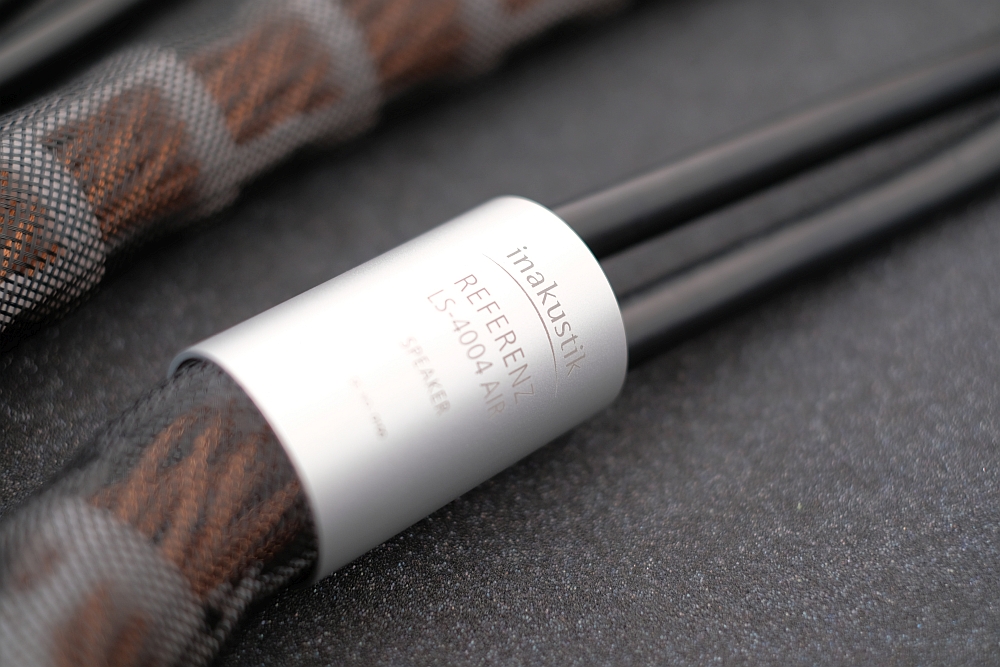 Concurrently to the LS-4004 AIR cables being in for their auditioning period, I had several components in for review, so I took the opportunity to test this neutrality aspect in a varied context (although the majority of evaluations and conclusions were made via the in-house reference system, of course). Each time, I was easily able to discern a particular component's sonic character. This was also verified via my reference cable, albeit with its own gratifying take on things.
Recently, a close friend gave me Jackson Browne's Solo Acoustic Vol.1 CD, a collection of superb live performances with Browne on stage playing one of his huge selection of guitars and, on some tracks, a grand piano. The LS-4004 cable provided an exquisite view into this event, presenting it with a massive soundstage and with Browne locked dead centre in a life-sized image. The tone of his various guitars was evident – I don't know the brands and models he was using at any particular time but the variances in tonality were obvious – a connoisseur would most likely pick it. This was displayed along with a wealth of inner detail and microdynamics as Browne intricately plucked and strummed.
Eat the Elephant, A Perfect Circle's new CD release may not be the last word in audiophile-class sonic perfection but it features music that is both emotive and powerful. The in-akustik cable showed it for what it is; a modern recording that is good even if it suffers a degree of the inherent shortcomings of dynamic compression (although, thankfully, not to the extent of other contemporary music productions). Through complex sections on my favourite tracks (too many to mention but mostly from Tracks 1 to 5), the LS-4004 performed superbly in separating the strands of buzzing guitars, pounding bass and cutting snare and kick. All this while allowing Maynard J Keenan's voice to project forward and as a discrete presence to the musical mayhem.
Again, the neutrality at hand made for utter enjoyable classical orchestral productions where the sound projected slightly forward from the speaker plane while still allowing for a deep soundstage with terrific lateral expansion. The various sections of large orchestras were precisely layered with plenty of space between the string section upfront and the large percussion instruments right at the rear.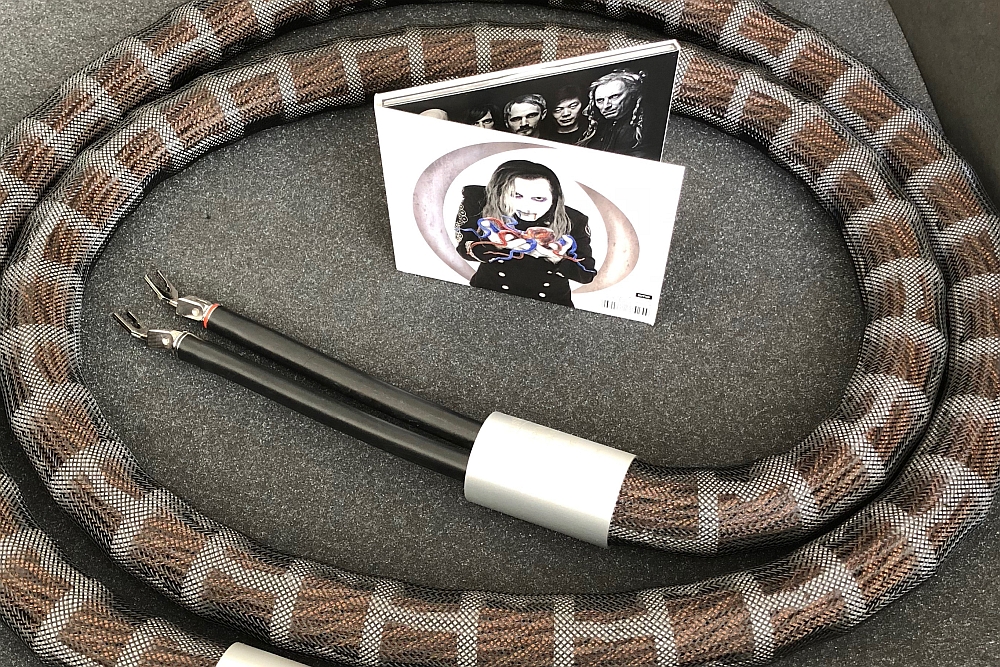 Richard Strauss' Also Sprach Zarazustra, the Philips Digital Classics release with the Philharmonia Orchestra conducted by Semyon Bychkov served as a thrilling example. The powerful percussion on the "Introduction" hit with tightness and detail, which is then followed by the brass featuring the requisite 'raspiness' and when the full orchestra kicks in towards the end it was a glorious fullness of impact. There's a clear capability here of superb instrument discernment and of a dynamic ebb-and-flow that, given the right music for you, will capture you… engage you.
Vocals were always expertly separated whether part of a simple jazz trio or in a raucous rock band. The usual suspects – mainly used for testing purposes, the pleasure's been wrung out a long time ago at countless demos and shows – such as Dianna Krall, Norah Jones, Chris Jones, etc. were always totally pure, with the LS-4004 producing stunning vocal detail and appropriate body (or 'chestiness') to male vocals at their lower ranges.
Conclusion
So, on a practical level, the sheer gauge here may look anaconda-like but in-akustik's Referenz LS-4004 AIR speaker cable's extreme flexibility made it easy to channel around and behind equipment. That is a huge, yes huge, plus point especially in crowded spaces. It's a clever– and perhaps unique – system using a guide/isolator that maintains the multiple fine conductors' specific wind and separation which, as claimed by in-akustik, deeply influences the cable's performance. Further allowance for easy set-up and cable 'dressing' was the bespoke connector system where the spades' angle (as required in my system) was adjustable.
Most importantly, sonically the LS-4004 AIR was skilfully neutral, which allowed the preservation of tonality/instrumental timbre. This is not a trivial point. The precision by which your gear conveys tonal characteristics in voices and instruments is of utmost importance if you're to approach the nature of the real thing. If a cable's imbalance adds anything (and many, many of them do) then, no matter how good your electronics and speakers, that verisimilitude, that tonal credibility, is lost.
In addition to its excellent neutrality, add to the LS-4004 Air's armoury a superbly solid bass, good dynamics with the recreation of wide soundfields and total precision in terms of image placement and you have a cable with all the requisite ingredients to suit high-end systems at any level.
… Edgar Kramer
This email address is being protected from spambots. You need JavaScript enabled to view it.
Associated Equipment
Speakers — Wilson Audio Alexia Series 2, Axis Loudspeakers VoiceBox S (nearfield monitor), Vermouth Audio Little Luccas Mk.II
Amplifier — Gryphon Audio Antileon EVO
Preamplifier — Supratek Cortese, Lightspeed Attenuator LDR passive
Sources — Digital: Yamaha CD-S2100 transport, Totaldac d1-core DAC, MacBook with BitPerfect software, AIFF files. Analogue: Michell Engineering Orbe with Gert Pedersen Level 3 modifications and Origin Live Ultra upgraded motor, Trans-Fi Terminator air bearing linear-tracking arm, Shelter Harmony cartridge, Supratek Cortese & REDGUM Audio RGPH2 phono stages
Processor — DEQX PreMate
Cables — sILENzIO loom, Vermouth Audio Black Pearl Mk.II loom
Audio Rack — SGR Audio Statement Model V
Miscellaneous — Les Davis Audio Viscoelastic CLD discs
in-akustik Referenz LS-4004 AIR Loudspeaker Cable
Price: AU$9999
Warranty: Five Years
Australian Distributor: Audio Marketing
+61 2 9882 3877
www.audiomarketing.com.au
in-akustik GmbH & Co. KG
Untermatten 12-14
79282 Ballrechten-Dottingen
Germany
+49 7634 5610-0
www.in-akustik.de