On 19 November 2020, Perth's Frank Prowse Hi-Fi will be hosting the official launch of Line Magnetic Australia the "A Warm Place" event where a selection of the company's key products will be on display.
While interstate travel restrictions are still in force around Australia limiting wider access, our Perth-based SoundStager! Barry Jones will be attending the event which promises to showcase some of Line Magnetic's best valve amplification. On the night, attendees will be able to sample no less than over half a dozen amplifiers, a preamplifier, a DAC and a phono stage. Western Electric-inspired models will also be on show while also available for audition will be Line Magnetic's LM-812 Iconic loudspeakers.
You may remember Barry recently reviewed the extraordinary LM-845 Premium dual chassis integrated amplifier and was most impressed with its excellent performance, saying "Its capacity to provide end-to-end enjoyment over a diverse range of musical genres is surprising. Its ability to put you in a headspace where what is going on around you becomes irrelevant and you actually focus on the music you are playing is remarkable." (Read the full review here).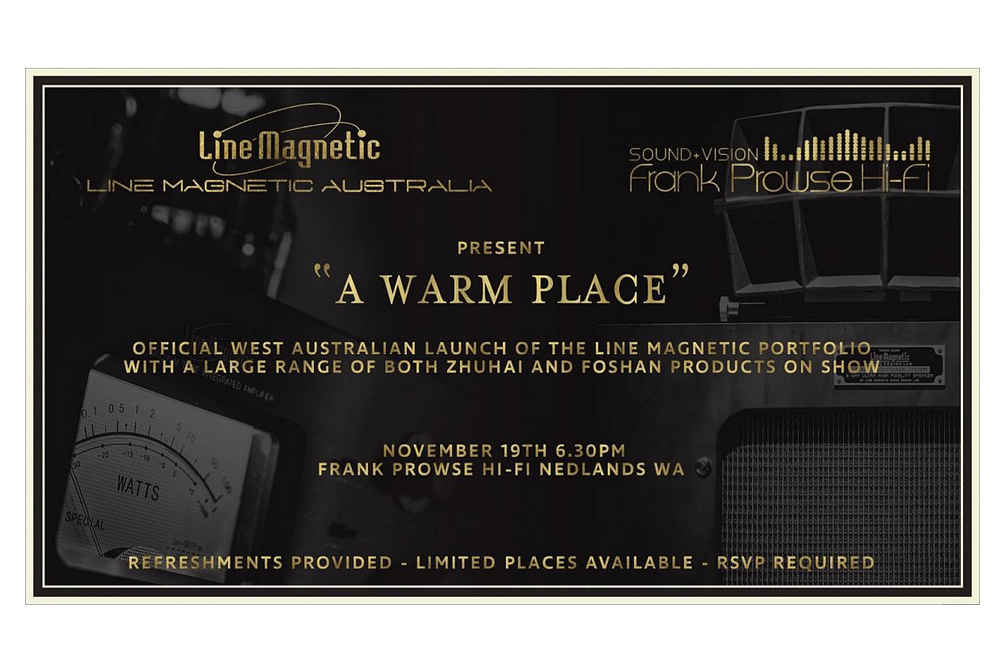 Line Magnetic Australia's Campbell Nunn told SoundStage! Australia, "Come join us at Frank Prowse Hi-Fi where we welcome the official launch of Line Magnetic Australia. The Line Magnetic range is made up of amplifiers, source components and speakers, whose lineage with many legendary products is evident."
Nunn went on to say, "Line Magnetic also offers a whole range of components and loudspeakers – which are the delight of passionate audiophiles all over the world. We will have on show products from both the Zhuhai and Foshan factories."
"A Warm Place" Line Magnetic Australia at Frank Prowse Hi-Fi Event
DATE: Thursday, 19 November 2020
TIME: 6:30pm to 9:00pm AWST
VENUE: Frank Prowse HiFi, 174 Stirling Highway, Nedlands, WA 6009
Due to COVID restrictions, numbers will be limited
Please register using the eventbright link:
https://www.eventbrite.com.au/o/frank-prowse-hi-fi-15541626137
Line Magnetic Australia
+61 8 6371 5088
www.line-magnetic.com.au
Frank Prowse Hi-Fi
+61 8 9386 8384
www.frankprowsehifi.com.au