McIntosh Laboratory has unveiled the C22 Mk V preamplifier and MC1502 power amplifier, two valve components which, aside from their arresting retro-style designs, also promise an ideal partnership in terms of functionality and potential performance.
The new C22 Mk V is slated as the direct replacement for the highly acclaimed C70 Limited Edition 70th Anniversary preamplifier which ran its limited run course. In parallel, the MC1502 replaces the award winning MC2152 Limited Edition 70th Anniversary amplifier. Both Anniversary products commemorated McIntosh Laboratory's landmark occasion in 2019. McIntosh claims the products match the Anniversary versions in terms of performance – and most features – but with revised styling cues. In fact, both products expertly blend traditional retro design with modern technologies and materials.
The C22 Mk V circuit design features a 12AT7 and five 12AX7A valves in a balanced design. There are two balanced XLR inputs and three unbalanced/single-ended RCA inputs mated to twin balanced XLR and unbalanced RCA outputs. An on-board phono stage allows unbalanced RCA input for Moving Magnet (MM) and Moving Coil (MC) cartridges while rotary knobs offer impedance and capacitance options. Also in-built is a high quality headphone amplifier with 6.5mm jack connectivity via the front panel and featuring McIntosh Laboratory's proprietary 'High Drive' and Headphone Crossfeed Director (HXD) technology.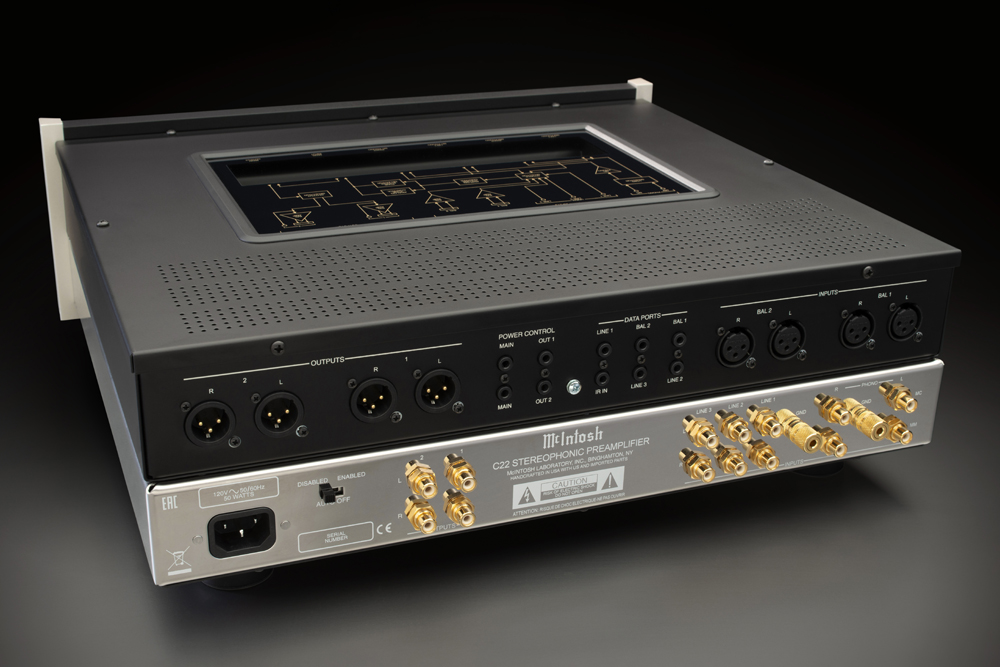 The MC1502 valve amplifier is rated at 150 watts per channel and the output is available at any impedance between 2 ohms and 16 ohms via McIntosh Laboratory's own patented Unity Coupled Circuit output transformer technology first developed back in 1949 and refined ever since. A duo of Unity Coupled output transformers flank the central large power transformer. The transformers are mounted within a glass-topped extruded enclosure with wiring circuit diagrams etched on to them. In fact, the MC1502 takes styling cues derived from the beautiful MC275 but in a substantially larger chassis.
The power rating is arrived at by way of eight KT88 valves (four per channel) while the input and driver stages employ two 12AX7A per channel for the balanced and input circuits and two 12AT7 per channel for the voltage and driver stages. The KT88s' longevity is prolonged by way of 'Air-Pipe' cooling through their connecting bases while the small signal 12AX7A and 12AT7 valves feature ceramic base construction and gold pin sockets said to provide protection from oxidisation. 'Sentry Monitor' protects the MC1502 amplifier from over-current and other faults by swiftly shutting it down.
McIntosh Laboratory's traditional design motifs such as the smoked glass and aluminium accents, the strategically-placed green LED backlighting, the chromed panels and general assembly solidity and high-level of construction fit and finish are all evident in the new C22 Mk V and MC1502 components.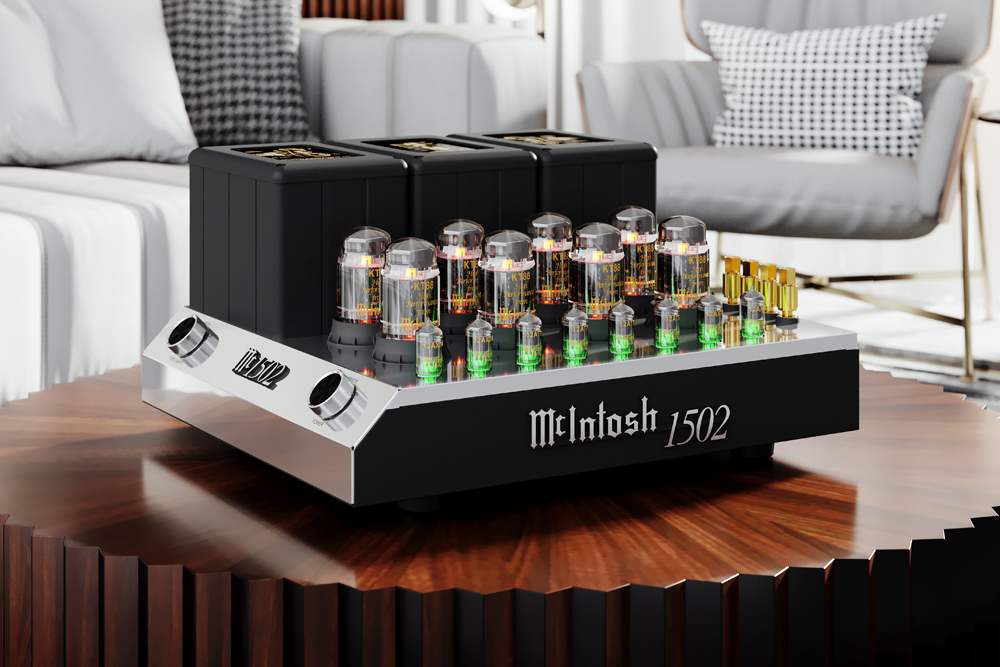 Phil Sawyer CEO of Synergy Audio, Australia's McIntosh Laboratory importer, told SoundStage! Australia, "McIntosh is one of the few companies adept at making both valve and solid state amplification. The new C22 Mk V and MC1502 are new expressions and, in particular, the MC1502 is an elevation of McIntosh Laboratory's prowess at amplification design harking back to the venerable MC275. The new MC1502 is more powerful and has better capabilities at driving the newer, more demanding loudspeaker designs."
The new McIntosh Laboratory's C22 Mk V preamplifier and MC1502 power amplifier are due for arrival in Australia within weeks and will be available for audition around the country via specialist dealers.
McIntosh Laboratory C22 Mk V Preamplifier & MC1502 Power Amplifier
Price: C22 Mk V AU$11,995, MC1502 AU$21,995
Australian Distributor: Synergy Audio
+61 3 9459 7474
www.synergyaudio.com