McIntosh Laboratory Inc. has announced the new C53 high-end preamplifier which now includes an all-new Digital-to-Analogue Converter compatible with the latest digital playback formats.
Bearing the traditional, and iconic, McIntosh styling and industrial design, the C53 is a full-featured preamplifier which benefits from the company's latest digital and analogue technologies. Making its debut in the C53 preamplifier is the company's new DA2 'Digital Audio Module', replacing the DA1 which is still current in McIntosh's recent integrated amplifiers. McIntosh Labs has stated the DA2 module will be made available as an upgrade option for products using the DA1 'Digital Audio Module'.
The DA2 Digital Audio module features the same connectivity as its forbearer (2 coaxial S/PDIF, 2 optical Toslink, 1 USB and 1 proprietary MCT input compatible with McIntosh's MCT series of SACD/CD Transports) but in addition, now sports a new HDMI audio-dedicated 'Audio Return Channel' (ARC) input. The new connector works with Dolby and DTS formats allowing playback from compatible TV displays (must feature ARC-capable HDMI) after converting the signal data to two channels. Further, CEC-compatible sets will allow the use of the C53's remote control to operate the TV's volume and on/off status, simplifying operability and decluttering the viewing/living space.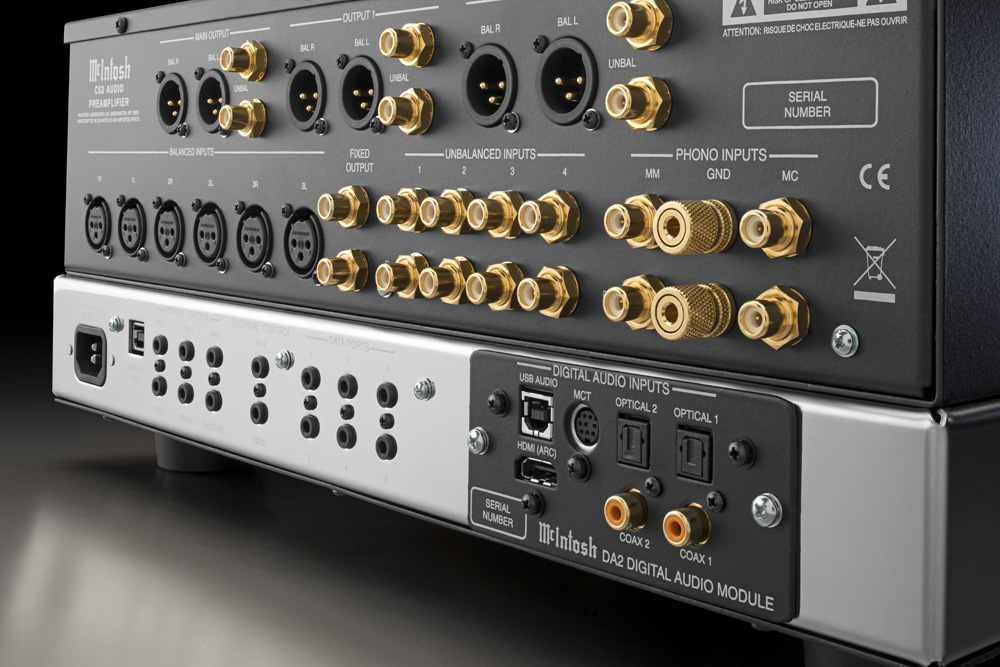 The DA2 takes DSD playback a step further by being DSD512-capable, as opposed to the DA1's DSD256 capability. This is accomplished via McIntosh's 'Quad Balanced', 8-channel, 32-bit DAC architecture. DXD support is now up to 384 kHz via the USB input while the S/PDIF coaxial and Toslink optical inputs are capable of decoding high resolution digital formats up to 24-bit/192 kHz. The new DAC technology is also said to provide superior performance by way of improved Dynamic Range (DR) and Total Harmonic Distortion (THD) specifications.
Analogue socketry is more than generously catered for with a total of 9 inputs (3 balanced XLR and 4 unbalanced RCA) alongside a suite of 3 variable balanced and unbalanced outputs in addition to a fixed unbalanced output. The C53 features a high quality phono stage catering for Moving Coil (MC) and Moving Magnet (MM) cartridges. The list of inputs and outputs truly caters for the most complex system configurations.
Further features include a built-in headphone amplifier with McIntosh's 'Headphone Crossfeed Director' (HXD) circuit, an 8-band analogue equaliser with up to +/-12dB of adjustability, a Home Theatre Pass-Through, 'Power Control' ports for control of other compatible McIntosh components and Data Ports designed to send remote control commands to source components.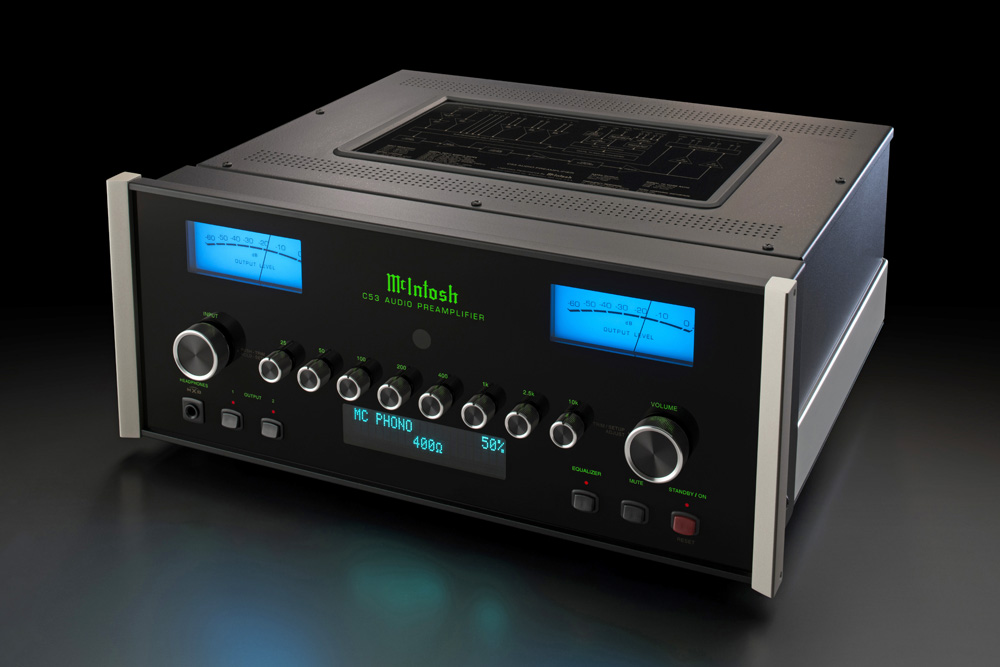 As McIntosh Labs told SoundStage! Australia, "All this audio technology is packaged inside the C53's classic McIntosh design featuring a black glass front panel backlit by direct LED lighting, blue meters, rotary knobs, an illuminated logo and aluminum end caps. An attractive polished stainless steel chassis finishes the distinguished look. It can be paired with an assortment of amplifiers, CD players, turntables, tuners, media streamers, room correction devices and speakers to complete a home audio system."
The new McIntosh C53 preamplifier ships in America towards the end of July while we can expect Australian units to arrive within a few weeks. McIntosh Laboratory products are available in Australia via authorised specialist audio retailers.
McIntosh Laboratory C53 Preamplifier
Price: AU$14,995
Australian Distributor: Synergy Audio
+61 3 9459 7474
www.synergyaudio.com