Hulgich Audio has announced a two-pronged strategy to showcase the company's flagship Duke loudspeakers for audio enthusiasts in Sydney.
Nicolas Hulgich will be bringing a stream of Hulgich Audio's reference electronics in order to demonstrate the music powers of the Duke speakers. The first event will be held on Sunday 19th of May and will take place at the Sydney Audio Club's (SAC) headquarters in Epping (see address below) where the Duke speakers will be shown with Audio-GD's R-8 DAC, Mac Mini via JRiver, Audio-GD Master 1 preamplifier and Nord Acoustics Revision D monoblock amplifiers. Cabling will be via Hulgich Audio's own FTM cables and Audio-GD's ACSS connectivity.
Event two will be held post the SAC meeting and it's to be hosted by SAC's President and SoundStage! Australia writer Tom Waters. This event will provide a more 'real world' experience in terms of a listening environment. Tom's listening room is exceptionally-well designed in terms of intelligently selected and placed acoustic treatments within a space that is of suitable size for large speaker demonstrations. Here, the Duke speakers will be demonstrated with a mix of the electronics described above and Tom's own which include Bricasti DAC, Trinnov Amethyst digital preamplifier, Mark Levinson 33H monoblocks and ZenSati cables.
This second Hulgich Audio event is by appointment only and will be staged over a few days (dependent on attendee numbers). Please contact Nicolas Hulgich on 0401 419 342.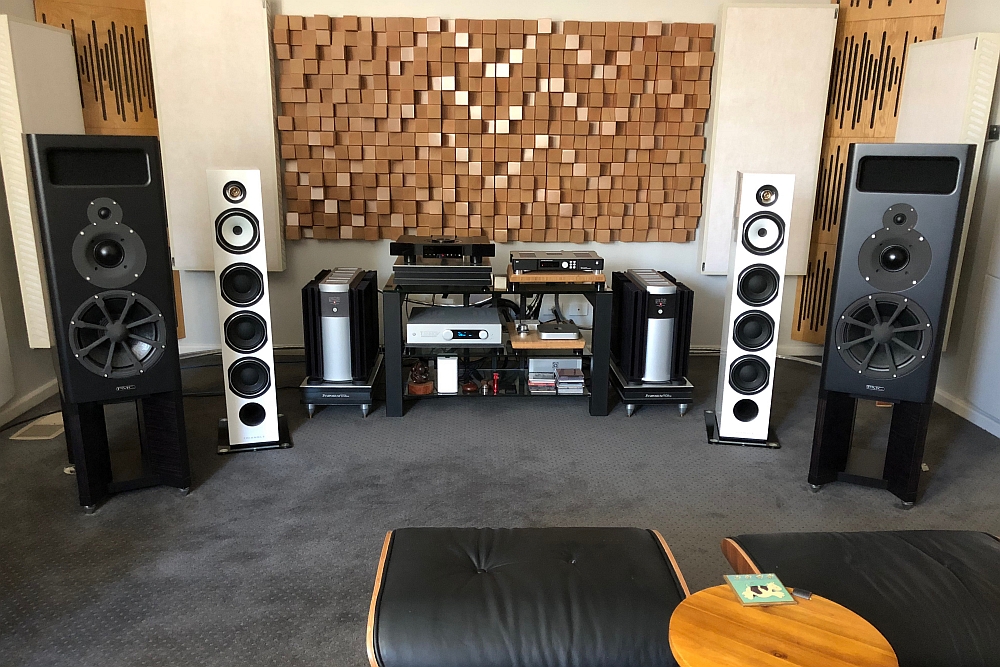 Auditioning Room for event 2 shown here with resident PMC speakers and Triangle speakers reviewed by Tom Waters (click here).
Given the driver technology, cabinet design and construction and the expertise behind the overall engineering of the Duke speaker, there's a solid promise for exceptional sound quality here.
Stay tuned too, for an upcoming review on SoundStage! Australia on the Duke speakers from Hulgich Audio.
Sydney Audio Club – Sunday 19 May 2019 (2pm to 5pm)
Creative Centre Dence Park
26 Stanley Rd Epping
www.sydneyaudioclub.org
Hulgich Audio by Appointment Event
Contact: Hulgich Audio (details below)
Hulgich Audio
+61 401 419 342
www.hulgichaudio.com.au