Electronics specialist Boulder Amplifiers has announced the new entry-point 1161 power amplifier which has been designed to be a perfect match for the acclaimed 1110 preamplifier and 1021 Network Disc Player.
The 1161 Power Amplifier is not only an ideal partner for the abovementioned components, but it features the Flagstaff Mountain motif machined into its solid aluminium faceplate that also appears on its stablemate 1110's design. The 1161 power amplifier shares the trademark Boulder machined-from-solid heatsink design – working in conjunction with a very efficient heat management system – as its more upmarket brethren but in a scaled down version to suit.
The 1161 is a powerful fully balanced stereo amplifier featuring the company's discrete 983 gain stage and is specified to output 300 watts per channel of continuous power into loads down to 2 ohms. Peak power outputs are quoted as doubling down as impedance halves to make for a powerful 1200 watts into 2 ohms. Voltage gain is a moderate 26dB while the input impedance is quoted as 100 kohms from its balanced input and 50 kohms into the unbalanced one. As is typical of Boulder's highly-engineered amplifiers, Total Harmonic Distortion (THD) is a low 0.0009 percent 20 Hz to 20 kHz at 8 ohms (0.0048 percent at 20 kHz). Output transistors number 56 in total while the dual power transformers are DC-filtered and are enclosed in a welded steel case.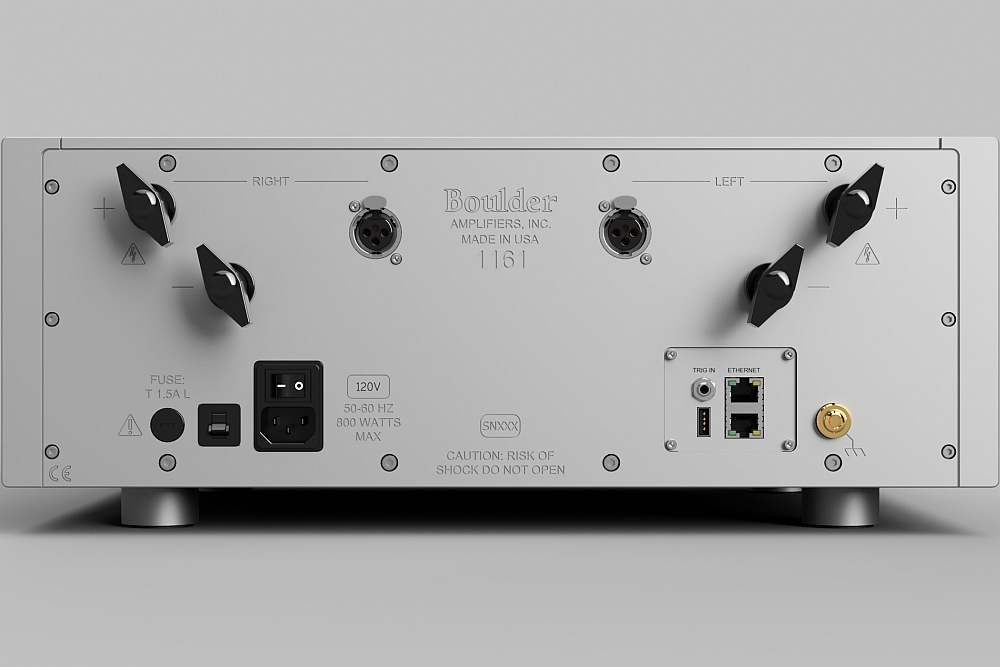 Input connectivity is via balanced XLR only while Boulder engineers have provided Ethernet ports for online diagnosis of operating parameters. The "supervisor circuitry" can monitor the amplifier's protection circuit and other circuits while generation its own IP. The 1161's Boulder Net control access connects to networked systems as well as integrated homes in addition to linking to other network-capable Boulder products. In addition, there are mini-jack On/Off triggers (in and out) and the 1161 also features dual sets of high quality binding posts per channel.
The Boulder Amplifiers 1161 stereo power amplifier is available around Australia at select audio specialists.
Boulder Amplifiers 1161 Power Amplifier
Price: AU$34,500
Australian Distributor: Absolute Hi End
+61 488 777 999
www.absolutehiend.com