Modular design expert Vinnie Rossi has announced the new L2 range-topping electronics featuring a dynamic duo of DHT valve preamplifier and diminutive monoblock amplifiers.
To many audio enthusiasts, well-executed Directly Heated Triode (DHT) circuitry is the Holy Grail in terms of preamplifier design. Vinnie Rossi has implemented a DHT circuit in its new flagship L2 Class-A preamplifier which features patented Belleson super-regulated, dual mono linear power supplies. The valve compatibility is quite wide and includes the 2A3 (matched Gold-Grid versions included), 45, 300B, PX4, 101D, 205D, and SV811 DHT varieties with one-switch filament voltage selection. Twin 100VA toroidal transformers and a 100,000 micro-farads capacitor bank form the solid L2 power supply. The L2's all-important volume control features a discrete 64-step resistor ladder attenuator incorporating high quality Pickering England silent signal relays.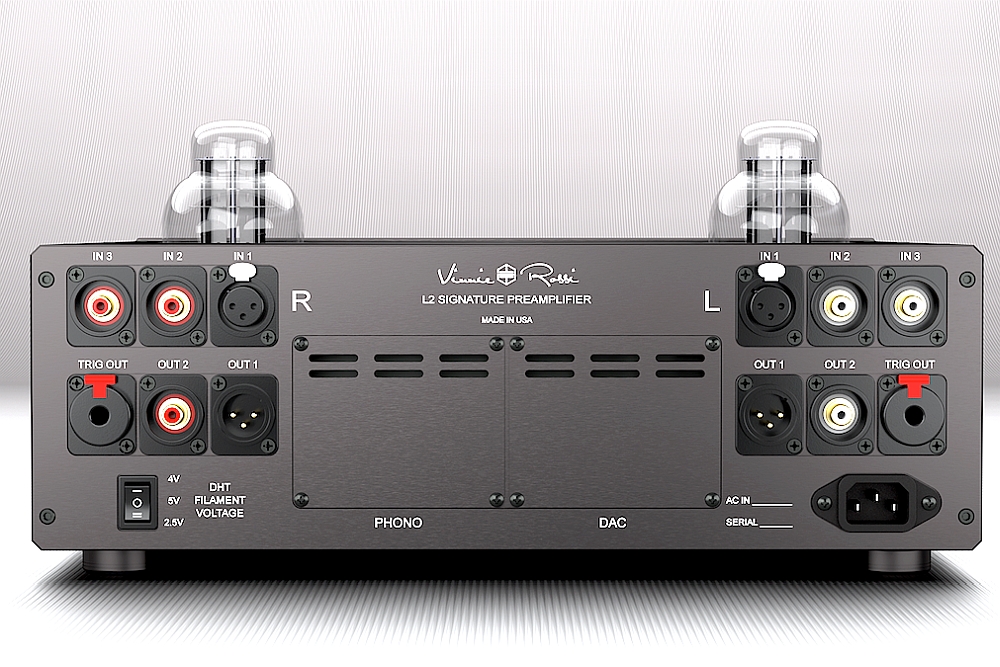 The ultra-wide bandwidth design is also modular, as per company credo, and can accept the soon-to-come L2 phono stage and L2 DAC modules. The L2 DHT preamplifier caters for one balanced XLR and two single-ended RCA inputs. Outputs are one each in single-ended RCA and balanced XLR with a Neutrik-style jack socket for remote triggering when connected to the L2 monoblock amplifiers.
The hand-built L2 monoblock amplifiers are as simple as amplification gets in terms of exterior features. The high quality heavy gauge CNC-machined chassis is plain yet beautifully anodised while the single WBT NextGen copper binding posts, IEC socket with incorporated fuse and on/off switch, single-ended RCA and balanced XLR and 'Trigger' socket are all that are featured. The L2 monos are in quarter-sized format making for space-efficient multi-amplifier installations.
The monoblock amplifiers feature MOS-FET devices and a single 'custom-wound' 500VA power toroidal transformer per chassis in an ultra-wide bandwidth Class-AB topology. A capacitor bank of over 100,000 micro-farads is used while efforts have been made to keep the signal paths as simple and short as possible.
The new Vinnie Rossi L2 products are manufactured in the USA and hand-built and tested by Vinnie Rossi himself. The company offers a 10 year warranty. Availability in Australia will be from October 2018.
Australian Distributor: Audio Magic
+61 3 9489 51 22
www.audiomagic.com.au
Price: L2 Preamplifier AU$22,950, L2 Monoblocks AU$22,950 stereo pair