Highly-regarded Australian speaker designer Brad Serhan and his co-operators in sister companies Brigadiers Audio and OneAudio Music Systems have negotiated a distribution contract with MIAN Audio Distribution to represent the products in the UK.
MIAN Audio Distribution, who also represents Leema Acoustics, Solidsteel, Les Davis Audio and many others, will exclusively handle Brigadiers Audio and OneAudio Music Systems (commonly referred to as OneAudio) products in the UK while planning subsequent expansion into wider Europe. The recently launched distribution company, headed by Arcam Audio long-time representative Andy Moore and business partner Michael Neal, has been steadily acquiring some of the industry's most respected audio brands.
Winner of a multitude of awards for his deigns and a recent recipient of a "Lifetime Achievement Award", Brad Serhan heads the engineering team at Brigadiers Audio and OneAudio with the companies offering a small but select premium model choice. The entry point into this particular universe is via One Audio's single offering, the 2-way Mu.2, a high quality small standmount monitor using high quality Revelator drivers from ScanSpeak and finished in multi-coat gloss paints.
Brigadiers Audio's line-up features the BA-2 high-end 2-way precision monitor standmount with constrained layer dampened birch ply "box-within-a-box" enclosures available in timbre veneer, semi-gloss black or matt white. The drivers are of the highest order. The highly acclaimed RAAL ribbon tweeter and 165mm SEAS magnesium mid-bass driver have both been expertly blended via a phase coherent crossover network featuring high quality components. The line is topped by the BA-1, a mid-sized 2.5-way floorstander adding a further SEAS 165mm driver to augment the low frequency extension. All the designs have been fine-tuned over extensive gestation periods by Serhan and a small select team of experienced designers and audiophiles.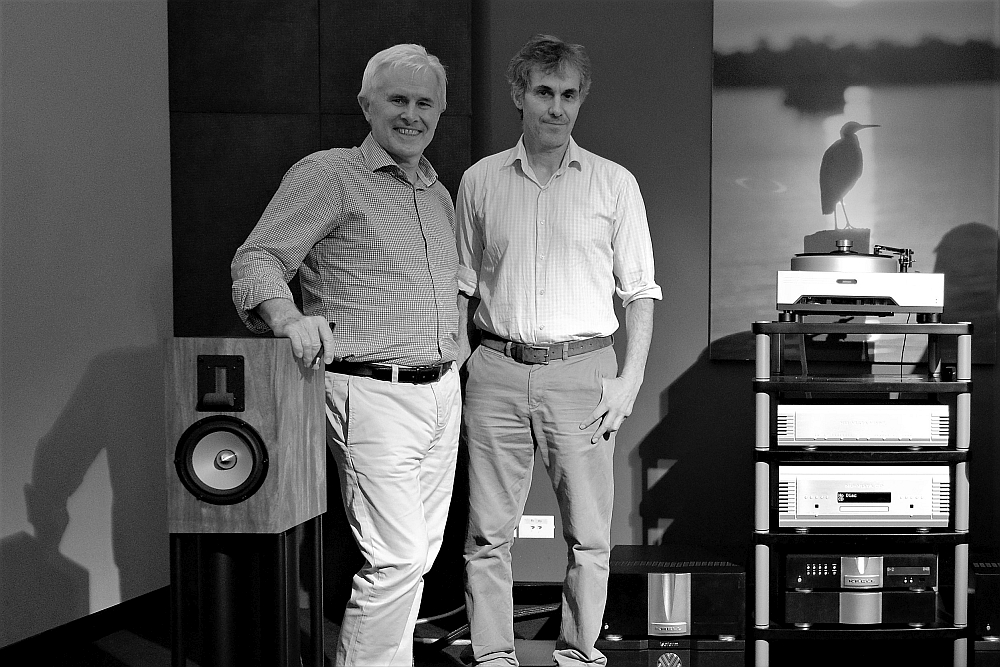 From left: Len Wallis from Len Wallis Audio (NSW dealer for Brigadiers Audio & One Audio) and designer Brad Serhan at a recent in-store event.
Brad Serhan told SoundStage! Australia, "We've engaged in a very critical crossover design process for best driver integration, baffle diffraction compensation, phase coherence and most importantly, the final subjective tuning process. It's all about engaging with the music..."
While MIAN Audio Distribution is the most recently appointed overseas distributor and will handle the UK, Brigadiers Audio and OneAudio products are available in Australia via a growing dealer network.
Australian Distributor: OneAudio
+61 412 222 000
+61 423 161 208
www.brigadiers.audio