Inspired by Jean-Marie Liere's original French SAT design back in the mid 1980s, the SAT Mk.II is now reanimated with new bespoke drivers, a meticulously updated crossover, a reinvented cabinet and a rebirthed location in Sydney Australia.
Liere's original design achieved a high level of acclaim in the 1980s throughout Europe where audiophiles embraced its superb performance while recording studios adopted it because of its inherent accuracy. Liere migrated to Australia a few years ago but speaker design was in his blood so when an opportunity presented itself when Liere met with a friendly – and very good – cabinet maker from an unrelated industry, he decided to relaunch the MAD (Microphase Audio Design) venture. Then, the search began for new 21st century drivers. As Liere explains, "I started by investigating a new tweeter. As good as the original TW10 from Audax was, the research done over 30 years in that department, driven by the need for higher quality sound in cars and television sets in a small package meant that there was now a plethora of tweeters in the same size as the TW10. I experimented with many from VIFA to Morel and many more, but finally settled for a 1" VIFA soft dome, for it silky sound, as well its matching efficiency and extended frequency range, way beyond the traditional 20 kHz."
Once settled on the tweeter the quest commenced for a suitable midrange driver and here, Liere continues, "… when I started to investigate, I found a modern version of our Audax driver, almost identical in design, with all our bespoke enhancements already there, but for the phase plug and the paper membrane... The choice was either carbon fibre or aerogel, then the aerogel version went out of production... In the end, I decided to talk to Audax directly and convinced them to make me two samples with a paper membrane."
That prototype then led to the development of the final version which as Liere explains, "The result was immediately amazing and actually an improvement on the original driver. The integration with the VIFA tweeter was exceptionally good, once the crossover was fine tuned. The power handling is significantly improved as well and the speaker sound much bigger than it is actually."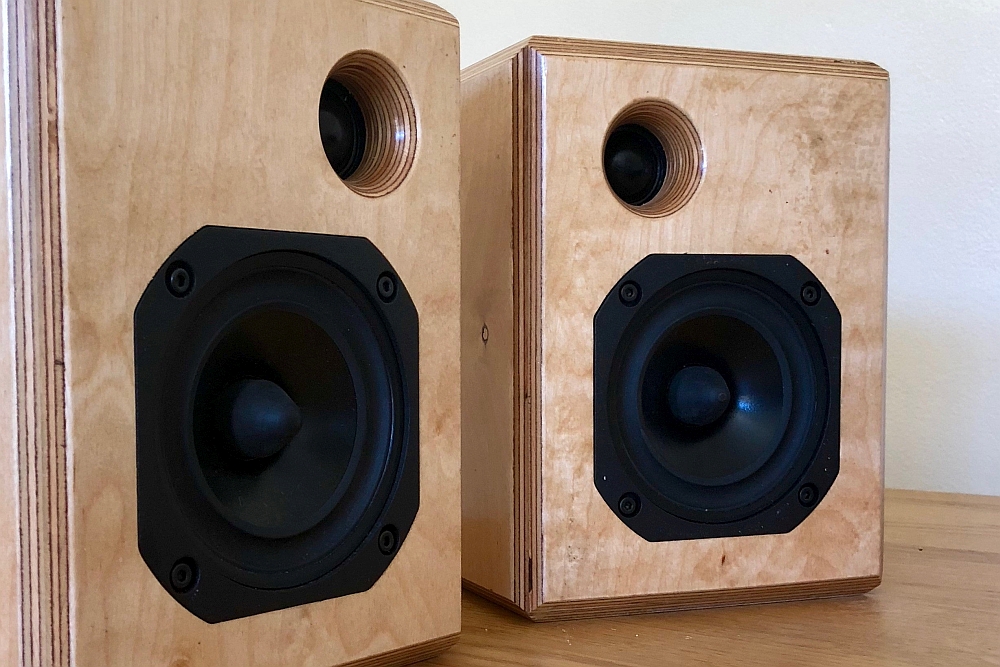 The cabinet is constructed from highly inert marine birch ply and it features a large dome-style active driver from Tymphany (acting like a dedicated woofer, or subwoofer, as the manufacturer refers to it) which covers the majority of the rear panel's real estate. The enclosure is finished in clear polyurethane which leaves exposed the birch ply pattern on the panels' extremities making for an attractive aesthetic. Just below the rear driver are the twin bi-wiring speaker terminals. The 3-way crossover has been fine-tuned with the help of renowned Australian speaker designer Brad Serhan – himself responsible for some of the most highly-acclaimed speakers produced in this country – and with input from Dave Allen ex Brigadiers Audio. Further crossover tweaking was performed by Liere and Serhan which subsequently led to a 'Signature' version of the SAT Mk.II which will be available at an additional cost. The standard SAT Mk.II can be upgraded to the 'Signature' version at a later stage.
The SAT Mk.II's frequency response is quoted as being from 60Hz to 28KHz +/- 5 dB, efficiency as 89dB/1W/1m and impedance is stipulated as being nominally 4 ohms with a maximum of 20 ohms. Phase is +/- 50 degrees from 20Hz to 40KHz while the 3-way crossover is a Linkwitz-Riley type.
Microphase Audio Design states the SAT Mk.II is a limited edition run of 100 and the company is in the process of establishing listening studios in Australia and overseas. At this stage, Microphase Audio Design is offering direct online sales.
Australian Distributor: Microphase Audio Design
+61 40 41 070 42
www.microphaseaudiodesign.com
Price: AU$2500 Standard Version, AU$3500 Signature Version