They had a dream. Dynamic duo Paul and Denise Riachi, founders of RIO Sound & Vision, envisioned a unique audio and visual retail space on a scale unlike anything this country, and likely the world, had ever seen. A grand environment where the Melbourne couple's love of music and film could be showcased in an expression of excellence with unrivalled magnitude. SoundStage! Australia was invited to a VIP preview tour and, later that night, the gala opening where celebrities, media and key industry personnel were treated to a unique achievement in the audio/visual retail sector. (The Riachi's are seen above with Aussie Boxing Champion Michael Zerafa and iconic movie characters).
Movie Night
It's quite the task to begin describing the labyrinth of joys which awaits the lucky – and retail-savvy – punter who walks in the Preston, Melbourne store. The giant metal doors open up to a massive open area with several listening spaces around its parameter.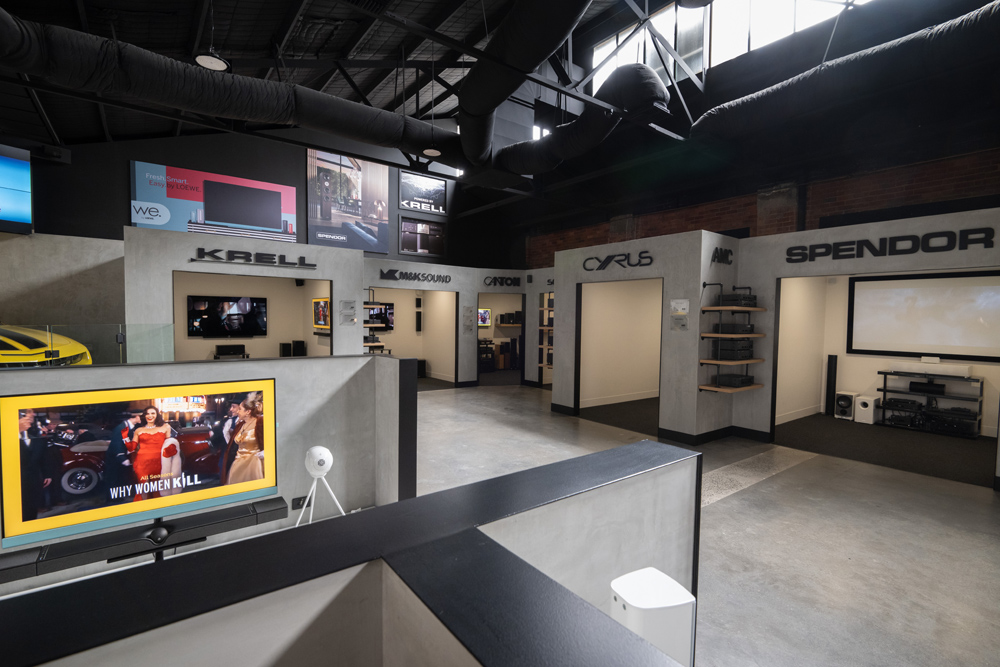 Each studio is dedicated to a brand which is part of the store's core products grouping. Stereo brands such as Canton, Cyrus, Elipson, Krell, Music Hall, Spendor and more are complimented by multi-channel specialists like M&K Sound (with select products which can also serve as high-end stereo speakers), Onkyo, Pioneer, Loewe (with the first brand 'Gallerie' outside Europe) and a whole lot more. So needless to say, RIO Sound & Vision has the capacity to cater to a cornucopia of audio visual enthusiasts.
At the end of the day, RIO Sound & Vision may indeed be a commercial enterprise, however, it's also been a true labour of love for the husband and wife team. The project originated in 2013, a budding idea which was to eventually metamorphosise into what is likely the industry's very best retail experience, period.
The Riachis knew what they wanted. To that end, they acquired a large commercial building in Preston, about 25 minutes from Melbourne's CBD. The design process then started in 2015, with digital renders, 3D imagery, modelling, architectural designs and engineering plans finalised in 2016. The massive task of construction then began towards the end of 2019. Obvious impediments then hit the planet in early 2020. The big 'C'. Post that almost crippling period, things marched along at a pace.
The high street location, on Bell Street, provides a high visual presence and ample parking via ancillary side and rear streets. The plans included outfitting the venue with a huge selection of small auditioning rooms, mid-to-large scale theatres, scatterings of movie-based memorabilia and iconic imagery. (An additional demonstration room dedicated to high-end stereo is underway and receiving comprehensive design attention).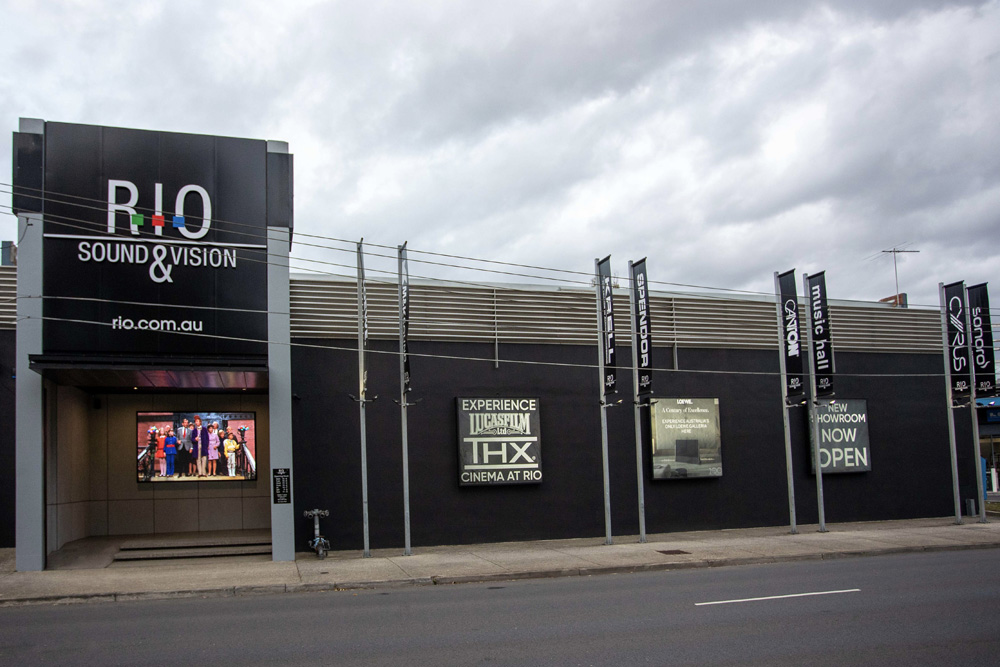 Uniquely, stepping through the entrance of The Munsters' replica house sees several small areas with bespoke purposes. There's a cartoon-themed kids theatre with large projection screen to entertain the little ones while the big ones shop. Genius. Next to that is a medium-sized studio which can be multi-purposed for cinema and stereo demonstrations. A gallery of movie memorabilia and collectables – such as the Han Solo carbonite prison mould and full costumes of Darth Vader, Sith and Batman – are on display behind protective glass. Walking up a narrow corridor lined with framed movie posters, you'll come across the encased-in-glass Golden Idol from Raiders of the Lost Ark. Swerving sharply to the left, as if chased by a giant spherical bolder, you will enter the first room of wonders.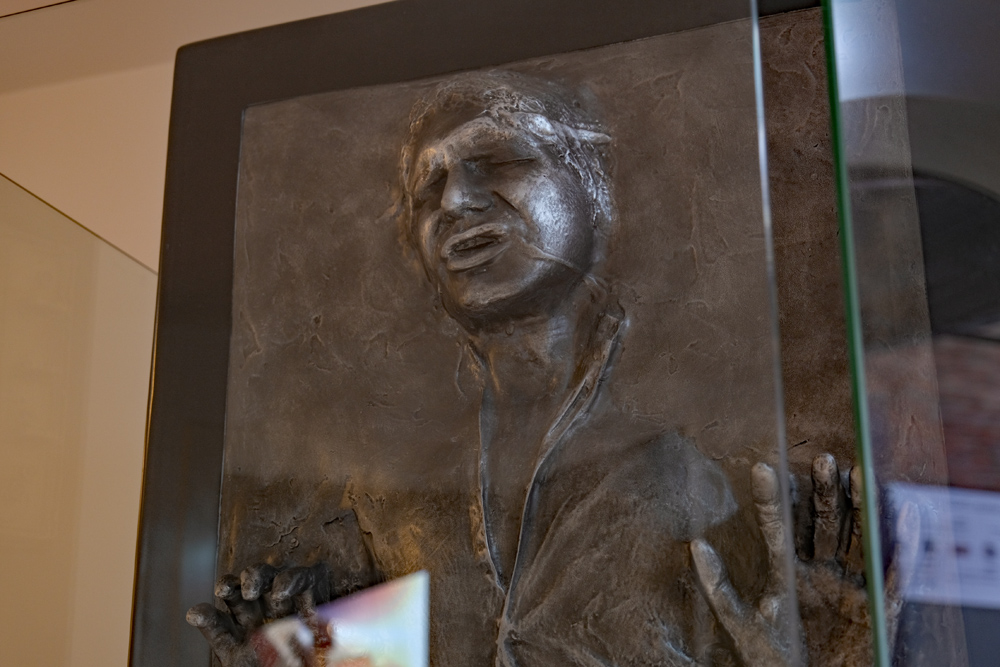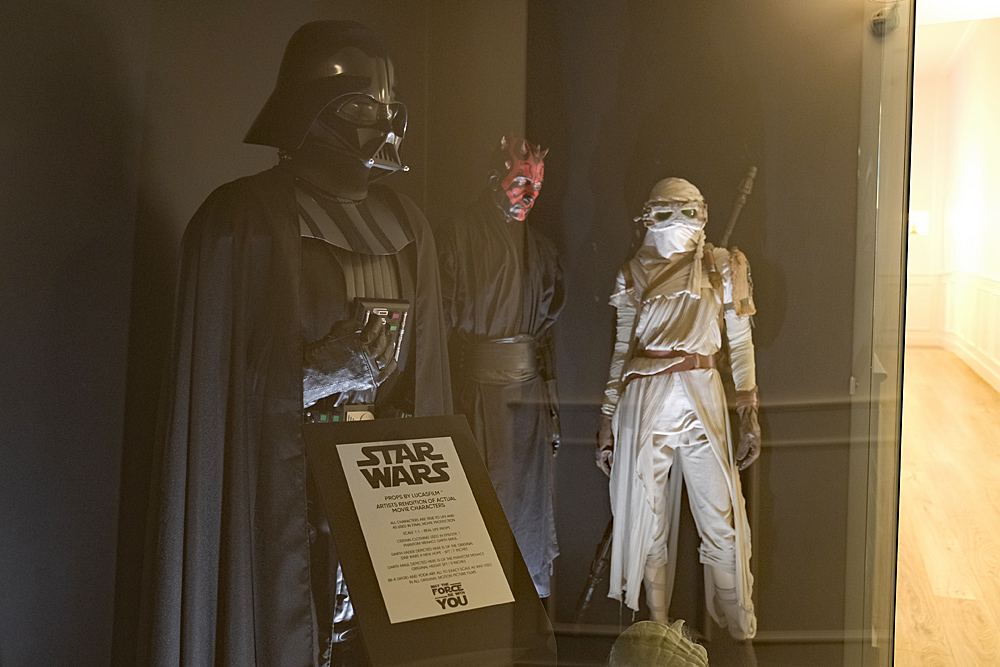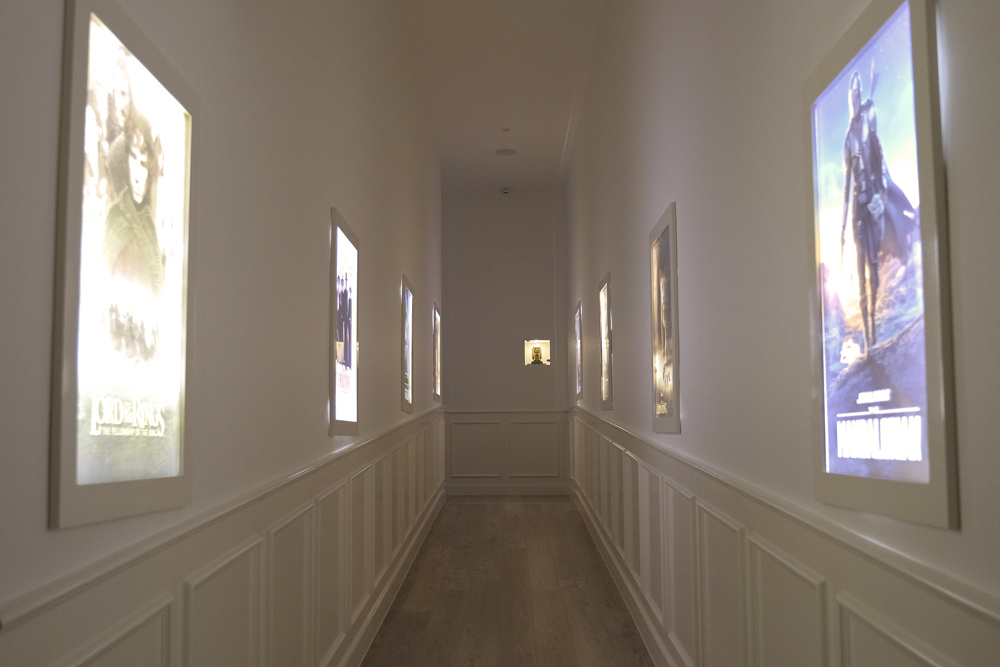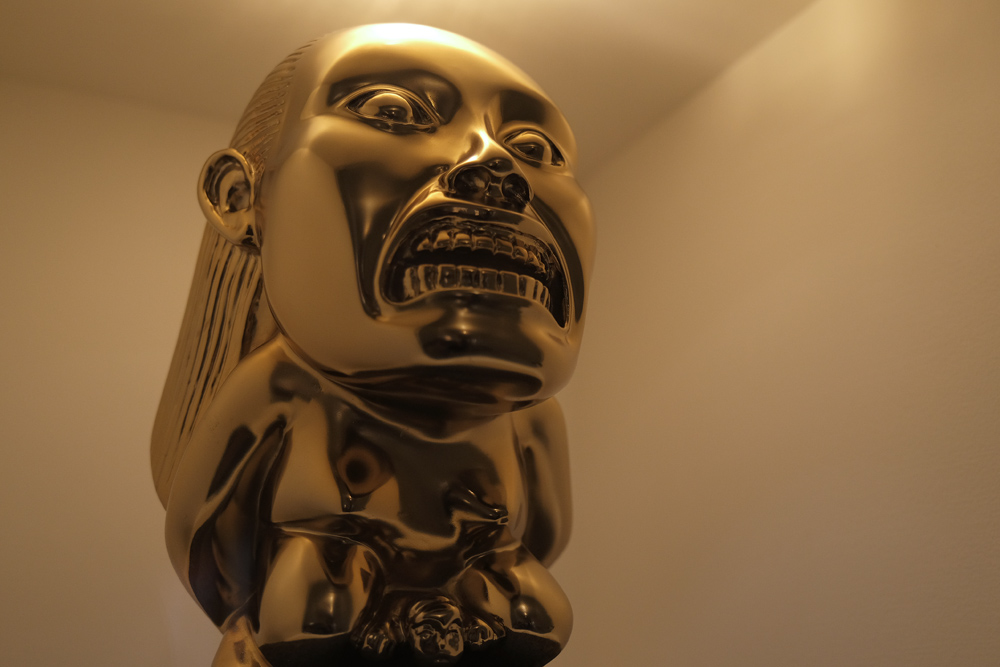 The mid-sized Batman-themed theatre is kitted out with M&K Sound and Krell among other brands. Appropriately, a showing of the spectacular opening scene of The Dark Knight sounded remarkably dynamic and superbly detailed.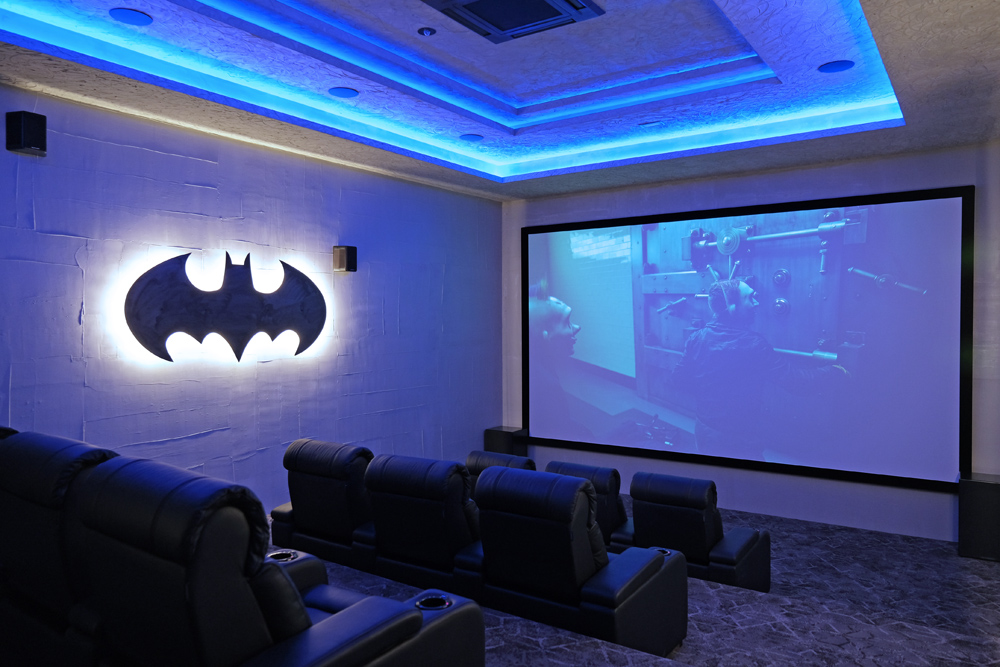 Going through to the end of the corridor lands you at the pièce de résistance. This is RIO Sound & Vision's largest, fully THX certified 50 seat cinema. It's a homage to California's Lucasfilm Ltd.'s Stag Theatre at Skywalker Ranch (a "scale recreation" and Paul Riachi's pet project). The art deco-styled theatre features a staggering number of M&K Sound's products totalling 24 of the company's best S300 loudspeakers and six subwoofers driven by Krell processing and amplification.
The Top Gun: Maverick demo clip was mind-blowingly powerful and super spacious. Every detail, either nuanced or OTT, was easily discerned. This was a truly outstanding cinema experience, one which not only the RIO SV personnel were proud of but one which both THX's VP of Global Technology Steven P. Martz and Per Becher CEO & Owner of M&K Sound wholeheartedly concurred with.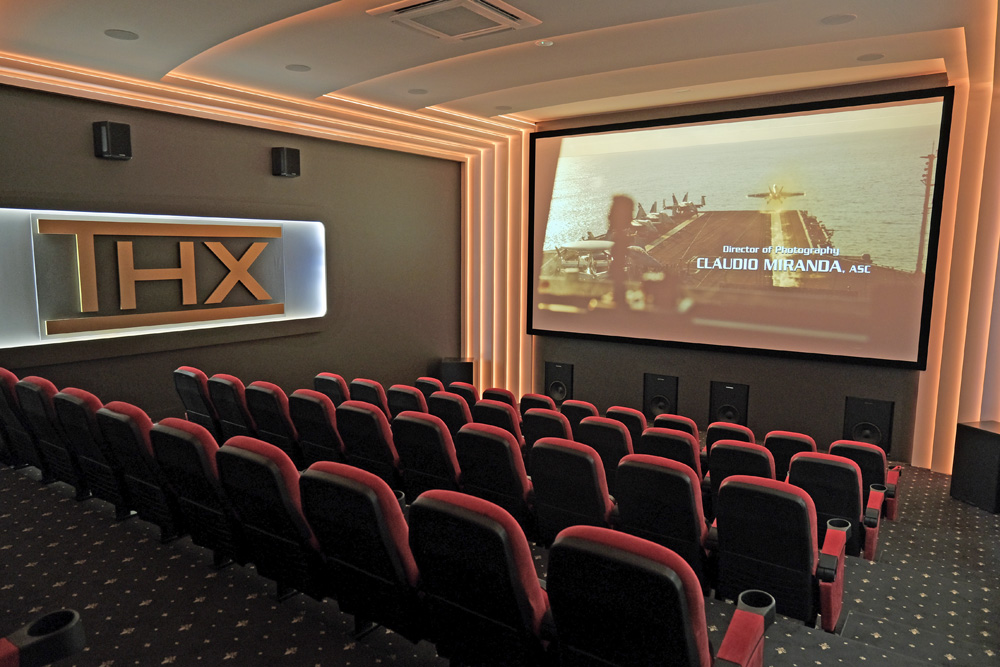 Regarding the entire RIO Sound & Vision experience store, Martz had this to add, "I'm almost speechless. You just come in and you're in awe at every step. From the front door to every room you walk into and every experience in here… In the THX theatre, with the THX certified M&K Sound, one of our THX partners, it was very impressive, an exceptional experience."
Becher added, "We take great pride in having our relationship with THX. As George Lucas said, the sound is about 70% of the movie experience. We have very precise speakers for the home cinema and studios [also suited to high quality stereo systems – Ed]. We are proud to be involved in this exceptional RIO Sound & Vision audio visual experience."
In an ancillary area towards the rear of the complex a roller door opens out to a 'Theatre District' mock-up set. Here, a stone-cobbled avenue is flanked by movie artwork on one side and two further cinemas – the 'Publishing House' and the 'Electric Theatre', the latter complete with old-skool ticket booth. It's here where a flagship Canton Reference 1K audiophile speaker system is implemented into the multi-channel system. A small Grocer 'Green Room' will cater to guests invited to future events. The lane swerves around and opens out to a fully-kitted sports bar featuring a large projection screen and a vintage pinball machine (straight to this writer's heart, that one).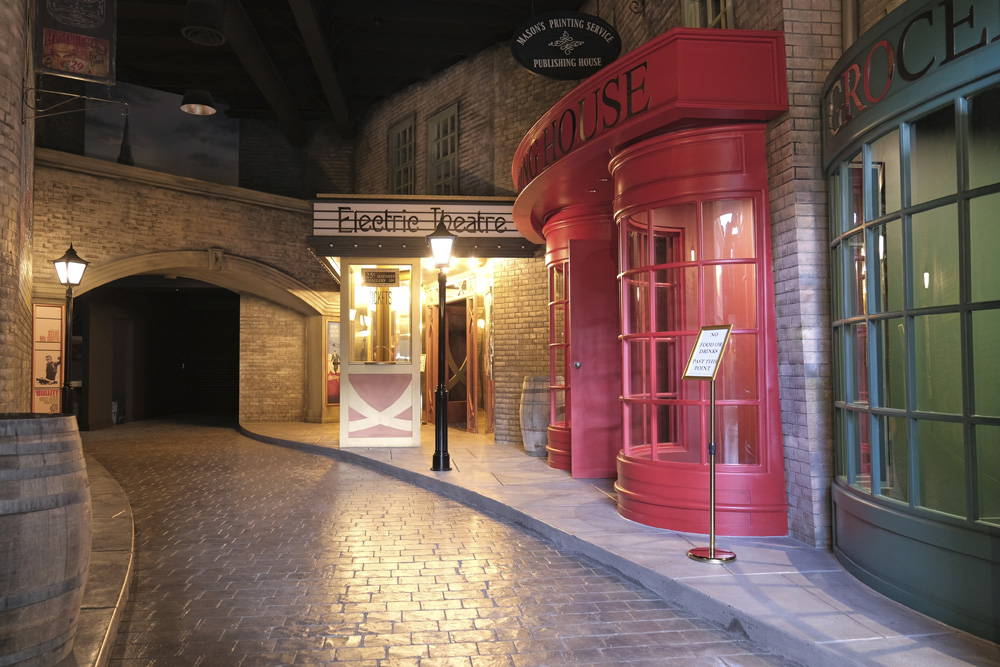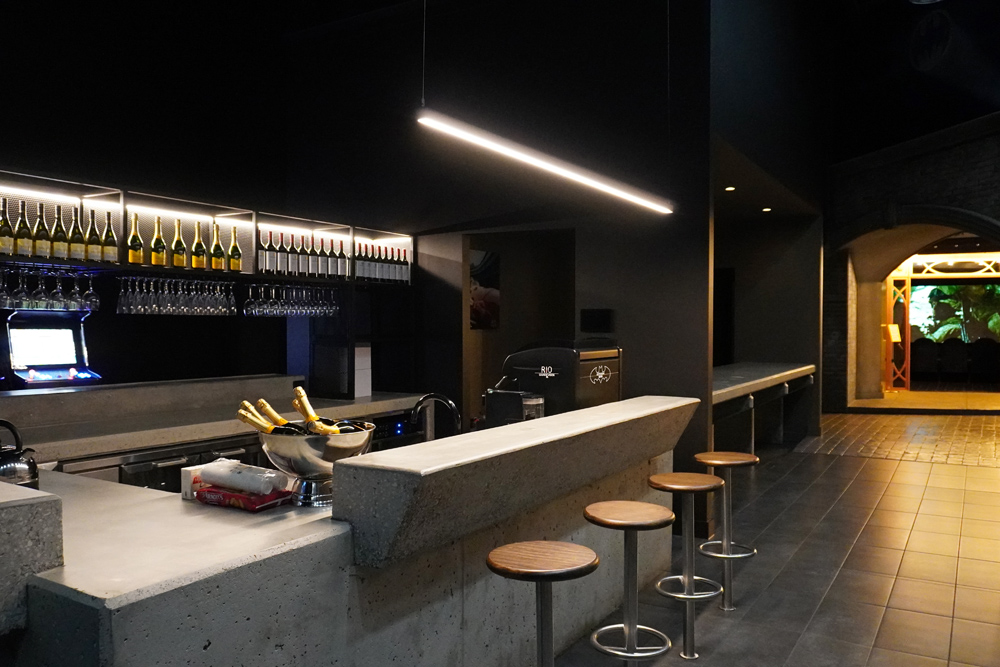 Movie Night – The Sequel
Going back to earlier, simpler days, when his father Mr Riachi senior ran a service station in Melbourne, Riachi junior 'pumped gas' and developed a work ethic of hard labour and an honest day's work. Paul Riachi's love of cars, and subsequent growing curiosity in car audio, led to the origins of a new business venture. As the car audio business flourished, expansion led to home cinema and stereo. Exponential growth over the years saw RIO Sound & Vision's arrival at its current pit stop. In honour of Riachi senior and as a homage to the family's history, a replica service station has been recreated on-site.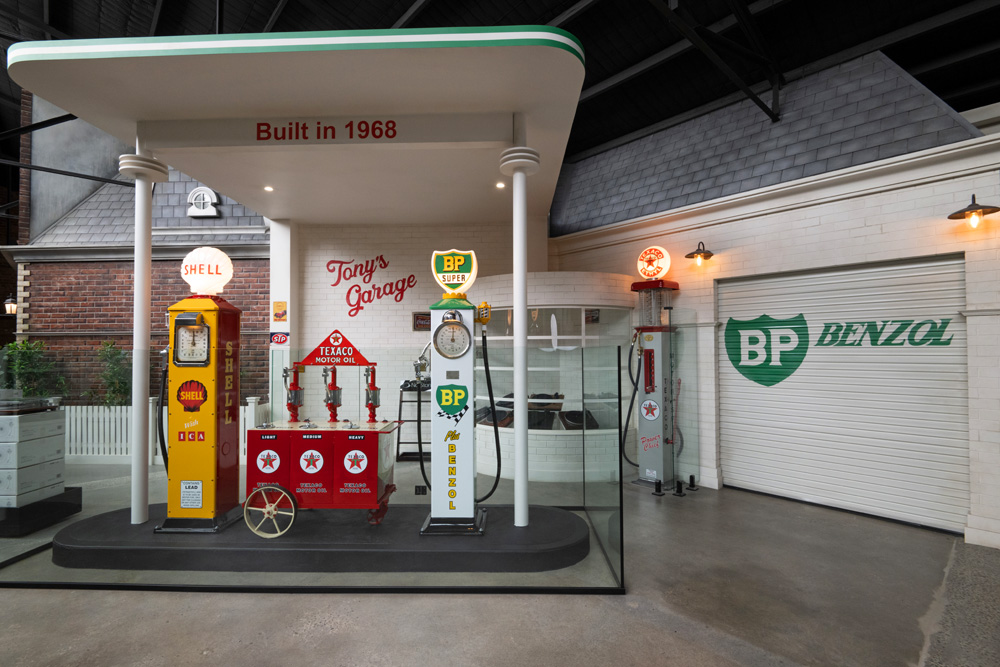 Continuing the movie theme, there are more iconic movie props peppered around the space. I'm dwarfed by Transformers' five metre tall 'Optimus Prime' replica while nearby is a raised platform showcasing an actual yellow Chevrolet Camaro as featured in the movie Bumblebee and a beloved character from the movie franchise. Talking cars, the Gone in 60 Seconds' Mustang Shelby GT500 sits below a screen showing selected clips from the popular movie.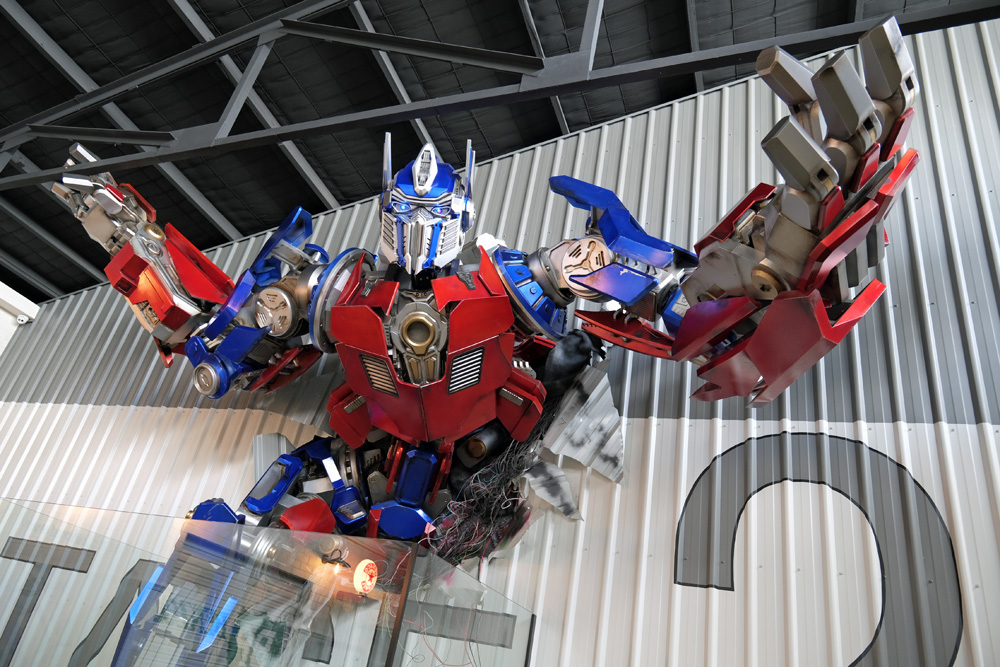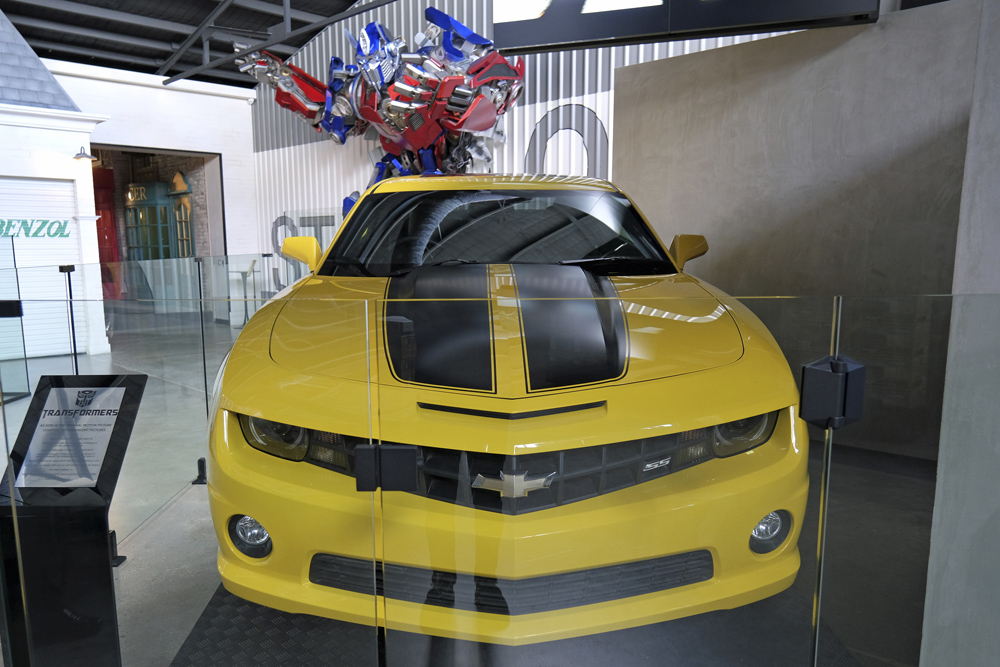 Of course, I had a chance to discuss many aspects of the ideas and machinations which brought about RIO Sound & Vision from conceptualisation, to visualisation and finally to realisation. In light of the excellence of the dedicated THX certified Stag Theatre, I asked CEO Paul Riachi to impart further wisdom. I was curious as to the level of consultation both in terms of architecture and AV system specifications?
Consultation was limited at the beginning, however, as I have personally experienced the room back in 1998 and spent a lot of time in training there, I knew what was needed. However, towards the closing off Steve P. Martz of THX Ltd, who actually designed the room, gave me some good insight in the tweaking of the system.
Of the many challenges I imagine something of this magnitude brings, what has been the toughest?
Money, the cost of construction and the logistics of automation. It's one of the largest projects for Control 4 outside the USA, and we are currently adding. Furthermore, is the attention to the level of construction, the studs being a 6m high custom complete razor-straight single piece of timber. Then we have the Gel Core flooring to separate the noise from room to floor, lead lined walls to reduce noise from one room to another, plus the amount of sound proofing and deadening.
How much cooperation was provided by the brands in terms of support for the project?
Product support is all we ever ask. RIO is not a company about handouts. We are a company which wants to prove its worth and support for each brand. We are about doing business for the greater good for our clients and direct them to the best products offered rather than a kick-back to help push. We prove ourselves time and time again with suppliers by the quantity of stock we buy and hold. Furthermore, unlike most retailers, we only have a few brands, as you cannot support all.
I asked whether there were plans to further expand the representation of stereo brands.
Yes there is, definitely so. We have built the largest 2-channel demonstration facility above the new RIO Sound Complex. This will be open in August 2023. Stay tuned.
How do you see RIO SV evolving even from this highly advanced point?
The next steps is the Hampton store revamp and then our 3rd store. RIO SV will expand, there is no doubt. We are a company that is focussed on best practice and we believe we will benefit all those who support us and the brands we get behind.
Third Act Climax
Of course, such a massive endeavour has to culminate on a celebratory note. To that end, RIO Sound & Vision held a gala night which glittered with overseas industry VIPs, multi-faceted media, local celebrities and influencers.
Around one hundred or so guests, including yours truly, were treated to the full kaleidoscopic range of sonic and visual delights around the RIO Sound & Vision facility. Among the industry VIPs were key personnel from RIO Sound & Vision's main brands. Included in the celebrity guest list was globally famous illusionist Paul Cosentino who blew many guests away with literally incredible acts of telekinesis and more.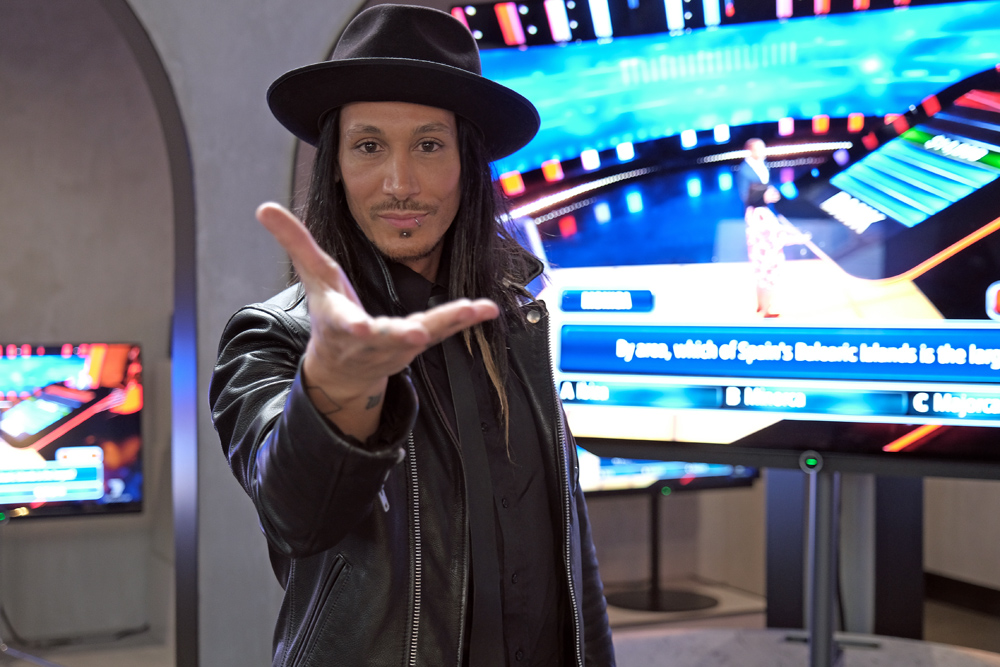 World renowned Australian illusionist Cosentino
Regarding the overall vibe of the entire experience, not just the gala event, the following snippets from brand representatives capture the spirit of excitement which was actually shared by all.
Canton's Sales Director Dirk Klingels: "This is so special, so amazing. I haven't seen anything like this before. I'm a great movie fan. It's like Disneyland for movies. This is outstanding and on a new level."
Cyrus' Managing Director Nicholas Clarke: "I know you can come up with all sorts of superlatives at this point. We've seen a lot of showrooms, dealers and so on. But I can genuinely say that I've never seen anything of this quality; never mind in Australia… in the world. I'm incredibly proud to be here and be a part of it."
As a coincidental side point of importance, Clarke confirmed Cyrus showed at RIO SV, for the first time anywhere in the world, its new SOTA Stream-XR flagship streamer with a bells-and-whistles features suite.
Philippe Carré, General Manager at PHC Holding, which holds under its umbrella Elipson and Eltax loudspeakers among many other brands told me: "This is a definitely a world-class venue. Paul [Riachi] told me about this crazy idea about a huge shop with a true experience. I think that's the most important thing. As an owner of shops too, I'm really impressed with what he's done here. I often say we sell toys for adults. This is definitely a toy shop… or more like a theme park for adults."
Mike Picanza, Head of Sales & Marketing at Spendor: "Having been 30 years in this industry and travelled all over the world seeing lots of facilities, I'm fortunate to have those reference points. I can absolutely say this is the best facility in the world. As I said to Paul, this is beyond expectations… they've raised the reference bar for a retail showroom way beyond anything I've seen anywhere else in the world."
THX's Steven P. Martz, Paul Riachi and M&K Sound's Per Becher
Conclusion
The best and most uplifting words I've left to Paul Riachi. Addressing and welcoming the guests at the Willy Wonka and the Chocolate Factory-themed opening night event, Riachi affirmed, "RIO Sound & Vision is a celebration of our industry. It's a celebration of all the hard work put in by the technicians and installations people, RIO's staff. It's also a celebration of the love of music and movies."
Mr Riachi, I very, very much concur. You have the golden ticket. We're looking at audio retail… next level.
… Edgar Kramer
This email address is being protected from spambots. You need JavaScript enabled to view it.
RIO Sound & Vision
142 Bell Street
Preston VIC 3072
Melbourne, Australia
+61 3 9416 9943
www.rio.com.au