On a wintry night on June the 23rd at one of the premier live music venues in Melbourne, the Melbourne Recital Centre, Devialet in conjunction with its Australian Distributor Interdyn held a gala event to present, for the first time in this country, a lacquer pressing of what was thought to be a lost and forgotten piece of music history – Sarah Vaughan live at the Laren Jazz Festival.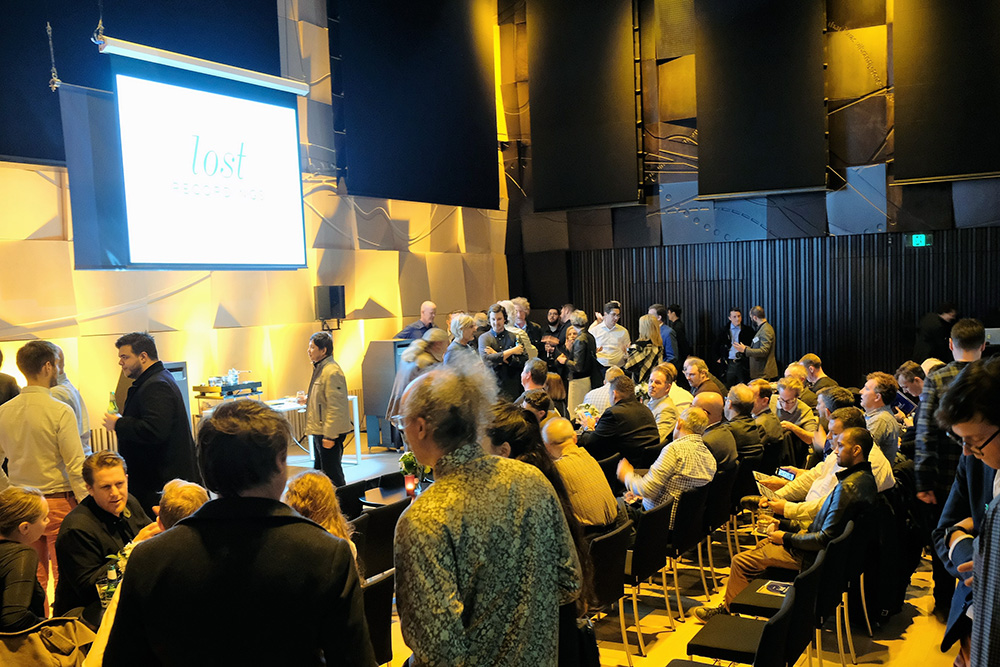 Over 100 music lovers gathered at the Melbourne Recital Centre to hear Sarah Vaughan's lost recording
Devialet's 'sound archaeologists' have dug up a number of previously unreleased live recordings from some of the world's most revered and treasured artists. In the warmth of this most wonderful of venues, around 100 passionate music lovers gathered to listen to Vaughan as if she right there on stage, just as kindred spirits in Paris, New York, London, Hong Kong and Singapore did before them.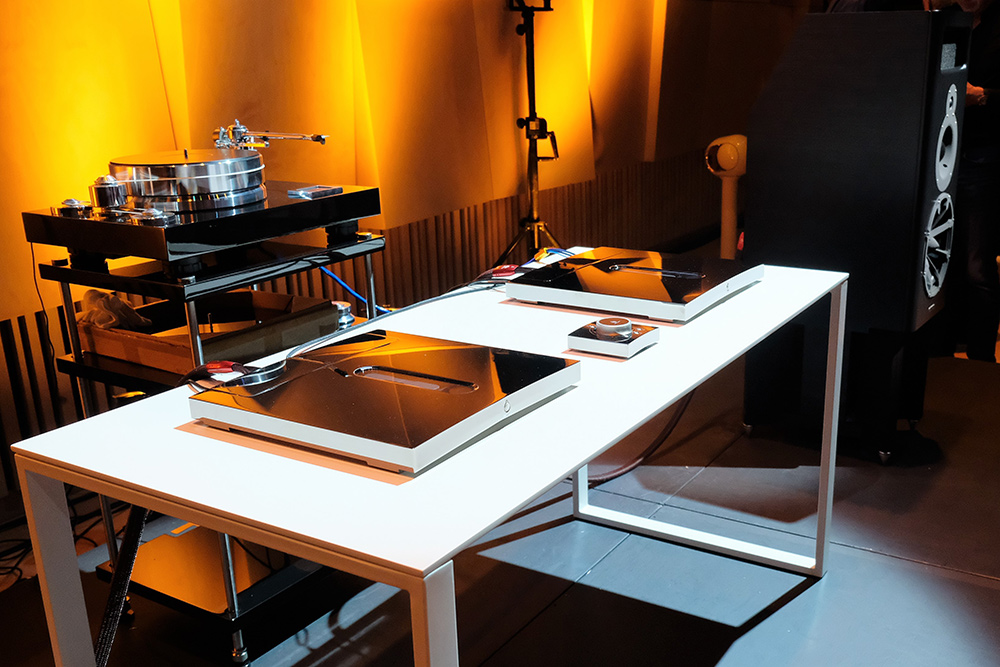 Pro-Ject, Ortofon, Devialet and PMC components made up the demonstration system
This is an unpublished recording which the Devialet team resurrected and has re-mastered using the company's latest proprietary analogue and digital technologies in order to draw the very best sonic qualities. The recording, captured over four decades ago in 1975, was being demonstrated on the night on pristine lacquer (one of only six in existence) which sadly, like all things beautiful, degrades with time after providing boundless joy.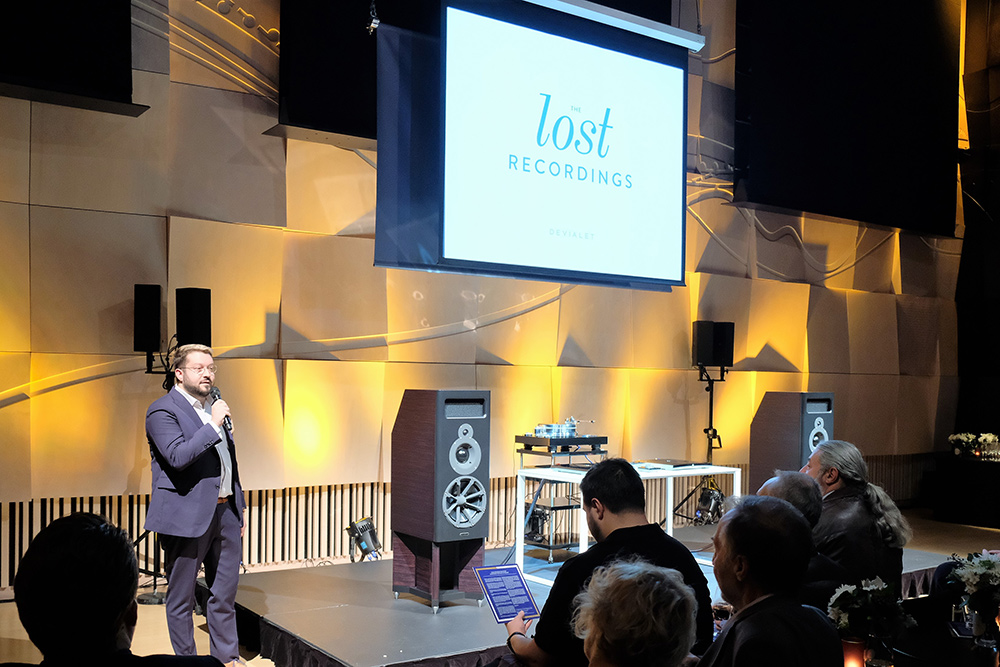 Sam Encel providing insights into the 'sound archaeology' concept
In order to hear the recordings at their best, Interdyn assembled a state-of-the-art system based around the superb products the company represents in the Australian market. In charge of the vinyl playback – which was delicately and very ceremoniously handled by Interdyn's own white-gloved Leigh Fischer – was Pro-Ject's Signature 12 turntable with an Ortofon Xpression cartridge. Devialet's own superb Expert 1000 Pro monoblocks handled the phono, preamplification and amplification duties driving the grandly impressive PMC MB2 SE speakers via AudioQuest Redwood cables. Sonics were involving, smooth and reminiscent of a sound that has itself been sadly lost to the vagaries of compression and the loudness wars. The recording was evidently stunning.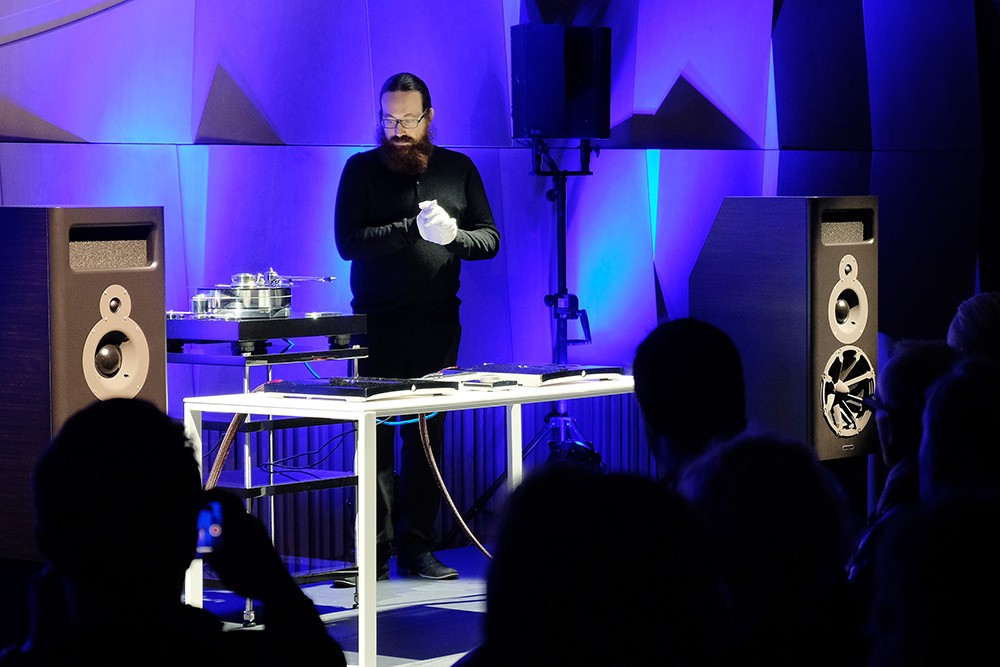 Leigh Fischer rubbing hands as he longingly lusts after the lacquer about-to-be-played
This is what audio is all about, as head of Interdyn Sam Encel wisely stated on the night. This was also reinforced by Kim Ing, Devialet's Marketing Director Asia Pacific. It's about discovery, community and sublime music. Kudos to Encel and the Devialet team for bringing this unique experience to our shores.
SSA