Bourbon-Lancy
Fly to Switzerland in order to get to France. But that was the plan prior to touch down. To make the best time ex-Geneva tout suite to Focal's Franco factory duo in Bourbon-Lancy et Saint Étienne. That way, going Franco-side is an easy 2-hour coach ride from UN-HQ to stop 1 in B-L.
In the medieval spa town of Bourbon-Lancy, Focal's factory exclusively manufactures the cabinets for the large majority of its loudspeaker creations, from the Kanta to Sopra series and on to the flagship Utopia range. Competition in the lower price echelons sees the Chora and Aria series' cabinets only, not the drivers, produced under strict supervision in China. Having said that, fabricating a Focal speaker at any price point is a highly-perfected undertaking. Fittingly too, is the location in Bourbon-Lancy which in its early days was known as a manufacturing centre for agricultural machinery, the technology developed there being of importance to the whole of France. Contemporary parallels, right?
In Bourbon-Lancy, manufacturing speaker cabinets is a multi-stage process showing total commitment to attention to every detail. To an almost industrial-obsessive level. Bit by bit, from raw MDF chip to the glass-like shellac of the finished products on display at audio specialist showrooms around the world. It's a tradition brought about by over a century of furniture-grade craftsmanship derived from local woodworking company GHF which was acquired by Focal in the late 1990s. The subsidiary F.E.B. (Focal Ebenesterie Bourgogne) was then formed as part of the Focal umbrella.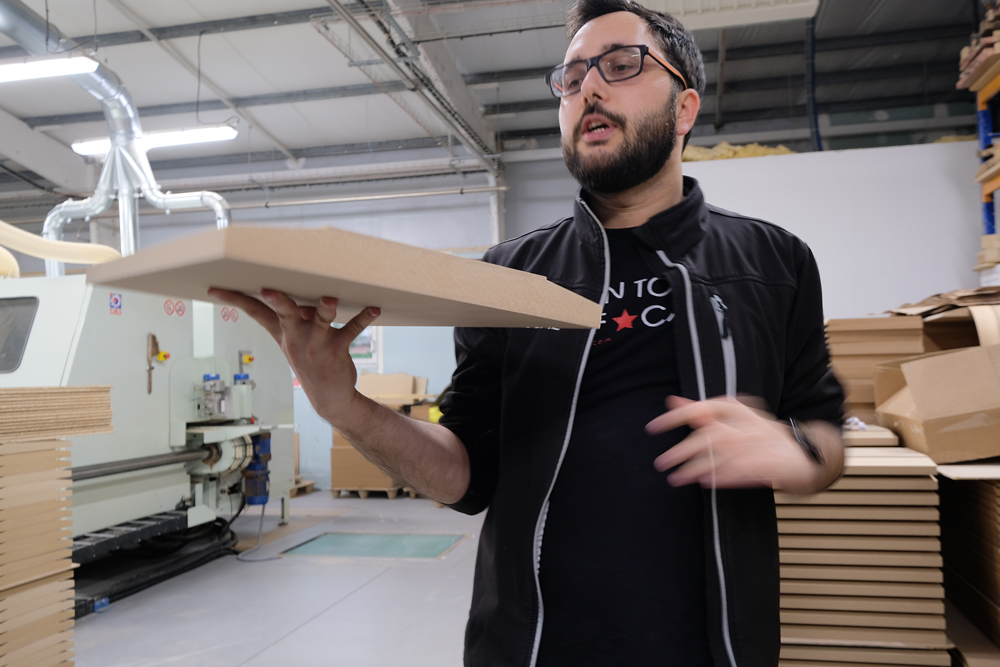 Guillaume Cremier shows a raw MDF panel
In terms of the raw materials, pallets upon pallets of MDF of various grades and gauges are neatly stacked within the receiving area. Guided by Manufacturing Manager Guillaume Cremier, our group's (Australian dealers and select audio press) journey through the facility mirrored the fabrication process itself by starting at raw-goods-received 'first base'.
The materials arrive once every fortnight and are then taken in batches over to the CNC machining area where panels are precision-cut to the required dimensions and shapes depending on the range and model. Two 5-axis CNC machines operate in this area, the newest one only being installed a few weeks prior to our visit. They are used for complex cuts and shaping while a further older 3-axis CNC machine is used for simpler cutting duties.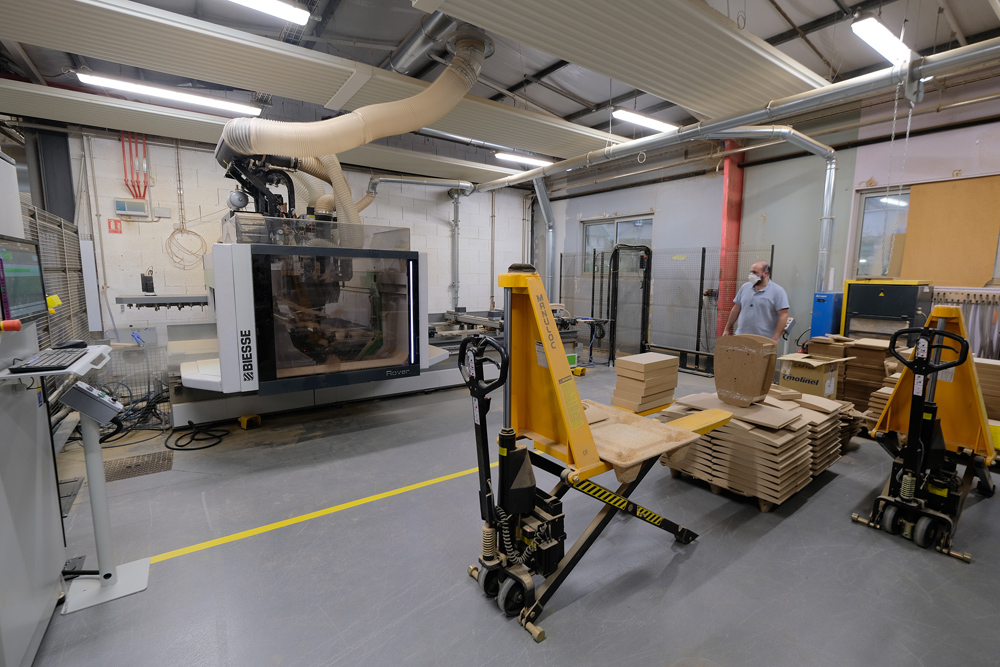 The new 5-axis CNC machine
Further routing, hand-sanding and shaping are carried out by experienced wood specialists who work on smaller panels and parts such as speaker plinths, top panels, bracing, etc. While the tolerances are very high in terms of the machining-to-size requirements, both via the 5-axis CNC machines and the hand-driven milling machines, the MDF panels are still in a relatively rough surface texture which, of course, is unsuitable for painting and veneering. This step is yet to come.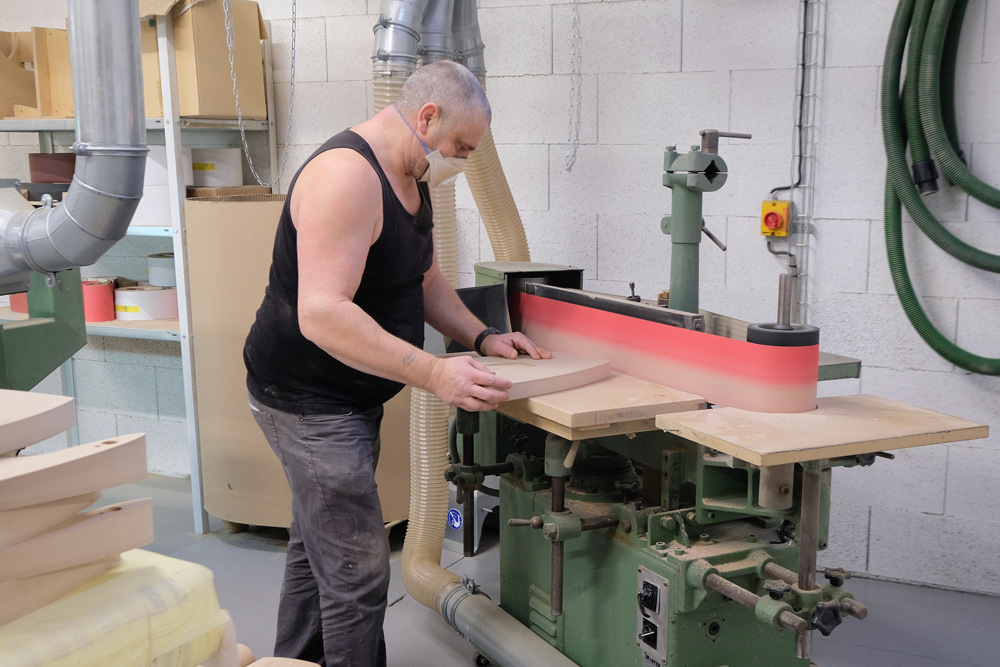 Eric Boujard hand-shaping small panel sections on band sander
Assembly is a process of high grade glues applied manually by craftsmen with machine-like precision. Once glue has been applied, the panels are pressed, taped and clamped together then allowed to rest in order to cure and form adhesion integrity. In this same section of the factory, a flat-bed 'form press' is used to PVC-glue veneers to curved cabinet surfaces. The veneer is simply placed atop the enclosure panel and the press vacuum-sucks the veneer onto it, perfectly applying the finish and seamlessly gluing it simultaneously. Zero air bubbles…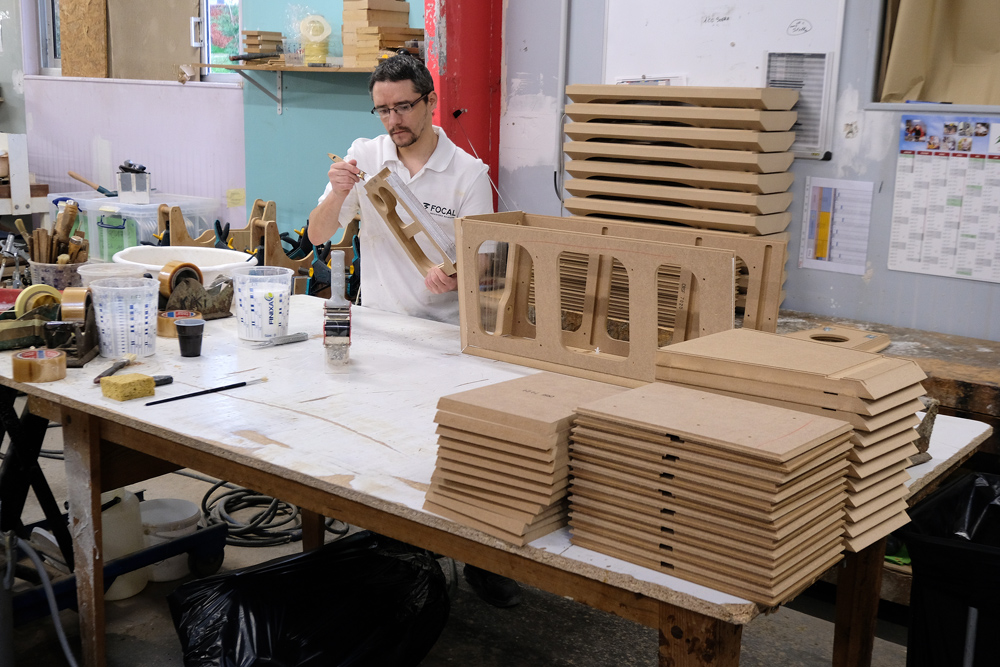 Christophe Jaboin gluing speaker panels
Subsequent to that, there are several further sanding and smoothing procedures aimed at providing the smoothest possible surfaces for the primer and subsequent paint/varnish booths. Again, the smoothing and sanding is manually done by experienced personnel in dedicated stations, with a large sanding/smoothing machine used for some of the bigger speaker panels.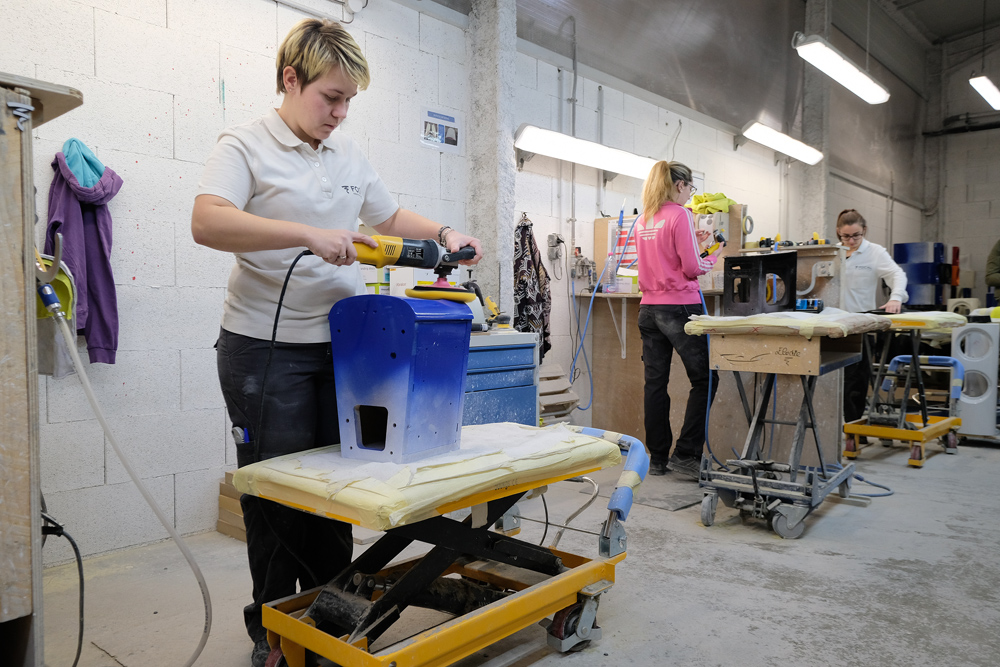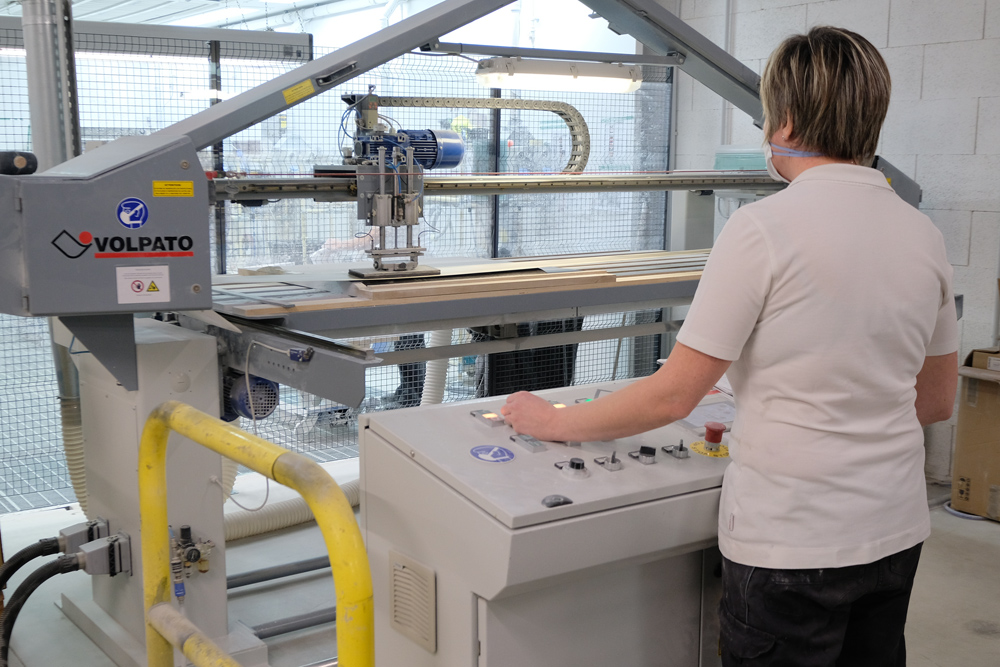 In a recently extended section of the factory, several paint booths operate on a scheduled basis. A large space outside the booths is dedicated to drying and curing after the concluding spray. At the time of our visit, a whole gang of Metallic Blue speaker panels were being tackled by spray painters. Of course, once sanded, the painting process is multi-faceted, with painted panels cured in ovens over several steps of 45 to 50 minutes each (except for varnishing finishes where varnish is rested overnight) before being sent for further multiple sanding and polishing processes.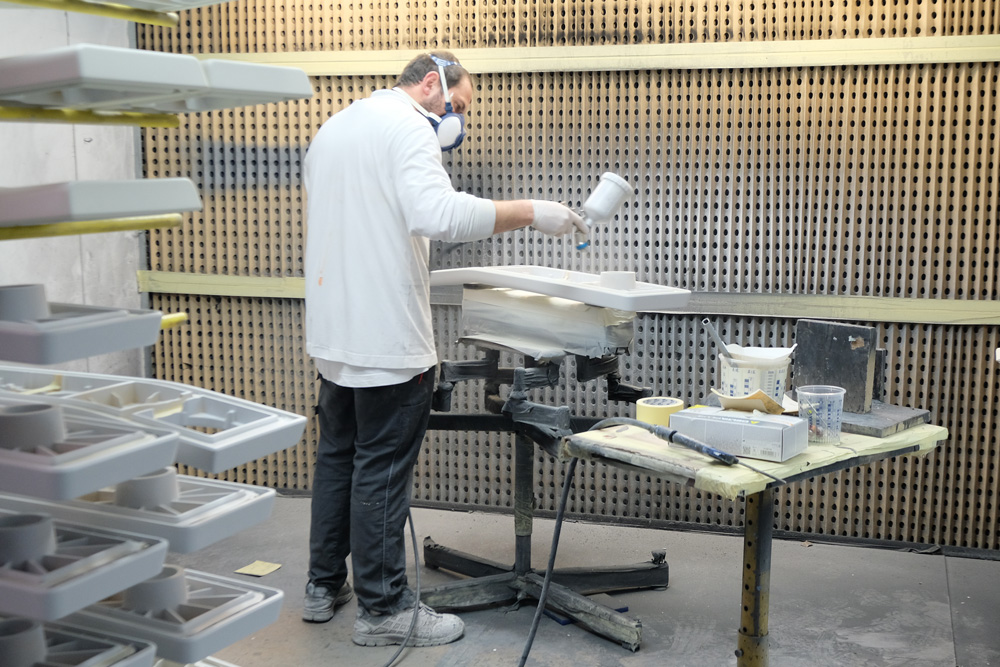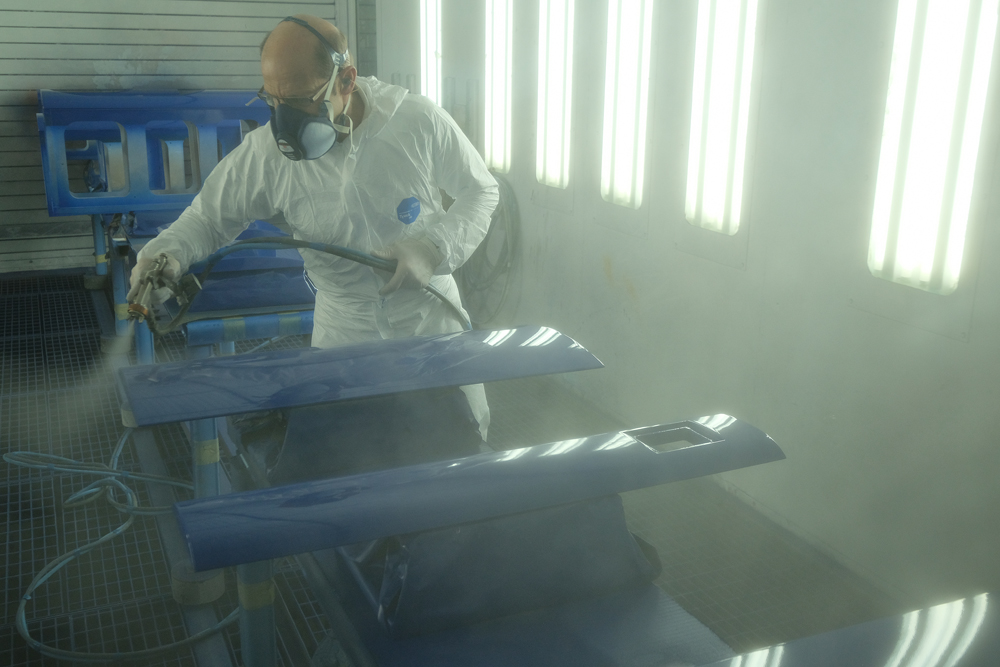 The last step is tied-in with final cabinet assembly and quality control which includes stringent visual checks and general preparation for fitting the bespoke drivers at the Saint Étienne factory and Focal HQ. We were told output from Bourbon-Lancy is up to 30 to 40 speakers per day or four to five pallets per week. Quite the turnover considering the meticulous care, especially in the sanding and painting processes and the time these steps consume. This is a credit to the efficiencies and production systems applied at Bourbon-Lancy in preparation for shipment to Saint Étienne.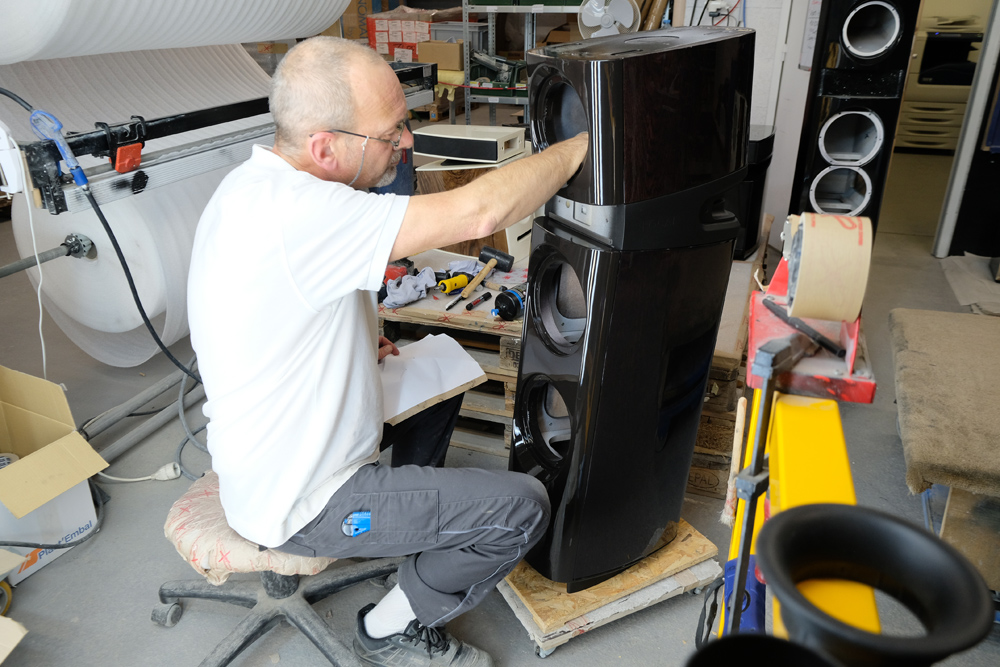 Michel Scholtes prepares Sopra No 2 for shipping to Saint Étienne
It was there, at Saint Étienne, that we learned about the extreme lengths to which Focal goes to produce its highly respected and thoroughly engineered drive units. We'll describe our findings and experiences in this tour's Part 2 coming very soon…
… Edgar Kramer
This email address is being protected from spambots. You need JavaScript enabled to view it.
Australian Distributor: BusiSoft AV
+61 3 9810 2900
www.busisoft.com.au
Focal Loudspeakers
108 Rue de l'Avenir
42350 La Talaudière
France
+33 4 77 43 57 00
www.focal.com
Additional photos