On 13 April 2019, Len Wallis Audio again hosted the holy trinity of Australian audio manufacturers, Döhmann Audio, Les Davis Audio, and Brigadier by Serhan+Swift to celebrate Record Store Day 2019. Record Store Day was originally conceived to celebrate local independent record stores and vinyl culture at a grass roots, community-based level. It has since grown to become an internationally observed, sometimes compulsive Valentine's Day for records that, for some, is in conflict with RSD's founding ethos.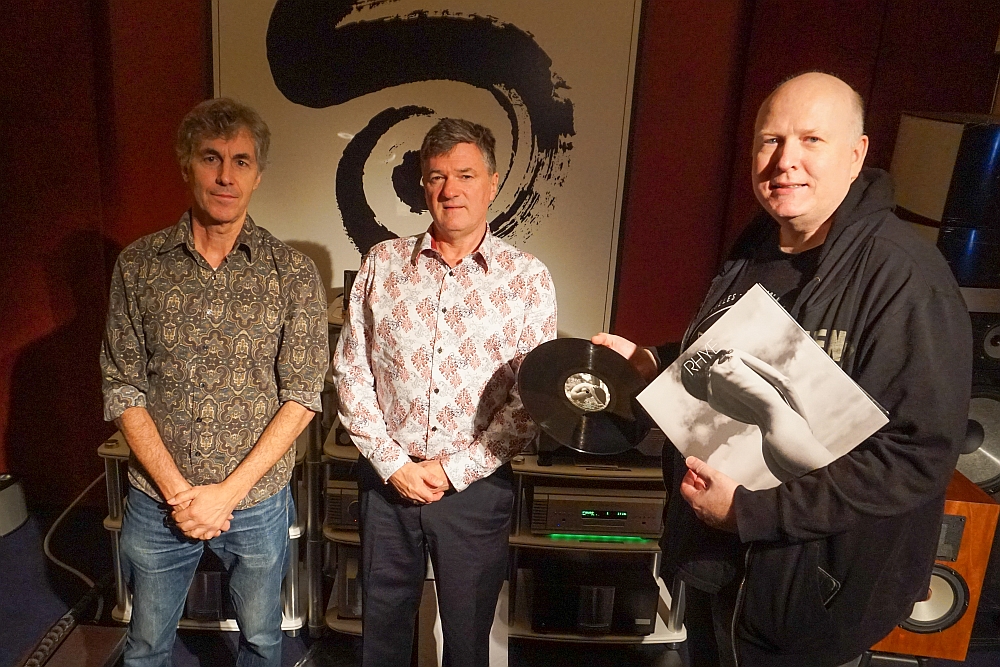 Brad Serhan, Les Davis and Mark Döhmann
A hallmark of this event, however, was the emphasis placed on records and music – any records, and any music – by which the trinity of manufacturers were able to reclaim a sense of RSD's authenticity and grass roots camaraderie over a shared love of vinyl. Even the featured product demonstration by Mark Döhmann of the Kirmuss Audio ultrasonic record cleaning machine provided an opportunity for record lovers from the local community to come into the store, talk about the passion and get their old records cleaned, thereby helping to preserve this most enduring of all playback mediums.
The sole audio source for the event was the irrepressibly musical Döhmann Helix 2 turntable, a technological tour de force with a specially developed Minus K sub-chassis hidden within its elegant but thoughtfully bling-free exterior. Like you need another. This year, mounted on the exquisite Schroeder CB tonearm was the Kiseki Purple Heart cartridge, a current Len Wallis favourite. Mark Döhmann is not just an expert audio designer and engineer, he can always be counted on to hip listeners to new and different music that is as vital and as compelling as his turntable.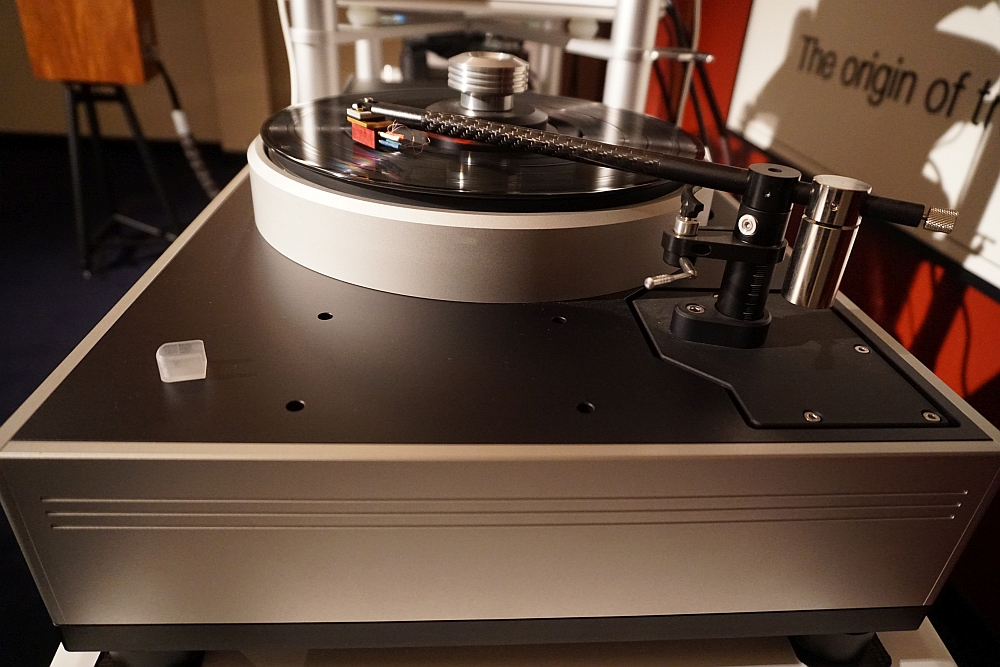 This time around, his musical selections ranged from the Cristian McBride Trio Live at the Village Vanguard to Rhye's Woman to the reformed shoegazers Slowdive, not once having to resort to hackneyed audiophile fare to keep the rotating full house of listeners spellbound all day. "Try doing that with digital", said one attendee. Another commented that until this event, he had never before "heard an entire album side played at a show and it was great". Testament to the prowess of analogue and, in particular, the rather special Helix 2.
Serhan+Swift primarily showcased the sublime Brigadier BA-2 stand mount loudspeakers. As the system warmed up over the day, designer Brad Serhan switched to the smaller Mu.2. Not unsurprisingly, the Mu.2 may not have pressurised the room as readily nor have gone as low in the largest of Len Wallis' sound rooms, usually reserved for the Focal Grand Utopia. But notwithstanding, the Mu.2 just flat out impressed. The sheer level of musical information and emotion these speakers were capable of transducing, no matter how complex the music, was stunning. Likewise, their incredible scale, dynamics and resolving power.
Weighing in at a substantial 10 kg each, the Mu.2 is not your typical two-way bookshelf. These articulate little fellas can play loud without distortion or compression. They share much of the proprietary design innovations of their renowned bigger brothers including a tuned birch ply cabinet with expertly applied constrained layer damping material licensed from Les Davis Audio. Instead of the BA-2's RAAL ribbon tweeter, the Mu.2 uses a ring radiator also sourced from ScanSpeak resulting in a big -hearted and most tuneful loudspeaker with an even and very wide off axis dispersion pattern. Both Brigadier speakers were supported by SS - 6 stands from Solidsteel. These, in turn, were again palpably improved at various places on the stand by judicious use of Les Davis's wondrous viscoelastic material. No wonder this highly synergistic combination is starting to garner rave reviews overseas.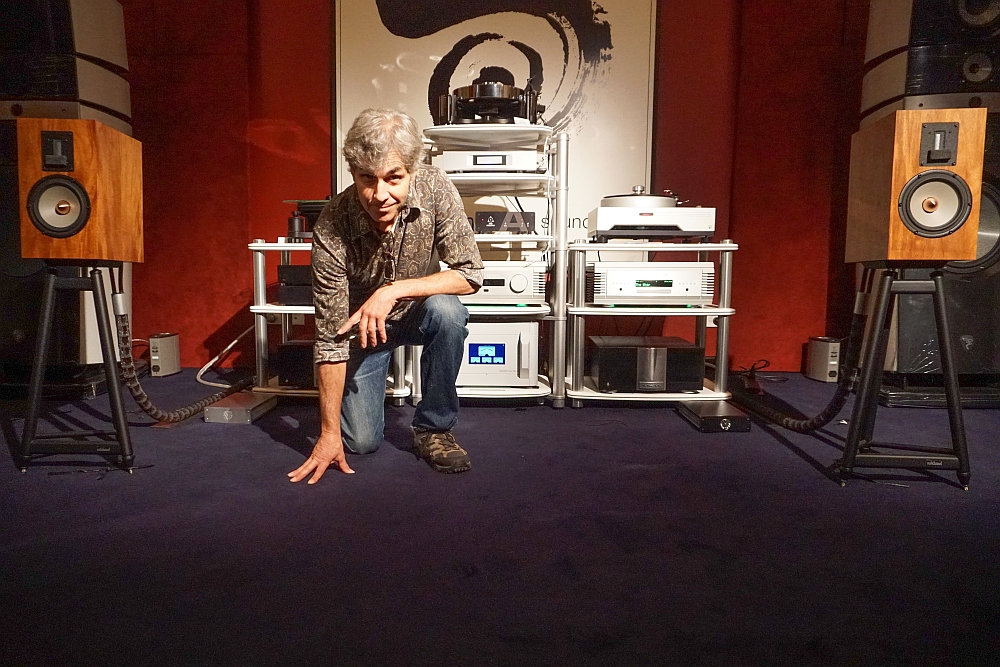 Serhan+Swift's Brad Serhan with BA-2 speakers
Not enough credit is given to the role of Les Davis Audio products in creating this synergy. Indeed, the audio trinity has over the years demonstrated with exceptional results with a varied cast of other components. On this occasion, they were ably supported by a Linn Uphorik phono stage, Musical Fidelity Nu-Vista 800 integrated amplifier, In-akustik cables, SGR racks and a PS Audio P-20 power regenerator for the amplifier – all available from the house of Len and each contributing to the sweet and detailed sound. Les Davis officially launched his power board mat at the event which also works a treat under cables. The Les Davis Audio record mat, discs and now power board mat should not be taken as mere tweaks or accessories but rather as integral components of the system in their own right. However they work, work they certainly do, very obviously contributing to a significant lowering of the noise floor that is already at a very low level in each Döhmann Audio and Serhan+Swift creation.
When setting up the night before, it was astonishing to hear how the sound systematically improved as each component benefitted from coming into physical contact with the material from Les Davis Audio. Perhaps Les Davis Audio works to control vibrations, perhaps it works, as Mark Döhmann opines, to reduce forms of spurious electronic noise. The combined cost of Les Davis' products are less than a standard footer of audio exotica yet almost invariably lead to a crucial improvement in focus, coherence, image depth and body. Additionally, they lead to enhanced timing and rhythmic precision without altering the innate character of the individual component.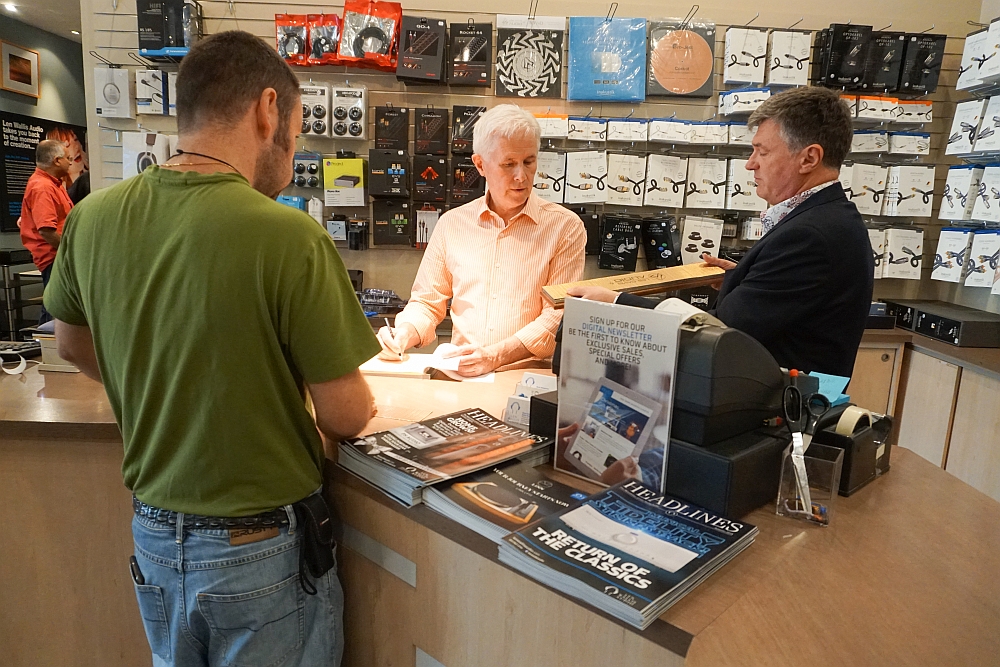 Les Davis (right) shows Len Wallis the new power board mat
Speaking of lowered (surface) noise, Mark did not have to don a white lab coat to convince attendees of the cleaning power of the Kirmuss Audio ultrasonic RCM, a veritable ultrasonic bubble bath/bath bomb for your records. One attendee brought in a 1950s pressing of jazz percussion where the plastic sleeve had become literally bonded to the vinyl. Even Mark thought this would defeat the Kirmuss. The packed gathering was amazed to see how following a number of scrubs and washes the Kirmuss RCM managed to remove the impregnated plastic and for the record to made playable again.
I religiously devour every AnalogPlanet YouTube video so I couldn't resist the temptation to buy a brand new MoFi 45rpm pressing of Miles Davis Sorcerer (hey, it was RSD after all…) and do a before and after listening test with it. Sure enough, the white gunk appeared on the new vinyl that Kirmuss claims is the release of an anti-fungal agent in the PVC.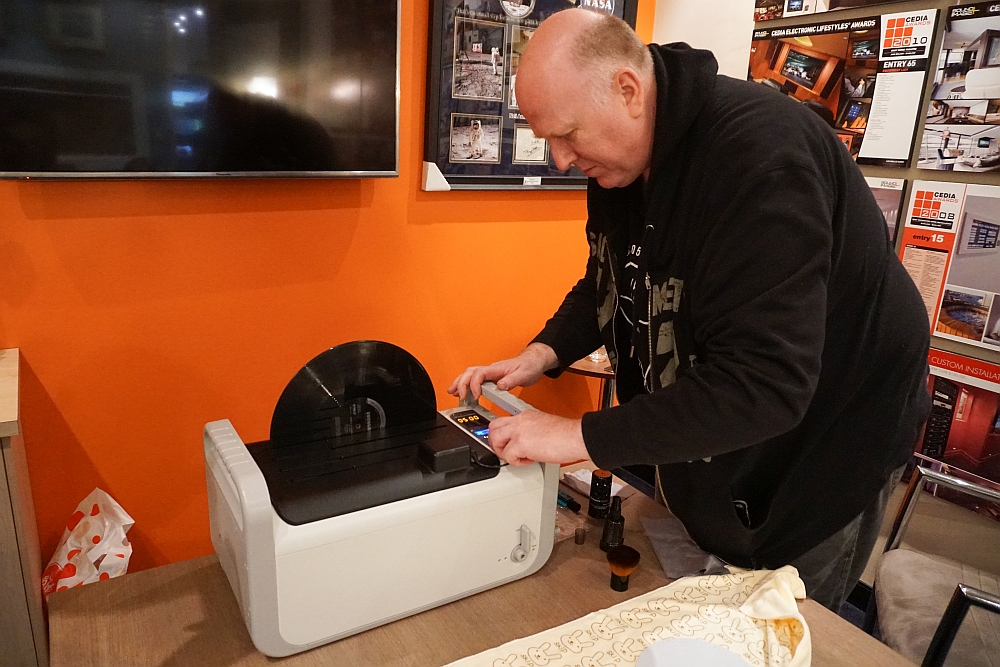 Mark Döhmann demonstrating the Kirmuss Audio RCM record cleaner
Most importantly, the unanimous consensus in the room was that the after-cleaning sound was more relaxed and natural, with a huge difference in inner detail and resolution. There was appreciably less surface noise and even greater staging. It's a dirty job, but if you treasure your record collection, the Kirmuss Audio ultrasonic RCM seems to very much worth the elbow grease.
Record Store Day 2019 at Len Wallis Audio was another great success and, given its focus on music and records, was great fun. Les Davis summed it up best when he said, "It's appropriate that Record Store Day falls near Easter as the vinyl record itself has resurrected itself from a near death experience to remain for many the preeminent storage medium of music. Why and how remains a very debatable issue but it is a unique and glorious way to listen to music. It has the ability to stir the soul."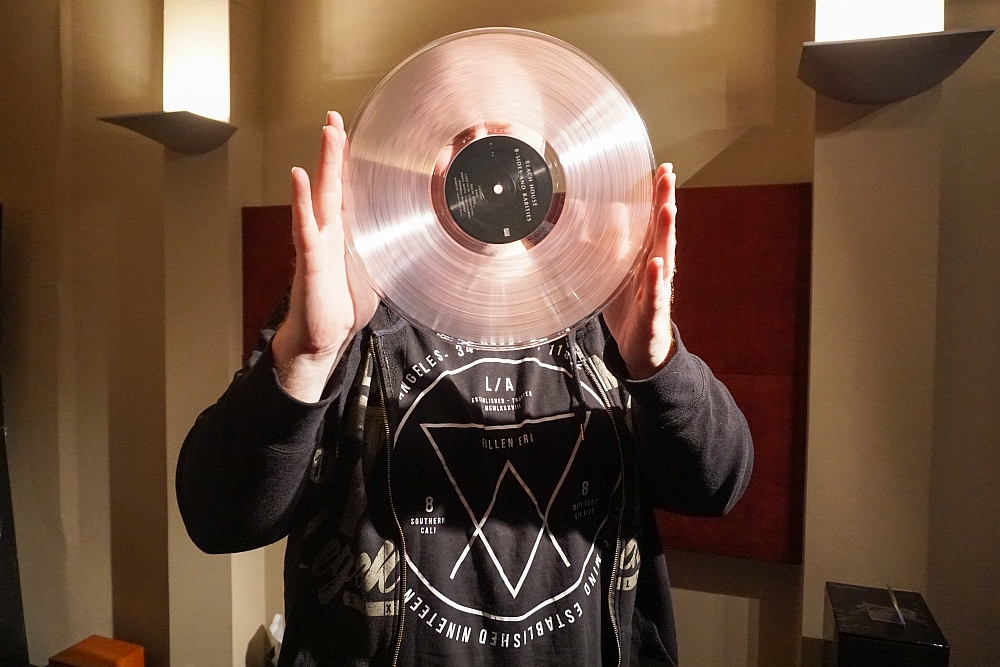 Thanks genuinely Les. Thank you also to Len and Tim Wallis for hosting the event once again this year, and all who attended. See you all next year!
… Peter Katsoolis
Editor's Epilogue: In synchronicity with the world wide phenomenon, Record Store Day was once again hosted in Sydney's leafy Lane Cove by Len Wallis Audio. I was not able to attend this time around. I'm in the process of selling my home and in the early afternoon of Record Store Day (RSD), an 'Open House' was scheduled. Aside from the mandatory tidying-up, lawn mowing, decluttering, etc., a further complication was discovered in the morning three hours prior. In what must have been an afternoon-long session on the previous day while we were out, a sulphur-crested cockatoo, the loveliest of Australian creatures – but one helluva nuisance – had engaged in beak-sharpening maintenance. Methodically, it whittled, almost to the bone, a window pane slat on the outside of the sound room (yes, from that bay window). I mean, whole chunks off! Quick puttying repairs prior to potential buyers' arrival was my maintenance regime of the morning. Including two thick and frantic coats of paint… barely dried by the agent's arrival. Thus, my RSD 2019 visit to the Wallis' establishment was canned… See you in 2020 lads. However, SoundStage! Australia was solidly represented by no less than four writers: Tom Waters, Josh Givorshner, Vedran Simunovic and Peter Katsoolis, who penned the super cool report above. Merci Pete!... Edgar Kramer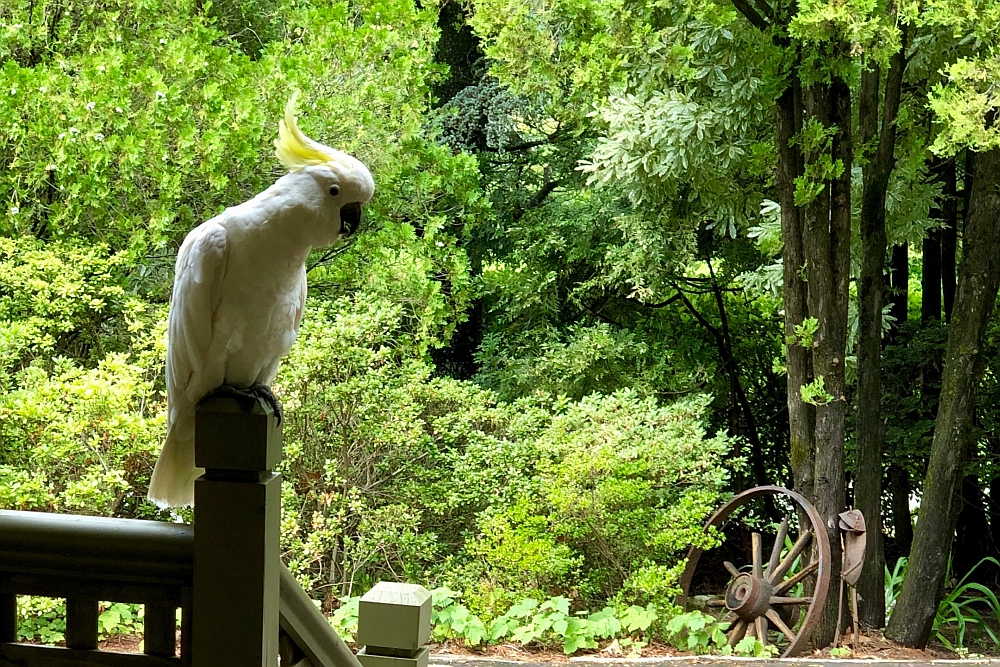 Len Wallis Audio
+61 2 9427 6755
www.lenwallisaudio.com.au
Döhmann Audio
+61 410 344 938
www.dohmannaudio.com
Brigadier by Serhan+Swift
+61 423 161 208
www.serhanswift.com
Les Davis Audio
+61 423 091 188
www.lesdavisaudio.com.au