Proudly carrying onwards with the current McIntosh Laboratory aesthetic design language – a lexicon of pure beauty – McIntosh Laboratory's new MHA200 valve headphone amplifier also promises to deliver the company's renowned sonic performance.
The new MHA200 is a valve design using tried and tested circuit topology featuring twin sets of 12AT7 and 12BH7A dual triode vacuum tubes. The 12AT7 valves are on signal amplifying duty while the 12BH7As provide low distortion power output to the driven headphones. Output transformers are McIntosh Unity Coupled Circuit designs as used in McIntosh Laboratory's current top-shelf power amplifiers including the iconic MC275.
Coupled to the Unity Coupled Circuit transformers (pun intended) are wide headphone compatibility and optimum power-to-load transfer. This is provided by the front panel's impedance rotary knob (a McIntosh Laboratory signature traditional retro design) which allows range operability for impedance options between of 32 and 100 ohms, from 100 to 250 ohms, 250 to 600 ohms and finally 600 to 1000 ohms at 5 mW.
Also on the stainless steel mirror-finished front panel are the headphone connectivity options which offer twin balanced three-pin XLR for independent Left and Right channel output, again on XLR, albeit four-pin, a combined balanced stereo output and finally a standard 6.5mm jack output. The rear panel offers options for connecting line level source components via unbalanced RCA and balanced XLR. Remote on/off control to cycle compatible McIntosh components is provided by mini-jack in/out sockets. The volume rotary knob allows volume level setting for source components which do not feature a variable output. Source components with their own volume control option can be catered for by the MHA200's Unity Gain setting (centre point on the volume control range) therefore allowing source output control.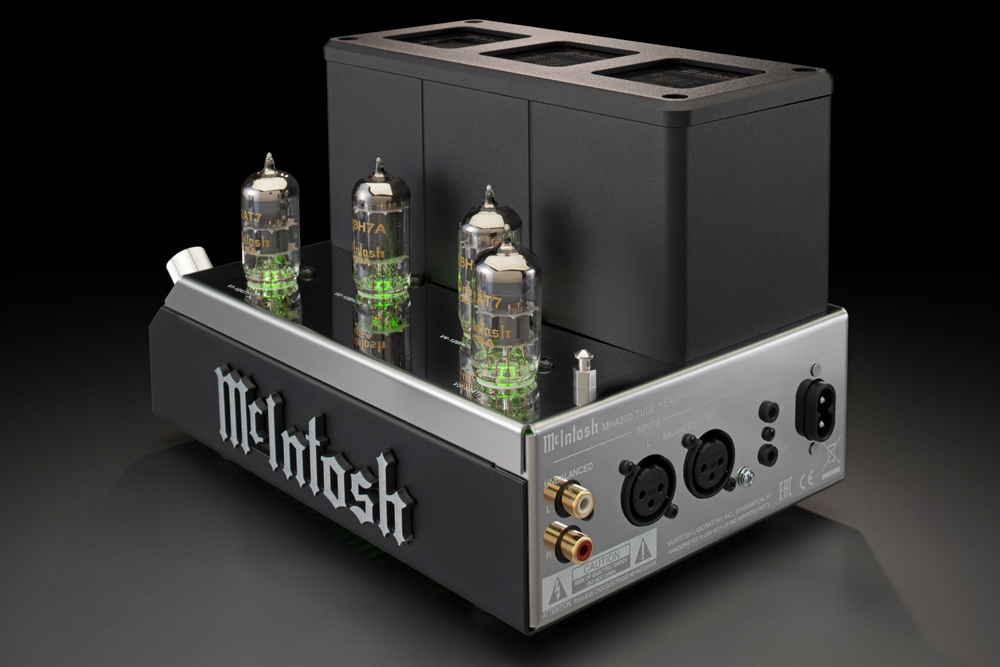 Aesthetic design motifs include a large vintage style cast aluminium McIntosh name badge on the MHA200's side panel, green-lit valve highlights, output and power transformer circuit badges atop the dedicated enclosures and much more.
The new McIntosh Laboratory MHA200 headphone amplifier will likely land in Australia around the early days of Q2 2021 and will be available via importer Synergy Audio's established specialist dealer network around the country.
McIntosh Laboratory MHA200 Headphone Amplifier
Price: AU$4995
Australian Distributor: Synergy Audio
+61 3 9459 7474
www.synergyaudio.com