Australian loudspeaker manufacturer Richter Audio expands its high value loudspeaker offerings with the announcement of the soon-to-be-available Legend Harlequin S6 small footprint floorstander.
Richter Audio is planning full availability of the new Harlequin S6 floorstander by mid-July 2020, with the new loudspeaker completing the Legend S6 series of high-value products. The Harlequin S6 slots in between the Merlin S6 large standmount and the Wizard S6 larger floorstander and range-topper.
Expanding on the Richter Audio Founder's oft-quoted statement "I'm not in the audiophile industry, I'm in the entertainment industry", Proprietor Brian Rodgers told SoundStage! Australia, "… The Series 6 project has focused on delivering a new range of loudspeakers that meet today's customer expectations and equipment choices. This means listening to and responding to the market by designing loudspeakers that raise the bar from a visual and entertainment perspective."
Supporting the statement is the Harlequin's adoption of Richter Audio's new 165mm mid-bass composite paper cone driver coupled to the Legend series 25mm low distortion soft dome 'neo' tweeter in a 2-way rear-ported reflex system. The combination of these proprietary drivers, developed by acoustic engineer Dr Martin Gosnell, has seen user/consumer high praise by offering extended, dynamic and big bass performance, particularly in the over-achieving Merlin standmount. Now, the adoption of the same driver array in a bigger floorstander promises a larger-scale presentation coupled to significant frequency response extension and power.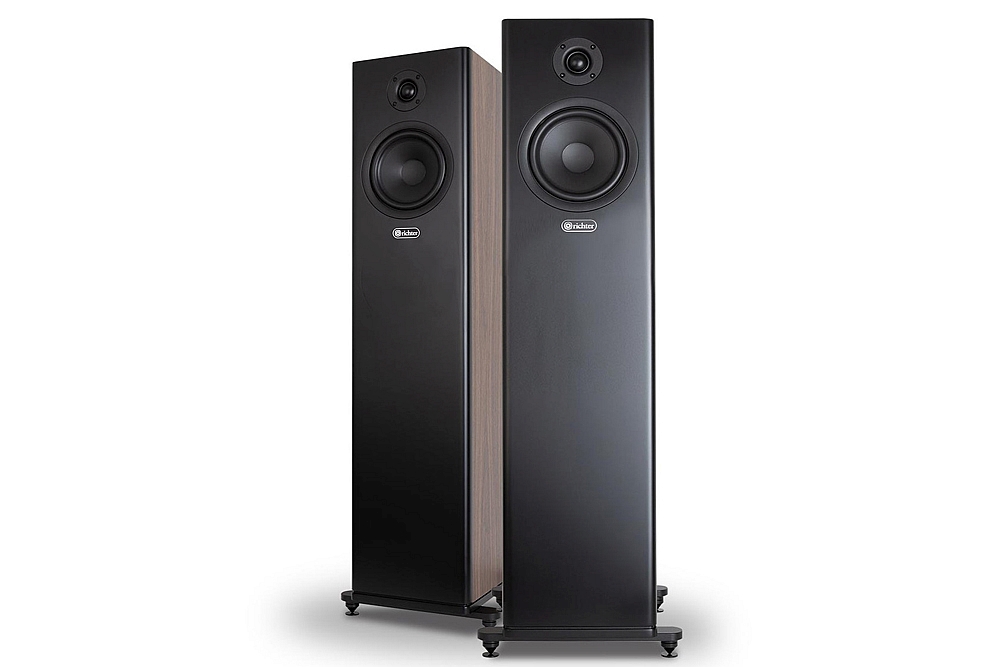 Richter Audio has specified the harlequin S6 as having a frequency response spanning between 31Hz and 30KHz at -6dB while the sensitivity is quoted as 88.5 dB (2.83Vrms/1m on-axis). The impedance is a nominal 6 ohms with a minimum of 4.6 ohms.
The relatively tall Harlequin is now further stabilised via the new S6H bespoke outrigger stabilisers. The new steel stabilisers accept the provided heavy duty spikes and protective puck system.
The new Richter Audio Harlequin loudspeakers will be initially available from mid-July in Matt Black with a further finish in Walnut becoming available a few weeks later.
Richter Audio Harlequin S6
Price: AU$1899
Richter Audio
+61 2 9999 3176
www.richter.com.au