Premier high-end audio retailer Audio Solutions in Sydney's Mascot was the venue for the New South Wales launch of Focal's new speaker, the stunningly beautiful Kanta №2 which is the premiere model in a new range of strategic importance to the high-end speaker manufacturer.
Aside from Audio Solution's proprietors Nick Papas and Tony Stantzos, who are entertaining legends when it comes to functions, the event was staged in conjunction with Focal's Australia and New Zealand distributor NA Distributors. NA Distributors jovial principals Chris Murphy and Debbie Stanton presented the speakers to a sizeable audience made up of loyal Audio Solutions customers and special guests. One of the overseas guests was Focal Export Sales Manager Quentin Morieux who was at hand to formally introduce the speakers.
"We wanted to create the very best speaker we possibly could at the price point," the approachable Morieux told SoundStage! Australia, "and this presented a challenge to our engineers. We had to use high quality low distortion drivers using Flax and our famous beryllium inverted tweeter and package it all in an attractive design that has some visual relation to the range above, the Sopra. We believe we created a speaker that has the traditional Focal sound of clear and detailed treble, very present and immediate midrange and powerful bass."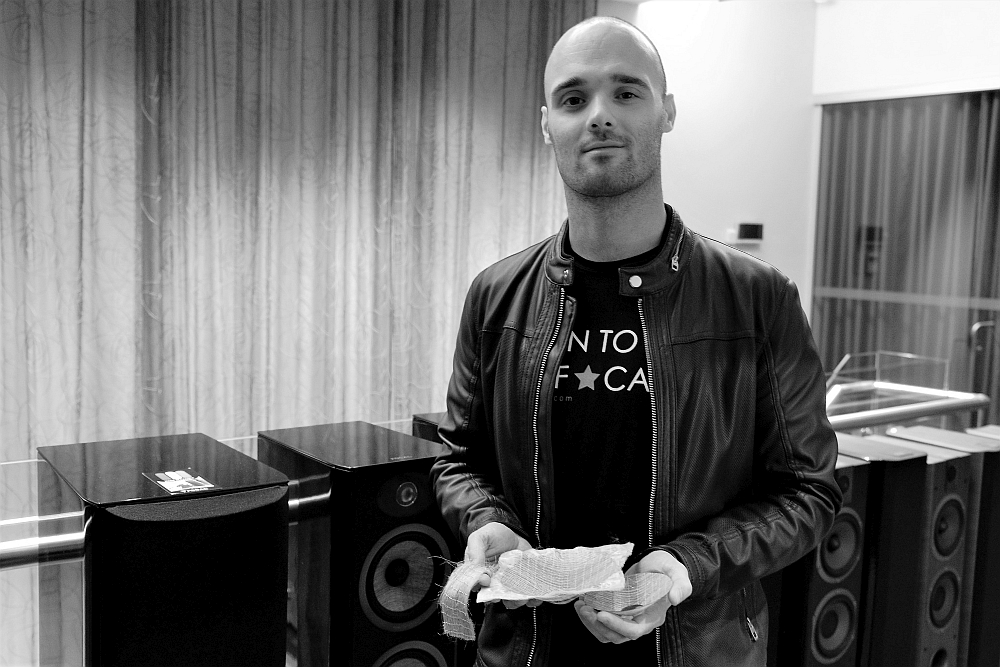 From fibre to diaphragm - Focal's Export Sales Manager Quentin Morieux shows the various stages of a Flax driver
Morieux talked about the technologies involved in the development of the Kanta №2, such as the latest generation IAL3 beryllium tweeter, the 165mm Flax midrange driver with its TMD (Tuned Mass Damping) suspension system and NIC (Neutral Inductance Circuit) technology in the twin 165mm Flax bass drivers. Morieux also explained how Focal wanted to carry through the ultra-low distortion of the Kanta №2's drivers on to the enclosure itself by using a composite polymer material for the baffle and high grade plywood (considered by many to be far superior to MDF) for the nicely curved and tapered cabinet.
Aesthetically, Focal has done a tremendous job in creating a number of very attractive options based around high quality gloss finishes and a modern timbre veneer all of which are available in a number of combinations to suit any listening environment. As a further design accent around the drivers, which are in the natural Flax colour, Focal has included polished metal rings in order to deliver further visual appeal.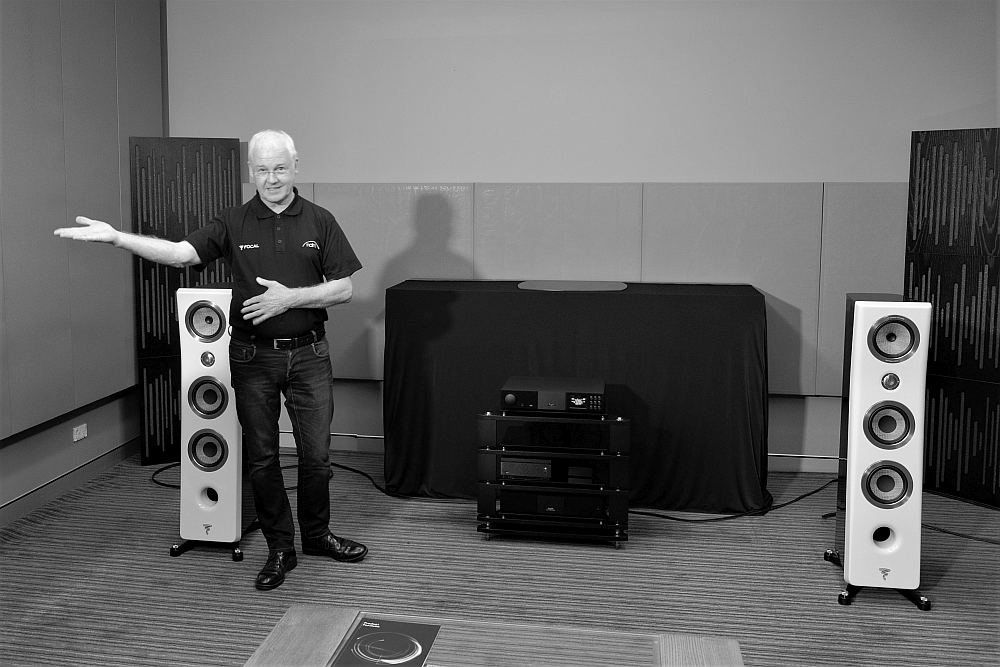 NA Distributors' Chris Murphy shares his balanced view of the Kanta speakers
For the purposes of the music demonstration, Audio Solutions assembled a synergistic system featuring high-level Naim electronics. NA Distributors' Chris Murphy spun – or more accurately, selected the digits from the Naim server via the Naim App – a well-chosen selection of music covering all genres. The Kanta №2 indeed showed the sonic qualities that Morieux ascribed to them. They sounded precise, dynamic and with a superbly textured and tight bass register. Very promising indeed and based on what the SoundStage Australia's team heard on the day, a formal review may sought in the not too distant future.
Audio Solutions stocks some of the world's most highly respected audio brands and while there we saw a huge range of Focal speakers which are obviously available for auditioning. The retailer has comfortable and well-appointed demonstration facilities and, as mentioned above, Papas and Stantzos are the consummate hosts while they have also assembled a great team of experienced sales professionals.
Focal's new Kanta №2 speakers are available via select dealers around the country.
Australian Distributor: NA Distributors
+61 (2) 800 50670
www.nadist.com.au
Audio Solutions
+61 2 9317 3330
www.audiosolutions.net.au
Price: AU$14,250