It may be a relatively new player on Melbourne's audio specialist landscape but HeyNow Hi-Fi sprouted from an inspired kernel to conceptual genesis. Steadily, and in a rather short time, the store has matured into a commanding force offering a veritable kaleidoscopic destination for some of the world's best Hi-Fi.
Personal Best
If you were to seek out HeyNow Hi-Fi in an impromptu first-time visit you'd be hard pressed finding it. In a semi-commercial area at the crossroads of some of Melbourne's main byways, the inconspicuous building does not provide a clue as to what audio treasures await inside. So there's no shop front – that would be superfluous as there's little in the way of foot traffic there and street parking is metered but plentiful. Yet, the unusual St Kilda Road location is strategic. It's surrounded by upper middle-class suburbs where there should be a literal wealth of disposable income. And it's at the junction of some of Melbourne's major arterial roads intersecting only a few meters away. Punt Road, Queens Road and the Nepean Highway. Yes, just about all roads can lead to HeyNow Hi-Fi.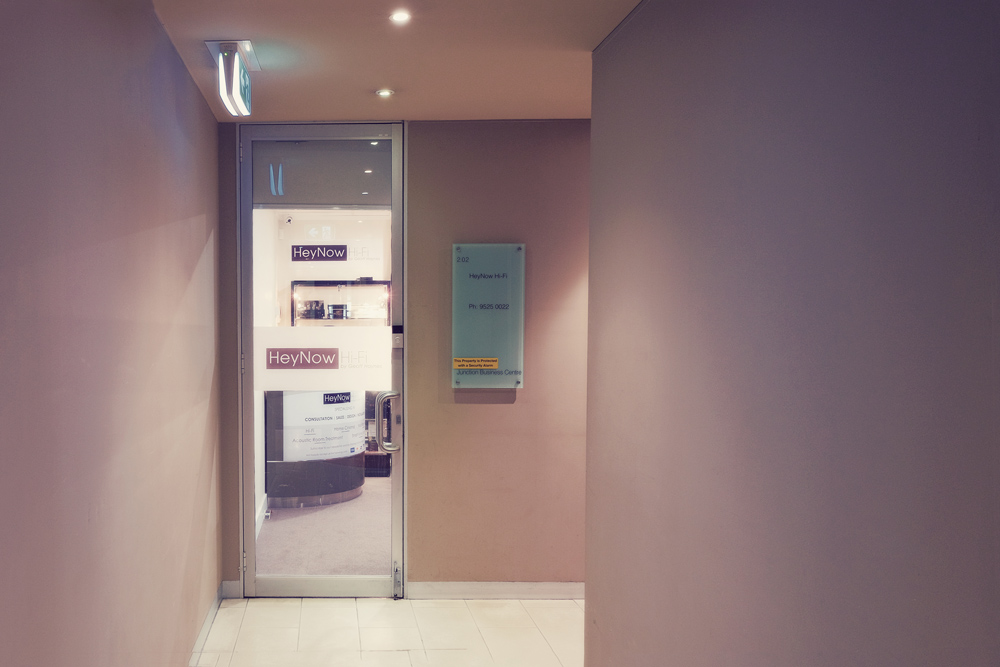 Once in the complex, I snake my way through and down a corridor where I see the HeyNow Hi-Fi entrance doorway. As I approach, I'm reminded of the hidden gems you inadvertently discover in the interminable mazes inside multi-story buildings in Hong Kong. There, you find restaurants, audio, photographic and watch specialist stores, fabric and jewellery traders… anything you can imagine. All hidden from the street level, barring colourful and, to me, undecipherable footpath signage. Oh, how I miss travelling…
With HeyNow Hi-Fi, Founder and proprietor Geoff Haynes' vision was to create, basically, an apartment environment within the store. A real-world representation of an average-sized living space… except here, you can sample a hand-picked selection of superb Hi-Fi. When asked, Haynes confidently states, "I only stock audio I'd own myself, so I've curated a selection based on some of my favourite brands." I could think of no better way to operate.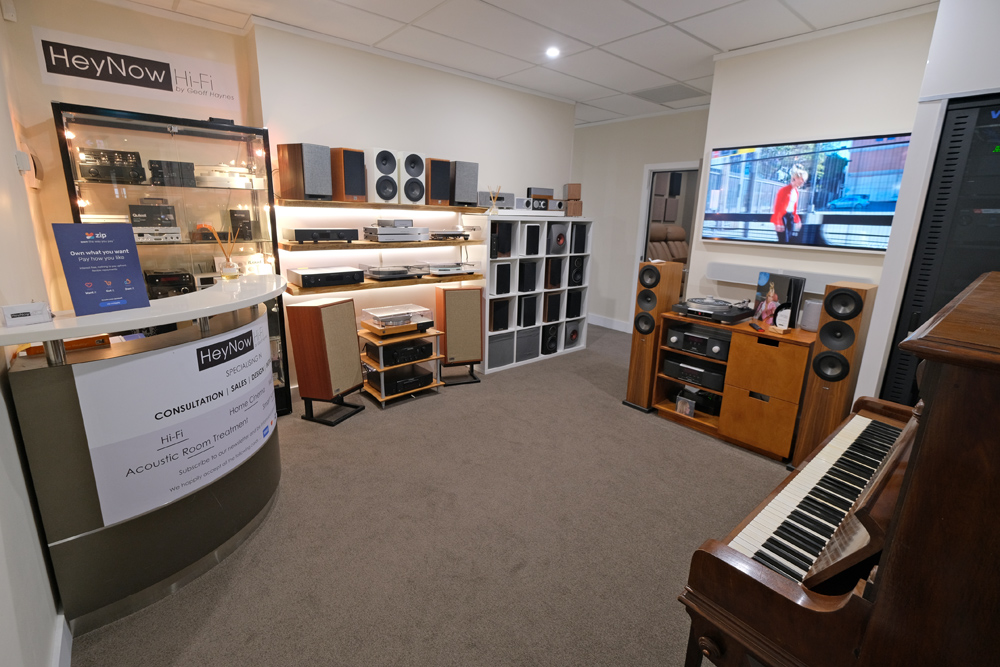 Upon entering the store, I'm greeted by a small reception area peppered with audio components, accessory displays and a central large video screen intelligently looping brand awareness and product information. Taking pride-of-place alongside the doorway is Haynes' recently-acquired and lovingly-maintained vintage upright piano. That's cool. The superb instrument was manufactured by Wertheim, a company founded in 1875 in Frankfurt, Germany which then moved to Australia in the early 1900s. The HeyNow Hi-Fi sample was made in Melbourne, of course, just down the road in Richmond.
Diving deeper in, and just ahead of the main showroom, is a yet-to-be-finalised but well-on-its-way home cinema room. While it's fully functional, Haynes is a stickler for the details and wants to fine-tune several aspects behind the scenes, as it were. In-situ, at the time of my visit, is a superb Epson 9400 projector displaying onto a Severtson acoustically-transparent screen. An evolving multi-channel system comprising electronics from Marantz, Denon and/or Yamaha can be "hot-swapped" to drive the Ascendo loudspeaker system. Electronics and ancillary systems are managed via Control4, programmed in-house. While normally fully operational (even with additional components for the purpose of visual and sonic enhancement on imminent arrival), I'm unable to get a sound demonstration as the system was being further upgraded. However, the image quality from the Epson projector is certainly impressive. It all bears well for a top-tier cinema experience once Haynes finalises the specifications.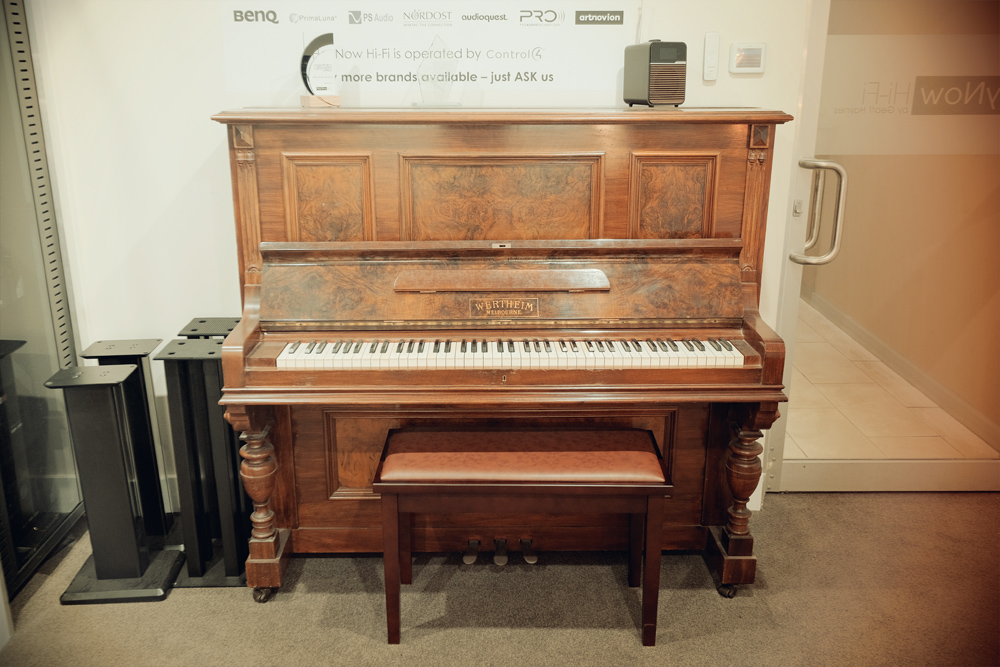 Past the cinema room is the showroom proper. This is a reasonably large space, much like the size of an open-plan living area in a contemporary apartment, where several system configurations, which can be promptly configured for audition, are spread around the perimeter. This includes a headphone wall rack at one end of the room.
In the same space is a rather schmick fully-operational kitchen like you'd find in many modern homes. Hung strategically both for the purpose of attractive presentation, and by default, as a way of providing stealth acoustic control are several large Aboriginal artworks, an indigenous cultural beauty also much appreciated by this writer.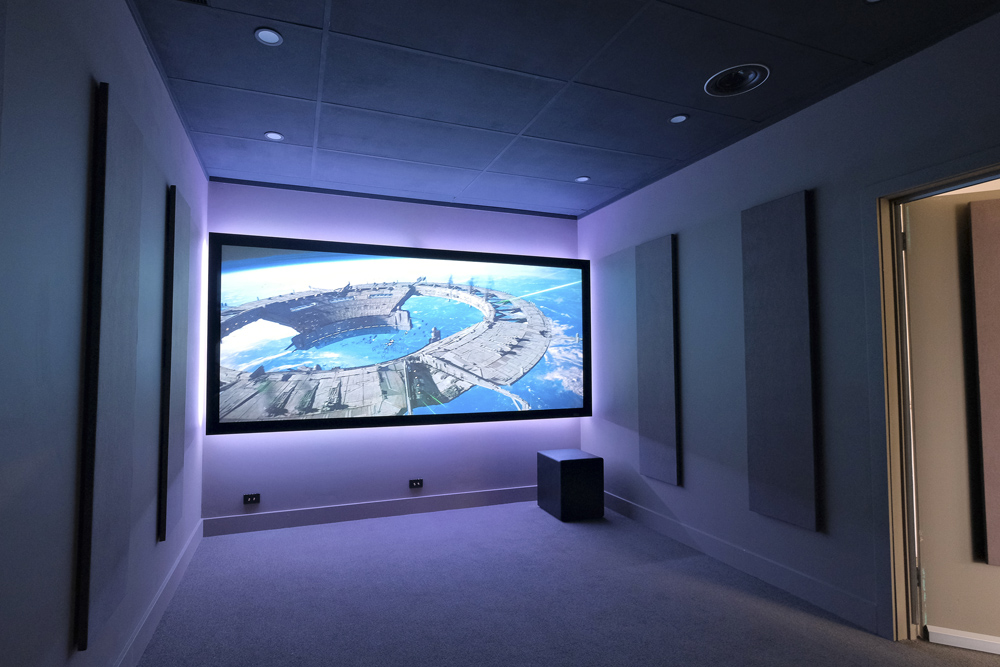 Of course, coffee is de rigueur when auditioning audio and is an appreciated stimulus for music enjoyment. Haynes is quite the barista too. So the main showroom is a comfortable, inviting space and a truthful facsimile of your average listening environment, whether your system is housed in a dedicated room or is part of the family's living space.
I sit down with Geoff Haynes over a smooth, full-bodied double shot to nut-out some of the philosophies he actualised from his original vision for HeyNow Hi-Fi.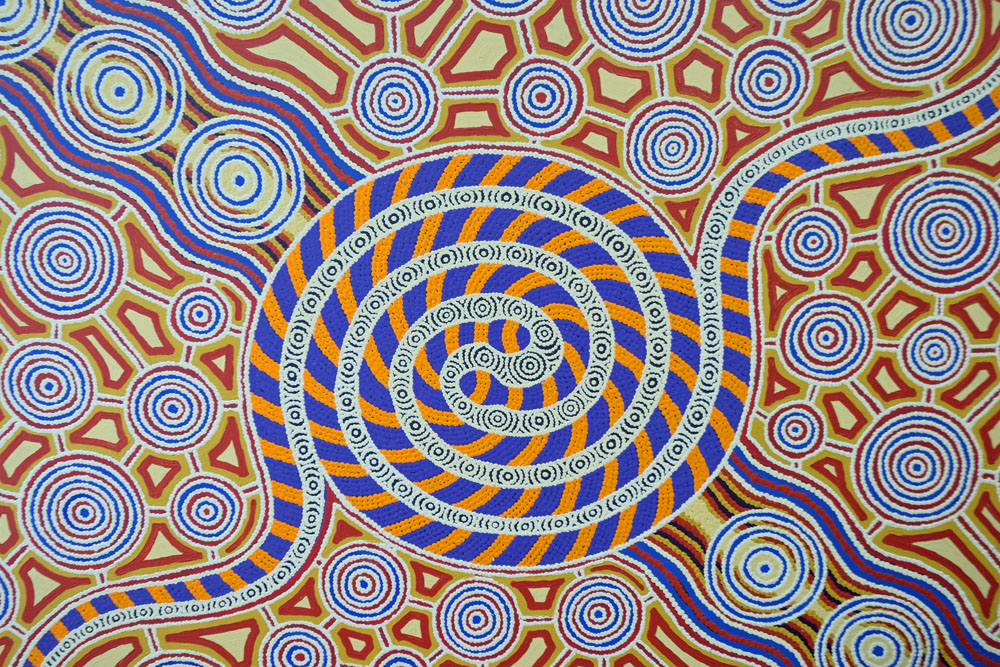 One of many Aboriginal artworks on display around the store
I start off by asking the calm, gently spoken Haynes for his take on HeyNow Hi-Fi's exponential growth in such a relatively short time.
I listen to the customer. I'll make recommendations when required, otherwise, the customer will get what they have requested as I support their own personal research and their opinion/knowledge of their own system. I am supported by a fantastic website that I've built in conjunction with my team and this gives customers the confidence that I can help them completely.
You have extensive retail experience via one of Melbourne's premier audio specialists. Have you applied retail strategies derived from that experience at HeyNow or did you approach the new venture in a totally new and fresh way?
I have worked across a number of Hi-Fi retail businesses in the last 30 years and each has been different except for the fact that I could not create the ultimate customer experience. At HeyNow Hi-Fi, I have created a unique business model, which gives me the autonomy to provide the best products, the best service, and the most welcoming environment for my customers.
How do you go about selecting the brands you'd like to carry? You mentioned that products must be enjoyable on a personal level. And how much of a role do the business relationships play, or is it a balance of both?
The best businesses are based on relationships that are built on trust. My products choices are based on both my experience in this industry and on the relationships I have with my suppliers. The products in my store are there because I trust my suppliers just as my customers trust me. When I'm selecting products for my portfolio, I think just like a customer, and like my own customers, I buy from suppliers I trust to know and support their products.
How has the ratio of online and personal business changed since the pandemic?
Being based in Melbourne, the lockdowns certainly did cause a shift in much of the business moving to my online store. However, through my website, I'm still able to offer customers advice on purchases, access to phone consultations, as well as weekly newsletters. I have many customers across Australia who prefer to shop online, but also want to get some advice over the phone before they make their purchase. With the easing of restrictions and drop in cases, more and more people are seeking in-person consultation.
Is there a product type that excites you more than others?
There are a lot of products out there that excite me a great deal in this industry that evolves constantly. At this very moment, I am very excited about the new resistor ladder DACs (R2R) from Aqua Acoustics. They have an organic natural sound and are less digitally compressed. The amazing reissue KLH Model 5 acoustic suspension speakers, which are lovably retro in design and hark back to a time before Hi-Fi was a term. Despite their old school look, they have an incredible musical appeal which is very much appreciated in the here and now. My customers love them and so do I.
The store is unusual in many ways. For starters, there's no shop front at a high street, minimal passing traffic and the retail space is relatively small. How did you tackle these challenges?
Everything you mention in your question is related to the physicality of the business, however there are other dimensions to a great business. I have built the business I wanted to represent around the ability to provide a great service environment, which is quiet, uninterrupted and personal. I have the expertise to provide the best products and services and… have I mentioned that I have an amazing website? [Haynes modestly LOLs]
Tell me a bit about a normal day at HeyNow Hi-Fi?
I have a sales meeting every morning to discuss the business of the day and planning. I visit my warehouse to arrange shipments and pickups. Once in the office, every day is different. I am 'by appointment-only', and therefore anything from booked demonstrations of speakers/amplifiers/streamers/turntables, or consultations about home theatre design/room acoustics/home automation. The rest of my day is spent on the phone with suppliers and customers with follow-ups and advice. Oftentimes I am onsite at customers' homes, installing or quoting on solutions. I have an incredible team of people looking after the administration, marketing and logistics, who provide invaluable support to myself, the customers and the business who also need my attention from time to time. I love being busy and find running this business very exciting. I'm lucky to spend my days in an environment that I get to enjoy as well.
What do you think is the future of Hi-Fi and how will HeyNow adapt to those scenarios?
The Hi-Fi industry is always innovating and new products are always exciting to look forward to. I think the future of Hi-Fi will continue in this fashion of improving and updating the things we enjoy the most and HeyNow Hi-Fi will be there to ensure its customers get the very best out of it.
Home on the Range
It was quite the enjoyable time spent with Haynes discussing his profound understanding of the industry's machinations in Melbourne, and indeed Australia, while also touching on his love of music, travel and the selection of audio spoils at HeyNow Hi-Fi. He has a distinctive approach to the audio retail model, one that elevates the experience of customers who, I'm sure, invariably depart HeyNow all the music-richer for it.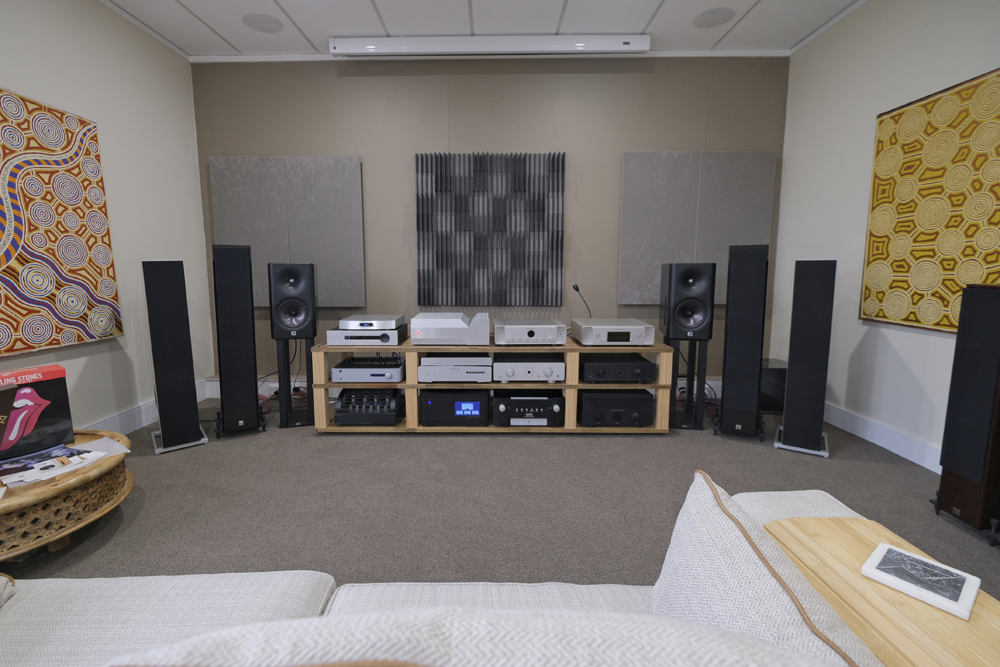 As a potential customer visiting HeyNow Hi-Fi, audio enlightenment would be expected even if purely based on the sheer volume of choice. The store's product medley is impressive through its richness of available options, even if much of that is not on display due to the obvious physical limitations (a dedicated warehouse holds off-site stock). Haynes asserts: Ask and you shall receive.
A far from complete listing of products on offer sees major brands from HeyNow Hi-Fi's portfolio as a who's who of quality music reproduction. Umm…, these names would sound familiar to any audio enthusiast worth his/her salt: AudioQuest, Bluesound, Chord, Clearaudio, Denon, Duntech, Epson, Harbeth, Hegel, KEF, Kharma, Linn, Marantz, Mark Levinson, Meridian, NAD, Nordost, Pass Labs, Prima Luna, Pro-Ject, PS Audio, Rega, REL Acoustics, Samsung, Sonos, Yamaha and many, many more.
Conclusion
With over 30 years of audio specialist experience Geoff Haynes is in a position to sustain a successful and growing business. Even in troubled times, Haynes' dedication and support for his customers continues to expand the foundation of loyal regulars.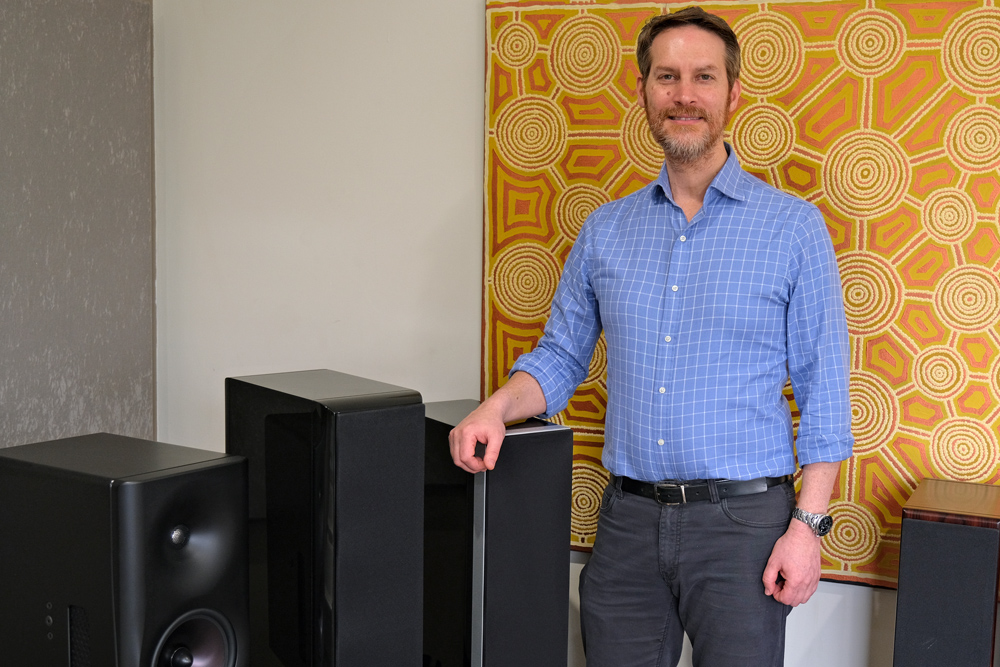 The idea, the germinating seed for the HeyNow Hi-Fi concept was planted a long time before its actual flowering. Now, Haynes and his clientele are reaping the harvest's rewards.
I get the impression things are done a little differently at HeyNow Hi-Fi. And, like me, if you inhale deeply, you'll too catch a breath of nourishingly-fresh air.
… Edgar Kramer
This email address is being protected from spambots. You need JavaScript enabled to view it.
HeyNow Hi-Fi
Suite 2.02
22 St Kilda Road
St Kilda VIC 3182
+61 3 9525 0022
+61 415 668 307
www.heynowhifi.com.au